---
It's kind of rare that a day doesn't go by when there's not a headline that features Oprah, Gayle King or them both. But when I caught the one that I saw today on People's site, I immediately hit up my editor to see if I could expound on it a bit. The title? "Oprah Winfrey Says BFF Gayle King Has 'Always Felt Not a Shadow but the Light' from Her Success". I adore that because that is just what a friendship should be.
Since I wanted to hear more, first, I watched the feature interview with Gayle about how she and Oprah have been friends since 1976; how she was a production assistant at the time, Oprah was anchor and staying at Oprah's house during a bad storm one night solidified their friendship forever. How? Well, they basically had a "C.S. Lewis moment" based on when he once said, "Friendship is born at that moment when one person says to another: 'What! You too? I thought I was the only one.'" For them, their ethnicity, being close in age and sharing similar philosophies (oh and agreeing on who they liked and who they thought were assholes; that's a direct Gayle quote, by the way) are the very things that still keep them so close even now.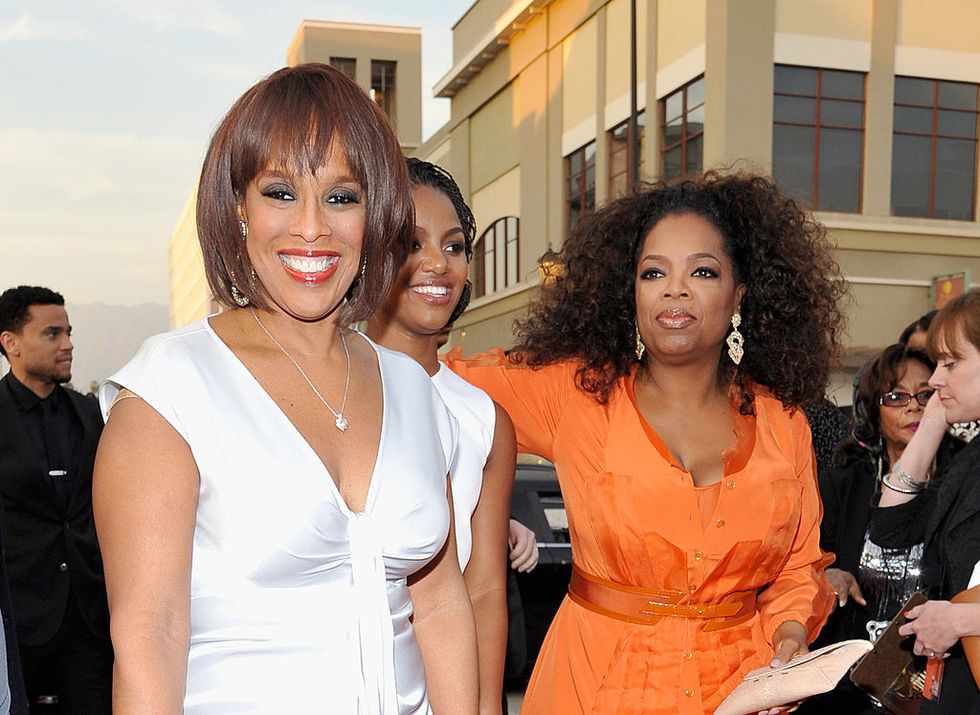 45th NAACP Image Awards Presented By TV One - Red CarpetGetty Images
Something else that stood out to me is the story Gayle shared about the nicest thing that Oprah has ever done for her. She said that on her first New Year's Eve following her divorce, Oprah and Stedman drove four hours to surprise her. Stedman made spaghetti and they stayed with Gayle so that she wouldn't have to be alone. (So, Sex & the City fans, when Carrie did that for Miranda in the first movie, that wasn't original or merely fictional; Oprah and Gayle did it first). And now, some forty-plus years later, here Oprah and Gaye still stand. Strong and secure Black women. Powerhouses in their own right (let's not forget that Gayle negotiated a pretty impressive deal with CBS earlier this year). And, what I really admire, complete and total fans of one another.
So much, in fact, that for the first time ever, Gayle is gracing the cover of O, The Oprah Magazine in September, alongside her bestie.
As I went to Oprah's actual website to check out the cover story, this part, in particular, stood out to me:
For years, people have marveled at our friendship—and sometimes misunderstood it. But anyone who has a soulful bond with a friend, a friend who would do anything for you, who revels in your happiness and is there to comfort you in your sadness, gets it exactly.

In our friendship, they see their own connections. It's why people often introduce their best friends to me as "She's my Gayle."
Amen. Your friends, your true friends, won't only do anything for you, they will revel in your happiness. That includes your success. (Bookmark that for a moment. I'll be coming back to it.)
As I continued to read on, it's pretty obvious that Oprah not only adores her BFF, but she highly respects her too. It's evident in her words that if anyone saw Gayle's current success coming a mile away, and is totally thrilled because of it, it is her. Plus, I appreciate that Oprah addressed something that I'm sure just about all of us have wondered at one time or another—did Gayle ever feel resentment, envy or that it was some sort of backhanded compliment to be referred to as "Oprah's best friend" all these years. According to Oprah, absolutely not.
Now that Gayle's a shining star on 'CBS This Morning', people often ask her how she felt being in the shadow of my success. The truth is, she always felt not a shadow, but the light. We couldn't have remained friends if she'd perceived it as a shadow. I would have sensed that, and I wouldn't have been able to be as open.

A true friend can't be jealous of you, or want to take advantage of you in any way.
Rinse and repeat— A true friend can't be jealous of you, or want to take advantage of you in any way.
As I finished up, what I consider to be, Oprah's letter of deep love and profound adoration for her friend, I thought about some of my own relationships. Although I didn't plan for it to play out the way that it has, I also have friends who are in the spotlight. Sometimes people ask me how I am able to make it all work. If I were to offer up a bullet point list, here would be my top five:
Featured image by Getty Images