---
Seattle Seahawks Quarterback Russell Wilson popped the big question to his bae, singer Ciara on March 10, and the couple could't be happier. The big news about Hollywood's most normal (and celibate) couple getting engaged hit the Internet today after Russell proposed to his boo during a private champagne dinner on Seychelles, which is an island off the coast of Africa northeast of Madagascar.

What made their engagement story so sweet was how much care Russell put into planning it. According to People:
Playing a game of "travel roulette," the Seattle Seahawks quarterback gave his future wife 30 possible destinations in the world to guess where she was headed. "She was shocked when they landed in the Seychelles at the exclusive resort North Island," adds her rep.
The popular destination where Russell proposed is the same place that hosted Prince William and Princess Kate for their honeymoon, and mega star couples, like Angie and Brad Pitt, and the Beckhams, have all vacationed there.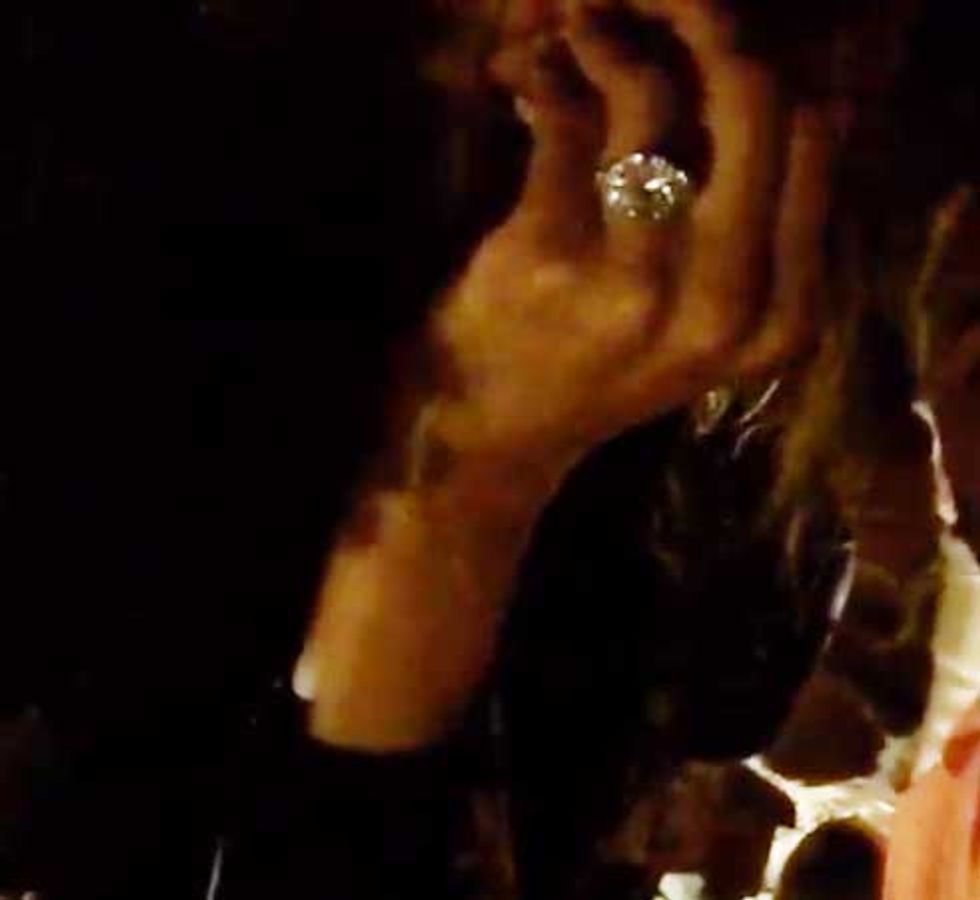 As for Ciara's ring, well let's just say that if the ring was any bigger, girlfriend would need an arm brace in order to support her hand while wearing it. And it's way bigger than the ring she received from Future when he popped the question. Even Twitter noticed her asteroid sized ring.
To say that Ciara is over the moon about her new life adventure would be an understatement. The "I Bet" singer posted a photo of her happy moment, while captioning that she felt complete on her Twitter photo. Awwww!
Ciara and Russell have been dating for almost a year, and their whirlwind romance made headlines after Russell revealed in front of The Rock Church (a massive church in the Point Loma area of San Diego), that he and Ciara were abstaining from sex until they were married.
You already know that Pastor Miles, who leads The Rock Church, was beaming from ear to ear when Russell stood in front of the congregation to say:
"I met this girl named Ciara who was the most beautiful woman in the world, the most kind person, the most engaging person, everything that I could ever want. For me, I knew that God had brought me in her life to bless her and for her to bless me. We're not going to be perfect, by any means. But He's anointed both of us and He's calling for us to do something special.""...She was on tour and I was looking at her in the mirror, and she was sitting there. And God spoke to me and said 'I need you to lead her.' And I was like, 'Really? Right now?' And He goes, 'No, I want you and need you to lead her.'
[So] I asked her, 'What would you do if we took all that extra stuff off the table? And just did it Jesus' way?'"
Congrats to the happy couple!
Featured image via Russell Wilson/Twitter