While Ciara's claim to fame is singing and dancing, she has been taking steps to become a mogul over time. The southern beauty became an instant star after releasing her debut album Goodies in 2004 with the lead single of the same name that reached number one on the Billboard charts. From there, she one, two stepped her way into being a worldwide sensation with her Crunk&B sound and unbelievable dance moves. While Cici will always be known for her legendary moves and bops, she has shifted her focus and has been working on expanding her brand.
---
The mother of three made headlines recently when she revealed that she bought back her masters while starting her independent label Beauty Marks. And while she is the CEO of her own music imprint, she has also been making waves in other industries because a real boss diversifies their portfolio.
Here are five businesses that Ciara has launched over the years.
Skincare
The Grammy award-winning singer just announced that she will be launching a skincare line called OAM, which stands for On A Mission. She made the exciting announcement on Instagram. "You've been asking… and here it is. Meet my secret sauce ✨Years in the making. Coming 09/15/22. #OAMskin," she wrote.
In an interview with Allure, the singer shared her motivation behind the line. "I used to think I was my most beautiful self with all the makeup on," Ciara said. "But that's not real. That's not how to live….While being on a mission to do so many things that I want to do, it's important to me that I'm loving who I am at the core and loving myself when there's not a whole lot going on."
The line, which is set to launch on Sept. 15, features Vitamin C Hydrating Cleanser, Vitamin C Brightening Pads, 20% Vitamin C Brightening Serum, Vitamin C Eye Revitalizer, and Vitamin C Radiance Moisturizer.
Fashion and Accessories
In 2021, Ciara released a fashion line called LITA by Ciara. LITA, which stands for Love is the Answer, is under her and her husband Russell Wilson's brand The House of LR&C. The line features dresses, matching two-piece 'fits, shoes, and accessories.
​She also launched a travel accessories line called Dare to Roam which has a collection of fanny packs, duffel bags, backpacks, and more. The collection can be found at Kohl's and Target.
Spirits
Cici has followed in the footsteps of the likes of Diddy and Nicki Minaj and decided to throw her hat into the wine and spirits game. In 2019, Ciara co-founded Ten to One Rum with entrepreneur Marc-Kwesi Farrell. She is also an investor in the brand.
In an interview with Forbes, she revealed why she jumped at the opportunity to join the spirits community. "When I get a chance to do things and projects like this, I'm pretty involved," she said. "I look a step before the actual product to work with really great business partners."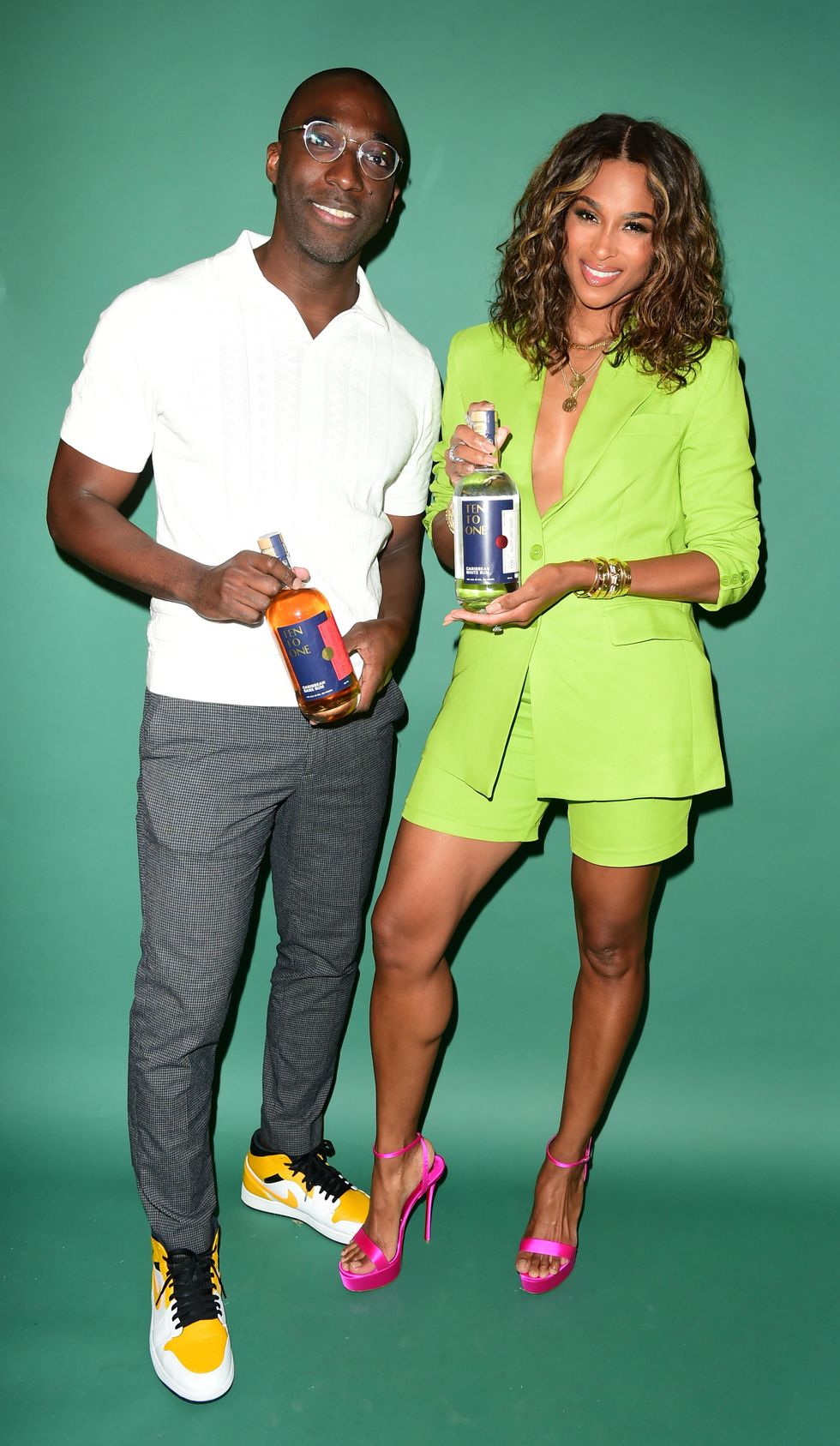 Founder of Ten To One Rum Marc Farrell and co-owner of Ten To One Rum Ciara.
Vivien Killilea/Getty Images for Pronghorn
​"For me, all the boxes were checked. This is a space that not too many women occupy, and I saw a tremendous opportunity as an entrepreneur, and as a woman of color."
Fragrance
The "Jump" artist also has a fragrance with Russell called R&C. The fragrance, which can be found in Nordstorm, has three collections such as the Fragrance Duo, the Harmony Duo, and the Intense Duo. The bottles are magnetic and they click together for a unique scent. In 2021, their Harmony Duo perfume won gold at the Pentawards, which is a prestigious award for packaging and design.
Featured image by Vivien Killilea/Getty Images for Pronghorn