Cantu has literally had its foot on our necks with their newest releases and it seems like they're moving in an even more natural direction when it comes to ingredients. Although Cantu products have always been free of parabens, phthalates, and sulfates, they're now incorporating more natural ingredients with their Skin Therapy collection. When Cantu initially released their Skin Therapy collection, it consisted of body lotion and creams, now they've added a Raw Blend line of products for people with extremely dry skin.
Cantu Skin Therapy Softening Hemp Seed Oil Raw Blend & Cantu Skin Therapy Hydrating Cocoa Butter Raw Blend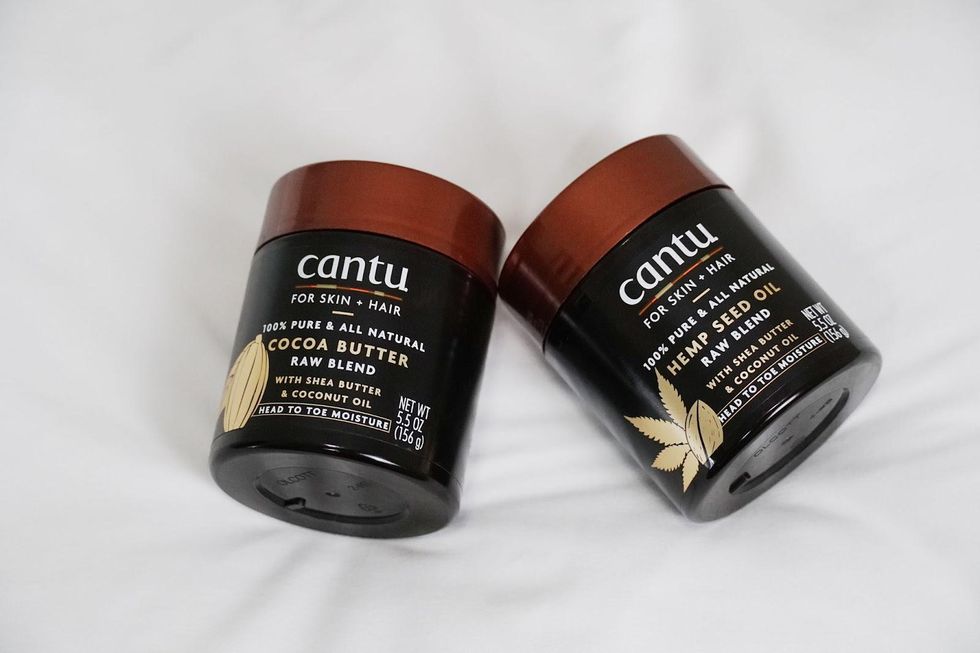 Krissy Lewis/xoNecole
The collection aims to deliver head to toe moisture with just three simple and natural ingredients. Each moisturizer is made with coconut oil and shea butter, but you also have a choice when it comes to your active ingredient of choice including Hemp Seed Oil, Cocoa Butter, Tea Tree Oil, and Mango Butter. This is honestly right up my alley because my skin tends to get drier the more I travel and I get eczema flare-ups if my skin isn't moisturized properly.
So I decided to try the Cantu Skin Therapy Softening Hemp Seed Oil Raw Blend and Cantu Skin Therapy Hydrating Cocoa Butter Raw Blend on my skin (and hair) and this is what I thought…
The Smell
I love that what you see is what you get as far as ingredients goes, each formula has only three ingredients, which also means no added fragrances. The Cantu Skin Therapy collection doesn't really have a smell, in fact you may only notice a faint scent of the raw shea butter or oils, but nothing else. So, if you don't mind the smell of shea butter and natural oils, then this is right up your alley.
If you're also someone who struggles with sensitive or acne-prone skin, then a fragrance-free and natural moisturizer would be the most ideal option to minimize breakouts. In fact, clean beauty can be more effective when treating skin concerns like dryness, acne, psoriasis, eczema, and general skin irritation.
The Feel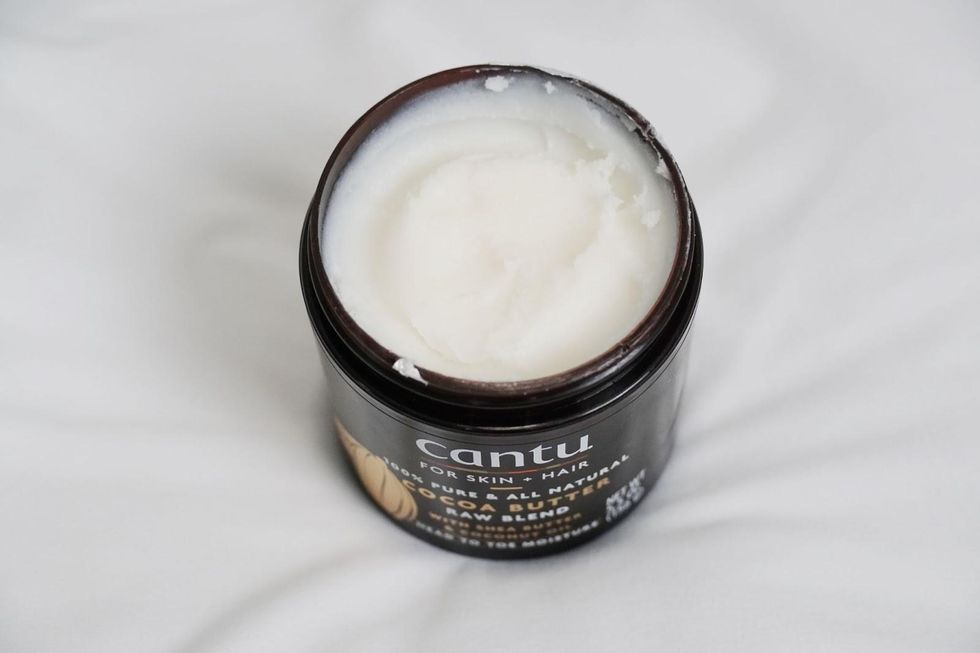 Krissy Lewis/xoNecole
Before actually trying the Cantu Skin Therapy Hydrating Cocoa Butter with Shea Butter & Coconut Raw Blend, I thought it was going to feel like raw shea butter. If you've used it before, then you know that it's very thick and can sometimes take a lot of muscle to rub into your skin. I'm happy that this moisturizer is not as difficult to massage into your skin or hair. It's more of a rich balm texture and it does have some weight to it. It looks pretty thick in the jar but once you apply it to your skin, it literally melts, leaving your skin or hair soft and smooth.
The Finish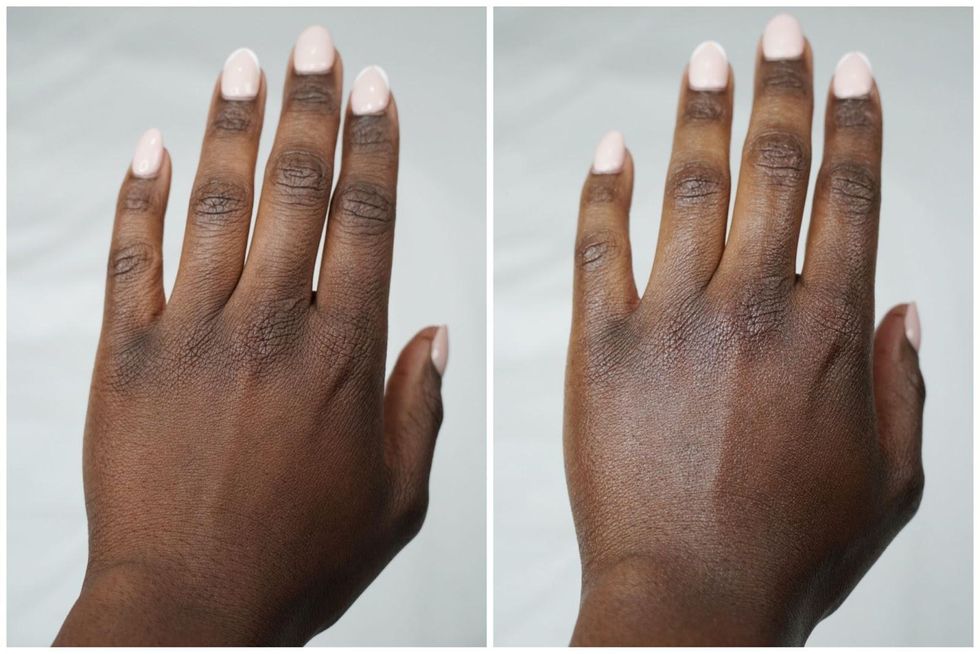 Krissy Lewis/xoNecole
I love the finish of both the Cantu Skin Therapy Hemp Seed Oil Raw Blend and the Cantu Skin Therapy Cocoa Butter Raw Blend, it gives your skin a very dewy and radiant glow that lasts for hours! The moisture is long-lasting and you won't need to reapply throughout the day. However, you should know that it is a bit greasy so avoid using too much.
When I applied it for the first time, I used way too much for my hands and needless to say it left greasy fingerprints around my apartment. You can literally see everything I touched. To remedy this, I just wiped my hands with a cloth and even though I removed the extra grease, my skin still felt moisturized. When it came to hair, I applied a dime-sized amount or even less, a little goes a long way.
My Final Thoughts
You don't need to buy every type of Raw Blend moisturizer. As I mentioned earlier they offer a range that includes Hemp Seed Oil, Cocoa Butter, Tea Tree Oil, and Mango Butter and to be honest, if you tried one, then you have tried them all. I also feel like this is more practical and efficient as a skincare product and not a haircare product. I say this because thicker moisturizers like shea and cocoa butter should be used as sealants and not moisturizers. It also does the same thing an oil does, seal in moisture and add shine.
In my opinion, oil is an easier and efficient sealant when it comes to any density of hair. Because this is a thicker sealant, it can clog the pores in your scalp and prevent moisture from getting in. So if you do choose to use it on your hair, use a little to trap moisture in, instead of using it as a moisturizer.
Lastly, I think this is a good product especially for the price point ($5.99). I would personally use this as a sealant for my skin as well to ensure all-day moisture. I wouldn't use it as a standalone product. It's a great sealant and will easily give your skin that natural summer glow.
I would also just use this on my body, but it is a natural product so you can wear it anywhere you choose.
Featured image by LaylaBird/Getty Images