I've never been one to travel scared.
---
News stories, paranoid friends and family, and even movies like Brokedown Palace, will have you terrified to leave your home, let alone fly to the other side of the world. For me; however, the "see for yourself" mantra has always rang true.
That's why when I had the chance to check another adventure off my bucketlist in Jordan, I was beyond thrilled.
Jordan was a country I had dreamed of ever since Indiana Jones, along with his whip and sidekicks, ran through Petra on their Last Crusade. It had a magic that captured me instantly and even though I was just a little Black girl from Brooklyn, I knew I had to make it there someday.
Of course when I told my father about my plans, he immediately went into protective daddy mode:
"You're not going by yourself are you?"
"There's no way I'm allowing you to ride through the desert for hours with strange men!"
"If you insist on doing this, we need to set up a system of selfies and safe words."
Now, seeing as how my father thinks my overly grown self needs a safe word for trips to the supermarket alone, you will totally be able to understand why I paid him absolutely no attention. Until his last concern escaped his lips, "Do you even know if they like Black women or Black people over there?"
I didn't.
The more I researched my trip, the more my excitement became infiltrated by doubt and fear. Not too many people I know, even some of my seasoned travel friends, have been to Jordan. Those that have went in groups, on tours or with husbands. I was realizing that I didn't know how I would be received as a woman in Jordan.
A solo woman. A solo Black woman.
Sure I practically live in Abu Dhabi and visit often to hang with friends, but the UAE, despite its strict laws, isn't considered the "real" Middle East. It's Vegas on steroids, an over the top Jetson-like metropolis where foreigners come to play and indulge in their bougiest fantasies. Living and playing in the UAE can give you a false sense of security about how the rest of the Middle East operates, and it's a far cry from everything I was reading about Jordan.
Ok, now I was a bit scared.
But, I'm from Brooklyn, with all the "cough up a lung, where I'm from…" bravado that it entails, so I decided to put on my best screwface and face my fear head on. I was going to Jordan. Alone.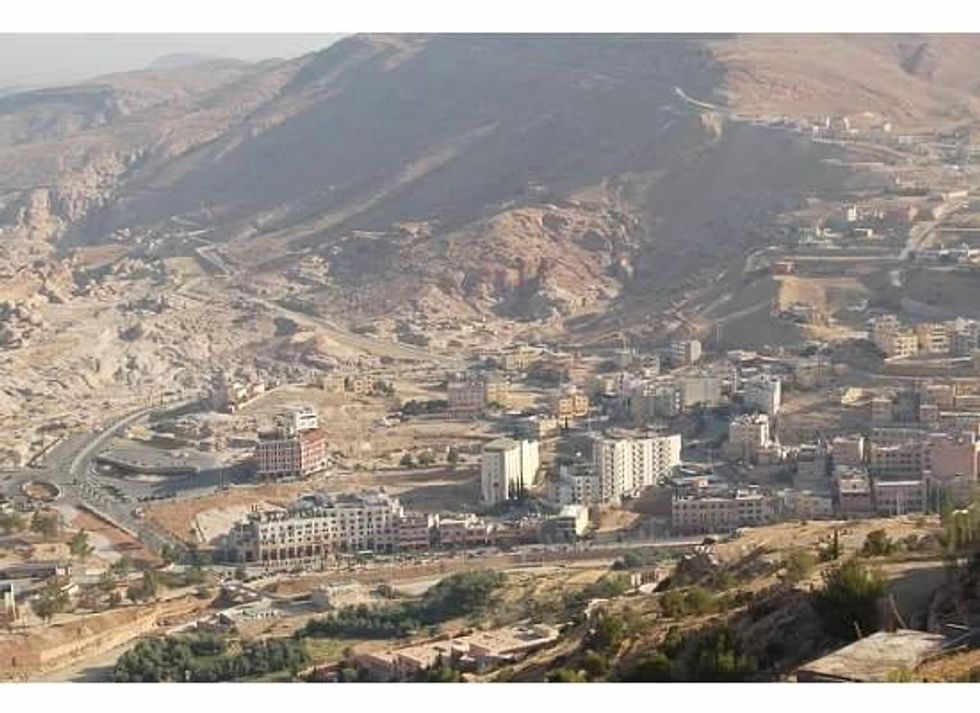 Jordan from the hills
The minute I touched down in Jordan I kept my eyes open and guard up for any awkward stares or surly men wondering where my husband was. I met my driver and immediately took a selfie with him because my father is insane, then headed to my hotel in central Amman. Once I got settled I decided to take a trip down Rainbow Street and indulge in some shopping, food and people watching.
I was standing on a random corner trying to figure out where to eat when a group of young Jordanian women approached me, asked if I needed help and invited me to eat with them. I must admit that my first reaction was to give them the "Girl bye!" face because in NYC if a stranger approaches you on the street they are either a lost tourist, homeless or trying to rob you. Yet I threw defensiveness to the wind, went to lunch with these women and ended up bonding with them over our matching Jordans. Mine worn with jeans, theirs worn under abayas.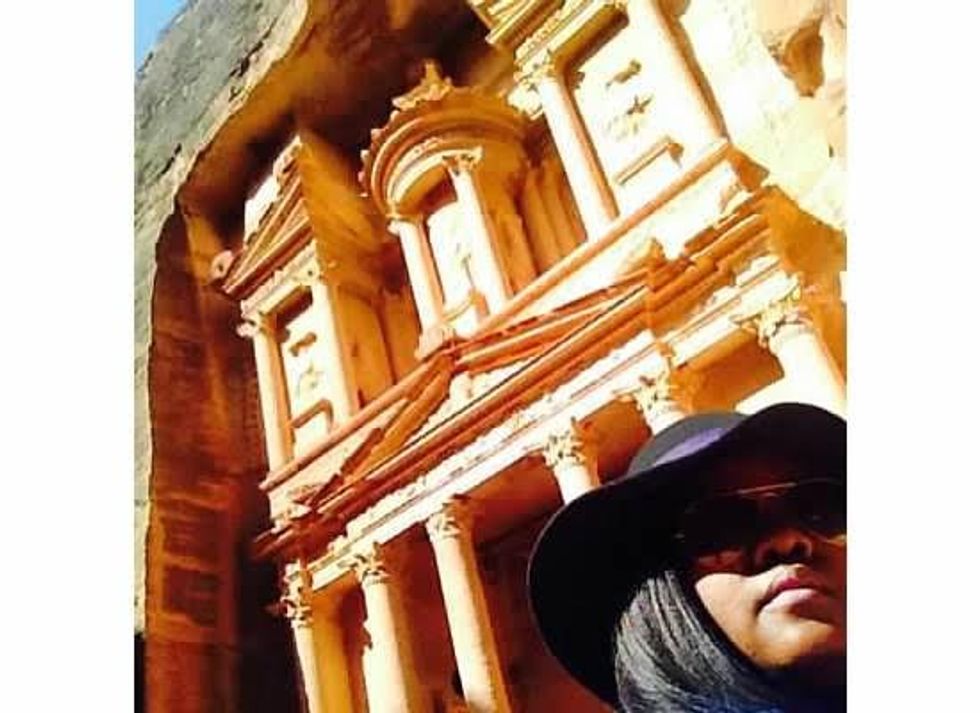 Indiana Dani at Petra
Next up was my trip to Petra. My driver returned for our four hour journey through the desert and immediately my nervousness returned. Four hours in the middle of nowhere, with a strange man on the other side of the world where I know no one. What if he killed me and left me in the desert? What if my father has to resort to living the male version of "Not with My Child" to rescue me and bring me home? Clearly I watch too much Investigative Discovery and Lifetime.
The drive ended up being full of laughs and adventure. My driver became like an older brother, cracking jokes on me, taking me to hang out with friends at random rest stops and educating me on life in Jordan. We explored Petra together, drank beer and played card games until the sun came up.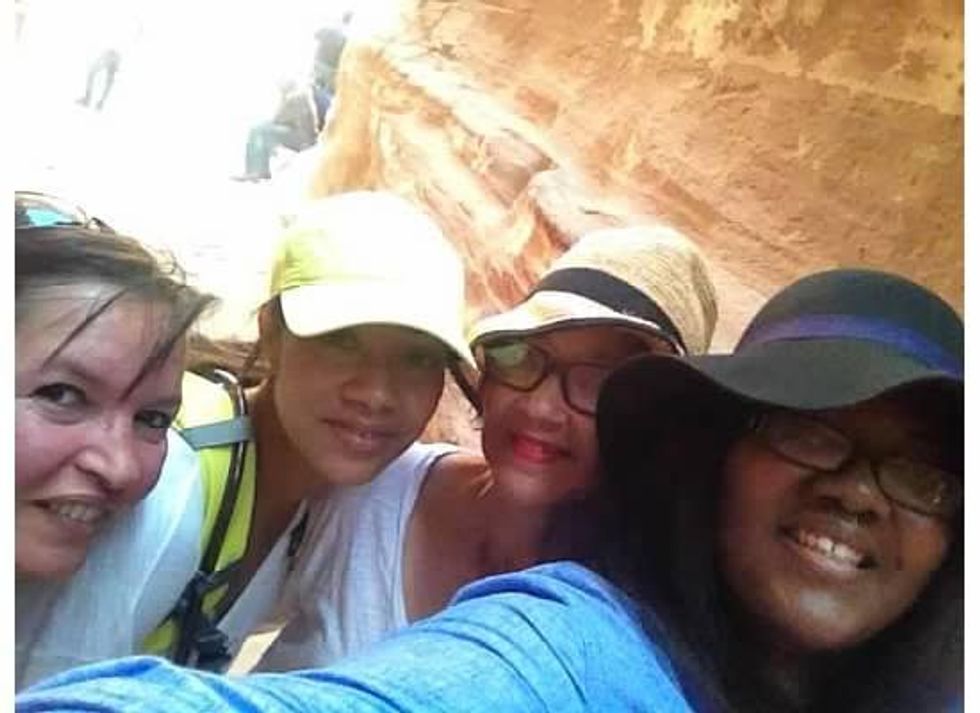 My first selfie with strangers turned friends
He signed me up for a Jordanian cooking class because family everywhere believe food is the path to marriage.
Sigh, brothers. I ended up loving the class while I never attracted that husband, I met other solo women from Turkey who were excited to see someone "brave" just like them. Perhaps Jordan wasn't so bad after all.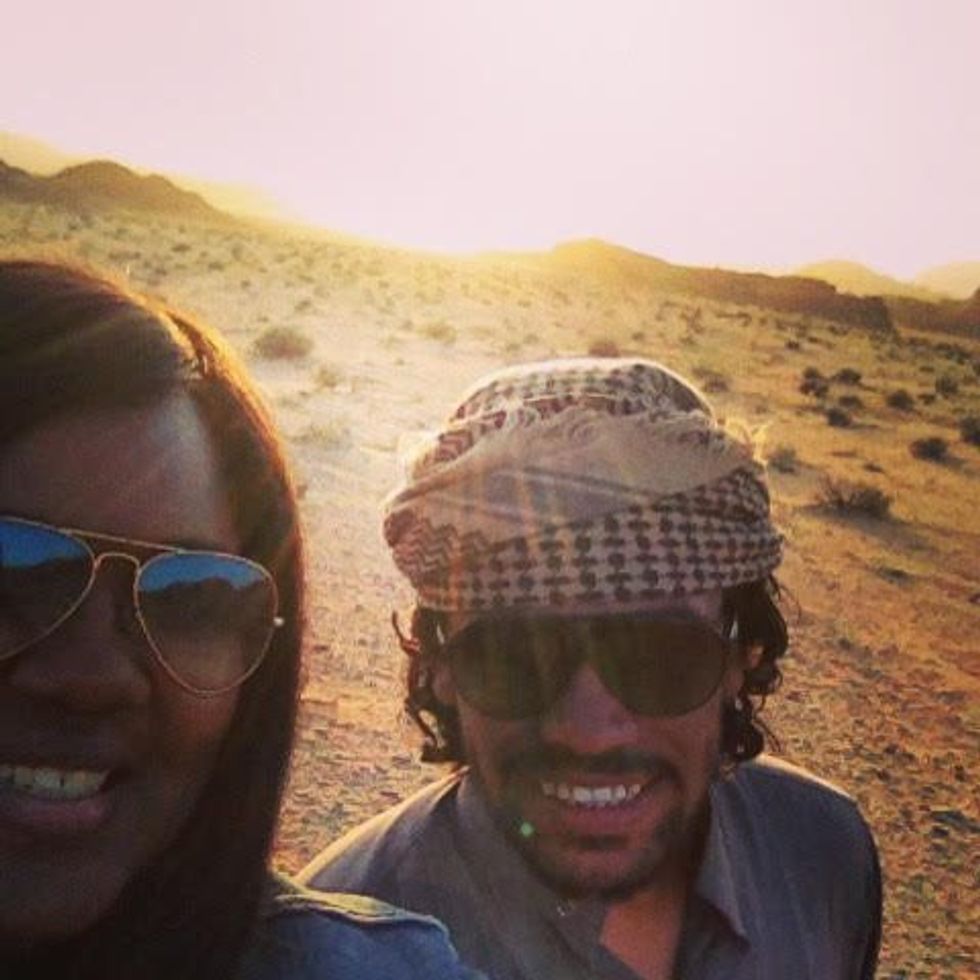 Desert selfies with Mohammed
The next morning I said goodbye to my "brother" and made my way to Wadi Rum with another driver that would introduce me to my future BFF for life, Mohammed. Mohammed was a Bedouin who lived out in the deserts of Wadi Rum in the way of his forefathers, living off the land with minimal contact with the outside world. As a city girl I was not about this life. What do you mean there's no cell service and I can't check Facebook? Why is there no light in my tent? Why am I sleeping in a tent? This was going to be interesting.
Mohammed and I became fast friends and took more selfies together than the Kardashians combined. He made me a picnic lunch beneath a rock and played me traditional Jordanian songs on his iPhone (Apple is everywhere!).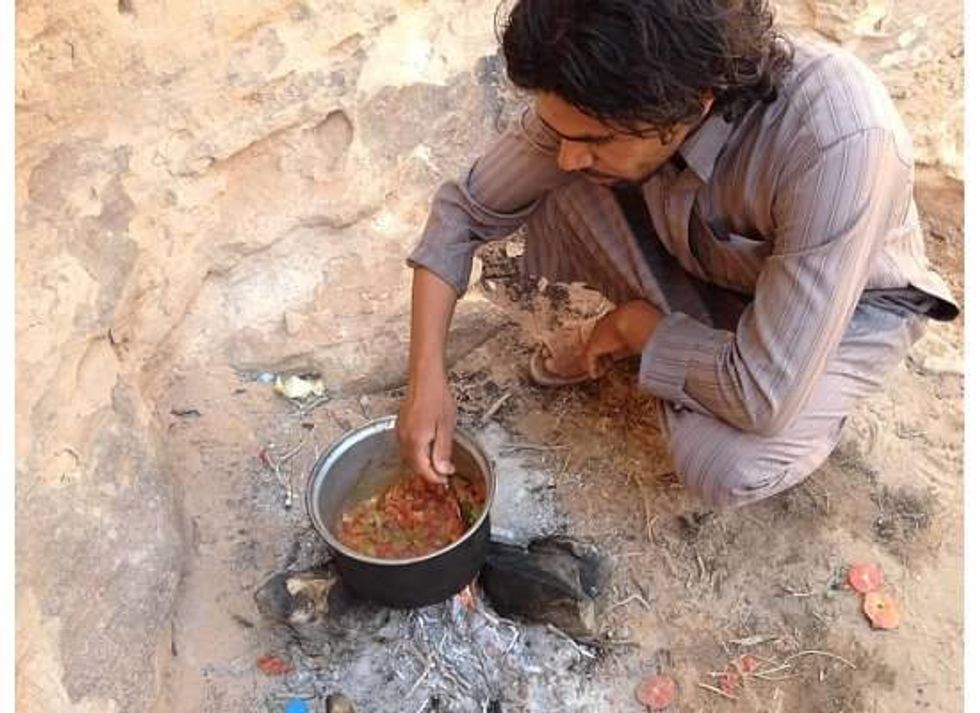 Chef Mohammed
We hiked mini mountains, visited friends and talked about relationship troubles, chased defiant goats, and watched the most beautiful sunset together before heading to our camp for the night where he prepared me a delicious chicken dinner that was cooked in the ground traditional Bedouin style. We stared at the stars shining bright above us and shared the hopes and dreams of two people so different, but very much the same.
That night, I fell in love with Jordan.
After riding a camel back to the village, I exchanged info with Mohammed, snapped a few pics of him with his friends (Jordanian men are yummy…praises.), said goodbye and headed off on a two hour journey towards the Dead Sea. I checked into my hotel and headed down to the beach to spend some time covering myself in mud and taking awkward pictures of myself floating while trying not to drop my phone in the water. So many people, local and foreign, came to chat with me, invite me to lunch or to dinner in their homes. It was refreshing.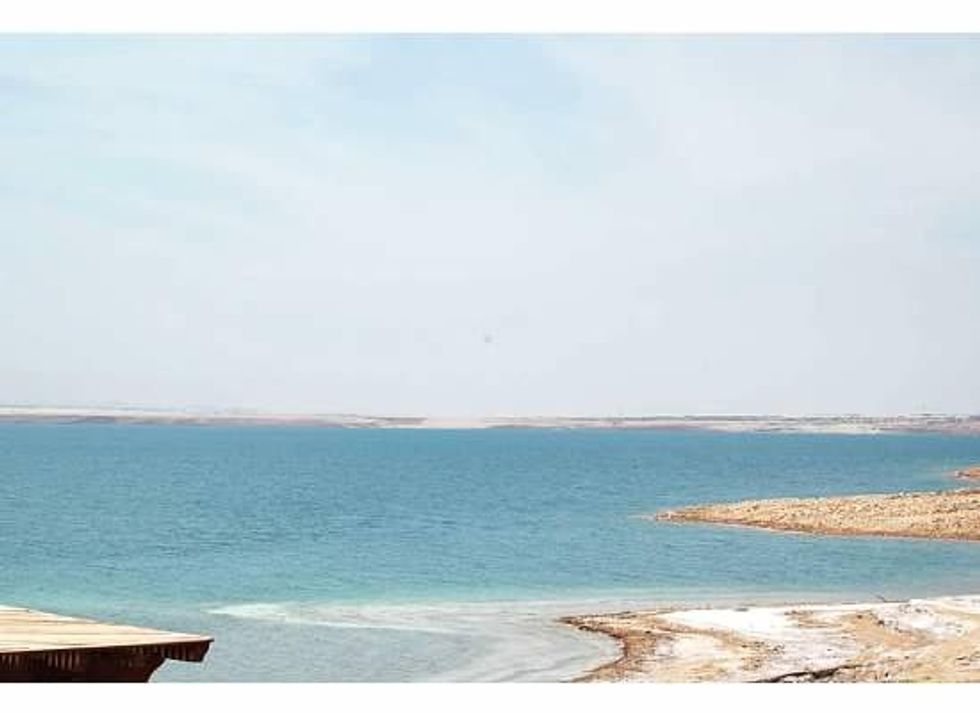 Dead Sea
As I stood in the water admiring the sight before me, for the first time I realized that I was no longer nervous or afraid. Unlike other countries where I needed to be on guard for my safety or couldn't go two feet without being reminded that I was strange black fruit, Jordan allowed me to be free.
It was in that moment that I realized I hadn't been scared since I arrived. That no one mentioned my race or gave me awkward stares. That the men my father was so worried about me driving through the desert with protected me like I was family. A trip that started out with fear had turned into one of the best adventures I've had so far, and after 70+ countries, that's saying a lot. Jordan was nothing like what I thought, nothing like what some media might have you believe. Jordan and its people filled my heart with so much kindness and love that I was never alone and instead of being scared I was able to open myself up to the world around me. New friendships, new experiences and memories that will last a lifetime.
As I headed back to the airport, after a night of partying because if you didn't already know, Jordanians get it in, a sense of sadness came over me. Not too many places evoke emotions from me, but Jordan had won my heart. I hugged my "brother," who came back to see me off, and cried like a baby on his shoulder. "I tell you, Jordan is amazing. You are one of us now, this is your new home," he said. He was right. I took one last look around and I no longer felt like a brown girl in an Arab world. I felt welcomed; I felt at home. And I can't wait to return.

Have you ever overcome a fear of traveling? Let me know! And feel free to check out more pics from my trip to Jordan below.