If your LinkedIn profile looks like an exact carbon copy of your resume, stop and and take some notes because 9 times out of 10, your profile isn't where it needs to be.
---
If you didn't know, LinkedIn is the top social network for job recruiting, and most recruiters use it to source and review candidates. There are over 400 million people that have LinkedIn, but only about half are using it to its fullest potential. Sometimes we as LinkedIn users unknowingly make mistakes on our profile that in return can cost us our next interview or job.
Below are 8 common mistakes that I have seen many people make. Remember your LinkedIn profile is a representation of you so treat it with the best care and attention.
1. You and your endorsements are all over the place
There are so many things that we need to let go in 2017, one of which is letting people endorse you for any and everything (and letting it show on your profile). On your profile, you can delete endorsements and you can also rearrange them so that your best endorsements are listed first, and the basic ones are listed last.
When I am reviewing candidates and look at their profile, if Microsoft Word and PowerPoint are the first few endorsements that I see, I immediately roll my eyes. Nowadays everyone is able to use Microsoft Word, so the fact that you know how to use it is not impressive.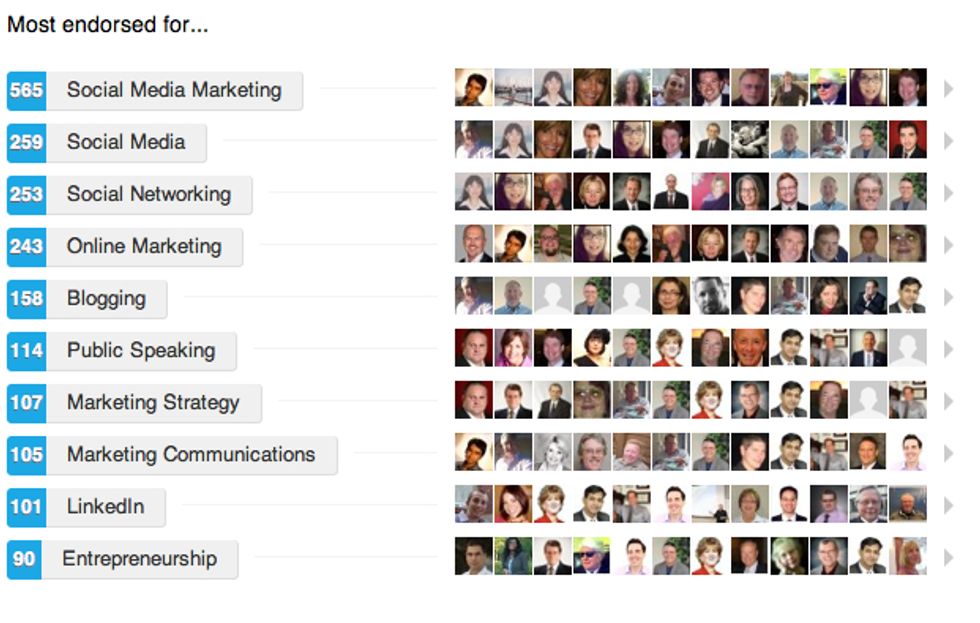 2. You put all of your classes on LinkedIn
In school I took so many classes that were literally a waste of time. Although they were "required" for my degree program, I don't use most of the information learned in my current career. On the same note, every class that you have taken is not important enough to put on your LinkedIn. I know this sounds harsh, but it is true. When you are adding "courses taken" on your LinkedIn profile, only include courses that are critical to the career that you have now (or are seeking). If you are looking for a career in human resources, your recruiter won't care about the class that you took in Art Design or Music.
3. Your LinkedIn looks like your Instagram selfie
On LinkedIn, I have seen too many professional selfies from both women and men. A professional selfie is a photo of yourself with professional clothes on from the waist up. You may also add a few filters on the photo for special effects and your makeup is slightly on fleek for a nice, subtle look.
I recommend finding a photography student or aspiring photographer and get some nice headshots taken. More than likely the photographer won't charge you a lot, and you will only need to 1-2 photos.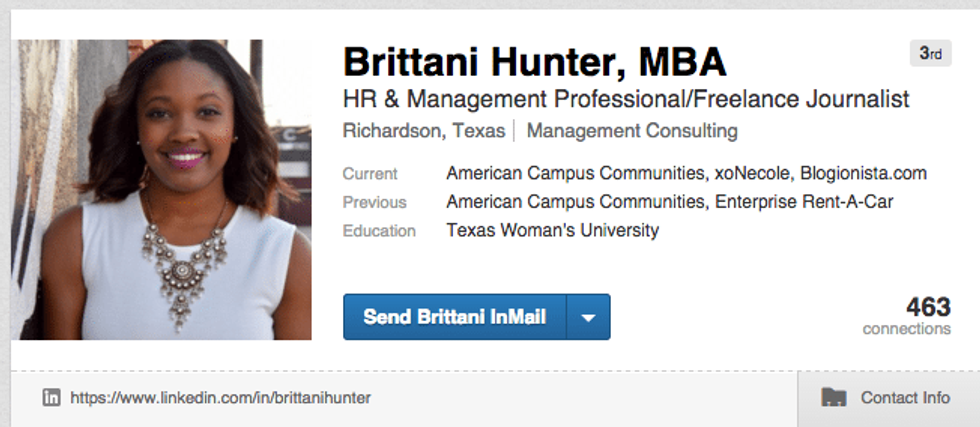 My linkedin photo
4. Your verb tense usage is confusing
Similar to your resume, when you are describing your current and past work experience, you need to make sure you are using the correct verb tense. If you are discussing your past work experience, be sure to put your action verbs in past tense, and your current experience in present tense. In addition, your verb usage should be consistent as well. Here are two examples of consistent and inconsistent verb usage
[Tweet "#xoGem: Use the correct verb tense on your LinkedIn profile."]
Inconsistent
Provided customer service to new and old clients

Meets area and regional goals

Marketed brand to community leaders
Consistent
Manages social media accounts and analyzes data

Conducts market research on competing brands

Leads and develops a marketing and branding team
5. You don't have any data to backup your experience
As the saying goes, women lie, men lie, but numbers don't; it is the same when it comes down to your LinkedIn or resume. It is always a must to quantify your experience by providing real numbers and data. In return, it will further solidify you as an expert and it will show that you know what you are talking about in regards to your experience.
6. You simply cut and pasted your resume into your profile
On LinkedIn, you have the opportunity to add visuals and links - something that cannot be done with a traditional resume. When you are creating or updating your LinkedIn, don't just copy and paste your resume into your profile. Take time to provide visuals and a portfolio to your profile. The more visuals and information that you provide, the more appealing your profile will be.
7. You send those "default" messages that look like spam
When I use LinkedIn from my phone, I get notifications when my connections publish a post, get a new job, has a work anniversary, etc. Once I get this notification, I am able to send a pre-designed message to them. This default message is very bland and boring and honestly it looks spam-ish. When you are communicating or connecting with others, take the time out to customize your message. It will appear more genuine and it will give you the opportunity to start a meaningful conversation with your connections.
8. Your LinkedIn url isn't SEO friendly
For the highest search rankings, simplify your LinkedIn url as much as you can so that when people look for you online, your profile will easily appear. In this article, there is a simple guide on customizing your url and you can do it in literally one minute. If you use your Twitter or Facebook in a professional manner, you can also customize your LinkedIn url to match your other social media profiles for a higher SEO ranking.
What are some other mistakes that you think you could be making on your LinkedIn? Let us know and we may have an idea on how you can fix it!