As a single co-parenting mom, there isn't a day that goes by where I don't have a lot on my plate.
---
While juggling work, pursuing my passions and being the best mom I can be, it can be tricky keeping all the balls in the air. One of the most important links in this puzzle has been having a reliable car to shuffle the kids to and from school, getting around for my obligations and errands, and, once in a while, making time for the self-care all parents need. "Reliable" is the optimal word because my car is old, and every time something breaks down, that's an extra bag I have to come up off of. It would be a dream to have a brand new car, but the hassle of finding the right one and the idea of the credit check and potential down payment has stopped me from even thinking about hopping into a new whip.
For over 100 single mothers in the New York area, PTG365 Auto understands how important reliable transportation is to most families' livelihoods. Founded by Brandon Medford, Dave Obaseki, and Eric Whitehead, PTG365 is an automotive dealership that specializes in luxury car rentals in addition to helping low-income families get their dream cars.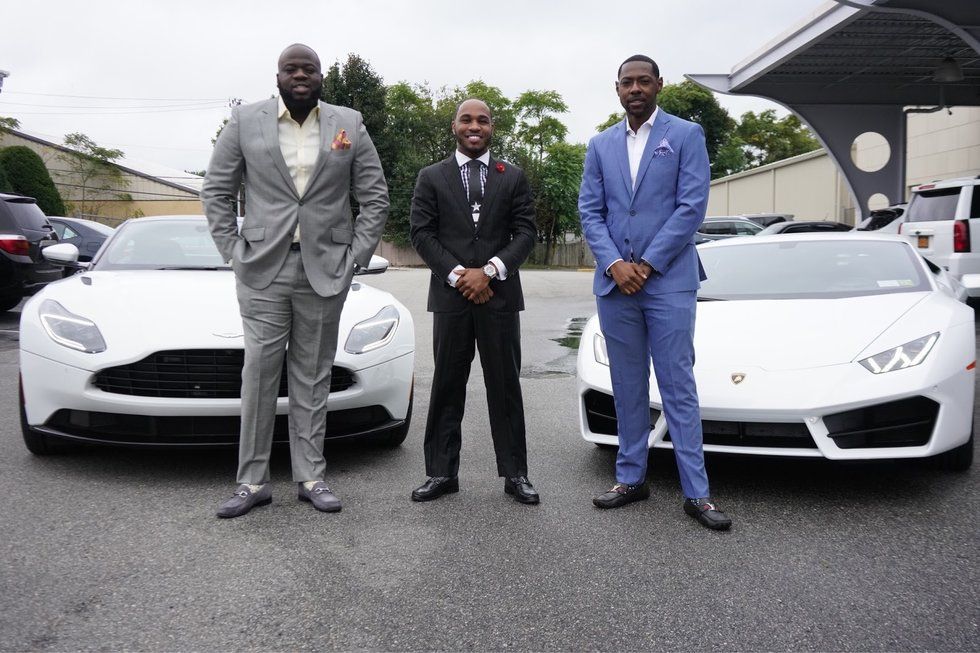 Courtesy of PTG 365
These three millennial men have combined their passion for cars with their purpose of giving back to the community. The men are committed to helping women find affordable transportation, as well as repairing and building their credit which, in the long run, will help these women better provide for their children. The team also caters to a host of celebrity clients, but what makes them the ultimate go-to car dealership is their quick turnaround time and connection with various car manufacturers and banks. Within just a year of business, they have managed to build a $1.2 million dollar company.

xoNecole had the opportunity to speak with Eric and Dave about their business, why helping single moms is one of their top priorities, and how passion led them to their purpose.
Business-minded people tend to have one thing in common: a vision. For Eric and Dave, both already had a passion for the car business. Eric says that in addition to his affinity for sales, he also wanted to help people. Eric told xoNecole, "I personally would say passion, hunger, and unity started PTG365. [The three of us] were successful in the same field and we came together with this brilliant idea to take over the car industry and help individuals all over the world."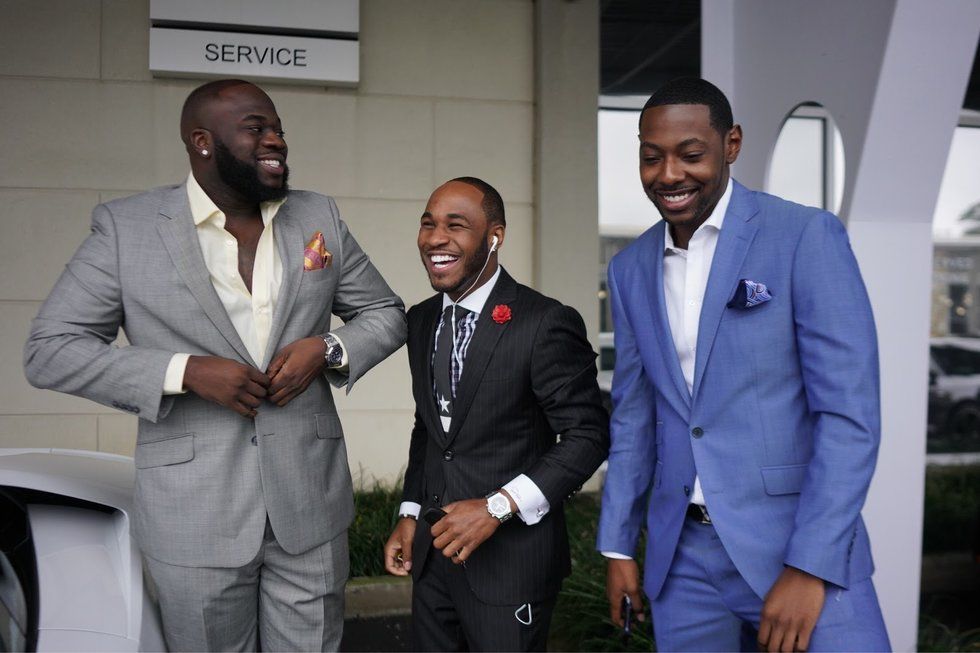 Courtesy of PTG 365
The most intriguing service these men provide is their willingness to use their expertise and connections to help single mothers secure their own reliable transportation. Because the men aren't from single parent homes, many would wonder what motivated them to go in this direction. For Eric, it was simple. "I don't like the idea of a mother raising children on her own," he shares. "I have female relatives who are single and raising beautiful children, so I know the day-to-day struggles some of them face, so I do what I can to go the extra mile to assist single female parents."

So many single parents work so hard to keep it all together, that from the outside looking in, it may not seem like they need the help. But Dave recognizes that there is a lot that goes into being a single mother and that helping these women gives him a feeling that he normally wouldn't get from simply selling cars. He said, "Helping single mothers get into vehicles gave us a different kind of satisfaction. The reason being, single mothers go through a lot of turmoil and need as much help as possible."
He continued, "Black women are queens in my eyes. I watched my mother raise me, two other kings and one other queen. Being from a foreign country, she did it all using her culture. My mom made sure we were on the right track with school and always stayed out of trouble. She did an amazing job; I love my mother. She reminds me of all the other Black women out there trying to make a way for their families."
"Black women are queens in my eyes. I watched my mother raise me, two other kings and one other queen. She reminds me of all the other Black women out there trying to make a way for their families."
Dave also revealed that the most rewarding part of his job is helping mothers gain and maintain their own financial independence. "Out of all the women I've helped, one of my favorite clients has to be Tamara Taylor, mother of two. It was her first car, and her father didn't want her to have the car. She did everything in her power to get the vehicle on her own without having him cosign on the loan, and I made sure the bank approved her. It was so rewarding to see."
With reliable transportation, moms can get the kids to school on time, run the errands, make it to work and back, all without having to worry about public transportation, the weather, and the host of other issues one might run into when you don't have the keys to your own whip. The men have helped over 100 single moms not only get a new car, but they've also helped them and countless other customers establish/repair their credit as well.
Eric mentioned that most customers, regardless of their financial status, often need some credit tweaking in order to qualify for a vehicle. He shared, "In addition to the mothers, we have many entertainers and athletes we've assisted with credit repair as well. Just because you're a celebrity doesn't mean you're knowledgeable on credit and wealth management."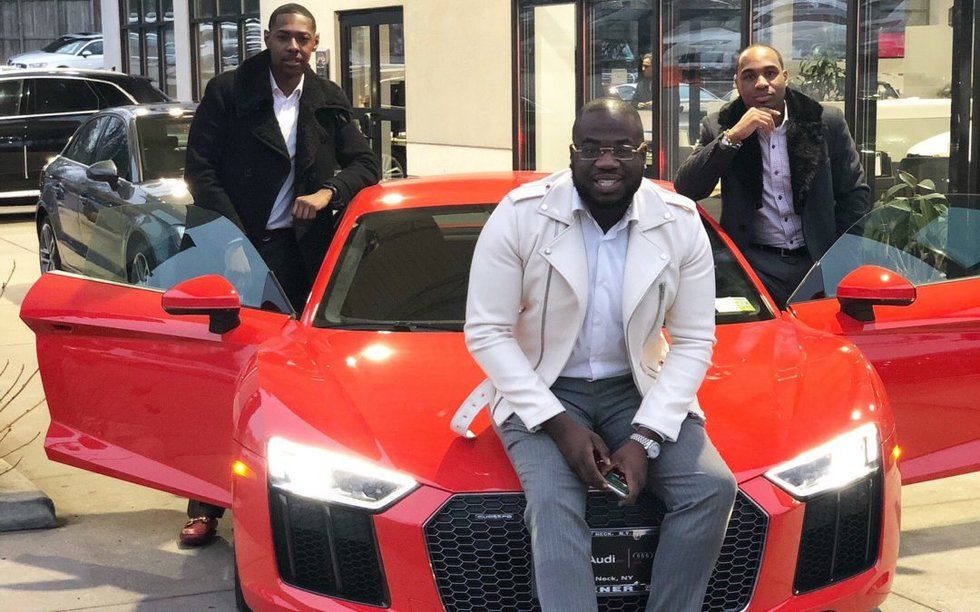 Devon Knight
For some, credit can read like a foreign language, but at PT365, they have a team of credit attorneys that can help. According to Dave, "We have them work closely with our credit attorneys to remove any collections or derogatory accounts from their credit. Then we have them work with our credit specialists to educate them on how to raise their credit."

Credit is king, or queen, in America. There is very little you can do without it, and having a good credit rating is just as important as the cash you have in the bank. The guys gave us a few tips when it comes to establishing and maintain a good credit rating that anyone can use. Eric had these words of financial advice for our readers:
"My advice on credit is to prioritize. Cash in hand is good, but the buying power of credit goes a very long way."
When it comes to our needs versus our wants, sometimes we have to be willing to have some self-control. He says, "Always pay your bills on time even if you have to sacrifice! An 800 credit score has more buying power than $50,000 in cash!"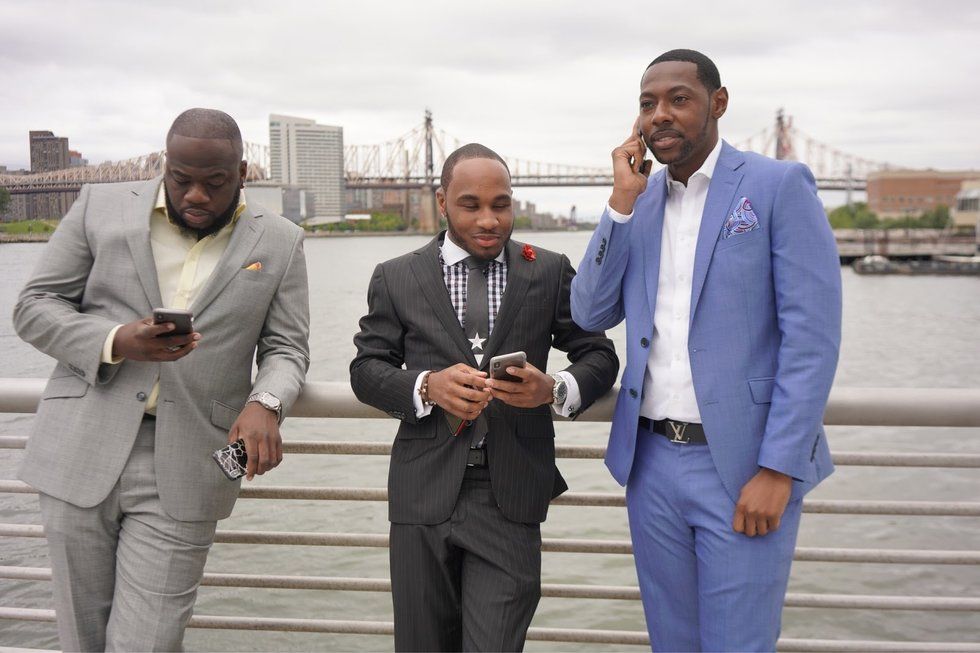 Courtesy of PTG 365
And for all our budding entrepreneurs out there, Dave reminds us that it will be a grind, but we have to not only be ready for the ups-and-downs of entrepreneurship but also be willing to pivot when the time is right. "Never quit! Be prepared for hurdles and leaps throughout your journey," Dave enthusiastically reminds us. "Success will take a jab at you even when you think everything is going perfectly. Never stay comfortable! Business always innovates, and when it does, you do the same."
Duly noted!

Here's another great example of melding your passion with your purpose. We love to see Black men in a position to not only empower themselves but also being able to translate that into empowering others, especially Black women. Looking at my car right now, I might have to give them a call myself.
To find out more about PTG365 Auto, click here. To keep up with these millennial moguls on social media, follow @ptg365!