---
My skincare journey has been quite interesting since I moved to the driest of climates in Colorado. I used to have extremely dry skin back when I resided in the Dirty South. Ironically, since I became a Denver transplant, my skin is now a combination of dry and oily. With the elevation and the close proximity to the sun, I also have to be mindful of getting sunburned. And while some black folks think that we don't burn, I don't like to play with danger that way.

When I had the chance to see what ISO Skincare was all about, I had no choice but to say "yes". Skincare has become so popular as of late. I love the "trend" because it promotes a glow that requires less makeup and more self-care. For ISO, it is a journey of healing from the inside, out. The journey incorporates both internal and external healing to achieve a constant state of self-love, confidence and a clear, healthy glow that will give you no choice but to love the skin you're in.
ISO Skincare founder Aniqah Iman created this line because of her own bouts with stress-induced acne. Aniqah says," I've always suffered from moderate acne, but the main issue for me was the scars the acne left behind. It weighed heavy on my confidence but I never wanted to cover up my face with makeup. I spent a lot of time out and about around the time of the makeup craze. I didn't want to give into that craze, I always wanted clear, flawless skin."
And who doesn't! We all want that Beyonce glow without having to spend that Beyonce coin. The founder told us that ISO stands for "inside out" because during her journey to achieving clear, glowing skin, she realized a lot of her acne was a reflection of what was going on in the inside. She knew she had to adapt a lifestyle that would support healthy skin from the inside, such as eating right and maintaining stress. ISO is not just skincare, it's a lifestyle. While they provide products to treat acne from the outside, they also provide lifestyle tips that treats acne from the inside.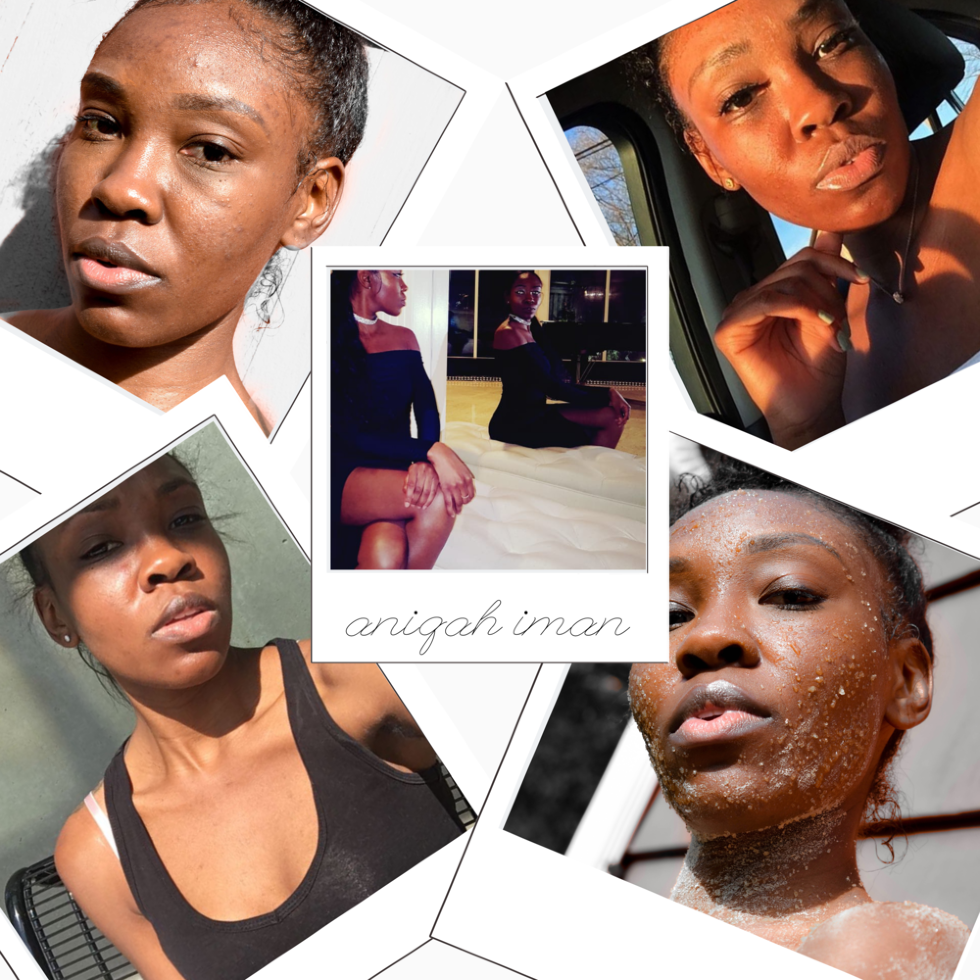 ISO Founder Aniqah Iman and her glorious skincare transformation.images.squarespace-cdn.com
After process of elimination, Aniqah realized that her acne was caused by stress so she knew she had to adopt a more peaceful lifestyle. But she soon realized she would also need more than meditation and yoga to heal her skin issues. Knowing she was done with toxins, she delved into her background in biology to fully grasp acne on a molecular level which led her to trialing essential oils. The founder says, "I began formulating products using my self-taught knowledge to create recipes and after much tweaking and testing on myself, my skin cleared up; allowing me to gift you all with ISO Skincare: a lifestyle/skincare brand that embodies the importance of exuding self-love through self-care habits, including meditation, lifestyle changes and of course, a 100% natural skincare routine."

This boss babe sees herself in all of her customers; from the struggles to the feeling of defeat when trying to find products that actually work. So the relief they feel when her products finally help them reach their goal is unexplainable. Aniqah pours that into the formulas she creates every time by handcrafting these 100% natural products to order.
Keep reading to see my honest review of a few of the products.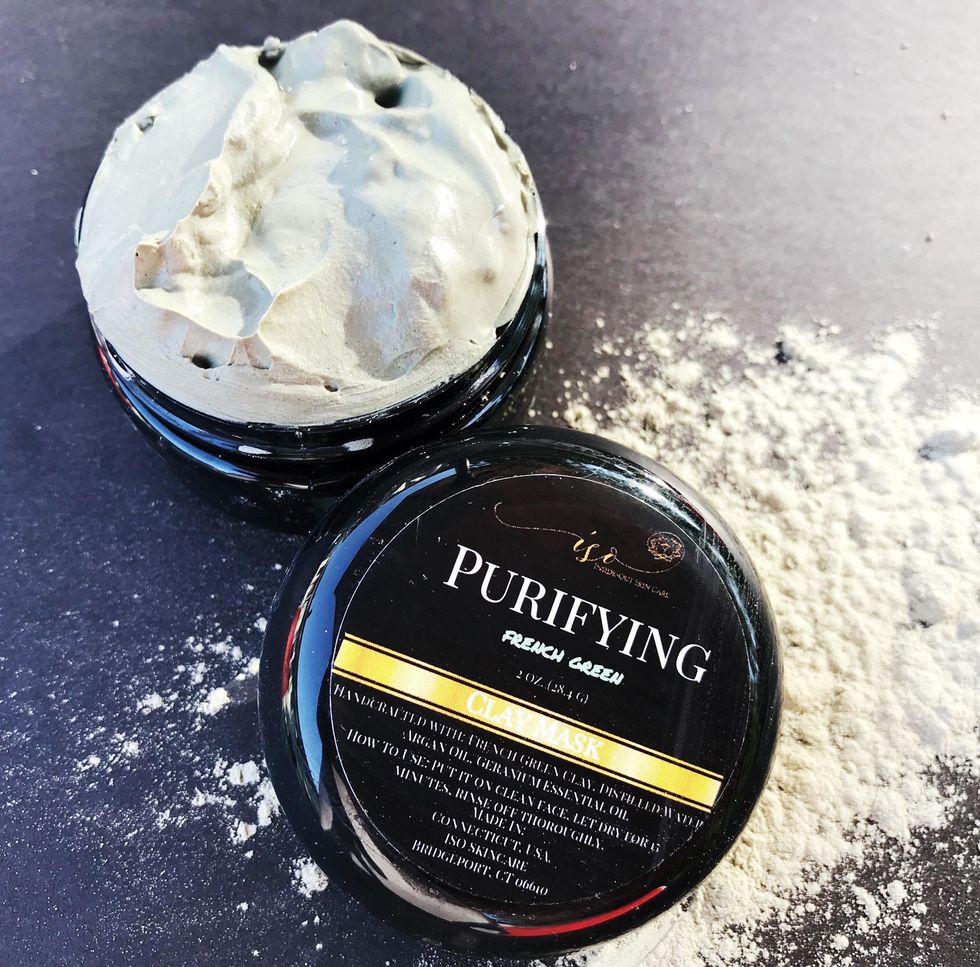 ISO Skincare
The Purifying French Green Clay Mask was designed to draw out all of the impurities from the skin while controlling oil and reducing the appearance of pores. The benefits of this mask also include clearing blemishes, toning and firming skin to naturally cleanse skin and deeply nourish skin cells. According to ISO, the Geranium essential oil gives this mask the ability to slow the growth of bacteria, relieves congested skin and has a scent that aids in balancing emotions and hormones.
I saw that this mask is recommended for combination skin types with moderate acne so I knew I needed to try it.
Writer Joce Blake/xoNecole
I loved the smell of this mask and I could immediately feel the power of the essential oils purifying my skin. I used an ELF Pore Refining Brush to apply the mask all over my face.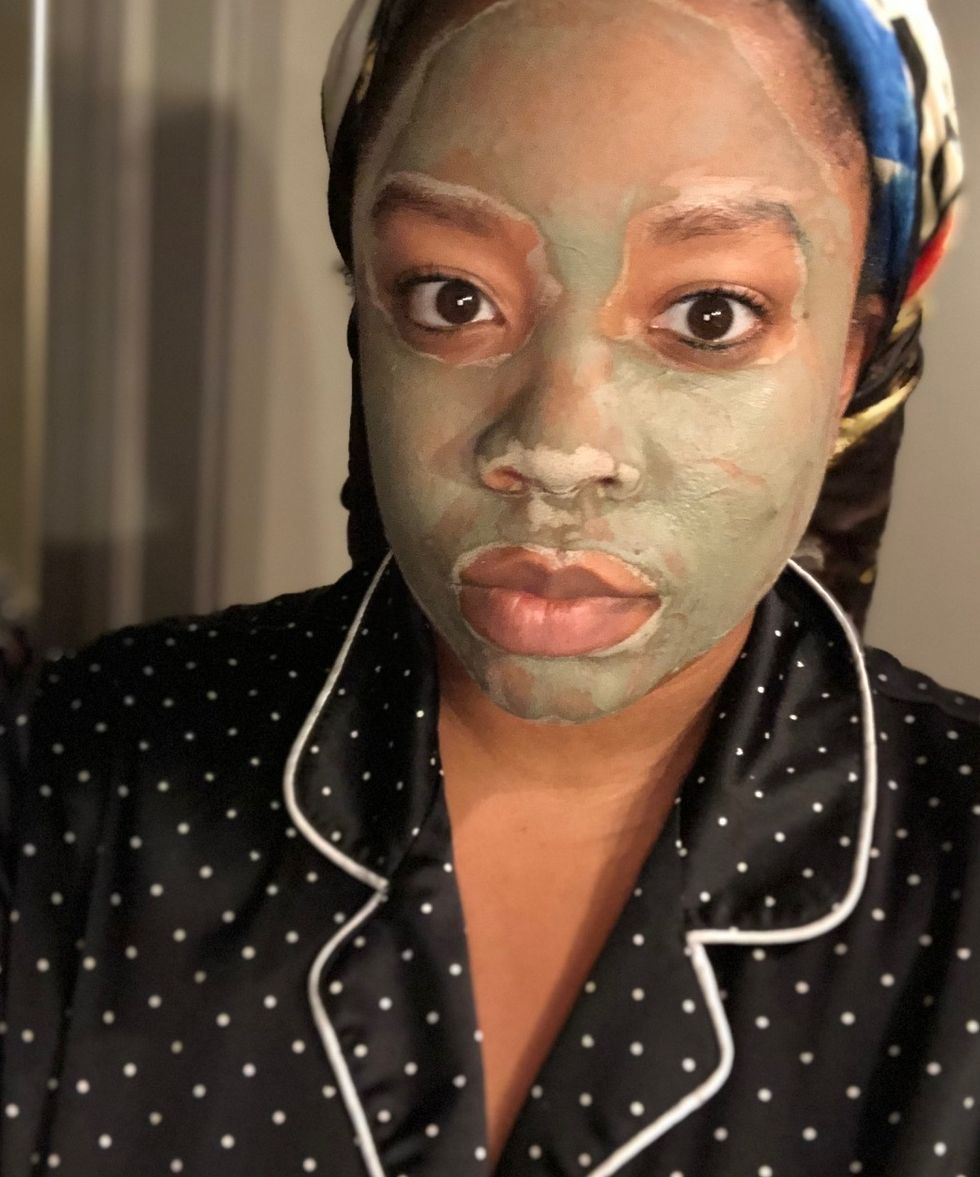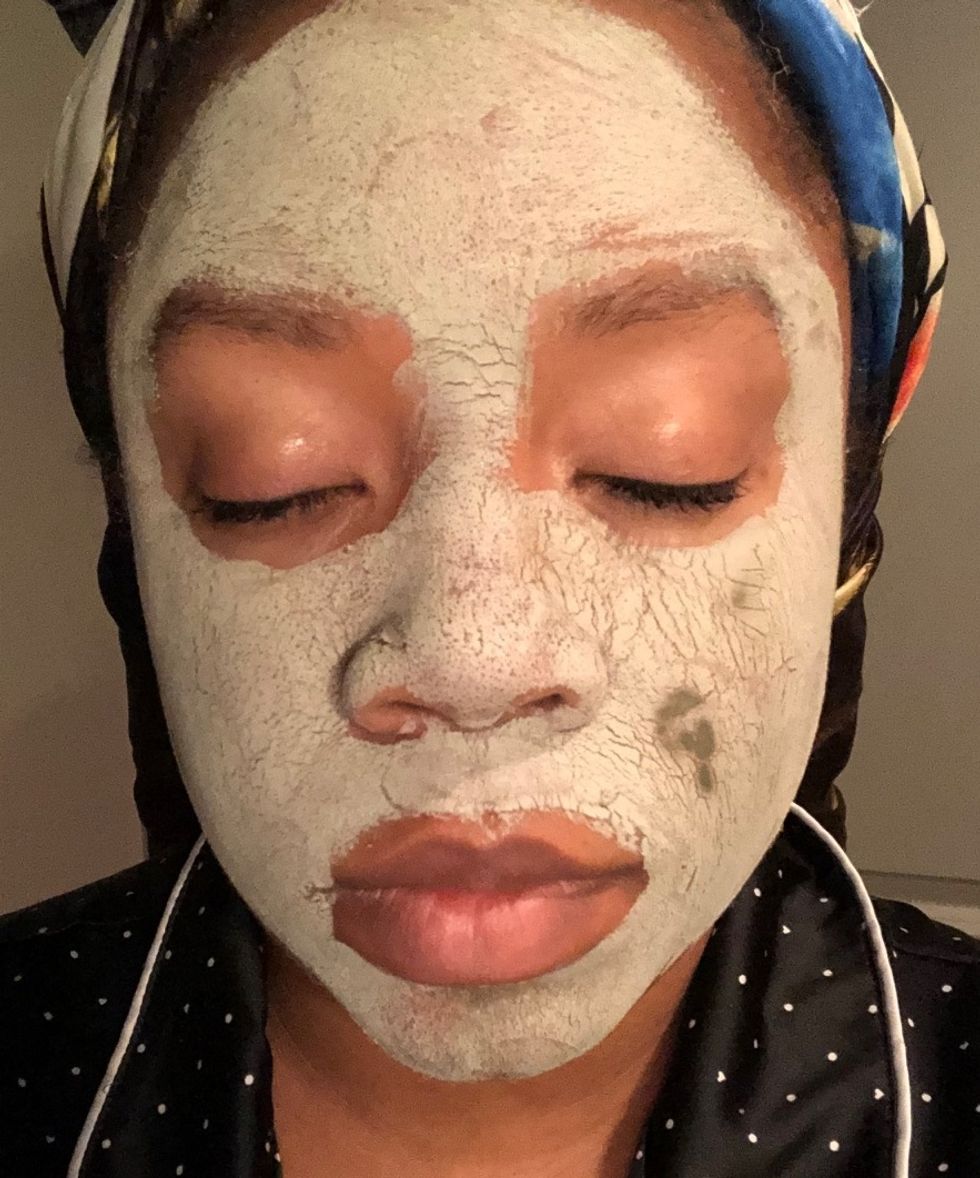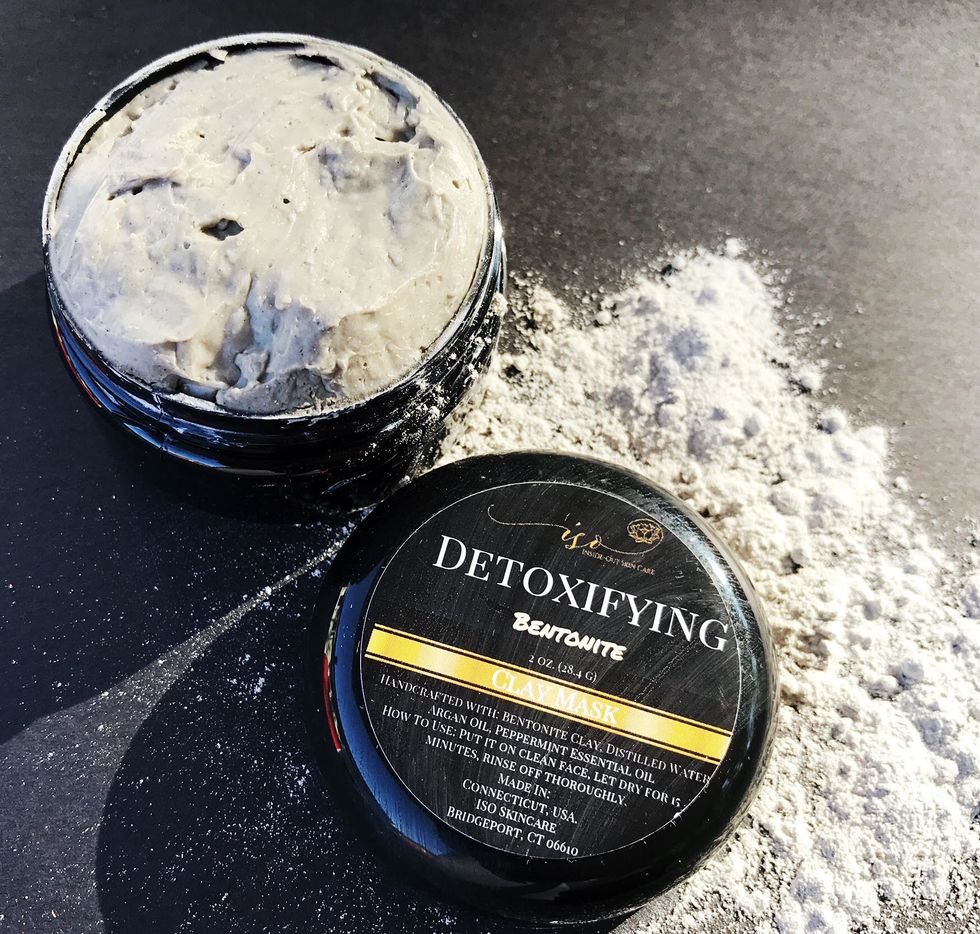 ISO Skincare
The Bentonite Clay Maskis dedicated to detoxification. "This clay mask deeply cleanses pores, draws out toxins, reduces oily skin, prevents and gets rid of blackheads, reduces inflammation, reduces the appearance of acne scars, and firms and tightens skin. With the addition of peppermint essential oil, this mask also has natural antiseptic properties and aids in control of oil secretion." ISO recommends this product for oily skin types with moderate to severe acne.
My thoughts:
One word = refreshing. I loved applying this mask to my skin because it had a minty scent from the the peppermint essential oil. I felt like my face was taking long, deep breaths and it was amazing.
GLOW Nighttime Serum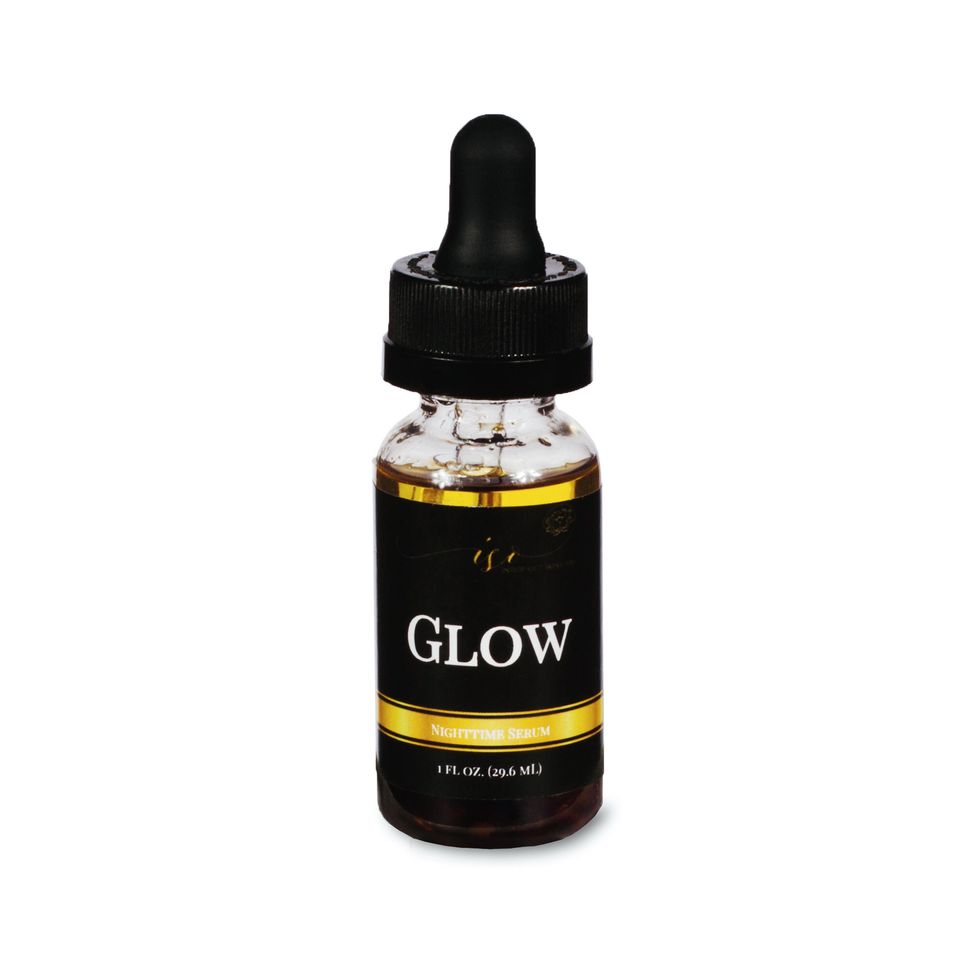 ISO Skincare
Looking to achieve supple, glowing skin? Try this GLOW Nighttime Serum filled with vitamins A, C, and E; linoleic acid to promote healthy sebum production. It also contains antibacterial and anti-inflammatory properties, decreases the appearance of dark marks, and helps skin draw in and maintain moisture.
My thoughts:
After each night of applying the masks, I completed the routine with this serum. I will admit that its red hue alarmed me at first until I realized it was infused with black currant seed oil and red raspberry seed oil. I don't normally use serums before bed but I can already see the difference in my skin's tone and moisture.

Overall, I totally approve this message. The best thing about this line is its promotion of self-care because using these products forced me to step away from work and take real time for myself. It even forced me to come up with a nightly routine: apply a mask, read a book, sip some SleepyTime tea and disconnect from social media. As a result, I can also already see a change in my skin.
The founder even created a 7-Day Self-Care and Skincare Challenge including AM & PM skincare routines, water infusions geared towards healing skin, daily water guide, healing affirmations, and meditations. Aniqah adds, "Skincare is a simple form of self-care. Carving out a set time in the morning and nighttime to commit to a routine is a form of self-care that results in achieving the optimal skin health, which in turn leads to more self-love and when one sees the results of just one self-care habit, they can then implement even more self-care habits into their lives."
Want more stories like this? Sign up for our newsletter here and check out the related reads below:
These Foods Will Give Your Skin & Hair The Moisture They Crave
Angela Bassett Opens Up About Trying Botox & Drops Her Skincare Must-Haves
Facial-Cupping Is The 10-Minute Self-Care Routine You've Been Looking For