In Meet the xoNecole Tribe series, readers are introduced to the members of the xoNecole team that keep the site up and running with their textured and varied stories and voices. In the monthly series, you get a more in-depth look of the person behind the pen, social media, the lens, or whatever they might contribute to the brand.
Meet Taylor Honore , our daily writer turned Associate Editor extraordinaire:
---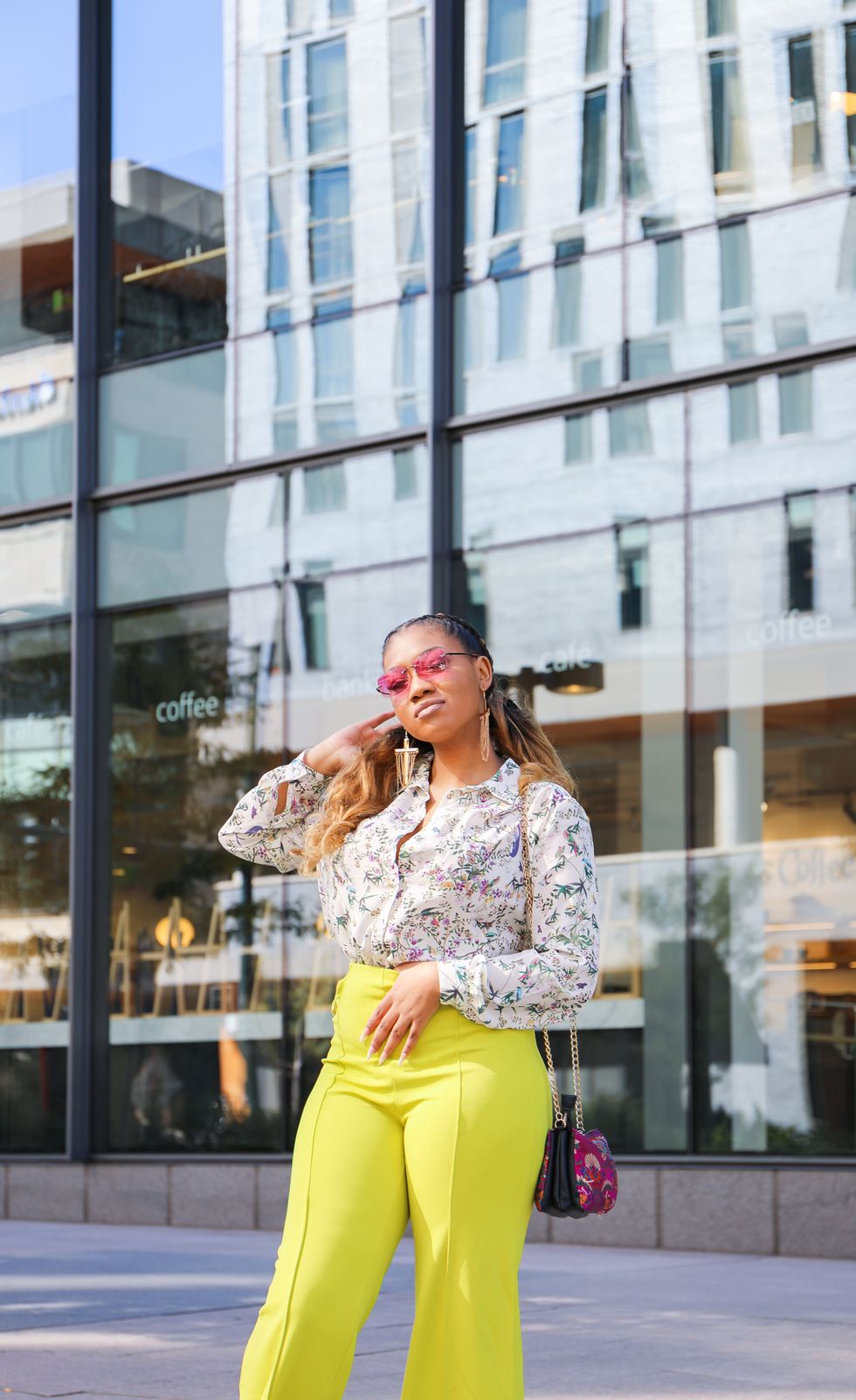 Credit: Danielle Webster
Where are you from?
I'm from all over, honestly. (Caution: Long answer alert) I was born in Iowa City, IA, where my mom was in graduate school for Mass Communications, but she and my father are from Baton Rouge, Louisiana, and that's where I call "home". I also spent time in Texas, South Carolina, and Georgia. I currently live in Denver, CO.
Where did you go to school? And what was your major?
I went to the illustrious South Carolina State University (Go Bulldogs!) in Orangeburg, South Carolina. I studied Mass Communications with an emphasis on Journalism and I also took visual and digital art courses.
When did your love affair with writing begin?
When I was little, I wanted to be just like Janet (Ms. Jackson, if you're nasty). Singing has never been my strong suit, but I fell in love with writing lyrics at an early age. It seemed like my feelings actually mattered when they were put on paper. I found that when my emotions were translated into lyrics, they were no longer just thoughts I had when I was alone. I've always had a wild imagination and a lingering desire to be on stage, so at 14, my rap career was set in motion. In college, I studied journalism, and it taught me how multi-faceted storytelling could really be.
"I had always loved writing because it enabled me to tell my story, but my world changed when I learned that I could use it to tell the stories of others, too."
How and when did you start working with xoNecole?
Since college, I've wanted to work for Necole. I applied a few times before I was on-boarded by our managing editor, and my good friend, Sheriden.
Months prior, I had been working a part-time turned full-time job at Victoria's Secret, but I was miserable. One week after I quit to do my own thing, I got a pilonidal cyst, or a large ass crack boil, and had to be rushed into surgery, leaving me bedridden for two months. I was a college graduate whose mom was paying her bills and didn't have a dollar to her name. I was defeated, depressed, and couldn't get a 9-5 if I wanted to. Then, something told me to apply to xoNecole one more time, and as proof that God is a good, good God, Sheriden gave me a chance.
Me and Sheriden immediately had chemistry, and although it was my first freelance position, she taught me everything I needed to know to be an on-going daily writer. At the end of June, I was asked to come on as Associate Editor.
How do you practice self-care?
Weed and binge-watching TV are probably my favorite ways to take care of myself. I struggle with anxiety, and sometimes my thoughts get so overwhelming that I'm paralyzed. I can't think, I can't feel, I'm just stuck in my own head. Binge-watching my favorite shows with a little Mary Jane helps me to be mindless, even if it's only for a few hours. For example, yesterday, I watched six episodes of This Is Us . In a row. With no regrets. I didn't even know I needed to cry, and laugh, and smile, the way I did for those six hours, but I can tell you one thing, I feel a lot better since I did.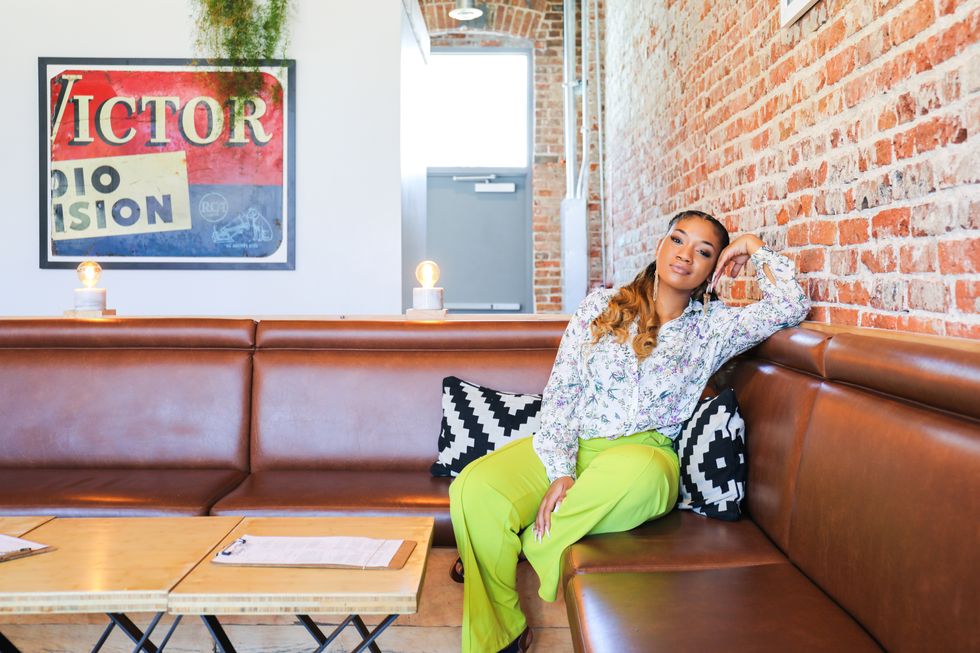 Credit: Danielle Webster
What are your interests? Do you have any hobbies?
I am extremely interested in all things cannabis and hip-hop related. I'm also super interested in nature, cooking, art, and live music of any kind. [I'm also] thinking about getting into yoga!
What is your favorite book of all time? What's the last book you read?
The last book I read and one of my FAVORITE books ever is The Alchemist by Paulo Coelho . A friend sent this novel to me in college, and it changed my perspective of the world in so many ways. When I first got the book, I didn't take the time to read it. It wasn't until I was watching a Pharrell interview with Oprah, and he mentioned that this book changed his life that I really gave it a chance. Now, I read it at least once a year. I recommend this book to anyone I meet who is following their dreams or deep down has a desire to do so.
What's your endgame? Why do you do what you do?
Ladies, call me ambitious, but I'm hoping to be holding a Grammy and a Pulitzer Prize when it's time for the King to call me home. I believe deep in my heart that every experience that I've had should be used to help someone else. Like most women, I've been through a lot of sh*t in my life. I've bumped my head, I've stumbled, but my only hope is that other women who have tripped and stumbled can look at me and know they can chase their happiness and follow their dreams and be successful, too, despite the hardships. My mother was the first Black woman to graduate from the University of Iowa with a degree in Mass Communications, and I plan to bring home so much honor in her name.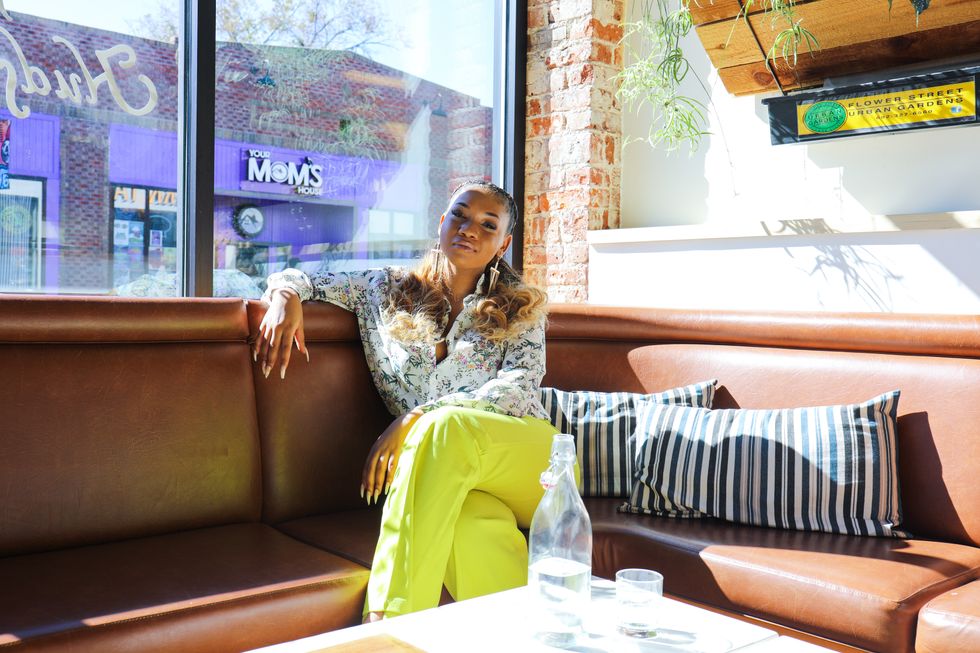 Credit: Danielle Webster
I want to be apart of the Black media ecosystem that creates real change. I want my unborn child to know that their mother used words and ideas to make the world a better place, just like my mom did for me.
What is the most rewarding part of your job? What is the most challenging part?
The most rewarding part of being Associate Editor at xoNecole is knowing that women's lives are changed by the narratives that we create. We work with so many amazing women with so many amazing stories, it's truly a blessing to be a part of a community that caters to people that look like me. I learn something new every day from a different woman and that is truly priceless.
The most challenging part of my job is overcoming a sedentary lifestyle and maintaining a productive work-life balance. I am a workaholic and a perfectionist when it comes to my work. That, coupled with my anxiety makes working from home difficult sometimes. Only recently have I learned to take time for self-care, because at first, I was walking around looking like a caveman, glued to the computer at least 12 hours a day.
What advice do you have for other freelance writers?
Be transparent! Your story is invaluable, and nobody can tell it like you can. Even experiences that may seem mundane to you can be useful to someone else's journey. I don't believe in censorship in writing, which is why I love xoNecole. Don't try to mold your story to fit any one narrative, find a platform that loves who you are. Tell your story and hold nothing back.
Keep up with the other members of our Tribe here .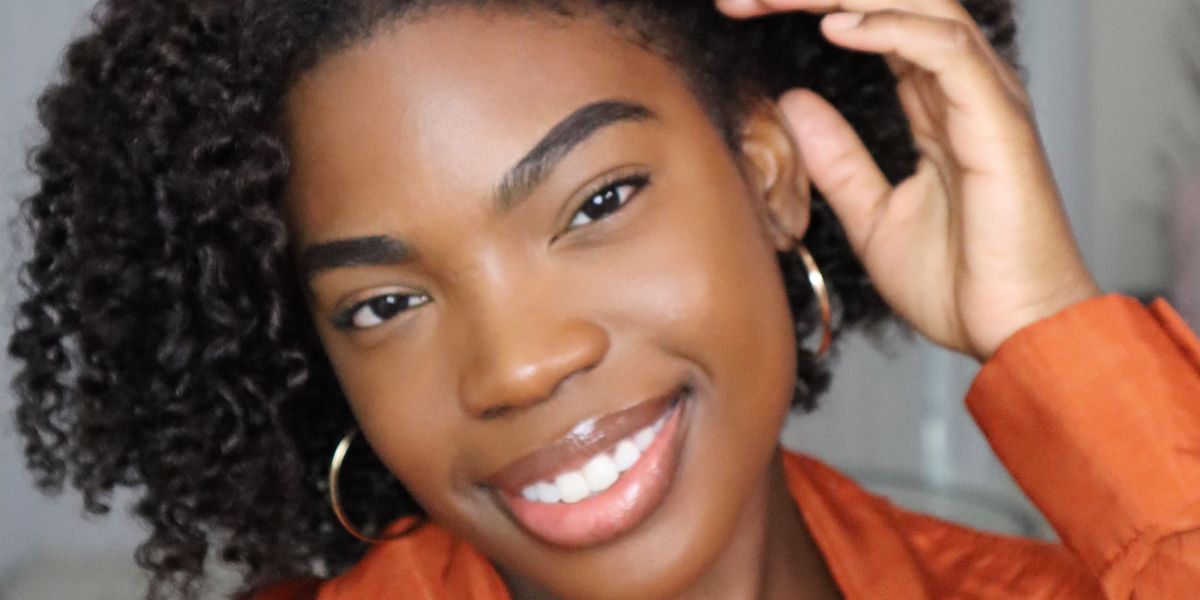 This post is in partnership with SheaMoisture.
When it comes to healthy hair care, there are a few things that will help you achieve healthy strands: a healthy hair care regime, hydration, consistent treatments, and scalp care. While scalp care is one of the most neglected practices, it is also one of the most important. Why? Because it helps promote healthy hair growth, clear hair follicles, and remove build-up.
When it comes to creating a healthy scalp routine, it helps to know exactly what you're up against so you know how to specifically treat it. Two of the most common concerns are dandruff and dry scalp. It can be tough to decipher which is which, but here's a quick breakdown: dry scalp is caused by a lack of moisture in the skin, while dandruff is caused by an excess of oil and yeast buildup on the scalp. Knowing that both of these are big concerns, SheaMoisture released two separate product lines to address both issues: the Scalp Moisture collection and the Anti-Dandruff collection .
Needless to say, if you tend to experience dandruff then I'd recommend you try the Anti-Dandruff collection. However, my biggest concern has always been dry scalp. A lack of moisture on the scalp can be caused by several factors like weather, age, and hair products to name a few. I've noticed that when I use certain gels or skip out on a deep scalp cleanse, my roots feel itchy and dry nonstop, which is uncomfortable.
The only way to relieve the discomfort is to properly wash and moisturize my roots, so I tried the Scalp Moisture collection and this is what I thought.
Krissy Lewis for xoNecole
First, What's In The Collection?
The Scalp Moisture collection is a four-product line that includes a pre-wash masque, a moisturizing shampoo and conditioner, and a moisturizing scalp cream. Each product uses moisturizing and strengthening ingredients like aloe butter and vitamin B3 as active ingredients to provide eight times the moisture. Together, aloe butter and vitamin B3 work to restore dry and brittle hair, as well as add relief to the scalp.
Now, let's break down each product…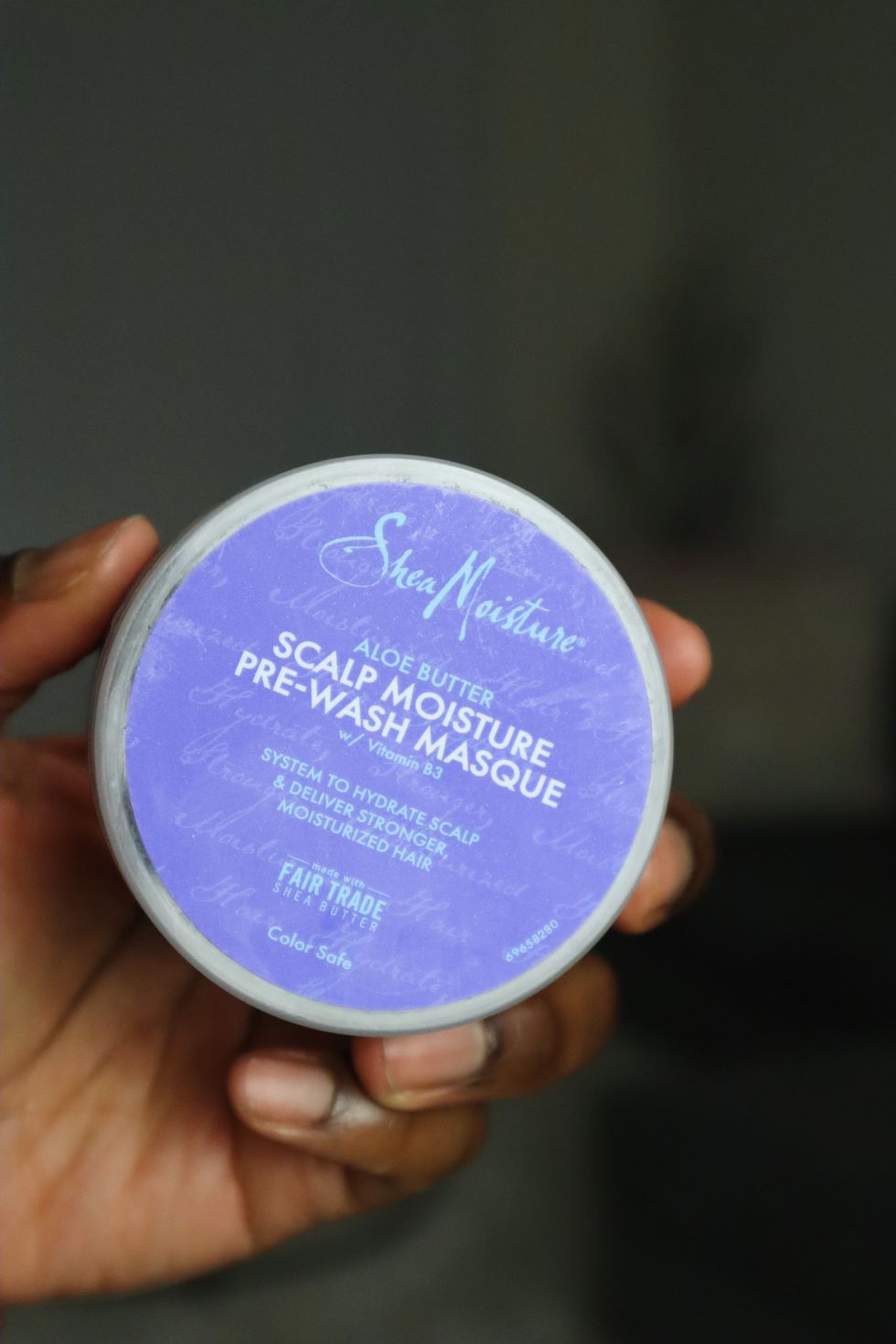 Krissy Lewis for xoNecole
Scalp Moisture Pre-Wash Masque
The SheaMoisture Scalp Moisture Pre-Wash Masque may actually be the all-star of the collection. Using this deep conditioning masque is one of the best ways to target your dry scalp, restore hydration, and nourish your strands before shampooing.
I started by completely saturating my hair and scalp with water, then making small sections to apply the masque directly to the root. For my girls who have experience with relaxers and perms, it helps to apply the masque to your roots just like you would do with a relaxer. This way you can make sure you've covered as much of your scalp as possible while minimizing any breakage.
Pro tip: you can also use a color application brush to make this step easier.
After I completely covered my scalp, I massaged the product into my roots, used any excess on my strands, then left the masque in for 30 minutes. I was shocked by how moisturizing and clarifying my scalp and hair felt. One of the things that I love about the masque is the slip and how much softer it made my hair. While this is marketed as a scalp care product, it can completely transform your hair from dry and parched to completely hydrated.
In my opinion, the downside of this masque is that the quantity is too small for my liking. Truth be told, naturals go through deep conditioners faster than any other product (especially when it's this good.) So SheaMoisture, if you're reading this, we'd love a bigger jar.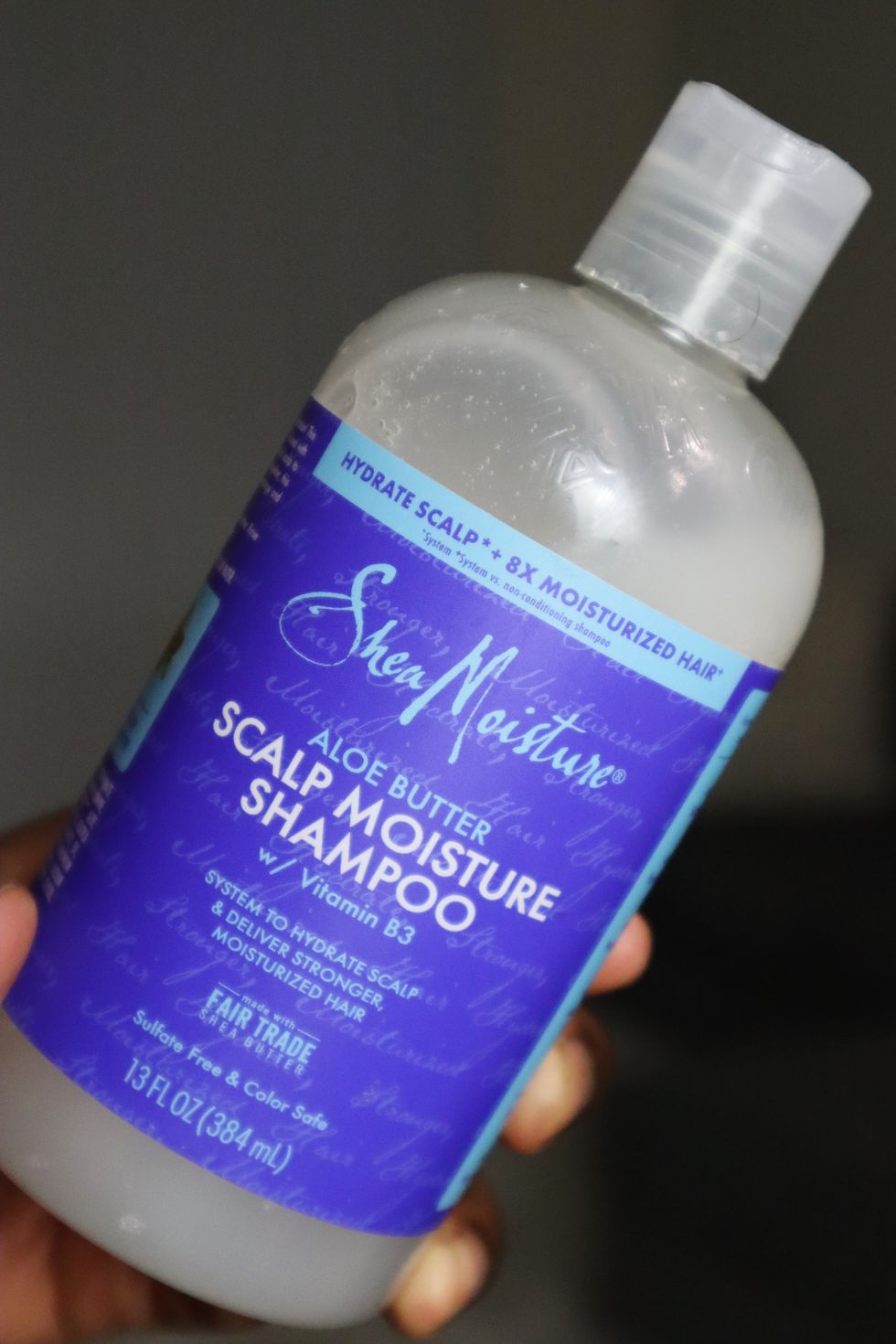 Krissy Lewis for xoNecole
Scalp Moisture Shampoo
The SheaMoisture Scalp Moisture Shampoo is a gentle cleanser packed with the same moisture as the masque. The pearl-colored shampoo is lightweight with a serum-like consistency and a light and clean scent. The smell is pleasant, subtle, and not overbearing. When I applied the shampoo, I noticed immediately that it foams and lathers up very quickly, so less is more.
After applying the shampoo, I parted my hair and started at the roots to target as much of my scalp as possible. I recommend really taking the time to work the product and massage your scalp as much as possible.
Pro tip: using a scalp massager makes it easier and it feels amazing.
Once you start to massage your hair you'll feel the product start to work. There's a tingling sensation that might catch you off guard if you're not used to it, but it's not nearly as strong as other scalp products I've tried. I know some may not appreciate the sensation, but I loved it! My scalp felt clean, light, and breathable.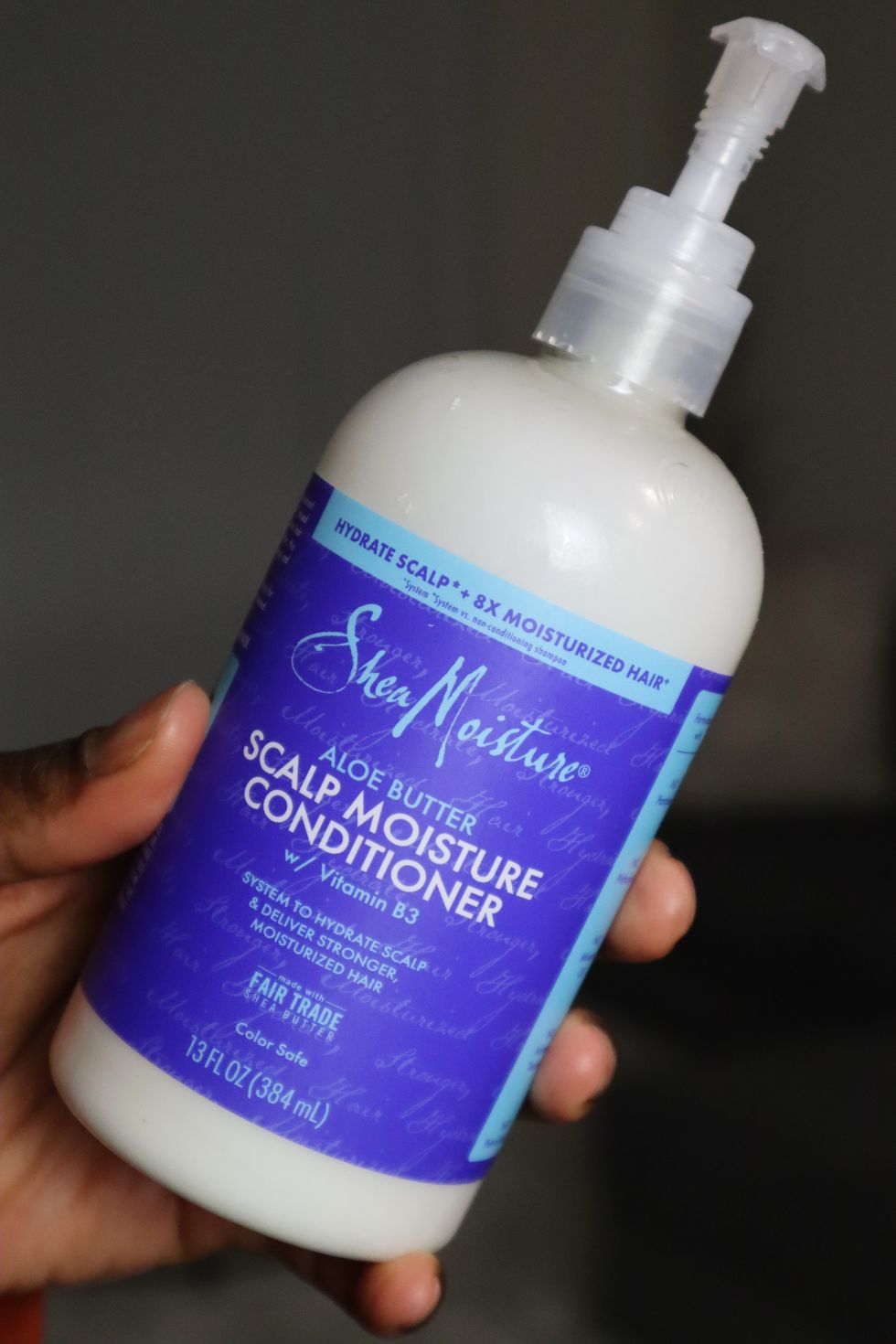 Krissy Lewis for xoNecole
Scalp Moisture Conditioner
Like the shampoo, the SheaMoisture Scalp Moisture Conditioner shares that pearly color and serum-like feel. It applies very easily while softening and moisturizing your hair. When I applied it to my hand, it gave my hands a lotion-like feel, which speaks volumes about its hydration capabilities. I also loved that the conditioner comes with a pump, instead of having to squeeze the product out – to me, it makes application easier.
I typically apply my conditioner to the ends first but because this is a scalp care product I started at the root and worked my way down to my ends. I did leave the conditioner in for ten minutes, although the bottle recommends leaving it in for three. The conditioner also provides that same breathable feel to your scalp. I honestly loved the relief.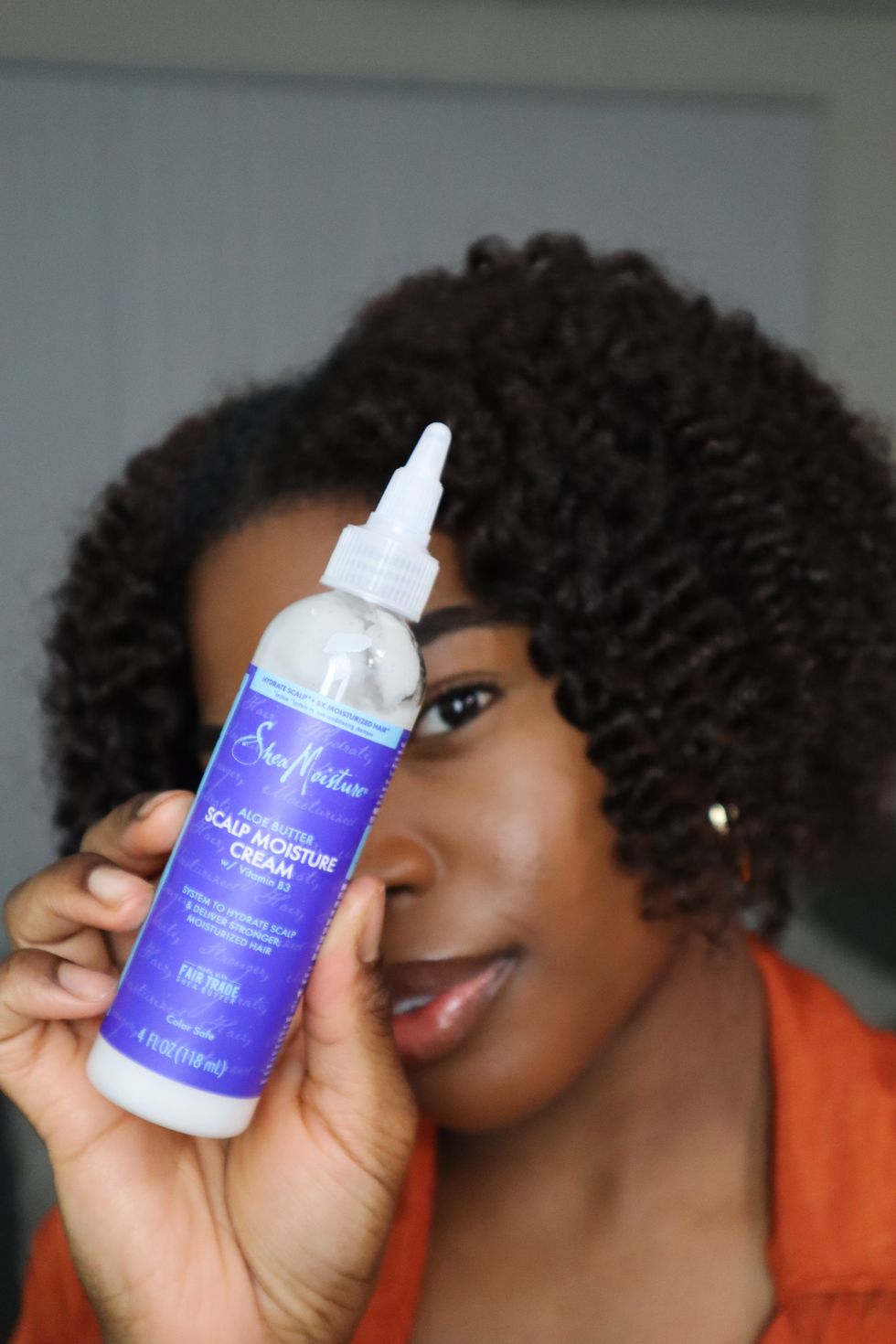 Krissy Lewis for xoNecole
Scalp Moisture Cream
The SheaMoisture Scalp Moisture Cream is more of a daily relief product for your roots rather than your overall hair. It's great for providing moisture and immediate relief to a dry and itchy scalp. Just like most of the collection, it gives a light and breathable feel – without the tingle. The applicator bottle targets specific parts of your scalp and makes applying easier.
Pro tip: I typically just squeeze the bottle to wherever I need the relief and use the tip to massage it into my scalp so it doesn't mess up the hairstyle.
Overall, SheaMoisture's scalp care line lives up to its claims – it moisturizes, strengthens, and provides immediate scalp relief. I definitely recommend trying the Scalp Moisture collection for an affordable way to treat itchy and dry scalp.
Featured image by Krissy Lewis for xoNecole

The debut of the 2023 film adaptation of The Little Mermaid was bigger than me. It was a major moment for my inner child who loved watching the original 1989, as well as the 2000 sequel The Little Mermaid II: Return to the Sea , but didn't know that she could be a mermaid. Though I was never a fan of swimming - or really any aquatic activity - I saw myself in the character of Ariel because she loved to sing, be with friends, and be magical and mystical all day long.
The problem was I didn't identify as a white woman with red hair and blue eyes.
The casting announcement of Grammy-nominated singer and actress Halle Bailey in the live-action remake of The Little Mermaid was nothing less than monumental. While we waited a few years to see the official character posters and trailers, I knew that having a Gen-Z Black girl play one of my favorite Disney princesses was going to shake the table for years to come - especially as someone who has always worn her natural hair .
"My relationship with my natural hair started very young. My mother actually locked my sister and I [our hair] when we were around five-ish years old, and so I have not known my life without my locs," Halle told me during an interview about her and her sister Chlöe Bailey 's loc journey as she noted the spiritual importance of her hair journey. "I'm just grateful to be able to make my version of Ariel have my hair. I was so grateful that Rob Marshall, the director, allowed the essence of Halle to flow through who Ariel is. Especially as a Black woman, it's important for us to be able to see our hair be represented in these different roles."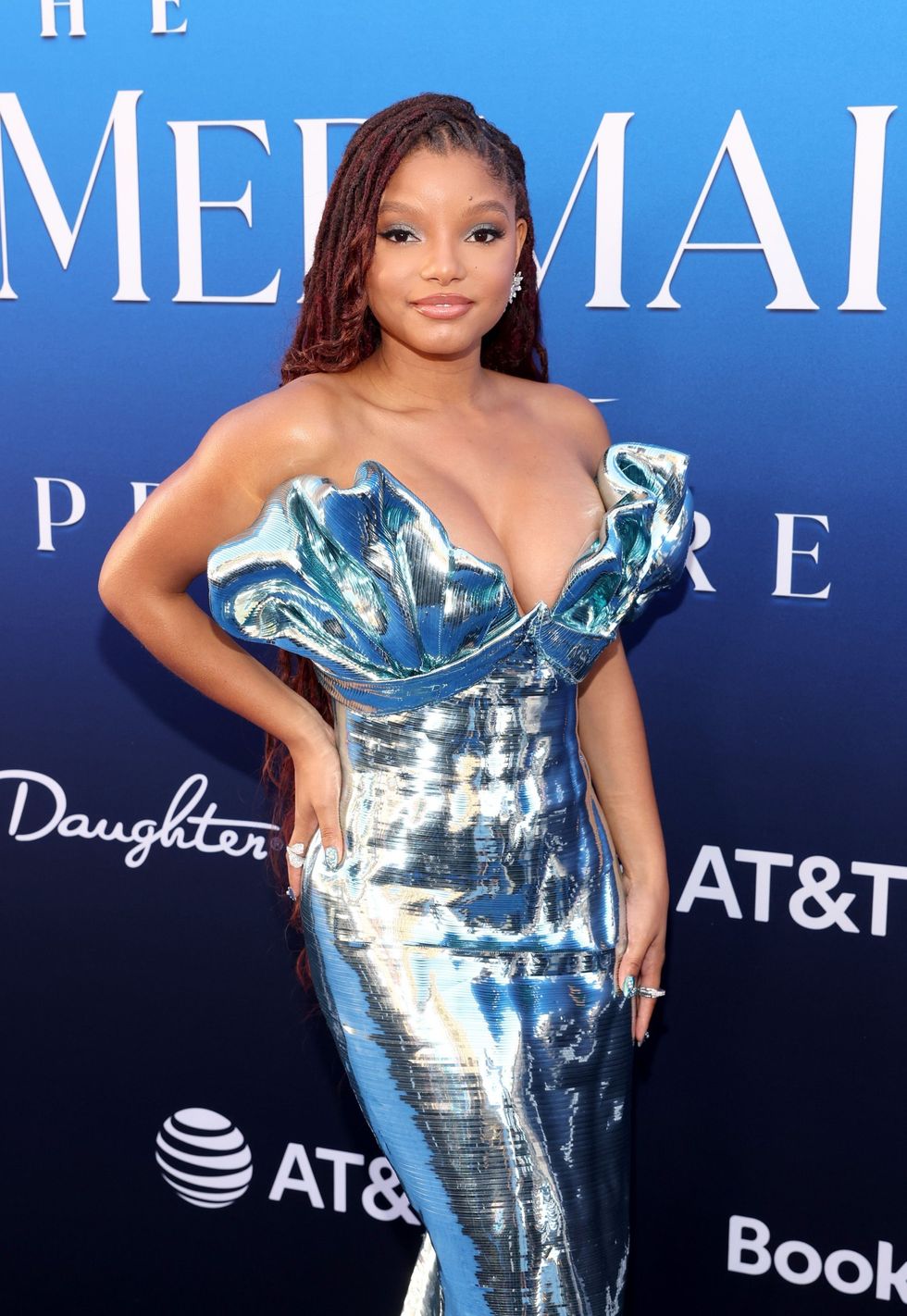 Halle Bailey attends the world premiere of Disney's live-action film The Little Mermaid .
Jesse Grant/Getty Images for Disney
According to Variety's interview with Oscar-nominated hair department head Camille Friend, one of the biggest challenges of bringing Bailey's locs to life was embodying the spirit of the original Disney princess while maintaining the health and integrity of the actress' natural tresses.
"It was a really interesting one because I had never colored my hair before. I was excited about it," Bailey told xoNecole about the dying and coloring process of her hair for her Disney princess debut. "When I saw myself with red roots for the first time, I was like, Whoa , because my whole life, it's been dark brown. My natural hair is just dark brown, so it was really cool to see myself like that."
As the first Black Disney princess to star in a live-action movie, representation was key, and both Friend and Bailey knew they had to use their platform to demonstrate to young girls that staying true to your heritage and cultural identity is first and foremost. Working carefully with her natural 24" locs, the wrapping process took a total of 12 to 14 hours to create the 30" custom-colored locs with three shades of red and Keratin tips.
"I'm not guesstimating, but we probably spent at least $150,000 because we had to redo it and take it out. You couldn't use it, and we'd have to start again. It was a process," Friend told Variety about the process following the hair at a beauty store in Chatsworth, CA. In an effort to put on the finishing touches of their hair to make it "dance" as Bailey moved through the water, Friend added loose body wave-type extensions to give a goddess, beachy-appeal for the final product.
The "ROYL" singer was no stranger to her responsibility as a vessel for change when it comes to the versatility of natural hair. Following the representation of microbraids in Rodgers and Hammerstein's Cinderella by Brandy, Bailey is the second Disney princess to wear a natural protective style as royalty.
From her 70s-style fro on the cover of EDITION by Modern Luxury to an auburn-red bob at this year's Met Gala, Bailey has proven that locs are more adaptable than the mainstream beauty industry believes. "I think it was just so important for me because it's the essence of who I am really. It's all I've known my whole life."
"I think it was just so important for me because it's the essence of who I am really. It's all I've known my whole life."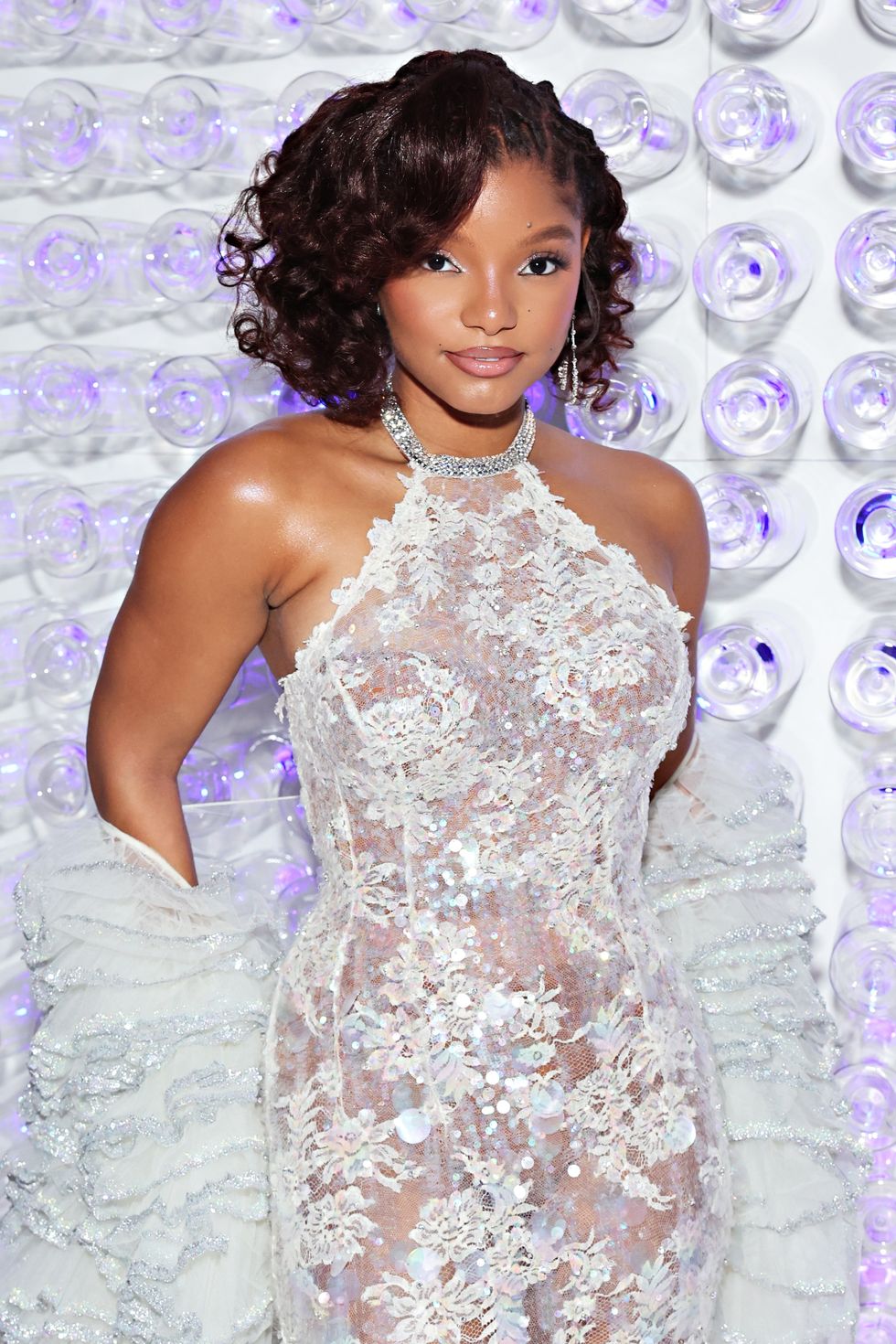 Halle Bailey attends The 2023 Met Gala Celebrating "Karl Lagerfeld: A Line Of Beauty."
Cindy Ord/MG23/Getty Images for The Met Museum/Vogue
Bailey continued, "I think that when Rob Marshall and Disney wanted me, it was a beautiful thing for them to want all of me and to not just pick and choose pieces of me, and allowed me to just be completely myself as a Black woman and show all the layers that come with that. I feel like mermaids would have locs, too. I feel like being under the water and your hair, I feel like it would fuse into locs anyways, like how it does in the movie."
"I think that when Rob Marshall and Disney wanted me, it was a beautiful thing for them to want all of me and to not just pick and choose pieces of me, and allowed me to just be completely myself as a Black woman and show all the layers that come with that."
In addition to being under the sea, Bailey feels on top of the world when she's indulging in activities and surrounding herself with things and people that she loves - both personally and professionally. "I think I feel my most happy and beautiful when I'm doing the things that I love, and I'm warm," Bailey said sweetly with a cherubic smile plastered across her face.
"When I'm warm, number one, when I'm in the sun and just kind of sunbathing, or when I'm quiet, or also when I'm underwater," she added. "Since this movie, I've really discovered a passion for diving and just have this curiosity and wonder for honestly the ocean now. I love scuba diving because it's so quiet down there, and you just kind of go into this meditative space and gratefulness when you get to see how massive this world is above and below us. It's really a cool perspective."
Now, in the midst of being a Disney princess, chugging along weeks of press runs and preparation, and gearing up to star in The Color Purple with Danielle Brooks and Fantasia, how does Halle balance it all? One word: Faith.
"I think I truly just put God at the forefront of my life. I remember that I'm here for a reason, and this is all happening because of God. I think that it's easy for me to stay grounded and humble when I remember that I am just being used as a vessel for good and love and light," Halle said humbly about being rooted in her relationship with her Lord and Savior, who is truly the head of her life. "
"I just hope that whatever is meant to be in my life, God just steers me in the right direction. I think I love being in nature the most because I love when I can feel small and that this is a great big world and that these things, even though this movie feels massive on days like this, and it's a lot of pressure to live up to, it's really nice to just lay back and realize that we're all just small crumbs in this universe. I'm just really grateful to be able to do what I love here and make a living out of what I love and just follow in whatever journey I'm supposed to be in."
The Little Mermaid is now in theaters.
Featured image by Don Arnold/WireImage via Getty Images