The truth about breaking into the fashion and entertainment media industry is that it takes work–hard work.
---
It means being willing to go above and beyond without the promise of better pay. It means late nights in the office clutching a Starbucks coffee cup and working on projects that may not have even been a part of your job description. Or simply making sure that the work you're doing is so impeccable that others have no choice but to take notice.
It's the reason why Kahlana Barfield Brown, the fashion and beauty editor-at-large at InStyle magazine, has been able to successfully climb the ladder in an industry that's known for its high turnovers.
She is the quintessential example for what happens when you exercise hard work, diligence, faith, and patience.
Kahlana is living the dream life that every fashion mag lover would kill for. Flip through the glossy pages of InStyle and you'll catch the beauty queen jetting off to Paris to cover fashion week, having a slumber party with Jessica Alba, or dishing style advice on TV, but Kahlana affirms that behind the flash and flare, there is also hustle and smarts. For the stylish go-getter, the yellow brick road to realizing her dreams wasn't always perfectly paved, it took sacrifice and a relentless work ethic to get in and stay in.
"A lot of times young girls are impatient and they want it to happen so quickly," she says. "They try it and if it's not happening fast enough they move on to something else. But that something else that they move on to isn't necessarily their passion. They couldn't be patient anymore and obviously we all need money and you want something stable, but I always say ride it out because when you're doing something that you actually love, you're going to enjoy going to work every day."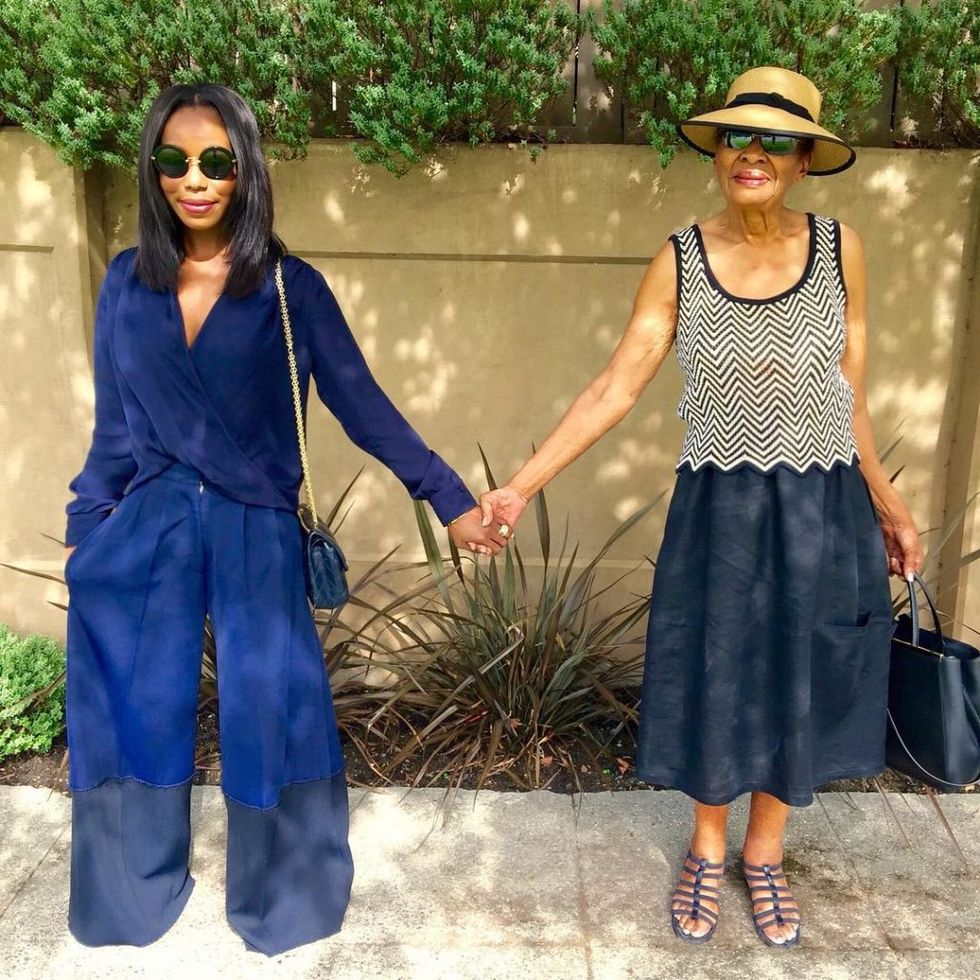 Photo Credit: Kahlana Barfield Brown & Nana, Instagram
Growing up in Seattle, Wash., Kahlana always had a passion for fashion. On our call she lights up when she tells me that her mom and grandmother have always stepped out in style, and in fact, it was her grandmother in particular, who made sure they had weekly dates to either Nordstrom or Bon Marche (now Macy's) where she'd get to pick out one nice thing.
"She was that person that always said, 'Your sense of style is a reflection of you. That's what people see first. It's your image. And you never know who you could meet. You always want to look the part.'"
It's obvious from browsing Kahlana's Instagram, that she took that advice to heart. Her sense of fashion is bold, chic, and mixed with lots of fun shapes and textures. However, no matter how polished she was, education and self-determination has always been first.
"In my household, when I came home from school, I had to do my homework and then I had to read The Autobiography of Malcolm X. I was probably in middle school when I read Malcolm X for the first time," Kahlana tells me about her upbringing. "[My parents] very much taught me who I am as a Black woman, and what our ancestors did for us to pave the way for us. I credit my dad for this because education is the most important thing for him. He's like, 'Yes, style and all that is good, but you have nothing if you don't have your brain. Everything else is surface.'"
Kahlana eventually made her way to the East Coast where she graduated from Howard University with a bachelor's degree in journalism. Shortly after commencement, she moved to New York City because as far as she was concerned, The Big Apple is where fashion lives.
"What Howard taught me was if you're going to do something, you do it at the highest level. You want to work at fashion magazine, you move to New York! That's the capital of fashion," she shares about her fearless decision.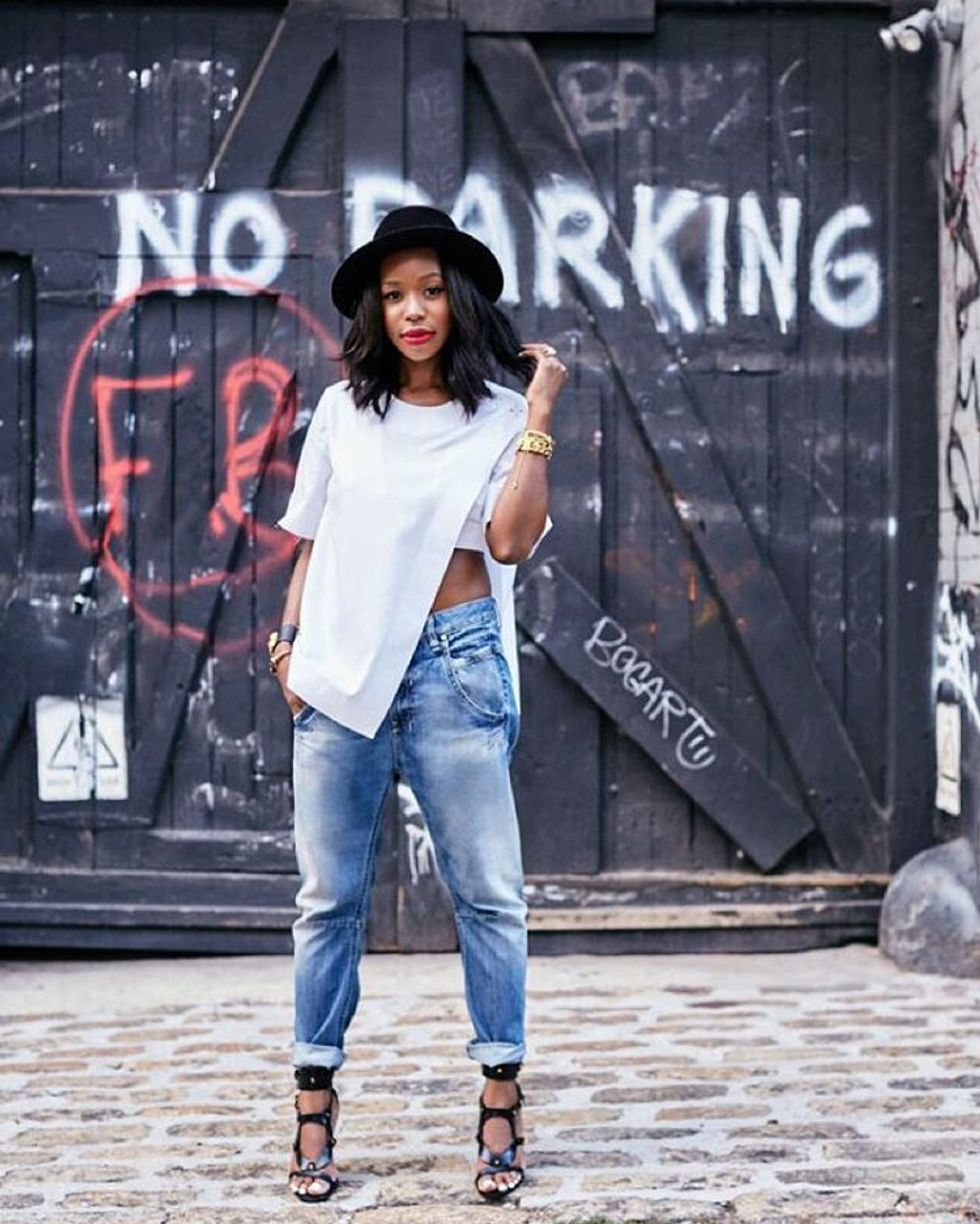 Photo Credit: Kahlana Barfield Brown, Instagram

"You don't move back home to Seattle. You go where you're going to be able to be the biggest person in that field."
Kahlana's hit-the-pavement attitude made her parents nervous, especially when she settled for an internship making $15 a day at start-up magazine Suede over an actual job, but this is where it's important to check the fear that comes with the unknown.

"I knew that I wanted to work in magazines and I knew how competitive this industry was and I knew that I was going to have to start from the bottom and prove myself," she tells me. "I had no ego, I was living on an air mattress at my prophyte's house (Delta Sigma Theta Sorority) in Harlem, and I was working a second job after my internship at Club Monaco. I just did what it took to be able to survive in New York."
She also did what she had to in order to survive in the publishing industry, and eventually applied for an internship at Instyle where she worked as a general intern floating between whichever department or editor needed her support. It wasn't the glamorous fashion job that she had imagined, but it enabled her to touch all aspects of the magazine and get the exposure that she needed amongst the head honchos.
Kahlana was the girl who was down for whatever, even if it meant making lunch runs and playing office maid, and she did so without hesitation. Her reputation for hard work and humility began to get around, and when one of the beauty director's assistant went on vacation for a week, she got the chance to really show the staff what she was made of.
"Even though was only for a week, I wanted to show them what I could do. I would get there at the crack of dawn before she was there. I would leave at night after everyone else. I would just make sure everything she asked me to do was done immaculately."
The internship ended and she passed out thank-you cards to all of the editors, but the dream job at InStyle didn't come right away. Since there was no positions available, Kahlana accepted a job offer at Nordstrom back in Seattle, and didn't imagine that she'd ever be strutting InStyle's hallways again. However, a promise that the beauty director she assisted made to call her if anything ever came up turned out to be genuine, and Kahlana's phone was ringing just two weeks later. To her surprise, she was notified that there was an Assistant Editor position that they wanted her to interview for, and not one to pass up an opportunity, Barfield packed her bags, and headed back to New York City.
To date, she has been promoted six times within the company, including the positions of Associate Beauty Editor, Beauty Editor, Senior Beauty Editor, Beauty Director, and now Beauty Editor-At-Large.
"A lot of people say in this industry you have to move around in order to grow somewhere, which is true, for most people in order to move up the ranks, but I've been so blessed and fortunate that I work for a company who believes in me, who values me, who loves my ideas, who let's me be me and contribute my vision and my taste level," Kahlana gushes. "I have completely grown up the ladder as I've been here. I feel like I have the perfect dream job to do both fashion and beauty together."
It has certainly been an amazing journey thus far for this boss chick. Kahlana, who is a newlywed and a new mother, has everything to brag about yet she remains humble--the perfect example of what a woman in charge should be. Chatting with her felt familiar, like kicking it with one of my homegirls, and I loved her answer to when I asked her what was next for her career.
"I love the path that I'm on now and as long as I continue to elevate and I continue to challenge myself, then I'm happy."
And we'll be there watching as she soars higher.
Obsessed with these wedding vows from @kahlanabarfield's hubby! GURL!!! I'm shedding a princess tear https://t.co/JP5z3KEtEC

— Necole 💛💛 (@Necole 💛💛)1468596477.0