Lizzo is the physical manifestation of the iconic African-American proverb: If you don't know, now you know, playa.
Although Lizzo initially emerged on the music scene in 2013 with her debut project, Lizzobanger, she is just starting to get the traction she deserves. By now, I'm sure you've seen this flute-playing, soul snatching goddess on the internet in one way or another, and after her recent collaborations with industry giants like Gucci Mane and Missy Elliott, Lizzo is making a statement that she's here to stay. Not only does she have the confidence of 12 Beyonces, but she has the soul and talent to back it up.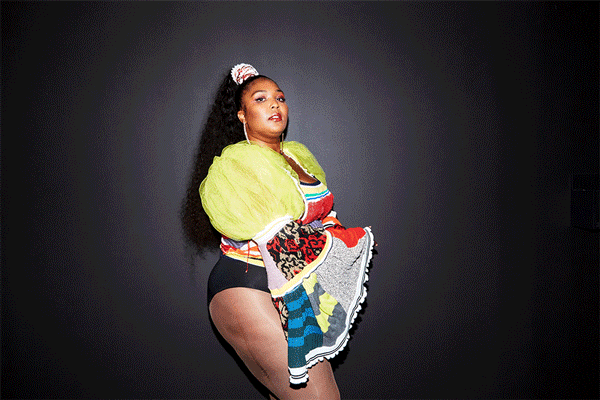 Amy Lombard
There's a lot of things we can learn from this body-positive soul sister, and in honor of her 3rd studio album release, Cuz I Love You, here are four things Lizzo taught me about self-love:

Be Quiet
Sometimes strength comes in the form of silence. Life can be noisy and things can get messy, but if you have the power to be still, you can ultimately weather the storm. Take it from Lizzo, who after losing her father spent three months without speaking. For nearly 90 days, Lizzo communicated through shrugs and only opened her mouth to sing songs from Beyonce's legendary B-Day album, and eat grapefruits and chocolate bars. During that time period, Lizzo explained that she went through a serious transformation that ultimately inspired her to take her career more seriously.
"Something happened... that just sent me over the edge. I dropped out, flew to Denver for summer vacation, went crazy and decided to become a singer."
This bold move ultimately paid off and proved to Lizzo that sometimes real power is having the ability to hold your tongue. She continued:
"My mom is still like - anytime I'm quiet she's like hey, Melissa! Don't go nowhere! [I went] crazy... in a good way though, because I got inspired. That was a summer of metamorphosis."
Lizzo reminds us that the key to maximizing your true potential could lie in shutting the hell up sometimes! Note taken.
Get Professional Help
Thanks to programs like Silence The Shame and Eustress, Inc., the stigma around therapy in the black community is changing. People of color are finally talking about mental health and taking steps toward seeking professional help. Artists including but not limited to Big Sean, Janelle Monae, and Keri Hilson have opened up about their struggles with depression and anxiety and proved that celebrities need therapy too, and Lizzo is no exception. She told Rolling Stone that initially, finding a therapist was difficult, but ultimately, getting help allowed her to become a better entertainer. The 30-year-old musician explained:
"That was really scary. But going on that journey of being vulnerable with someone who I didn't know, and then learning how to be vulnerable with people that I do know, gave me the courage to be vulnerable as a vocalist. I was so afraid of sounding like that for so long. It's a raw part of me that I didn't allow myself to celebrate."
Walk In Your Truth
As someone who is truly indecisive, decisions as small as what to eat for lunch have the power to throw my entire day into a state of chaos. #LizzoTaughtMe that no matter how big or small, if you make a choice based on your truth, you can't lose. As women, well, as humans in general, we spend so much time trying to convince others of what we have, that we forget who we are. The "Tempo" singer gave us the remedy to how to overcome that way of thinking.
"When I have to make decisions, I always choose honesty and I always stay true to myself, because I know at the end of the day that is what's going to remain. That is what's going to be the legend: That I was true to myself and that I honored every person by staying truthful to them."
Love Your Body, That's What It's Made For
No matter what your size or body shape, we're all guilty of "I'm too". I'm too short, I'm too tall, I'm too fat, I'm too small. I'm willing to bet that there is no one on this earth who is truly immune to the "I'm too" disease, but according to Lizzo, the cure is self-love. It doesn't matter how beautiful the product is if you aren't aware of its function and the same is true when it comes to our bodies. Our bodies weren't made for the enjoyment or speculation of others, they were made to be loved, and Lizzo reminds us that we all have a body worth loving. The entertainer told Teen Vogue:
"We should love ourselves first. We should look at our bodies as vehicles for success, and not a signifier of who you are, how good your p*ssy is, if dudes like you or not, or if you can fit certain clothes...that's not what your body's for."
Blame It On My Juice, Baby
As the first plus-size black woman to be on the cover of Playboy Magazine, Lizzo proved that her juice ain't nothing to play with. Although the body-positive maven is now an expert in self-love, her mindset wasn't always this way. In an interview with NPR in 2016, Lizzo explained that unlocking a positive self-image came with accepting her juice for all it was rather than getting caught up in sipping on someone else's.
"I remember one day being like, 'This is it.' Twenty-some-odd years of me believing that one day I can wake up and be some other girl. It's like, you're not gonna wake up and be bigger or smaller or lighter or darker; your hair's not gonna suddenly grow down past your knees. You're going to look this way for the rest of your life. And you have to be OK with that."
Lizzo taught me that it's okay to be quiet because stillness is strength. She reminds us all to walk in our truth at our own tempo and no matter what size or shape we are, to not be ashamed of the ferocity of the juice we possess.
Featured image by Gary Gershoff/Getty Images