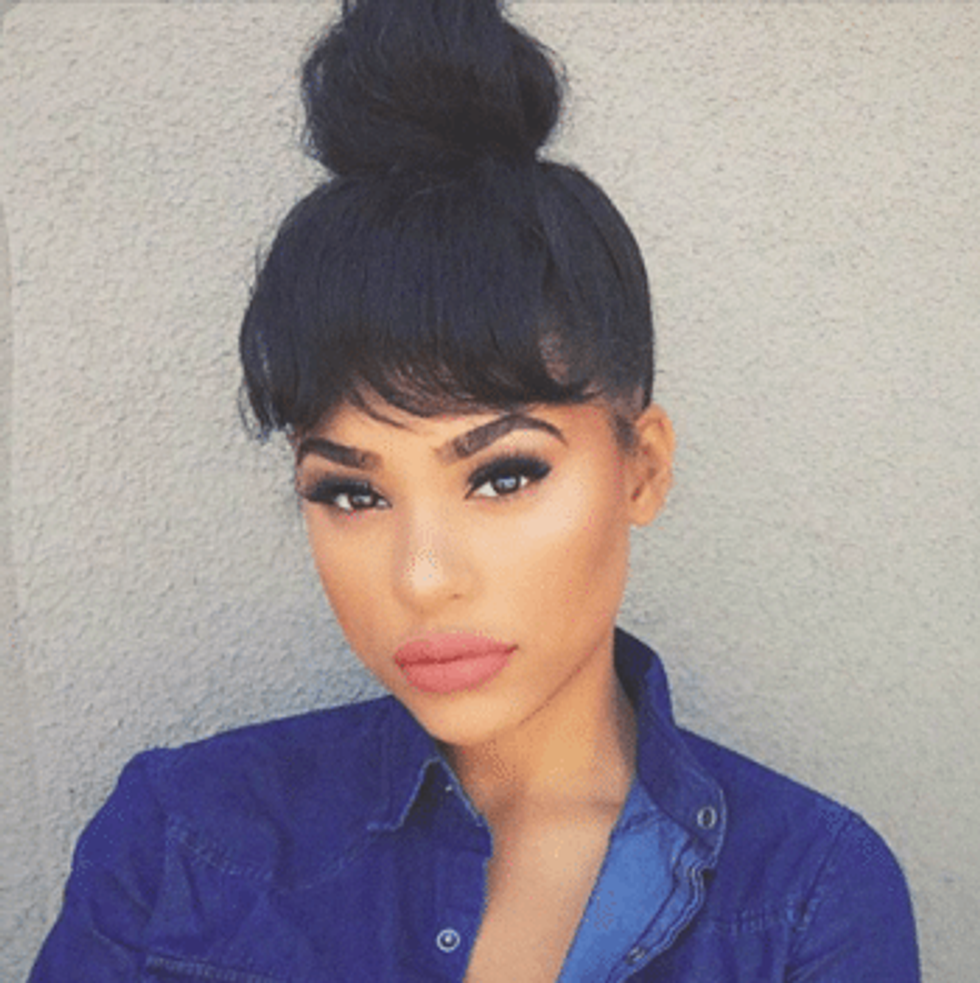 ---
Upon first glance of Raye Raye's Instagram, one might mistakenly conclude the obvious--that she's just another pretty face who also happens to be really good at doing makeup, and that those two popular facts alone are the foundation of her Insta-fame. And then, more than likely, you'd find yourself scrolling down as far as 16 weeks deep into flawless selfies and product promos before dismissing Raye as "just another beauty blogger" whose 800K followers helped land herself at the heart of your Explorer page.
But trust us, you'd be wrong. Well, not about the pretty and popular part.
Raye Raye is not just another MUA. Take away the makeup and she'd still more than likely be able to sell you off her heart and humor alone. Which in all honestly, has probably helped with branding herself in a now saturated industry as "beauty blogging."
"It's funny and probably no one believes me, but before all this Youtube stuff, or before people knew my name, I didn't like to be the forefront. I'm shy."
I believe it. The humble ones usually are. When I had the pleasure of speaking with 25-year-old makeup maven Raye Boyce, I'd already did my research. Between her Instagram clips of infectious laughter and cutesy pranks on her husband and manager Eric, to her 500,000+ viewed video decoding the secrets behind a "flawless selfie" (hint: it takes like 50 filters and five apps), I knew Raye was different from her fellow beauty peers. She was refreshingly personable and unapologetically honest.
"My first time dabbling in makeup was when I was a junior [in high school]. I always played with it but never wore it out. It wasn't until senior year of high school that I started wearing a little bit of mascara, eye shadow and lip gloss.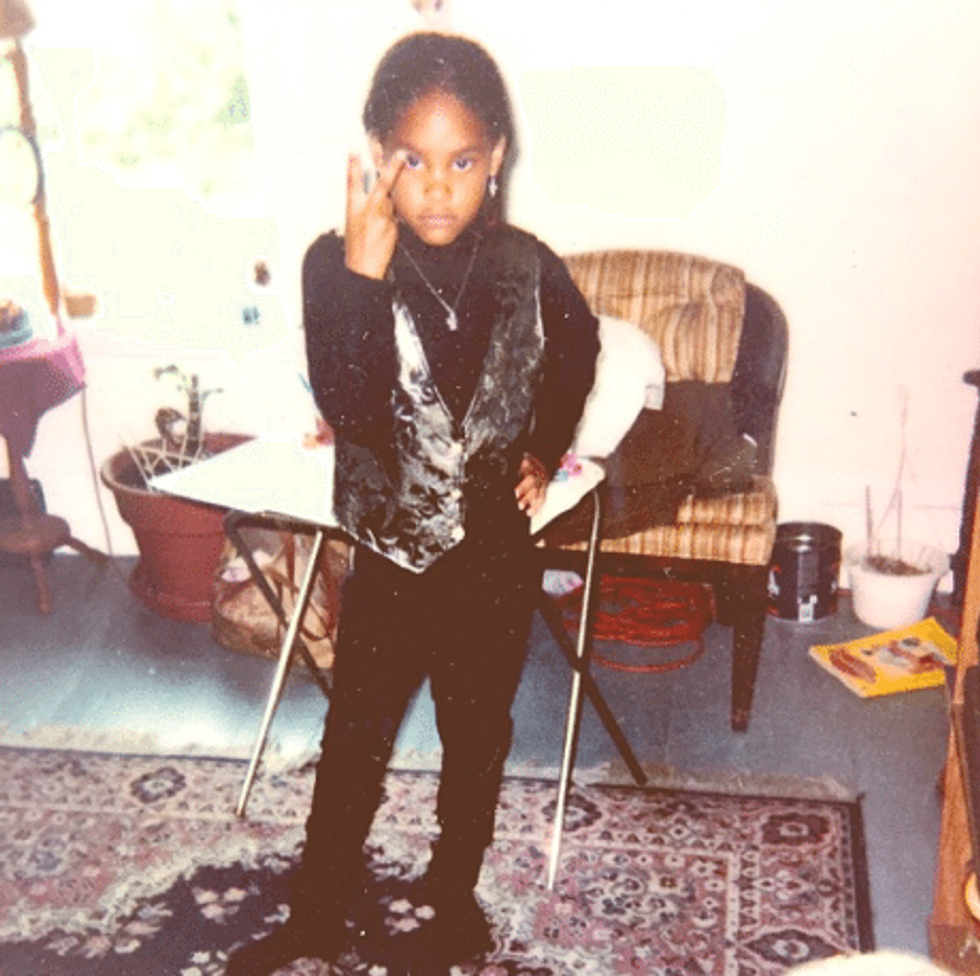 I was always a tomboy. And it's funny because growing up, I don't know if my mom wanted a boy and that just never happened, but she used to give me cornrows like Queen Latifah in Set it Off and I'd have sneakers on. It was crazy. I didn't start becoming a girly-girl until senior year."
That might explain a few things. But Raye, real name Raytifa — "My father's name is Ray. My mothers's name is Tiffany. They like to make up names!" — doesn't just have another "ugly ducking" story to tell or sell (although ironically, she admits she was made fun of for her "duck lips" growing up).
Nope. She actually confessed that her success in the beauty industry, which has now afforded Raye the luxury of self-employment by way of huge advertising bucks, sponsorships, and even features in Elle Magazine, didn't come without tons of doubt and was indeed by way of accident. The Boston native, who moved to New York in an attempt to find herself while most of her friends were off to college, admits that her bad anxiety kept her indoors most of the time and, as a result, on social media.
"I would post pictures [on Facebook] like, 'Hey I got this $1 lipstick from the beauty supply store in New York,' etc. So another YouTuber- she was already in the game and she's an OG- she approached me like, 'Have you ever been interested in doing Youtube?' And I was like, 'Well, that sounds kind of stupid!' Why would I sit there and be all into myself on camera, putting make up on?' She was like, 'Just give it a try. Just do one video and if you don't like it, whatever!'
So I gave it a try and posted it. It was my 'Everyday Makeup' video and people liked it. And it got a lot of views for how small my following was. Then from there, it just blew up and people kept watching and I just kept posting. I didn't intend on becoming a [beauty] 'YouTuber,' I didn't even know what the heck that was.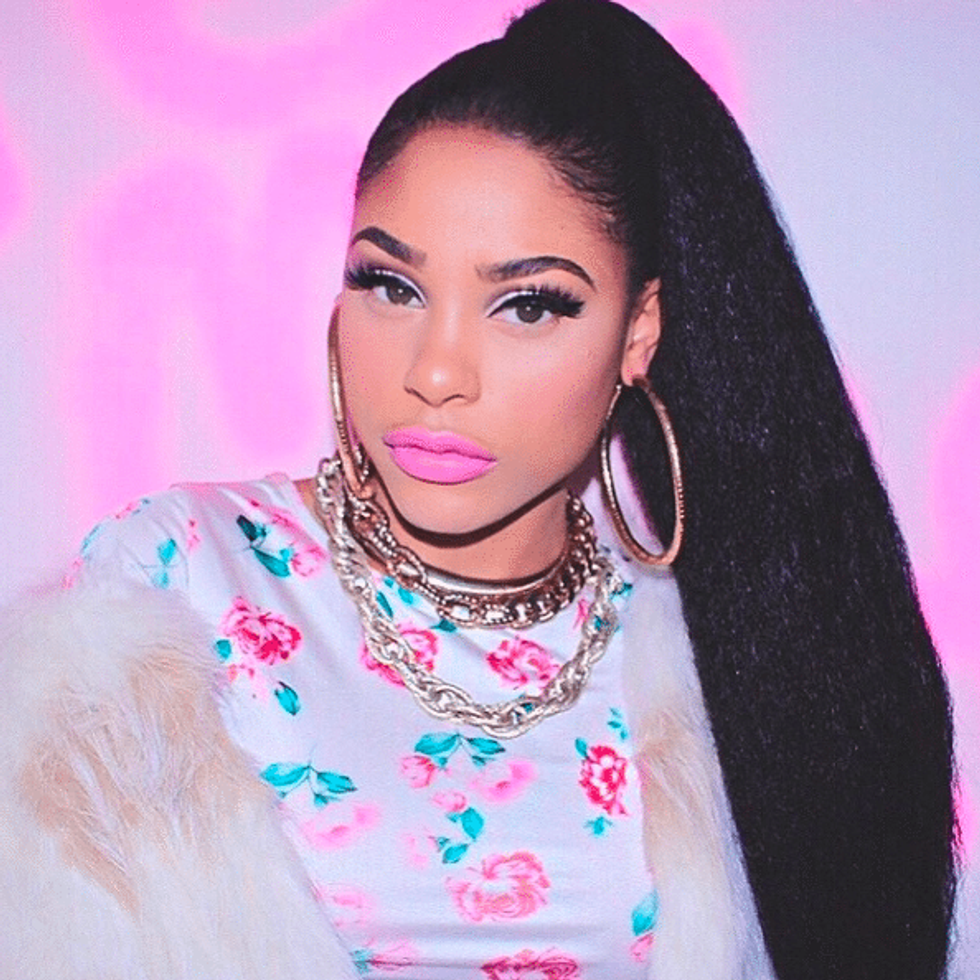 Raye Raye Nicki Minaj Inspired 'Feeling Myself' Make Up Tutorial
And as the followers continued to amass, Raye would continue to post videos in her free time, steadily picking up traffic as she found herself flourishing in the online beauty industry. However, with the mini-fame also came the price to pay for it- the negative comments. Which was almost enough to drive a zen-like, carefree Raye Raye to call to log off for good! The biggest obstacle for me was putting myself out there.
"When I first got my little group of negative comments, I wanted to quit. I was like, 'I don't have to deal with this. This [doing make up] is a choice that I have. I don't have to put up with crap like this when I can be around people who love me and respect me and not deal with negativity from people that I don't even know.'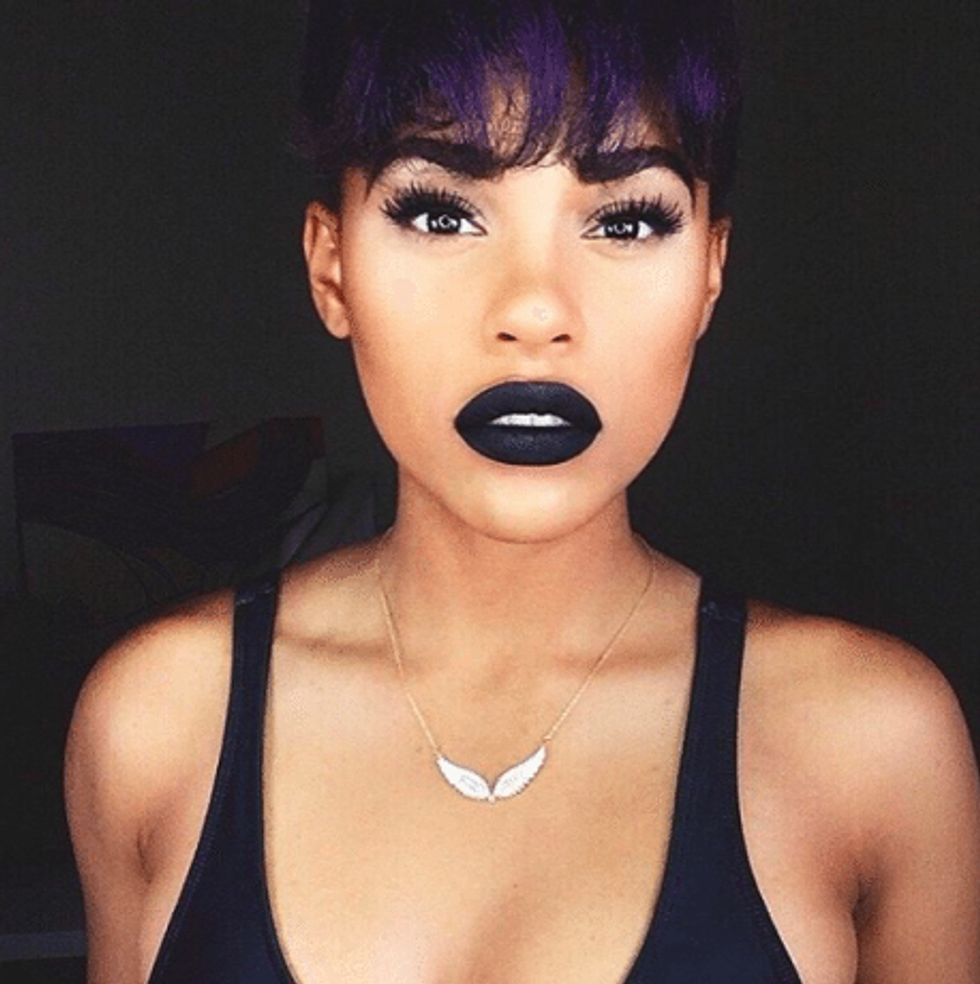 But at the end of the day, that's what [naysayers] want you to do. They want you to quit. And it's just not going to happen. (Mimics Mary J. Blige) 'Don't need your hateration and holleration' over here."
And thank God she didn't stop. Raye-Raye, who admits that she got into the online beauty business while it was still transitioning into the lucrative industry that it is today, has now moved to L.A. and lives entirely off her profession as a makeup guru. She also humbly broke down how one is able to bank off beauty.
"I realized I could do this full time like a year and a half ago because I started getting sponsors. It's funny because now and days, the girls that are coming into the YouTube game and blowing up, they are getting sponsors immediately. So like me, I wasn't part of the beginning era, but I was somewhere in the middle, and I didn't start really getting big sponsors that I could actually make a living off of until I had about 300,000 subscribers. So it had to get to that point for me to actually be full-time and make a living and be able to take care of myself.
At first, you would bank off of your "Ad Sense." Google allows companies to buy ad space on your videos so when you click it, you're able to make money, but (the pay) can vary in range depending on your followers. It can range anywhere from a few dollars to $100,000 [in ads] and that's if you have like, a million subscribers. And then comes the sponsorships from the brands. Makeup brands, if they have a new lipstick or palette coming out, they'll contact you, they will give you 'X' amount of money for YouTube placement in your videos. So that is where most of the money comes from too!"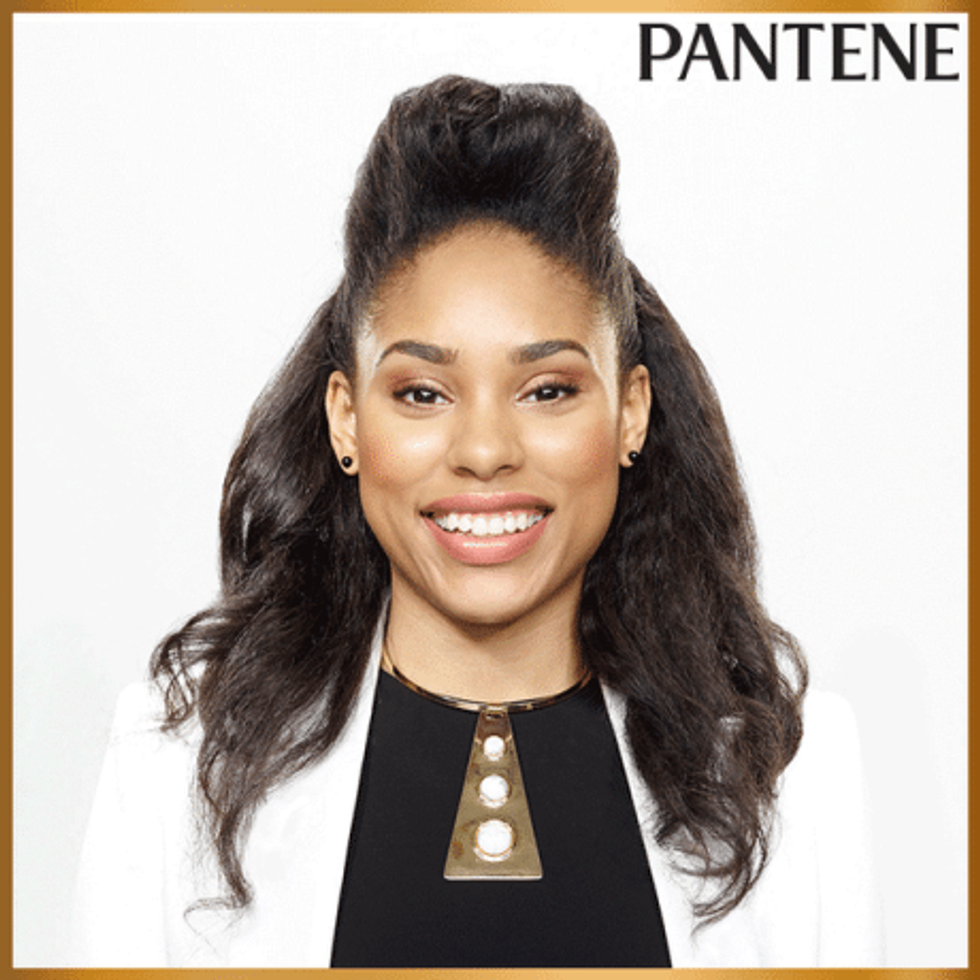 So to put it humbly, she's living. With a combined social media following that ranges in the millions, as well as over an impressive 40,000,000+ YouTube views, the young makeup maven has not only been sponsored by some of the top beauty brands (Makeup Forever, MAC and Smashbox just to name a few), she has also been featured in a Pantene Pro-V hair commercial for her luscious curly locks as well. All of this thanks to makeup and of course, her fanbase of loyalists who Raye-Raye affectionately refers to as her "Bay-Bays" (Babies!), who she is 110% loyal right back to. So loyal that the makeup expert recently decided to get deeper than skin-deep when she revealed she had anxiety, in hopes of helping others deal with it.
"I would bring it up in my previous videos but it would be more like a joking matter. Like I'd say, 'Oh, I could never do that, with my anxiety, I'd go nuts…' But people actually caught on to it. They were tweeting me and emailing me like, 'I have anxiety and I have depression too- can you talk about it?'
Raye admits that the pressures of keeping up with social media, a huge following and a demanding posting schedule can be the source of her anxiety and spurts of depression, and it times she feels guilty for letting her 'blessings' get her down:
[Being in the public can] trigger it. And that's why anxiety, it's like a funny little thing. Because sometimes you'll think you're fine, until months and months pass, and time passed, and then you realize you were suppressing your feelings. And that whole time you thought you were fine, you were actually ignoring [depression] while still dealing with it.
It was like, every time I got a break from [anxiety] it was like, 'Nope! Here is another trigger!' And it was getting worse. But then I thought, 'I have some nerve to be complaining when I have all these things. I could be on the street right now in the rain, sleeping on the concrete and not have any food…I have health, I have a roof over my head, I have a husband, I have food and my family.' But it gets to the point where you keep suppressing it and you keep ignoring it and you help other people with their issues while ignoring yours, until you get to your breaking point. And that's what happened!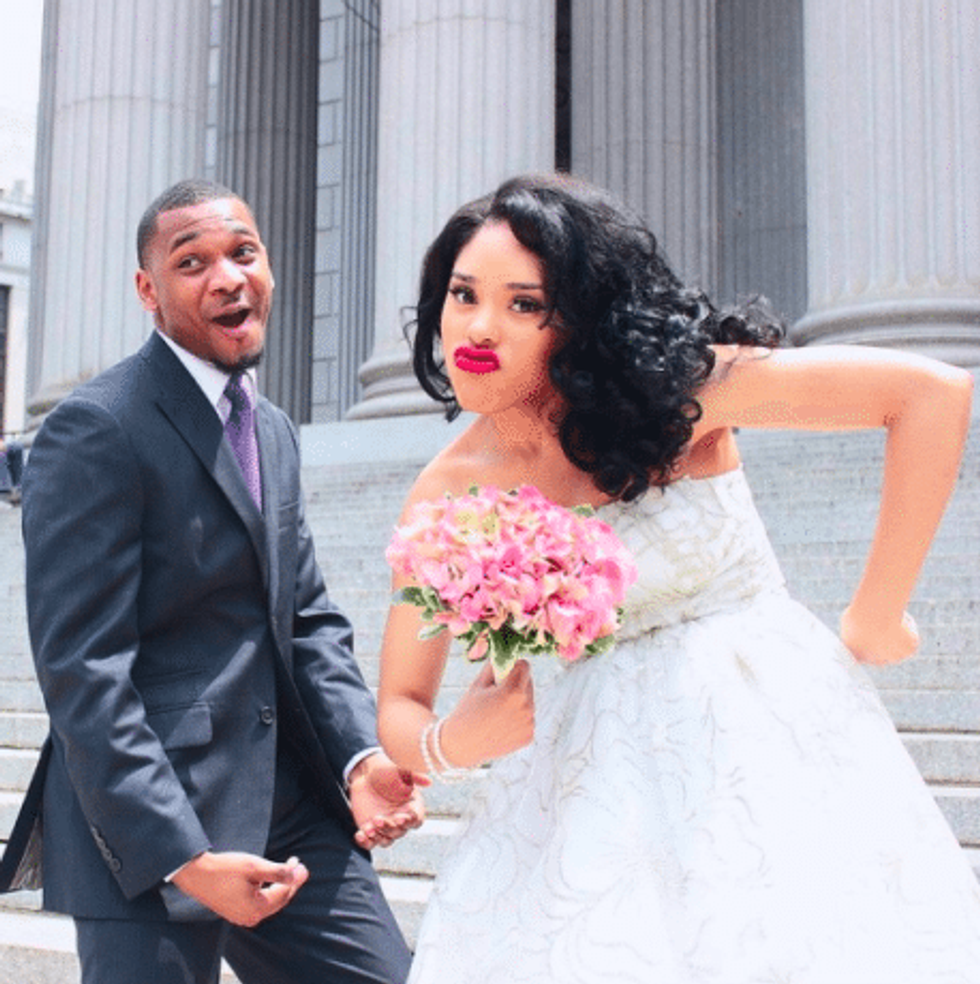 Luckily though, Raye admits that she has sought some self-help through plenty of prayer, self-awareness and the advice from trusted loved ones, which just so happens to be her mother in law as well as that of her boyfriend of eight years and husband of three years, Eric Boyce --"He was my first real boyfriend." After meeting on Myspace, the two decided to do the long distance thing for a while (Eric lived in New York while Raye was still in Boston), before finally meeting in person and as the fairytales go, "it was love at first sight."
"When we finally first met, there were a lot of laughs… I am such an awkward person! I'm that person that leans in to give you a hug and they head-butt you. That's me! But there was no awkwardness. We just had a lot of laughs and we ate a lot. I just knew from there he was the one.
[Tweet "We just had a lot of laughs and ate a lot. I knew from there he was the one."]
Raye humorously refers to Eric as the "Martin" to her "Gina," and it's clear to see why. All over her Instagram and YouTube, when the two aren't cracking jokes on one another, the adventurists are riding four-wheelers, helicopters and even recently, sky-diving.
So what could possibly be next for the girl who at 18 felt hopeless but by 25, managed to seemingly figure it all out?
"In 5 years, speaking it into existence as a business woman, I will have my own make up brand and it will be sold in stores and it will be successful. As well as other brands. And I also hope to get into real estate so hopefully I'll own some property. And as far as my personal life, probably some little kiddies running around. Some little Raye-Raye's playing in makeup, just a good future with my husband, with [our little] family. Me and my husband have spoken about moving out of the country. We really like Thailand… Maybe Japan or Hong Kong. We'll see!"
She came. She saw. She contoured!