---
As Told To is a recurring segment on xoNecole where real women are given a platform to tell their stories in first-person narrative as told to a writer. If you have a story you'd like to share but aren't sure about how to put it into words, contact us at submissions@xonecole.com with the subject "As Told To" for your story to be featured.
This is Nikeya Burnett's story, as told to Charmin Michelle.
I was stressed.
And not the day-to-day stress where you drink some wine, take a cute bubble bath, and hope that tomorrow will be a better day. No, this was the overwhelmed-sized; where I needed to completely disconnect from civilization.
My entire family was headed to Jamaica for a wedding and I considered going as a means for an outlet. Eventually, I knew I couldn't be around that chaos while I was in that particular headspace, so I told my family I wouldn't be able to attend. I secretly decided on a solo vacation instead.
With Aruba being only 20 miles long and six miles wide, I knew this would be the perfect location to get myself together. I bought my ticket, packed my bags, and headed out.

I landed in Oranjestad, Aruba on a scorching day in June and was completely blown away by the feel of the island. The smell, the beauty, the people. Aruba is a paradise made up of everything you can imagine so seeing the serenity that surrounded me, showed me a different level of assurance that I had never experienced before.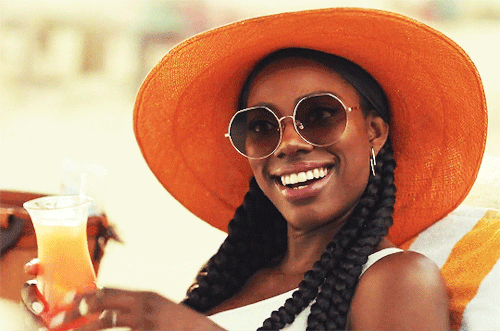 66.media.tumblr.com
I thought to myself, Sis, this is exactly what you need.

My Airbnb was in walking distance from the main street, which worked in my favor. I was able to walk everywhere and feel safe, even at 2 o'clock in the morning. It sounds crazy but I really didn't fear anything so I would walk around and ask for the best local spots for food, drinks, clubs, etc. Everyone I had an encounter with was super friendly, open to helping tourists, and full of island vibe tings.
I found a bar to grab food and drinks when I randomly ran into two ladies who recognized me from the airport. They noticed I was alone and invited me over to their table for girl talk, dinner, and drinks. We naturally hit it off and ended up hanging out for hours—and once we started, it was as if we had known each other for years. They told me they had been best friends since they were kids and were on the island to celebrate a 30th bday. Each of the ladies owned their own businesses which I admired, being that this was a step that I had always wanted to take, but hadn't yet made that leap. We exchanged numbers and made plans to meet up again throughout our stay.
I returned to my room already revitalized.
I hung out with the ladies again the next day for a fun night out on the island. This time, they had an addition to the squad, as another had arrived for the celebration. But it wasn't until the following day at dinner that influenced my mindset's shift:
I made reservations for dinner for myself that night, but later found out that the ladies had dinner plans at the same place. So, my solo dinner turned into a group outing, which I absolutely did not mind, and in hindsight, ended up being a fateful redirection. We talked all night about life and goals and our vision for the remainder of the year. We discussed plans, actions, and knowing how to manifest everything we deserve. I was so fulfilled, way beyond any salvation I was originally seeking when I arrived. Here I was, working at a stressful dead end job. I had an advanced industry skill set and was sitting on a gold mine of ideas, while each of these ladies owned their own businesses and were living as inspiring bosses on an island where I was just looking for sanity.
In essence, they just went for it, while I was still waiting for the right moment.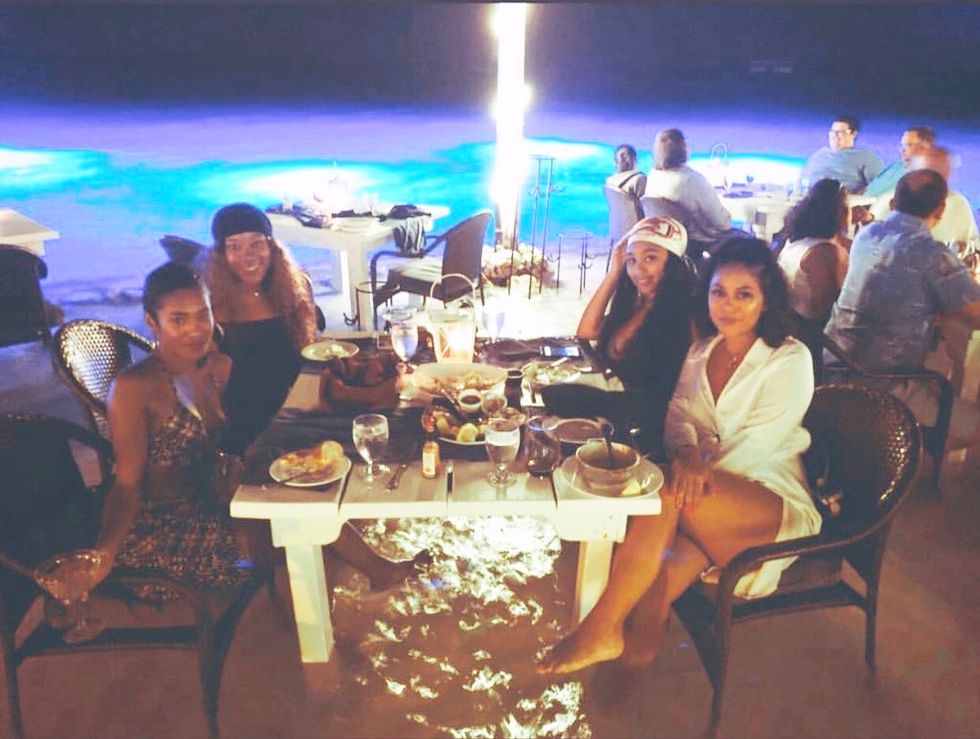 Photo Courtesy of Nikeya Burnett
After my trip and when I arrived back in NY, I took time to reflect on what my purpose was. I knew Aruba had changed my life—and I knew I had to step out on faith. So, I quit my full-time job.
That right moment for me had officially arrived. I was terrified.
I have an extensive background in medical billing/health plan benefit advisory and working directly with cancer patients as an office coordinator at a cancer center. I decided to focus and build upon my industry's niche specialization and open a brick-and-mortar salon to assist in educating and filing health insurance claims to help all medical hair loss clients (cancer and alopecia), as well as assist in convincing health insurance companies to cover full or partial costs of cranial prosthetics (wigs).
Yes, guys. My very own salon. One of the first in the country that specializes in cancer patients. All stemming from taking the time to disconnect and focus on my self-care.
We are all going through it. And sometimes all we need is to take the time for ourselves to clear our heads. Learn to just take a moment. It doesn't have to be a trip to Aruba, it can be a 2-hour drive to simply distance yourself from yourself. But put you first, it's not possible to pour from an empty cup. I was the go-to girl that didn't feel like I had someone to go to. I swept so many emotions under the rug and tuned out the signs of healing. It all took its toll and I did something about it.
To my queens who unknowingly inspired me to go for it:
Thank you.
Universal alignment pushed me toward a journey I was so scared to take. A chance meeting during an unforgettable vacation developed the beast in me. You never really know who you inspire in this life, so take full advantage of any interaction that you're privileged to be a part of.
Explore, network, have faith, and believe that you can manifest everything that you want in this life. Doors have easily opened left and right for me on this beautiful rocky journey of entrepreneurship.
And it all started with Aruba.
To keep up with Nikeya, you can follow her Instagram here. To learn more about Nikeya's Salon, visit her website.
Featured image courtesy of Nikeya Burnett