Celebrity hairstylist Cliff Vmir is a bonafide badass working with some of the top talents in entertainment, including Cardi B, who months ago crafted Cardi's icy blue hair color that lit social media ablaze. Recently, the millionaire hairstylist gave his 700K+ followers an up close and personal look into his life by starring in his own BET web series Wig Out. At only 21 years old, Cliff holds the reins as a premier stylist and has gained a loyal following on social media as well as from his classes where aspiring hairstylists learn valuable techniques and expert advice for mastering the latest looks.
---
Luckily for us, we were able to snag Cliff for a moment to talk about what he knows best: Wigs! From advice on purchasing our wigs to caring for and maintaining them, Cliff has us covered, and we are definitely taking notes.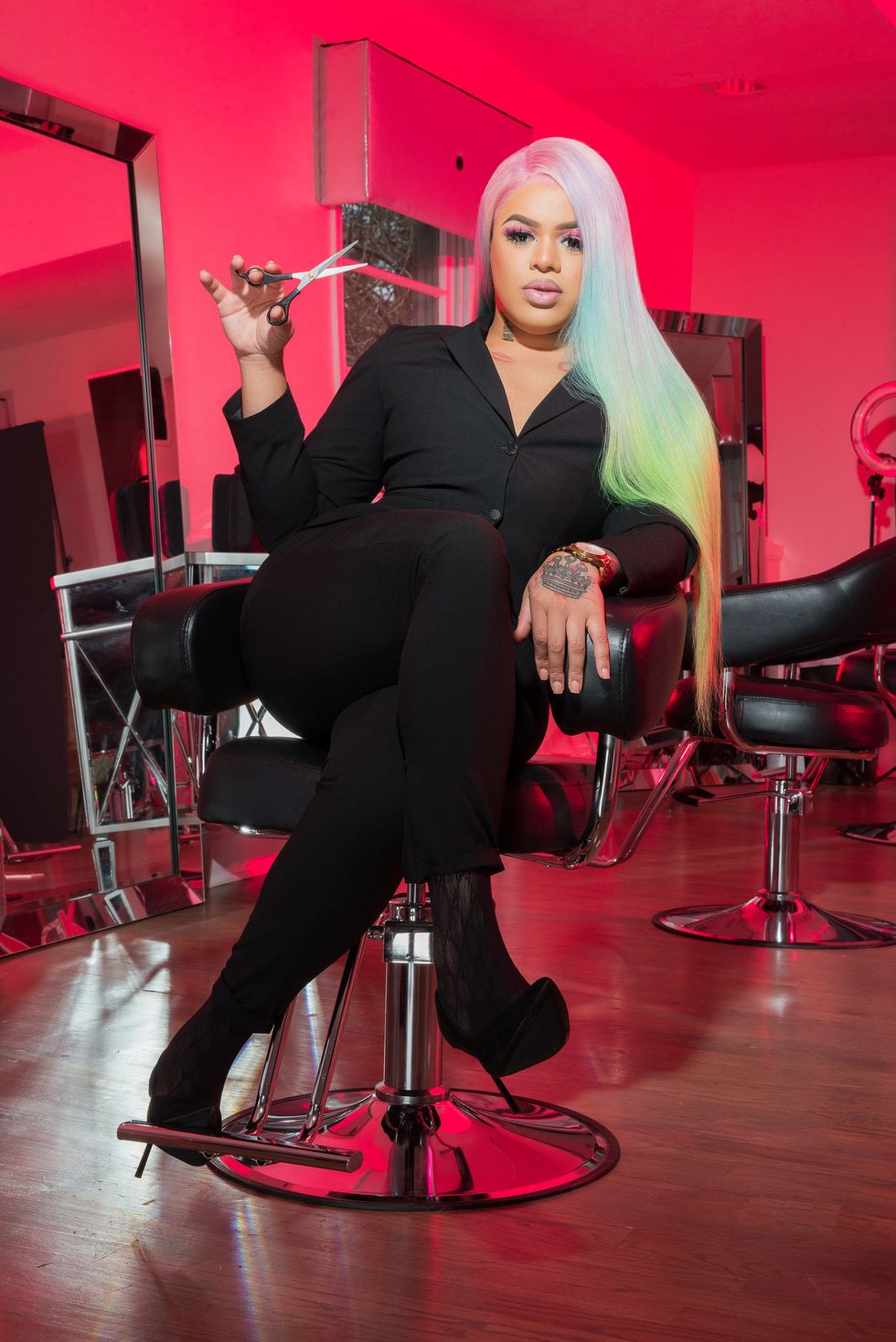 Courtesy of Cliff Vmir
It's All About the Lace.
"When purchasing a wig, you should make sure that the lace is pretty thin and the color of the lace matches your skin and [that] it's a swift lace," Cliff told us. "You also want to make sure that you are getting a nice quality wig. You don't want to get a wig that's kinda cheap because you get what you pay for."
Quality Matters.
Quality over quantity is a life mantra that goes double with wigs. "There [are] so many different types of hair you can use for a wig and that (quality) is something you want to pay attention to when purchasing a wig. You don't want to get a wig that you spend a lot of money on or feel is a lot of money but it's not great quality. You just want to keep your eyes open and do your research, especially from the company you're purchasing your wig from."
Cliff also added that sometimes spending more money on hair upfront can save you money in the long run. "[With] synthetic hair, you can't curl it, you can't straighten it, you could probably color it but it just doesn't give you that flexibility or that movement that human hair does," he explained. "Synthetic hair swells up after a week or two in the end… That same money you're using to buy [and replace] those synthetic wigs, you're gonna be using the same amount of money that you could've been spending on an expensive wig that would last you about six months."
Prep Your Wig Properly.
"When you're doing a wig, you just have to make sure that you bleach the knots, you're plucking it, you're tinting the knots and lace to make sure it matches your skin color. As long as you pluck it well and apply a nude stocking cap underneath to make sure that you have the scalp-like look, then you'll be fine."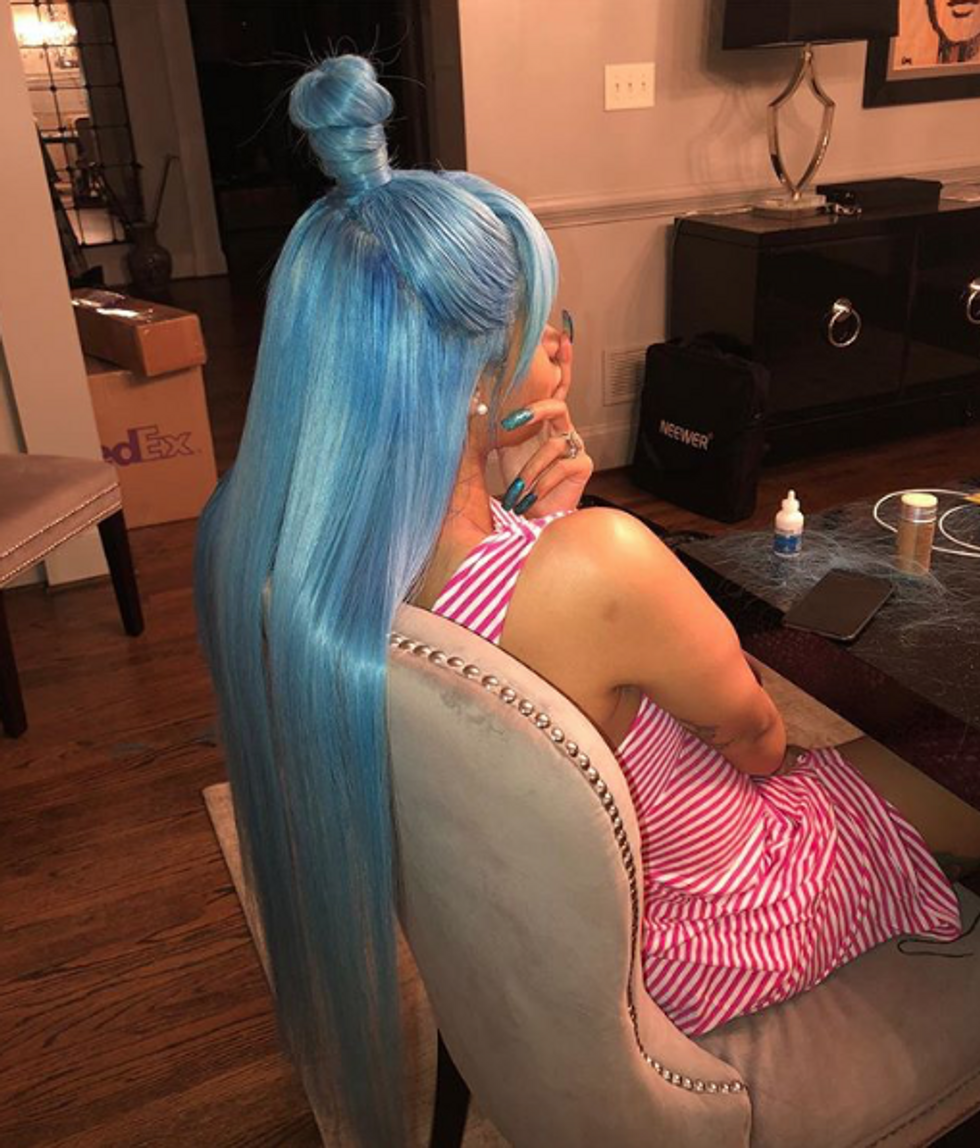 Cardi B styled by Cliff Vmir
Courtesy of Cliff Vmir
Keep It Clean and Dry.
"Make sure that you're very gentle when it comes to shampooing the wig. Make sure you use a mild shampoo and conditioner as well as putting the wig [under] the dryer. That's a lot better and makes the hair feel a lot softer, opposed to blow drying it or air drying it. Air drying it is fine too but you want to make sure that the lace is fully dry, so put it [under] a hooded hair dryer."
If you're looking to wear your wig long-term and prefer to sew it to your head, Cliff has a tip for that too: "Shampoo, condition, and rebraid [your hair], that way you're not putting any heat unto it, really giving it time to grow."
The Way You Store Your Wigs Is Important.
In order to preserve your wigs you must store them properly. "You can get a dome head, the styrofoam heads, or you can even put your wigs in a silk bag. If you are sleeping in the wig, just make sure that it's a silk bonnet or silk scarf. Make sure that the wig has some kinda silk around it, but if it's not around silk, then it needs to be propped up somewhere because cotton does dry your hair out."
Wear The Hair That Works Best For You.
"I wear my Mink Brazilian hair. That's the only hair I really wear out of my company [Hym Hair]. It's very expensive but it lasts a super long time. You can wear it for a year straight and it'll still look like you just got it. That's the only hair I wear. I've tried Indian hair, nothing really wrong with it, it's just the Mink Brazilian hair is less maintenance. If I press it out, I can sleep all on it, and then run a brush through it and it'll still be straight [for] two full weeks."
Tune into Wig Out every Sunday on BET Digital, YouTube, and BET Facebook and the BET App at 6pm. Follow Cliff Vmir on all social media @cliffvmir, and look out for his new EP in March.
Featured image courtesy of Cliff Vmir.