In 2013, BET introduced the world to Mary Jane Paul (played by Gabrielle Union), a successful TV news anchor from Atlanta who seems to have it all together… except for her love life, that is.
---
For the past six years, we've gotten to know and love Mary Jane through the ups and downs of egg freezing, family drama, and lovers quarrels, but last year, BET announced that it would all come to an end in an epic two-hour movie finale premiering on April 23rd.
Being Mary Jane, created by Mara Brock Akil, was originally named "Single Black Female" and resonated with women across the nation because it was one of the few shows that featured a three-dimensional black woman as the main character. Mary Jane, born Pauletta Patterson, dressed well, had a thriving career and judging by her fabulous crib and foreign whip, had a significant amount of disposable income but struggled to balance her personal and professional life in the midst of her success.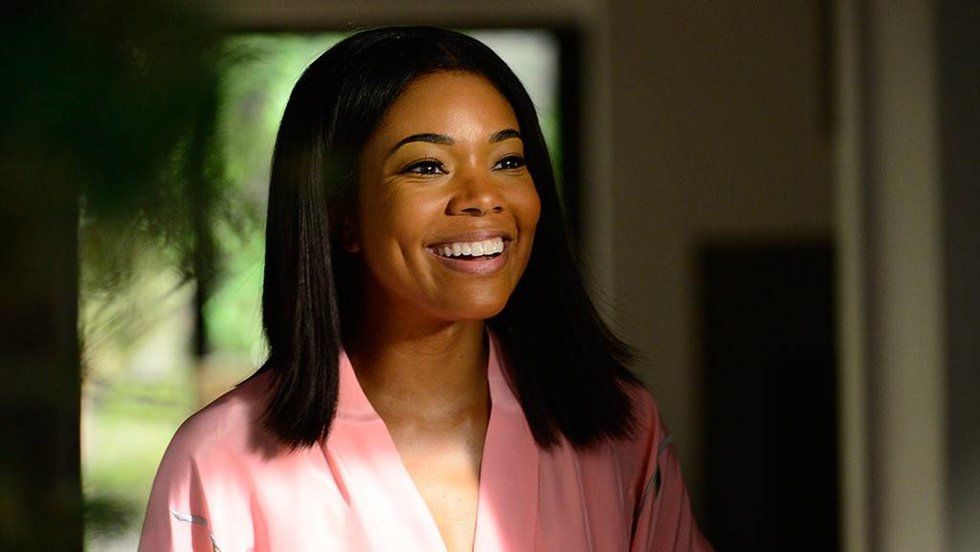 BET Networks
Throughout the series, the show's characters have confronted a number of issues that black women face on a daily basis. Mary Jane's vulnerable and multifaceted character archetype showed that a woman can be wealthy and still feel empty. Mary Jane proved that a woman can come from an affluent family and still encounter drug addiction and teenage pregnancy within that household. And she also proved that a woman can have it all together and still be deathly afraid of being alone.

In the final season of BMJ, Mary Jane is finally on the cusp of having it all: a fine ass man, the job of her dreams, and a semi-stable family life. The 4th season ended with her millionaire boo, Justin (played by Micheal Ealy) down on one knee, but after almost a decade, will she finally get her happily ever after?
We'll find out on Tuesday, April 23rd! Until then, here's everything we know about the finale so far:
You Can Have Your Own Slice Of Mary Jane's Wedding Cake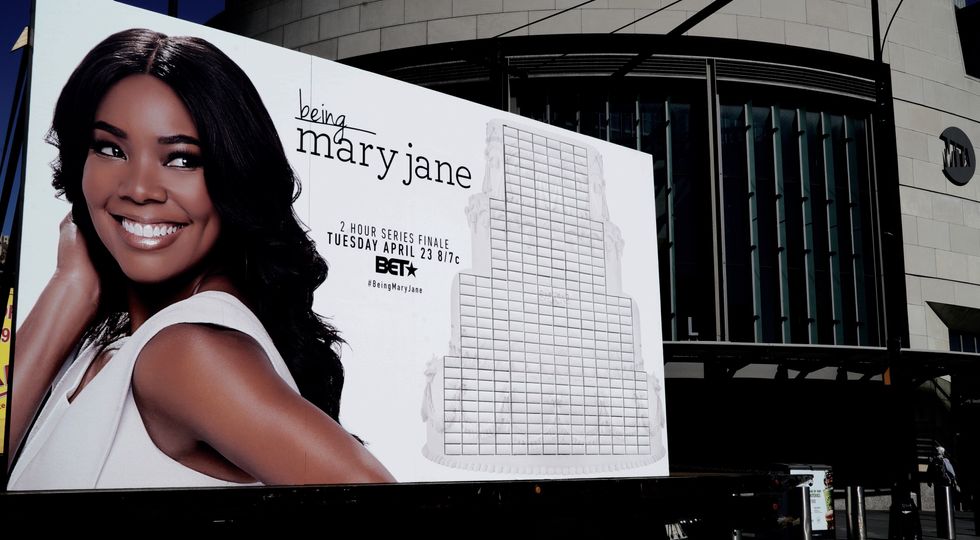 Courtesy of BET Networks
BET announced that you can get your OWN slice of Mary Jane's wedding cake baked by New York Times best-selling cookbook author, Ayesha Curry, in an edible Instagram experience held in New York on April 20th at Brooklyn's Atlantic Terminal at the intersection of Ashland Place and Hanson Place. We've pretty much grown up with Pauletta, so it's only right that we get a personal invite to the wedding, and from 1:30 to 7:00 PM, you can show up to say goodbye to Mary Jane by getting your own slice of the interactive 9-foot tall, 4-tiered wedding cake-style edible billboard.
Head of Original Programming at BET Networks, Connie Orlando had this to say:
"'Being Mary Jane' drew viewers in with its raw and honest voice, enabling fans to connect with our beautifully flawed heroine in more ways than one. With this interactive experience, we are creating a unique space for our audience to celebrate Mary Jane Paul and take a 'piece' of their favorite show with them."
Harpo, Who This Man?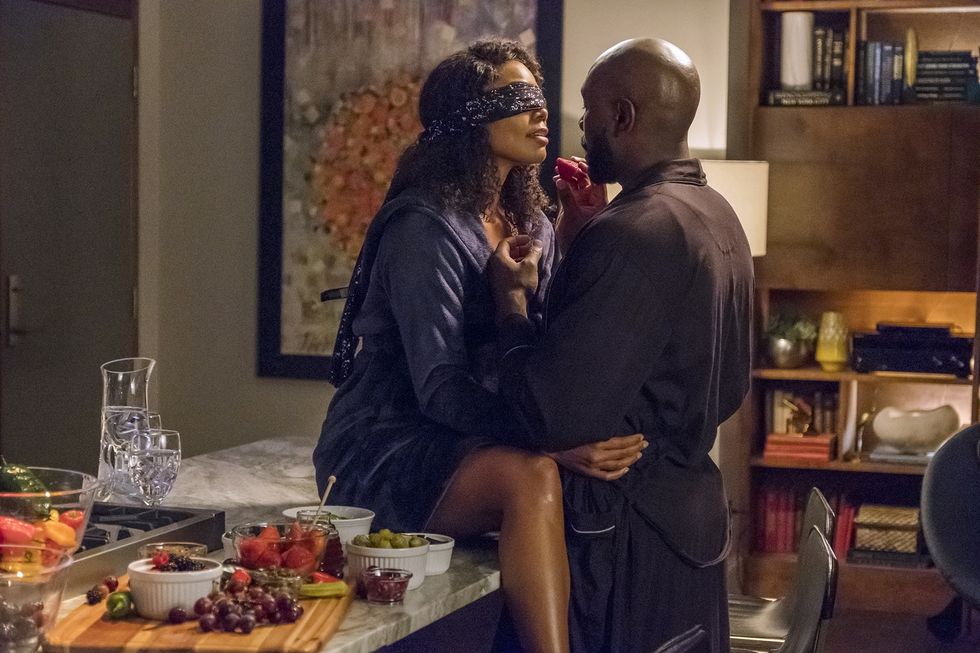 Courtesy of BET Networks
All my life I had to fight to meet men as fine as Morris Chestnut and Micheal Ealy, and in teasers for the finale, it seems like Mary Jane has BOFFUM all to herself. In the teasers, we see a steamy exchange between the TV news anchor and the illustrious Morris Chestnut, leaving us to wonder… Mary Jane, who this man?! In a 15-second clip, we see Mary Jane in a stunning wedding dress, leading us to believe there are some nuptials to be said in the two-hour finale. but who will she meet at the altar?
*Alexa, play "How Will I Know?" by Whitney Houston.
Oh… Baby, Baby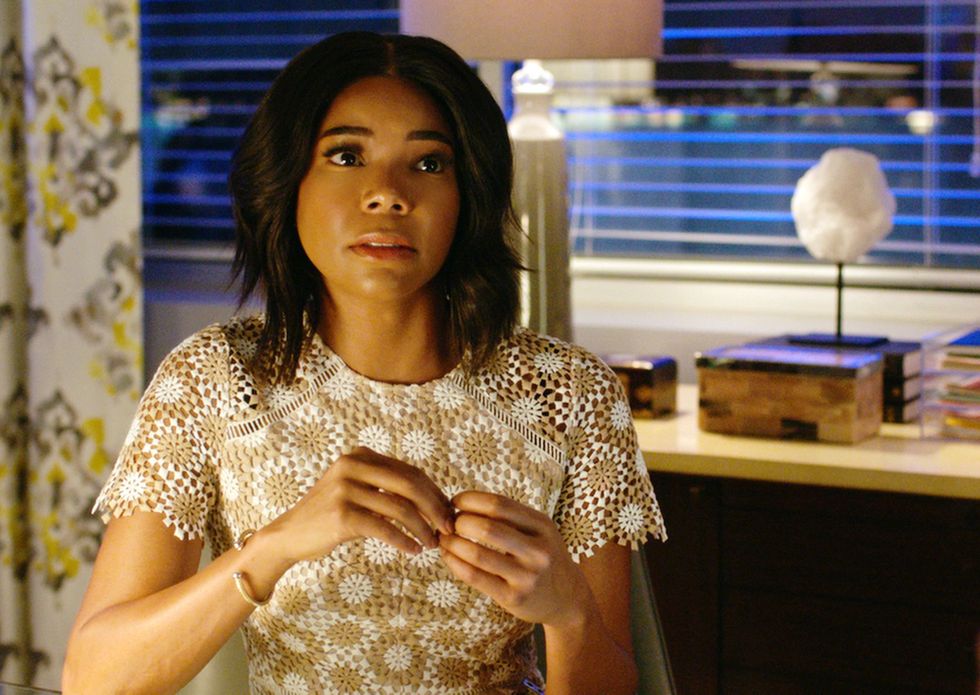 Courtesy of BET Networks
​In the final episode of season 4, we see Mary Jane taking steps to get impregnated by a sperm donor after accepting that she and Justin's relationship may be over for good, but during a teaser clip of the show, we see a shocked Mary Jane as she examines the results of a mysterious pregnancy test. Did Mary Jane finally go through IVF, or is one of her steamy suitors her baby zaddy?
So much scandal, so many secrets! The end of Mary Jane's story will finally be revealed on the 23rd, and I'm fully prepared for my wig to be snatched. I'll bring the wine and popcorn, who's hosting the viewing party?!
Featured image courtesy of BET Networks.