---
Over the weekend, Curlfest (stylized as CURLFEST) had their first visit to Atlanta and the experience was nothing short of magical. There was a lot of excitement around how Atlanta's festival would compare to New York but to many of the attendees' pleasure, it surpassed every expectation. If you don't know by now, Curlfest was created by five founders: Charisse Higgins, Simone Mair, Tracey Coleman, Gia Lowe, and Melody Henderson, cleverly called the Curly Girl Collective in 2014.
However, the beginnings can be traced back to 2010, when a chance meeting after an email thread led all these women to meet. In that first meeting, these ladies found a community where they could be seen when it comes to sharing haircare tips, products, and what a natural hair journey means in today's world. They knew immediately that this experience needed to be shared on a larger scale. Since then, the Curly Girl Collective has grown and hosted many events to include Curl Crush: A Speed Hair Event, All Dolled Up Holiday Charity Event, and their most notable Curlfest.
Curlfest itself has grown to host over 75,000 of not only women of color, but all people of color over the last five years. Through its five-year exponential growth, the machine behind the event remains 100% black women-owned and the largest natural beauty festival in America. Their mission is simple, to create a space where women of color can feel affirmed and empowered through in the space of beauty. As stated on their website, "Curlfest is an empowering and uniquely magical experience where women and girls of every shade, shape, and size can come and be celebrated for who they are, unconditionally."
If this is not enough black girl magic to attend Curlfest, here are 5 more reasons to go:
It's a true celebration of every hair type, style, expression, and community.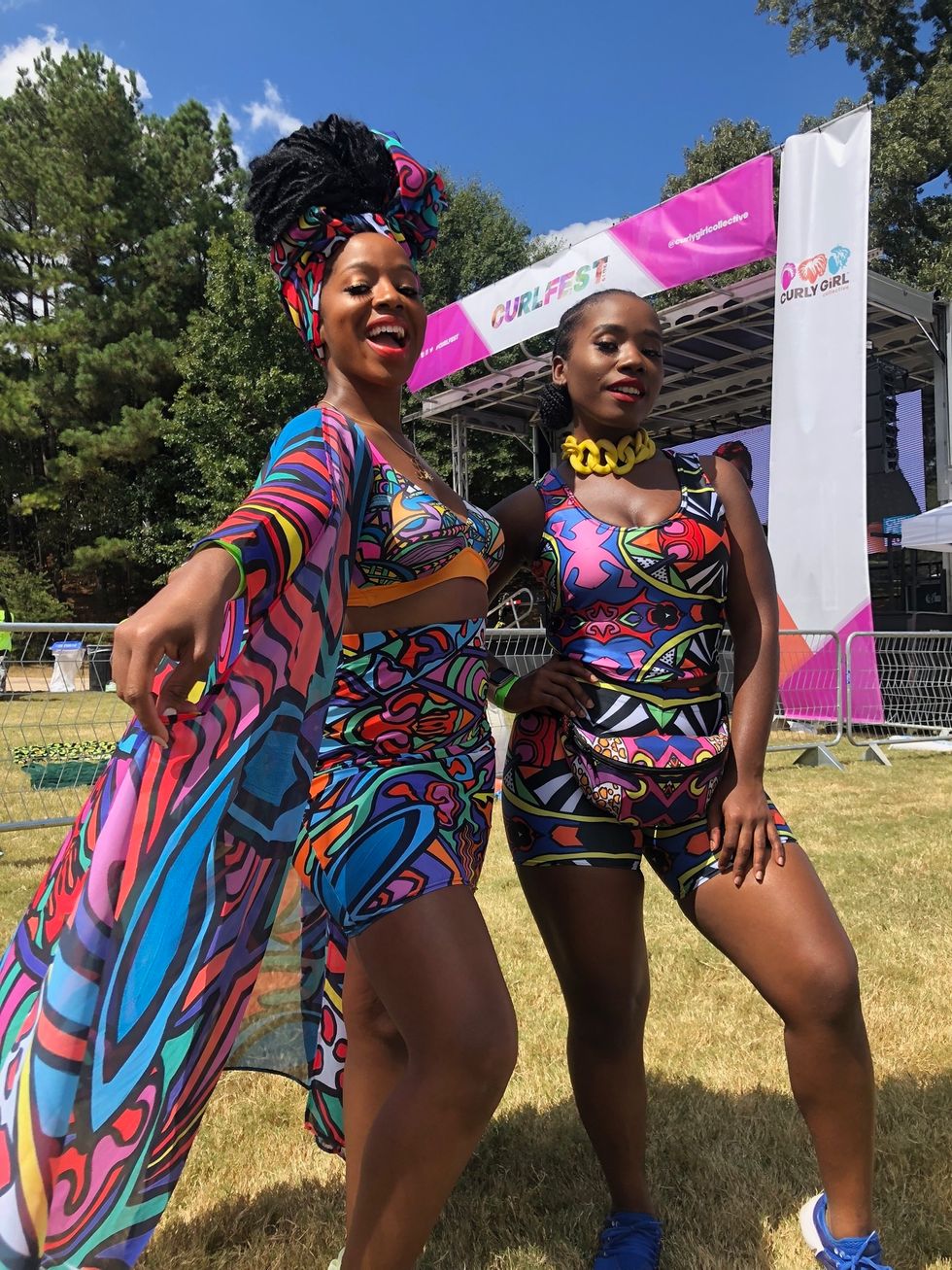 Photo by Amer-Marie for xoNecole
The moment you walk through the gates into the park the atmosphere immediately invites you in. There are women of all shapes and sizes walking around in their own confidence with their hair on display. It is a sea of long hair, short hair, curls, afros, braids, faux locs, dread locs, twits, short cuts, undercuts, afro puff, twists outs, braid outs, wash n go's, frohawks, pink hair, blue hair, yellow hair, flower crowns, butterfly clips, pigtails, ponytails -- the list goes on. Each man, woman, and child proudly walking around in a freedom that they can share with the community that looks like them. The best part is the warm voices humming, "Can I take a picture of your hair?", "Oh, girl!! I love your hair!!", "Your haircut is dope, sis." It was a true space for the celebration of people in their natural state celebrating one another. Where else in the world could make you feel like magic?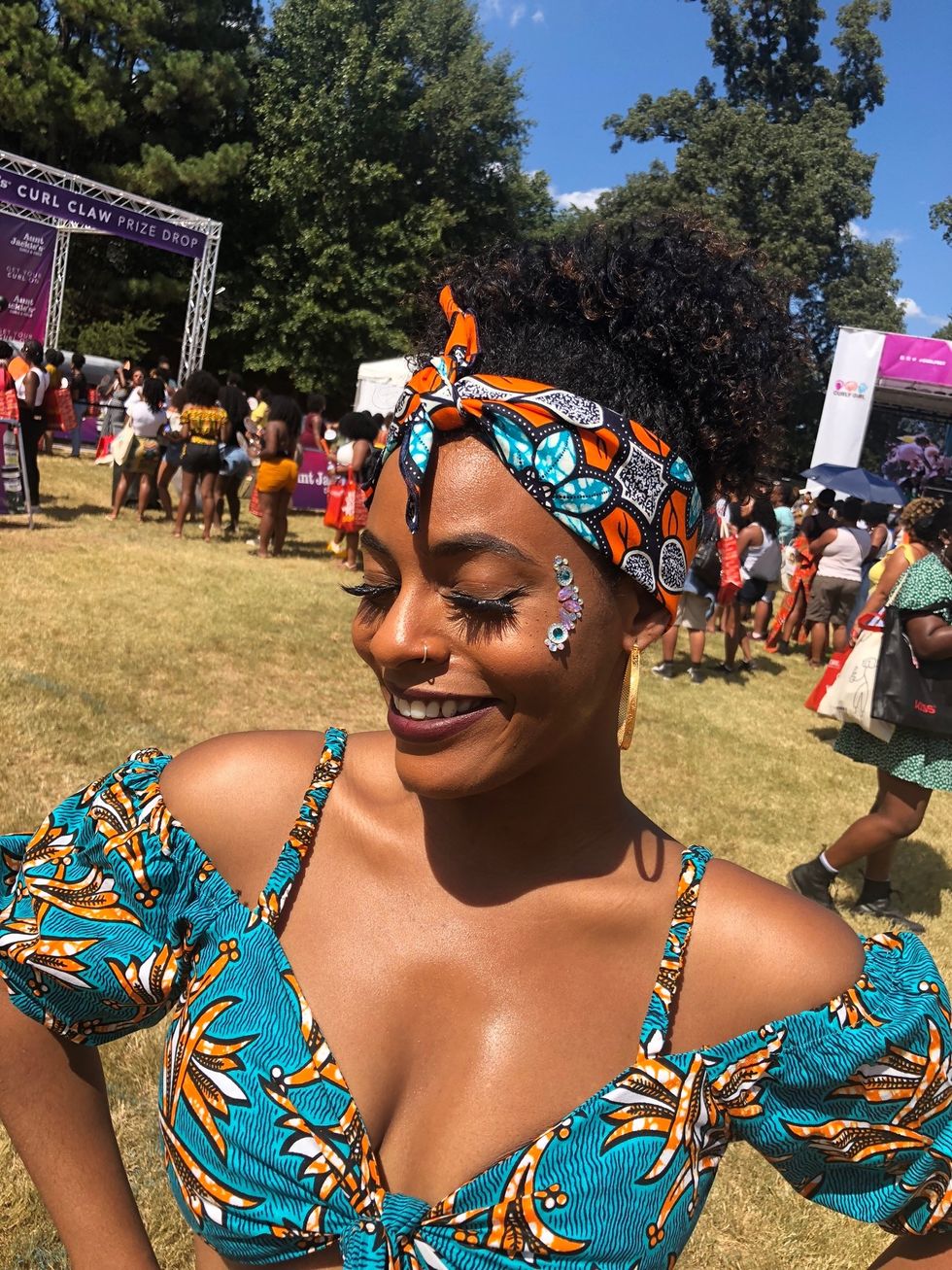 Photo by Amer-Marie for xoNecole
It is a family affair.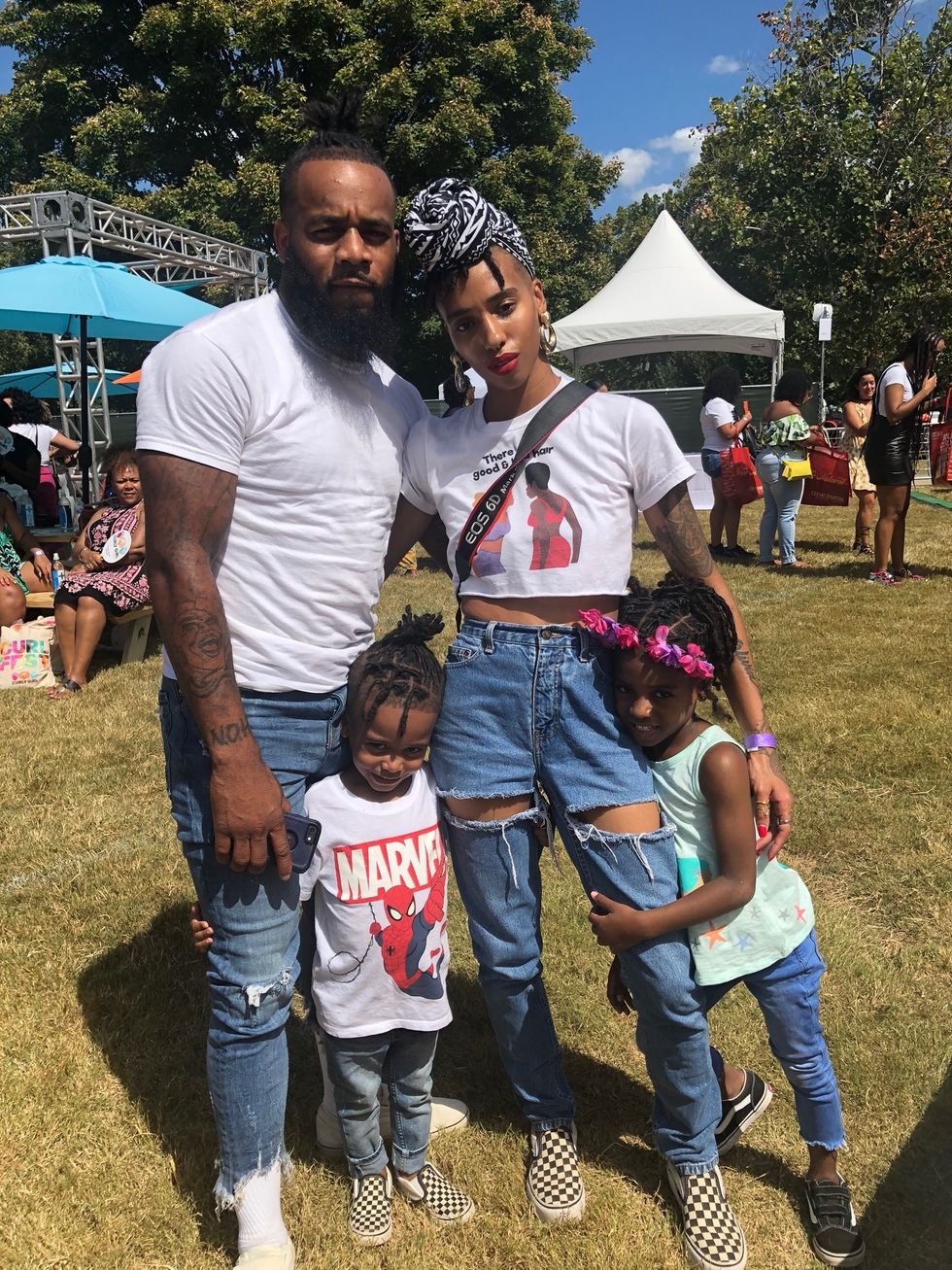 Photo by Amer-Marie for xoNecole
Curlfest is not only space for people of color to celebrate their hair but for them to do it as a family as well. There are plenty of stories out there where people felt the most opposition from their families while transitioning their hair. This can be attributed to this society's rejection of hair for people of color. We are living in a time where laws are still being passed to protect the rights of those who choose to wear their natural hair. Seeing families celebrate each other as a unit is sign of changing times. Fathers, mothers, sons, and daughters all sharing similar hairstyles or sporting different looks is a sign of breaking generational curses. Not only was hair acceptance in full force but so were positive images of black love and black families.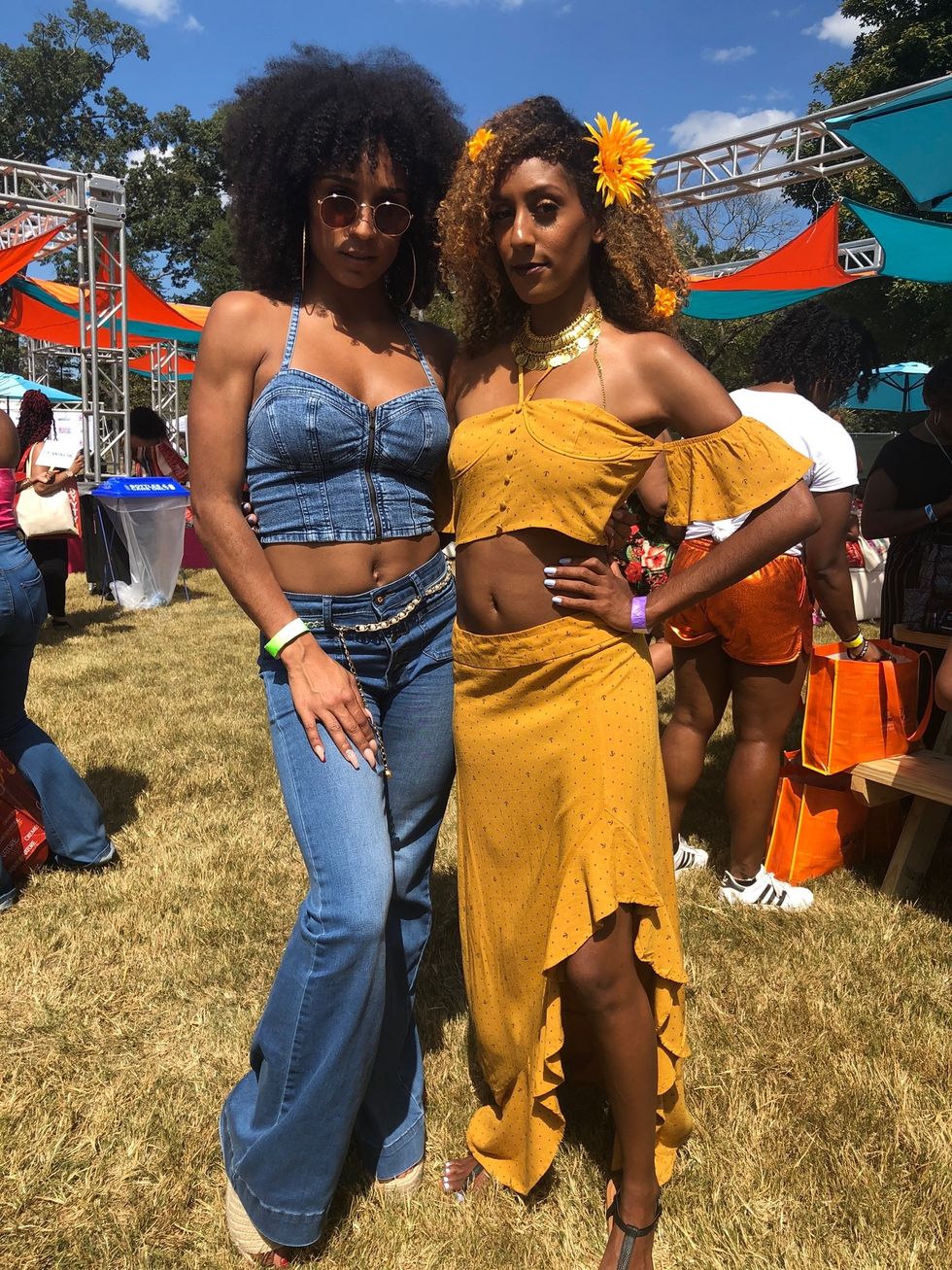 Photo by Amer-Marie for xoNecole
Representation matters.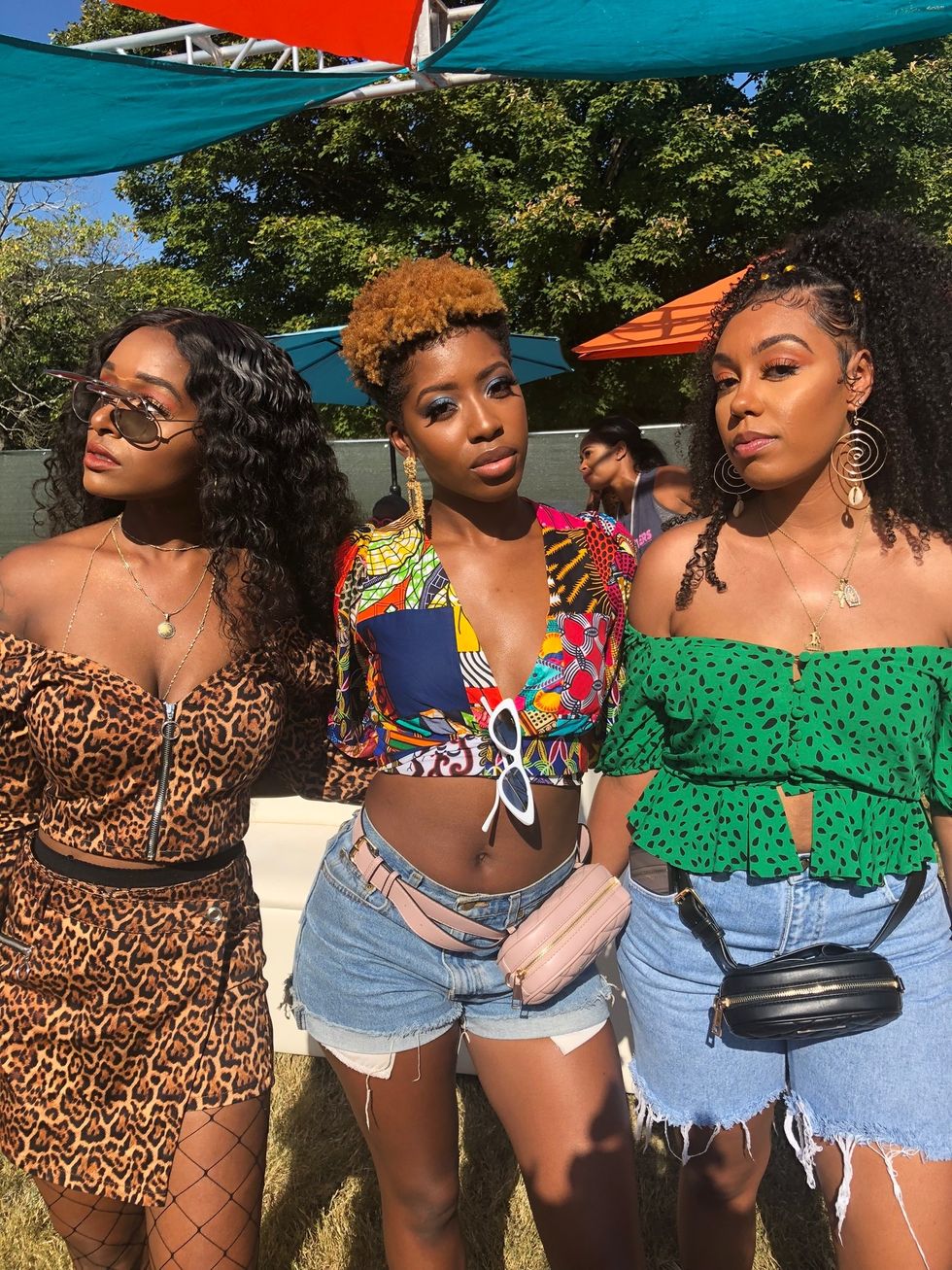 Photo by Amer-Marie for xoNecole
So, there are several things we know to be true: being black is not monolithic and we have buying power somewhere north of the trillions. However, we are not always represented in the marketplace, a lot of times we are overlooked. Curlfest curated the perfect vendors for their guests, who not only sell products for us but they are made by us. The list of vendors includes Aunt Jackie's Curls and Coils, Yelle Skincare, Creme of Nature, Cantu, Suave, Target, Puff Cuff and many more. The swag bag alone is unmatched by any other beauty festival, boasting products from the festival vendors as well as SheaMoisture, Palmers, Aveda, Dove, Urban Skin Rx, etc. The Curly Girl Collective didn't forget about the local black-owned businesses in the area either. They were provided a market area to sell homemade items as well as expand their reach to a bigger audience.
The fashion. PERIODT!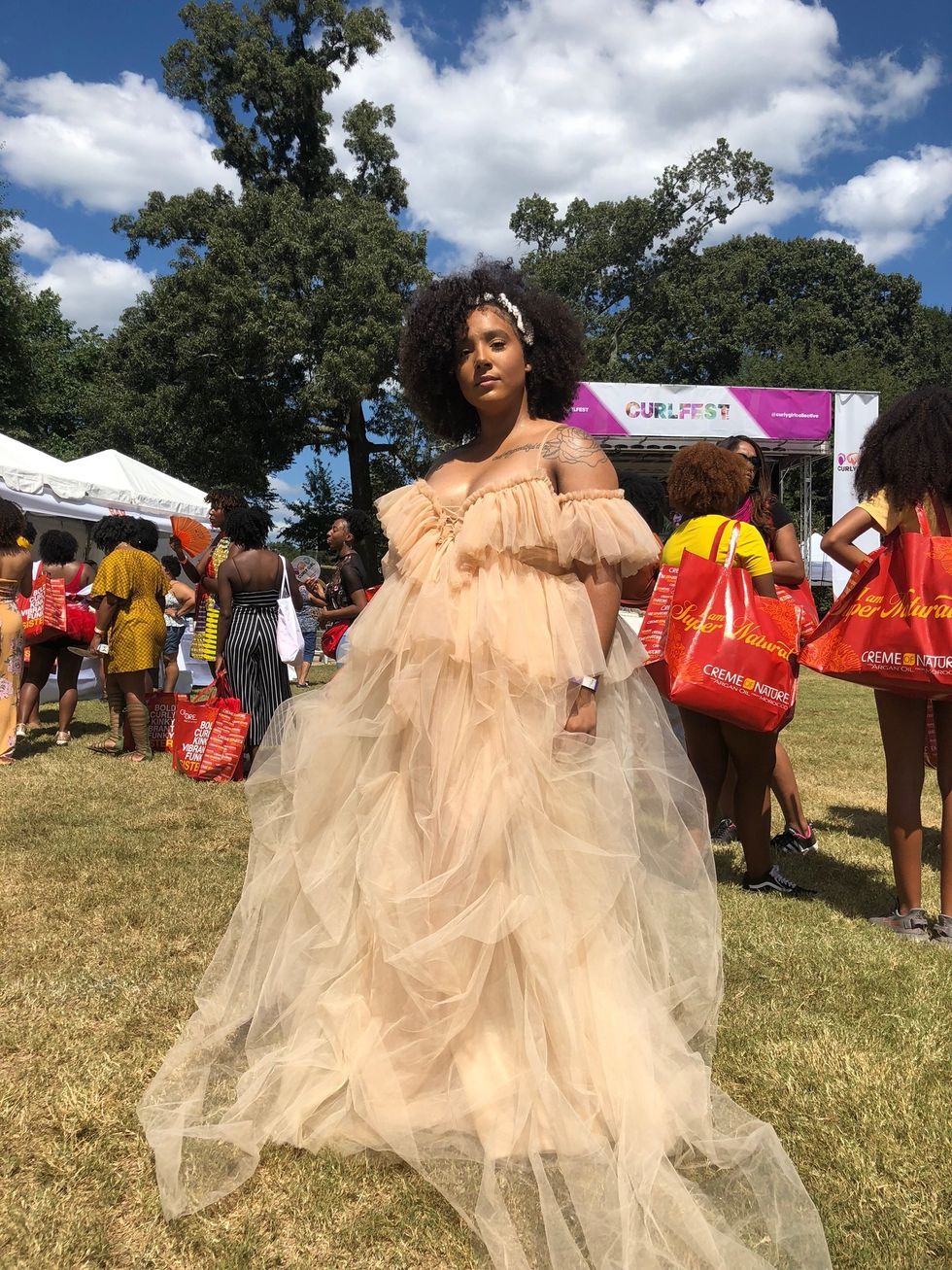 Photo by Amer-Marie for xoNecole
If there was any festival for you to dress as you want, this is the one to show off your creative fashion sense. From homemade flower crowns to tulle gowns, any type of fashion statement was possible. Everyone joined in on the spirit of expression and came to show off their most authentic fashions. So many cultures were represented among the attendees. The men who attended the festival even showed off their best fashion with t-shirts boldly stating, "The Black Woman is God" and wearing brightly colored printed pants, shirts, and hats while sporting various natural hairstyles.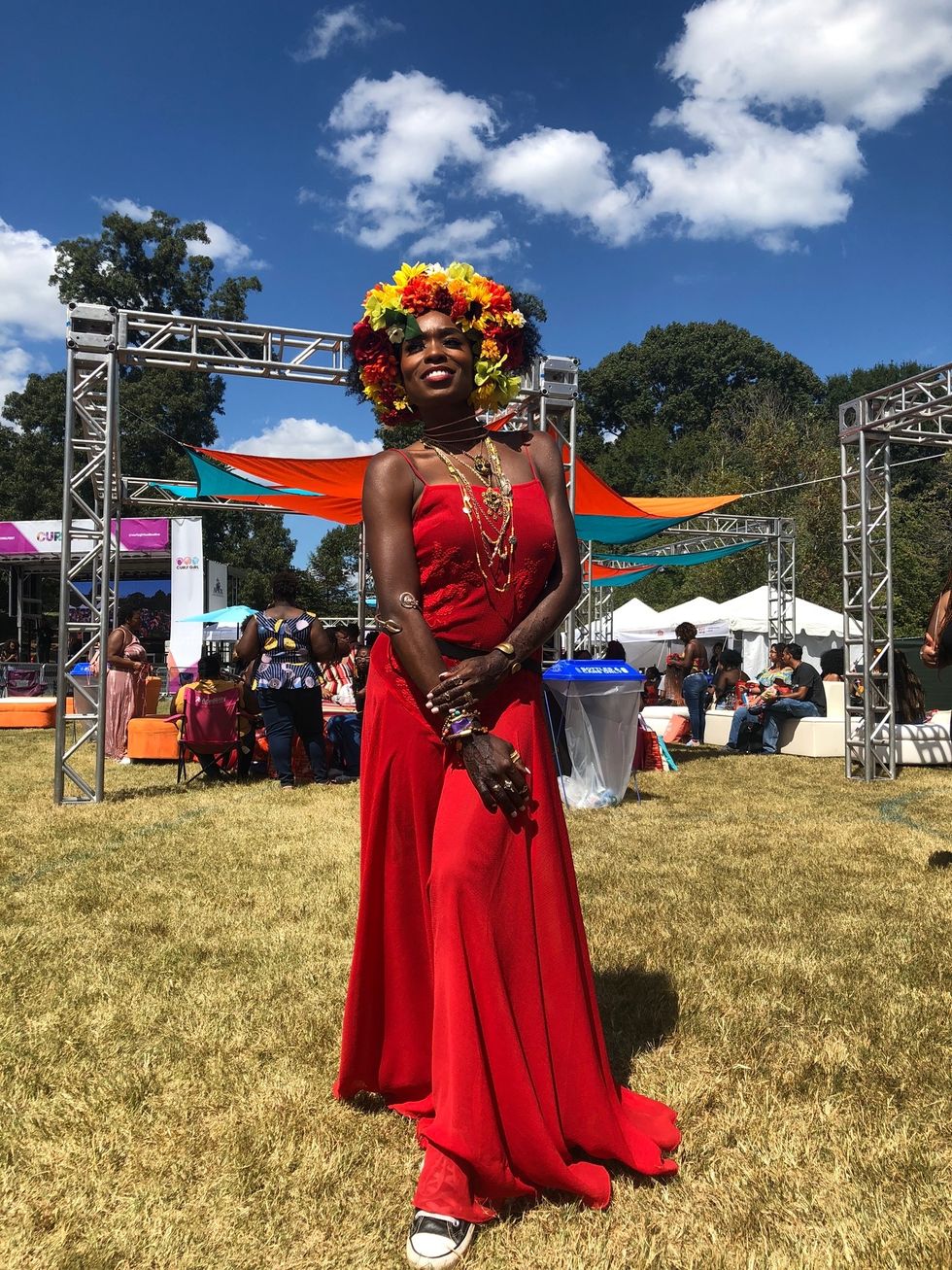 Photo by Amer-Marie for xoNecole
Every person is welcomed.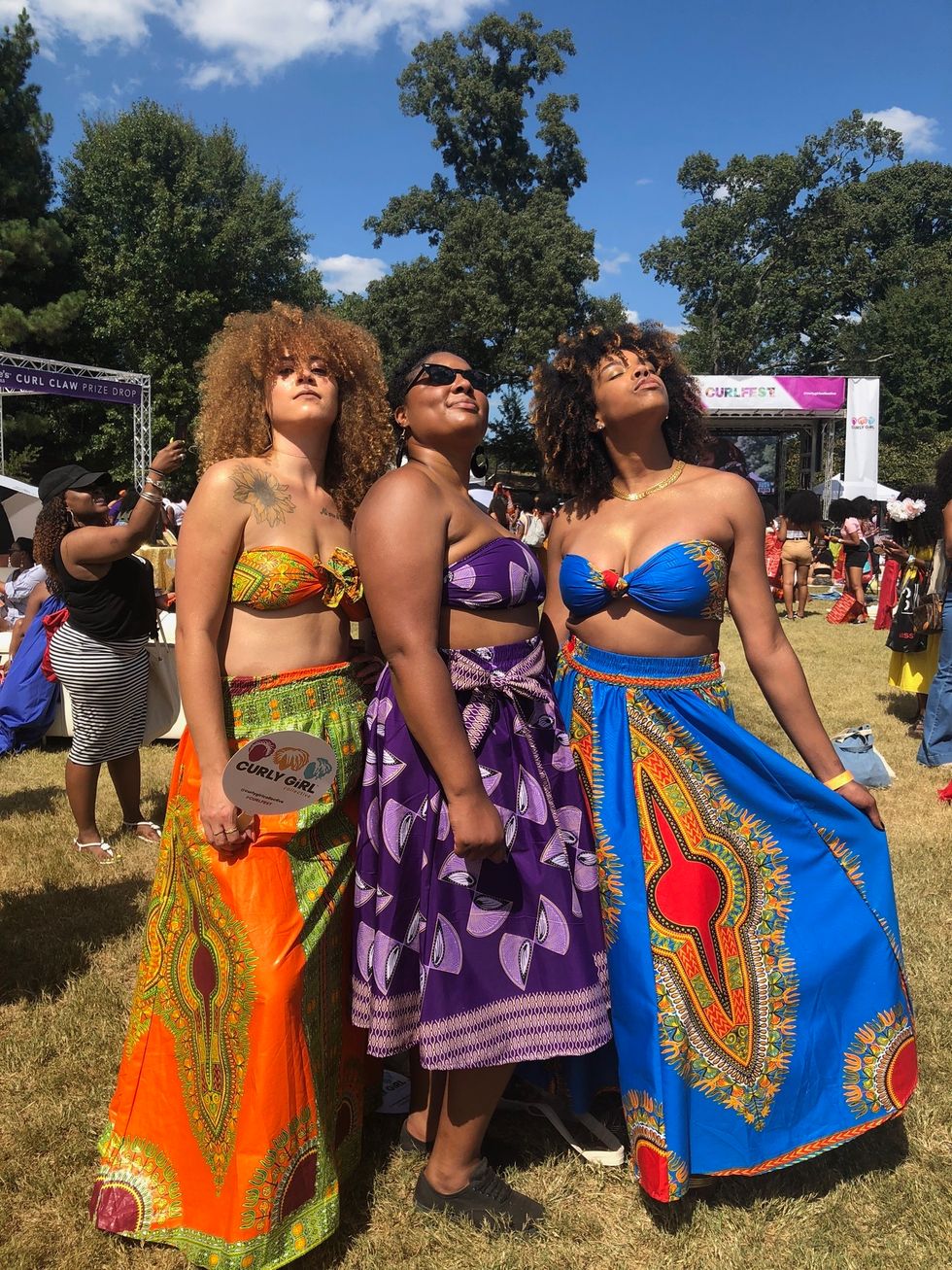 This festival shows the best parts of a community who share a common experience in this world. They also are inclusive of the entire African diaspora. Every culture is represented, every country is acknowledged, and every person is recognized. The full picture of what it means to be a person of color comes into focus at Curlfest. The music, the food, the vendors, the fashion, the hair are all for the culture. Curlfest is for the culture.
If you missed Curlfest in New York or Atlanta, no worries, they will be coming back in 2020 with even more festivals. At the Atlanta Curlfest, the Curly Girl Collective made an announcement that they will be returning to Atlanta and adding a few more cities. Most exciting though, is they will be taking Curlfest international.
So, stay updated on details by following them on Instagram @curlygirlcollective or join their email list for next year's 2020 lineup!