Amer-Marie
I am a working mother of one son who completely change my life for the better. My current mission is to encourage all people to travel more and see themselves through a global lens. I firmly believe, "Nowhere is too exotic, everywhere is accessible."
Taurus, the bull, is the next in line on the zodiac, and they are definitely one of the more sensual signs of the zodiac. Taureans are born between April 20th and May 20th and are ruled by the planet Venus. This means that love, money, and beauty govern their lives. They are also a fixed sign which shows up in their nature of being steadfast and loyal.
This sign is ruled by the planet Mercury, so that makes them naturally sexy people. The best thing about Taureans is that that they have a strong sense of self that is quietly sensed by others and draws them near because they can be trusted. They also never worry over small things, which makes them a calming energy to be around. Taureans are a great time, they love to indulge in the finer things in life and love for you to indulge with them. They are confident and happy in their own skin but possess a come-hither look that is irresistible.
The Taurus Zodiac Sign: An Overview
Taureans like to maintain an organized life with systems in place for everything. This is definitely a sign that is consistent and highly reliable. Sometimes they can be too loyal and dedicated which causes them to stay in situations longer than they need. This sign belongs with the other two Earth signs (Virgo and Capricorn) but is the most indulgent of the three. Meaning they live their lives in the laps of luxury and comfort. Any reality where they can manifest this is ideal for a Taurus.

However indulgent they may be, one thing a Taurus does not play about is their money. They are extremely hard-working people, who are not afraid to do what needs to be done. A Taurus can be incredibly ambitious, focused, and resilient, and feel most aligned when they are stacking aways major cash in the bank. This Earth sign can be both gentle and fierce, however, do not try to boss them around. They have very strong opinions because they spend lots of time meticulously deconstructing situations. They look at every angle to see how something works and when they have made up their mind, they are unmovable in their decision. All in all, Tauruses are dependable and are the type of friend or lover that is trustworthy and devoted.
Taurus Best & Worst Personality Traits
Best Taurus Traits:
Honest
Hard-working
Consistent
Stable
Ambitious
Worst Taurus Traits:
Perfectionist
Selfish
Stubborn
The Taurus Zodiac Sign in Love
People who are normally drawn to a Taurus are attracted to their chill and sensual vibe. Taureans are always down for a good time. They mostly get along well will other Earth signs (Capricorns and Virgos). Their favorite subjects to talk about are home improvements, food, shopping, and, of course, money. After all of that, take a nap together to top off their experience. They are most sexually compatible with Scorpios because they both take pleasure seriously and are committed to adventure as well as climaxing. This makes for a truly intense sexual bond.
Be their friend first. Keep it simple and peaceful.
Famous Taurus Celebrities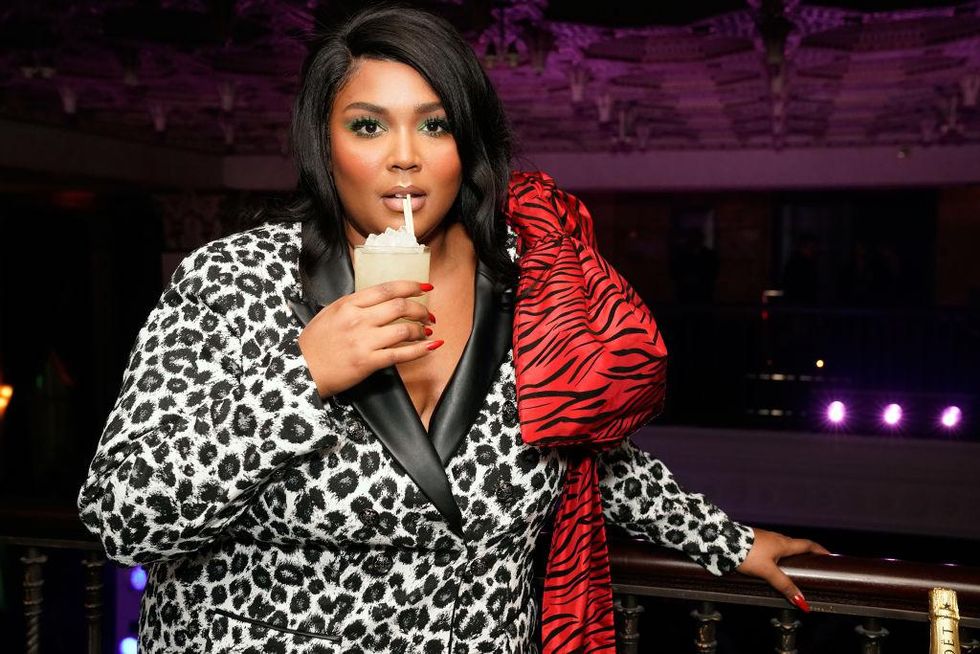 Erik Voake/Getty Images for Warner Music
Travis Scott
Meek Mill
Notorious B.I.G.
Janet Jackson
Grace Jones
Drew Sidora
Michael Che
Dawn Staley
For a more in-depth look into what is in store for your zodiac sign each month, read our monthly horoscopes
If you have ever wondered about Aries personality traits and characteristics, look no further. There is a reason why most monthly horoscopes you read typically start with Aries. This fiery sign is the initiator of the zodiac. Born between March 20th and April 21st, everything jumps off with Aries season, which also lines up with the spring equinox. They represent the time of year that is considered the life after death and boldly charge forth into the face of danger like the rams they are. Honestly, it is the type of energy we like to see!
These fire-starters can be described as bold, fast, passionate, and, most importantly, independent. Their ruling planet of Mars makes them courageous and always armed for battle. Because this fire sign is the first of the zodiac, Aries can be a bit demanding with their needs and emotions. It can come off as a bit needy and their ego can be a lot to deal with, but they are as quick to make-up as they are quick to fight.
The Aries Zodiac Sign: An Overview
Never the ones to follow the crowd or be into things because everyone else is, Aries has more of a trailblazer type of spirit. The Ram needs to be completely committed to whatever they are signing on for. They are competitive AF, which makes motivating them easy, just turn everything into a competition to bring out their true spirit. In everything they do, Aries will put 100 percent of themselves into it as they love to win. Aries can also be loyal, smart, and impulsive, and they seem to always have a lot of projects going on at one time. They will not be satisfied with their day to day until all aspects of their lives are aligned.
From work to their social and personal lives -- it must all match up to their visions. It may be hard to keep up with Aries in life, but you will have a life-long friend in them. Keep reading for more information about Aries personality traits, who gets along best with Aries based on their sun sign, and more.
Aries Best & Worst Personality Traits
Best Aries Personality Traits:
Entrepreneurial
Independent
Creative
Playful
Competitive
Adventurous
Worst Aries Personality Traits:
Selfish
Impatient
Quick Tempered
The Aries Zodiac Sign in Love
Aries are typically super friendly people, and that makes them get along with just about everyone. But like most zodiac signs, they tend to be most compatible with their elemental group, which includes Sagittarius and Leo. Aries can be bright, bubbly, upbeat, outgoing, and very much about that action. However, Libras, the opposite sign of Aries, makes a great connection in the bedroom. Libras are givers and Aries are takers, and that combination works well together when things get more intimate.
When the Aries falls in love, they are unapologetic and unashamed at how much they love their partner. They are also one of the most mushiest and romantic of the zodiac signs. Being in a relationship with an Aries will never leave you bored, it will always be full of fun. You can expect lots of travel, sex, and adventure from the Ram.
Aries Most Attractive Traits
The most attractive trait of an Aries is their charm and warmth. They have the ability to draw people to them while commanding all the attention in a room. Physically, Aries will have dramatic pronounced brows with an intense, penetrating gaze. People tend to find them attractive because of their big smiles which light up their entire face.
Famous Celebrity Aries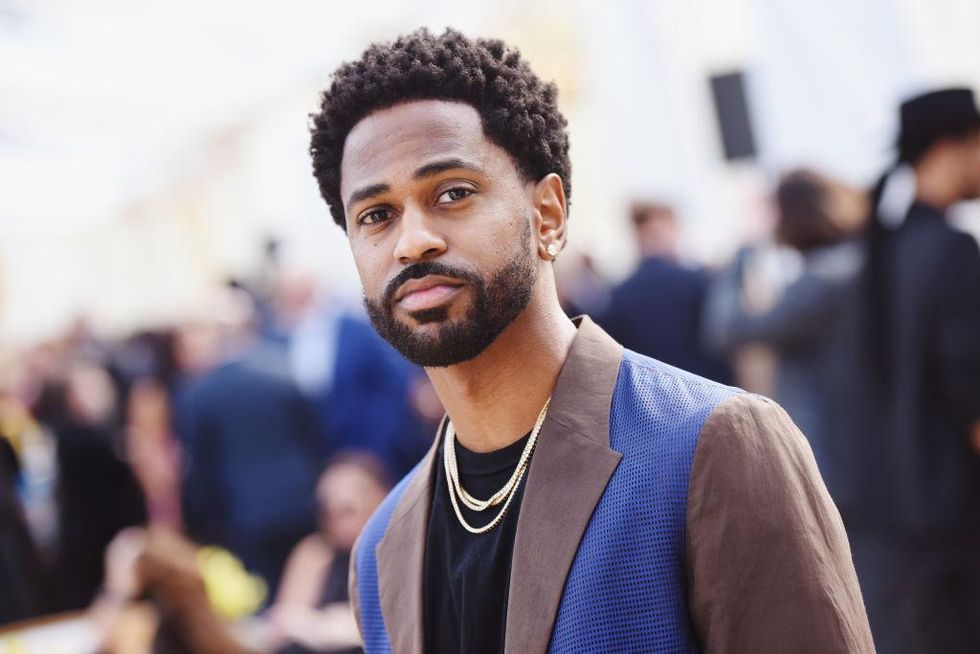 Vivien Killilea/Getty Images for Roc Nation
Diana Ross
Mariah Carey
David Oyelowo
Eddie Murphy
Jill Scott
Chance The Rapper
Maya Angelou
Lil Nas X
For a more in-depth look into what is in store for your zodiac sign each month, read our monthly horoscopes.
Featured image by Vivien Killilea/Getty Images for Roc Nation
We have seen Black women take on business and entrepreneurship in numbers and be incredibly successful in the last decade. What we have specifically seen is Black women stepping into industries where little representation of not only women but Black women are present. The wine and spirits industry is no different.
In recent years, celebrity brands such as Ciroc and Dusse have risen in popularity in our culture, becoming the drink of the party. Black-owned vineyards like Brown Estates in Napa Valley are now changing the narrative around Black people and wine. Historically, we have had our influence in this industry for years but with less acknowledgment. Our taste profile coupled with family recipes have influenced brands such as Jack Daniels, a liquor that can be reportedly traced back to a Black man, Nathan "Nearest" Green.

Amber Ferrell Steele, CEO, and creator of Timeless Vodka is changing the narrative of Black women taking up space in this industry by creating a vodka line that is expertly crafted with everyone in mind. She is a wife and mother who has stepped out into uncharted waters and created a lane for Black women in the spirits industry. It was the creativity of Amber and her husband, Bruce King Steele, that led her to try her hand at creating her own liquor brand. This idea grew legs, and Timeless Vodka was born.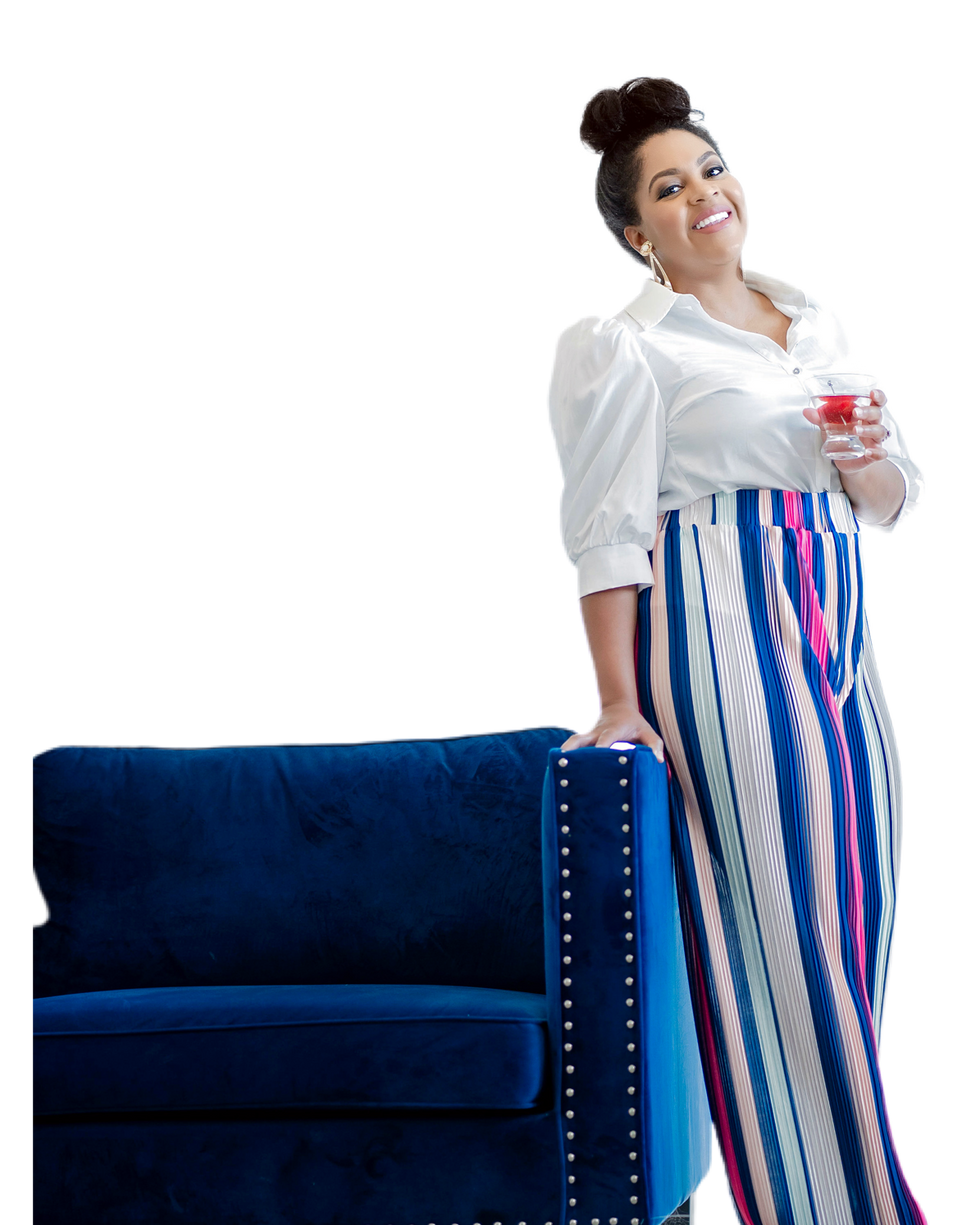 Courtesy of Timeless Vodka
Since then, the Timeless Vodka team has come together organically, with Amber's retailers, distributors, distillery family, and her own family rallying around her. Trust has been a major lesson for Amber because she has only met approximately 35 percent of her team face-to-face. She has had to learn to discern who has her best interest at heart in a very small amount of time, and so far she has been right.

To create her unique product and process, Amber used influences from her family and friends to develop a brand that can compete on the premium beverage stage and is inclusive of everyone. Even down to the smallest detail of the bottle shape, inspired by a syndrome that her daughter English was born with, points to inclusion for adults who still are affected. Without much experience in the industry and little information available, she was able to leverage her skills in sales, as well as her relationships to build her brand and grow it to multiple states during the pandemic.
If you are wondering about the taste, Amber uses a special process that ultra-purifies her vodka as it goes through a distillation process five times to prevent hangovers. It is a clean and elegant process that creates a drink that even when mixed, you don't have to work too hard to make a beautiful tasty cocktail. Amber's key to success? Well, that lies in the fact that she purposely created no plan B because plan A had to work. Amber calls this grit, and it is one of the things she says you need to have in business to be successful where you are not only the sole woman but the only Black woman.

Check out Amber's journey as she details how she built her Timeless Vodka brand and the obstacles she faced.

xoNecole: You have a full-time job and a family. What made you take on entrepreneurship?
Amber Ferrell Steele: Entrepreneurship wasn't something that I actually sought to do, honestly, this was a hobby. And it kind of grew into the business, and I would say entrepreneurship found me, I didn't necessarily find it. I'd be lying if I said it was easy. January 2020 was our official launch. And before we could even really get our feet wet in the industry, we only had a good month and a half before things started shutting down or the fear of things shutting down actually took place
"Honestly, this was a hobby. And it kind of grew into the business, and I would say entrepreneurship found me, I didn't necessarily find it."
I'd be lying if I said it was easy.I can say it's been a very fascinating year to juggle. I have a full-time job. I'm a full-time wife. I'm a full-time mom, and then I have to become a homeschool teacher too. I really had to find time and balance, and time management wasn't something that I was necessarily ever good at. I had to quickly learn how to be good at all of it.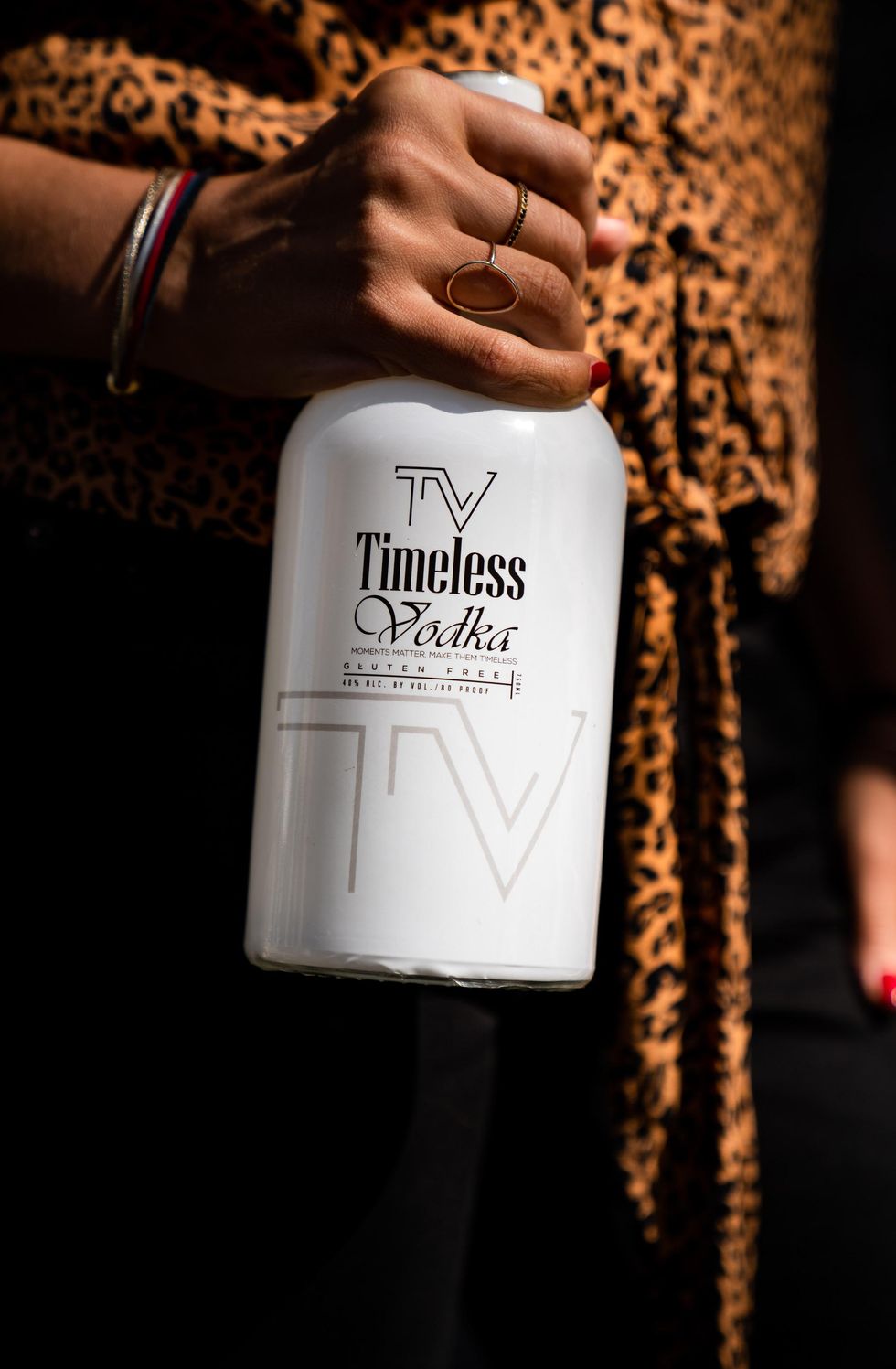 Courtesy of Timeless Vodka
How did you decide to take on the wine and spirits industry?
To a degree, my husband is not a big drinker. I like to drink. I'm willing to try different things, but him, not so much. So whenever I'd make something at home, he would drink it. But we would go to a friend's house or a restaurant, he was drinking just to drink. It wasn't something that he enjoyed the taste of. I asked him what it is, and he said, "I just don't really like the way it tastes," or "I feel like it's heavy."

So the vodka line started off as a joke. I was like OK, we'll just create our own. One day, I was at a sales meeting for my company and I started looking at research on how to create your own brand. It's surprising, there's not a lot of information out there at all. It took me about two years, from start to finish to start to find the flavor profile, and create it.

How did you come up with the name Timeless Vodka?
We already decided what type of flavor we were going to have and the last little piece to the puzzle was the name. I traveled and I had a thirteen-week travel leg, I was only really home on the weekends. Bruce gave me a card and it was handwritten on a regular Walmart card. But he had written a piece in it about what you share with the people that you care about most. Once memory fades, you will still be able to have that feeling that you can always remember. Make the moment count. So that's when we decided, let's call it "Timeless". We decided our catchphrase would be, "Moments matter, make them timeless."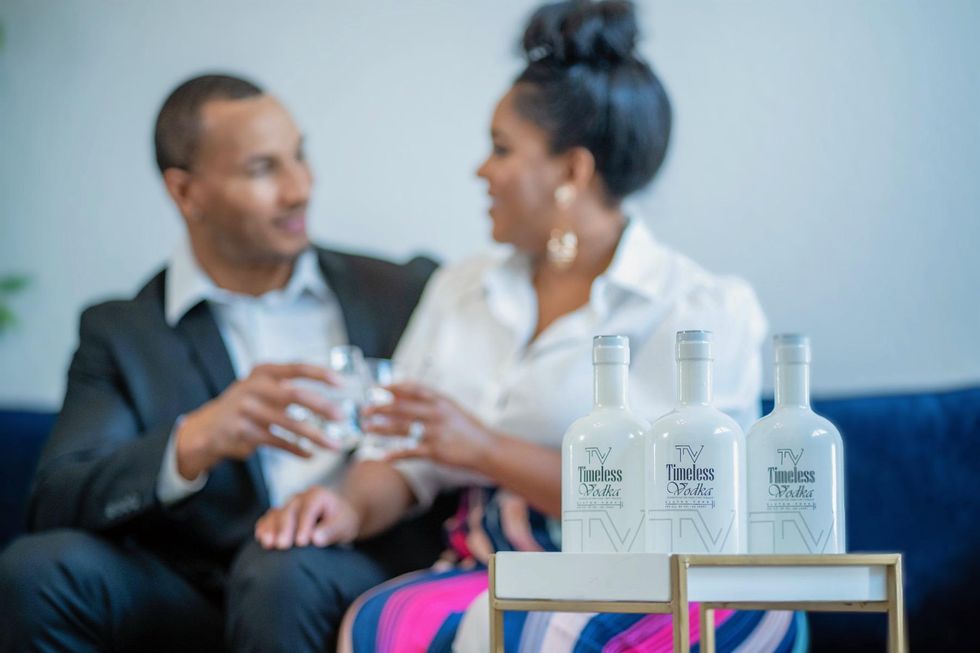 Courtesy of Timeless Vodka
In creating your flavor profile, coming up with your logo, the bottling, etc., can you walk us through that process from concept to the finished product?
I definitely wanted it to be black and white. I thought that it was very timeless, classy, and elegant. It was really important for the bottom to be gray and it signifies that black and white can offer gray. The shape of the bottle is something that was important to me. My daughter was born with amniotic down syndrome. When she was little, she had a small limb deficiency with her fingers and toes and she always liked water bottles.
I kind of thought ahead, there are other adults that are just like English out there, so I thought that having a squatty or wider bottle is easier to grip. You wouldn't believe the amount of people who wanted me to change my bottle shape, label, or design. I really [believe in] standing firmly on what you believe in and what you want. There's not a lot of women in this space. Being able to say this is what I want to do, and this is why it was something I had to learn.

"I really [believe in] standing firmly on what you believe in and what you want. There's not a lot of women in this space. Being able to say this is what I want to do, and this is why it was something I had to learn."
What were some of the business challenges that you encountered while you were building your business?
Not knowing what I was doing. I mean I hate to say you don't know what you don't know until you're in that situation where you really don't know what you don't know. That was my biggest thing. Having to quickly learn different liquor laws for the state that you're in has to be the hardest part of the selling. Learning what I needed to do, legally, [I] can't say I've mastered it.
What are some of the tools that you acquired or that you use now that help you navigate the challenges of becoming an entrepreneur?
I'm pretty close to our distributor, it was nice that I was able to come in and be very honest with them. I do not know everything, but I'm willing to learn. I feel like a lot of people, in general, don't want to take the time to sit back and listen and learn.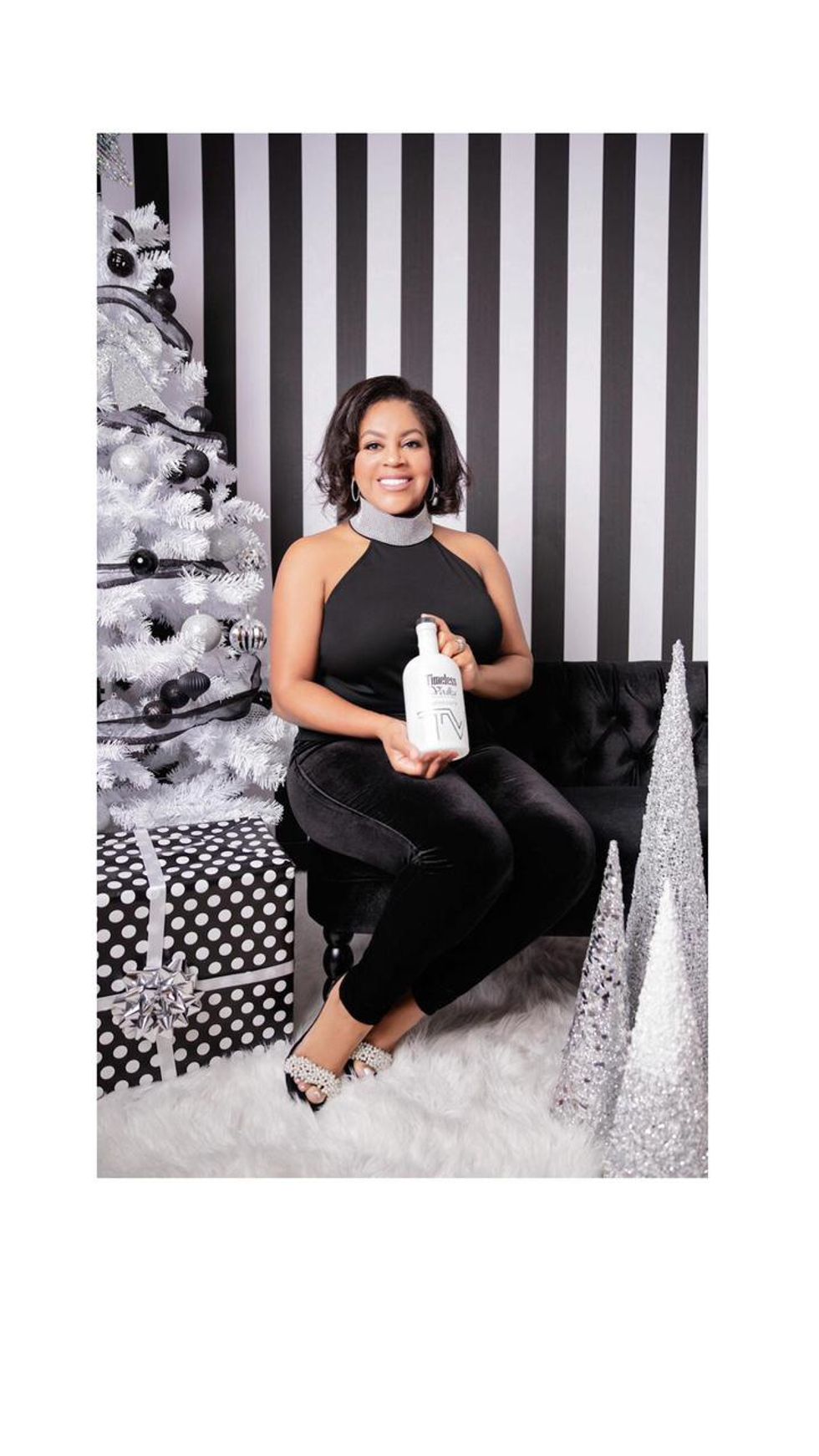 Courtesy of Timeless Vodka
Did you ever feel like you had imposter syndrome? And what did you do to kind of get over that?
I don't think I have. There are very few women who own vodka or liquor lines in general. I'm not a celebrity, I'm not wealthy. I'm just a regular person who wants to create a great tasting product for my family and friends. Up until recently, I would go in, make calls and people would have no idea that I was the owner of the brand. I'm just now starting to tap out and say, "My name is Amber, and I'm the owner of Timeless Vodka."

What advice would you give women who are looking to go into entrepreneurship?
If anything, keep your ideas close. Don't tell anyone what you are going to do until it is time for you to do it. Sometimes people will put their fears on your success and on you. As far as going into your own liquor business, just have grit.
If you are interested in purchasing, you can find Timeless Vodka in five states, Texas, Florida, Tennessee, South Carolina, and New Hampshire. It is also available online and ships to 44 states.
Featured image courtesy of Timeless Vodka
Flexibility has always been something that has come naturally to me. If you have any sort of dance or even any sports background, your body is used to being pushed to the limit. However, the older you get, if you don't use it, you lose it, as my grandmother used to say. Doing a split without excruciating pain is a thing that I truly miss from my youth. Since discovering that I no longer have the hips and joints of my younger years, I have been in search of ways to remedy this in 2021. The most common answer to my problem is yoga. Yoga has been out here saving lives, hips, knees, backs, and all the joints.
Like most things, finding out where to start with your yoga journey can be a little confusing. If yoga has been on your mind but you don't know where to start, let this article serve as a reference to get started. There is a lot of Instagram content that shows many beautiful images of people practicing yoga who are of all walks of life. Some of the poses can look a little intimidating but everybody has to start somewhere. And just like anything else, it takes time to perfect your practice. To get the best answers to how to start a yoga journey, I reached out to The Hippie Heathen, CEO and founder of Sisters of Yoga. Below is the insight and wisdom she had to share:
Determine Your Why Before You Start
How many times do we start things just for the sake of starting things without really thinking about why and if we should even start? Tie says starting your yoga practice has to begin with intention. "Before you even start yoga, it is good to take a moment to determine what is your reason for even starting yoga," she explains. "Like any other goal, you need to know why am I doing this. This can keep you going when it gets uncomfortable, uncertain, and, difficult."
Whether it's to lose weight, gain strength, or become more flexible, understanding your why will push you through. To confirm your needs and intentions, Tie says to asks yourself, "Why yoga, why now, and what are three things you are hoping to gain out of your yoga practice."
Practice Alignment With A Beginner Yoga Class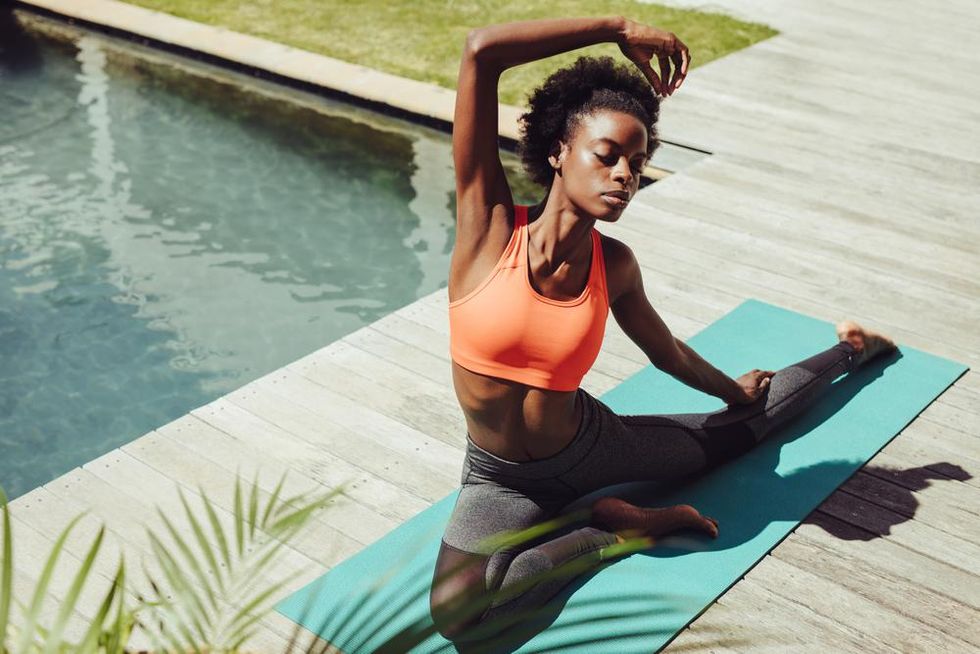 Jacob Lund/Shutterstock
We are still in the midst of COVID and trying to deal with the resulting pandemic. Even though gyms and things are still open, we still need to practice social distancing and wear our masks. It is recommended that when starting a yoga practice to do so under the direction of a yoga teacher. Tie acknowledges that this helps with getting the poses and alignments correct. With a yoga teacher in your presence, you can get quick direct assistance to avoid mistakes. However, with COVID, things are a bit different. "I recommend starting with online instruction where there are specifically true beginners and start with alignment," Tie notes.
This will give you the correct foundation so you know what you need to watch out for in certain poses. Also, this will save you from future injury. Tie tells us that she started her journey from home seven years ago and was self-taught for two years. She suffered a few injuries by not going to a yoga studio in the beginning and this is the basis for why she believes starting with an instructor in a studio is best. A great alternative to adjust to social distancing is looking into doing a private 1-on-1 with a yoga instructor if you feel comfortable. During the pandemic, it is a great time to sign up for virtual private sessions, as they are more common right now. Whatever class you decide to take should be based on your comfort level.
What To Expect In For Your First Yoga Session
"Expect your teacher to help you flow through your poses. You can also expect some hands-on adjustments if that teacher wants to do that. If you don't want hands-on adjustments your instructor will give you a cue to let them know. Most of the time if you are new they will not touch you." This is important because as we already stated, yoga involves a lot of alignment and adjusting your body, so consider that before you take your first class.
When you go to your first class Tie says that you should go in with a positive attitude, "Go into a class with an open mind. If you go into a class feeling like this isn't for me, it's not going to be for you."
If you put negative energy in the space then that is what you are going to get out of it. "Expect to be challenged," Tie clearly states, "Expect to surprise yourself. Expect to find some calm that you didn't know you could find, you can expect to find so many different things."

Beginner Yoga Poses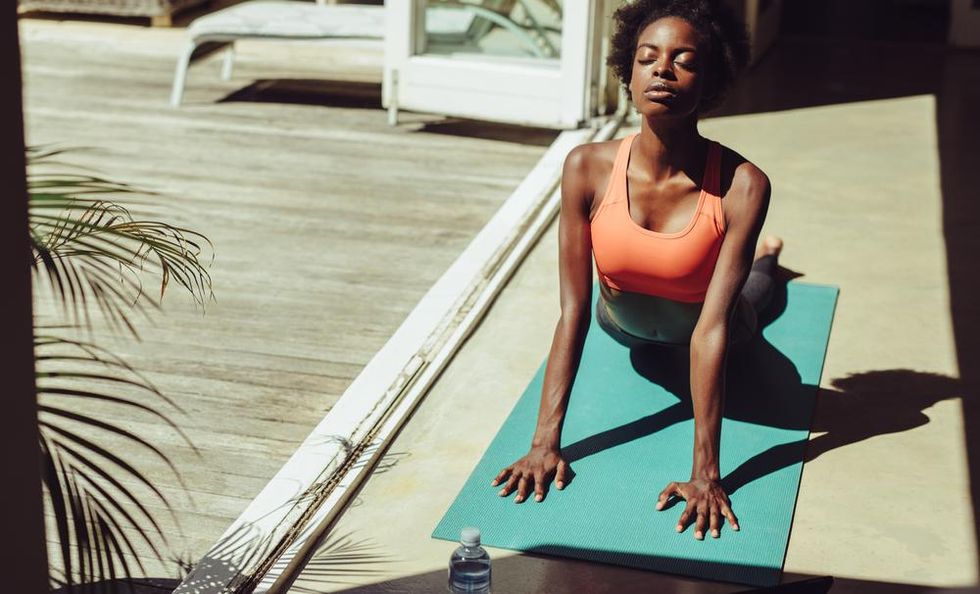 Jacob Lund/Shutterstock
Downward Facing Dog
This pose stretches out the full body and helps with building a foundation for all of the other poses in yoga. It is the foundational pose in yoga for building strength in your shoulders and your legs. Downward facing dog is an all-around full-body stretch.
Child's Pose
Child's pose is really good for grounding down. It is a really good pose for doing root chakra work, surrendering, stretching your hips, and just checking in with yourself. It is a pose that is dedicated to going into yourself. (Sidebar: Tie says this is a really good pose for women when they are on their cycles to relieve pain.)
Plank
The plank pose is another really good arm strengthing pose and a good pose to prep for other poses that are commonly practiced in yoga.
Warrior 2
This is a great pose for building a solid foundation in your legs and building confidence in your practice. It is also a great beginner pose for opening up your full body in a strengthing pose.
Cow-Cat Flow
The cow-cat flow are two poses that are made into one small flow. It is a great pose to open up the body and great to do in the morning. This pose actually helps to limber up your spine. It is recommended for lower back and back stretching. It can be used for synchronizing your breath because one movement is an inhale and the other is an exhale. This flow is a great one to start your practice with.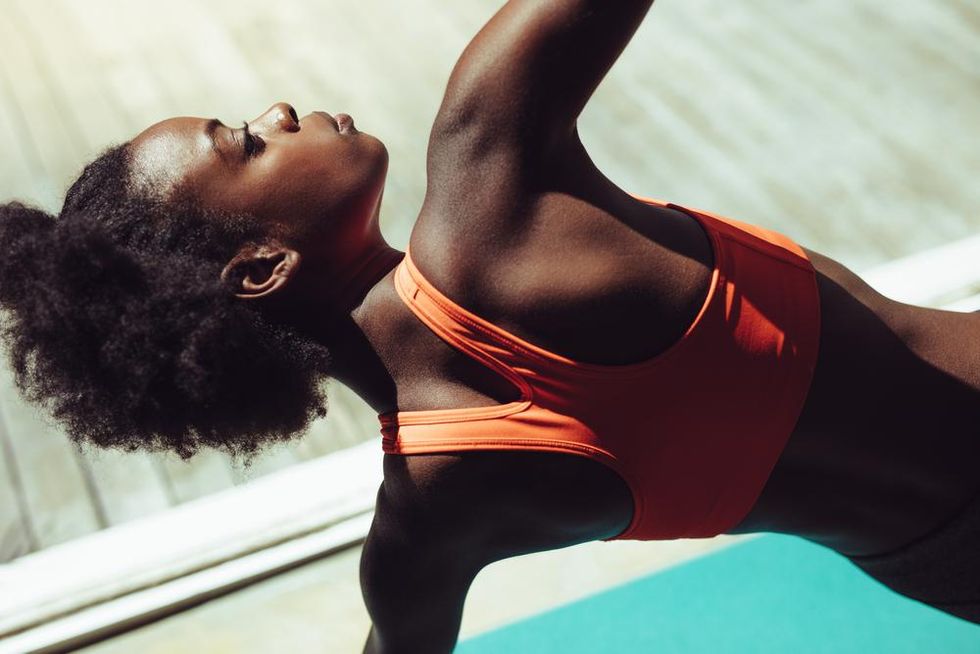 Jacob Lund/Shutterstock
Wide-Legged Forward Fold
Forward pose is always a yes. It helps with low back pain and helps you open your hips. It can also be helpful for relieving headaches and tension in your neck and back.
Tree Pose
Tree pose is the first balance pose. You are learning to balance with this pose and it is a foundational pose.
Savasana
Another great pose that is always a YES! It is literally the pose that you go to when you just don't have anything else to give. You literally lay into the floor. It is a beautiful pose of surrender and connecting to the earth and to the Source. It is a great pose for meditation and for you to practice at the end of your flow.
Warrior 1
You can find this pose in alto of flows because it is a foundational pose for building stability in the body. It is going to open up your hips and it is going to ground you down to the earth. It is a confidence-building pose because you feel like a warrior and you will feel in control of your body.
Low Lunge
If you are working on splits, low lunge is a great pose to begin work there. This pose will help you open up your hips and your hamstrings. If you are a runner or you lift a lot of weights, this is the pose you should add to your stretch routine. This pose should be done daily for optimal results.
Baby Cobra
Also known as cobra, this pose is perfect for beginners because it a backbend that will not make you uncomfortable. Furthermore, it is a backbend that will help you build the foundation for more advanced backbends. Use this pose to warm yourself up before you go into practicing backbends.
The Emotional Component To Making Yoga A Practice
"When you are practicing these poses, there are a lot of times where you are moving energy around. You are shifting energy in your body around and a lot of times things that you have trapped in your muscles that you haven't dealt with and can come up as many different things. It can come up as joy, it can come up as anxiety, fear, or sadness. Heart-openers, which are a set of poses that open up your heart space, we feel vulnerable or more open. It will cause you to have many experiences if you allow it and tap into it." Tie notes that off of the mat is where the real gold is. "On the mat, these same practices you are learning are preparing you for off of the mat.
"The balancing you are learning on the mat is teaching you how to have balance in real life. Learning to strengthen your heart space is to teach you how to be open in your life and your relationship with yourself. Increasing your flexibility on the mat teaches you how to be flexible in real life."
She continues, "Many people say how does this teach me things in real life? Well, with flexibility, it is mental. Do you know how many things you go through every day mentally. You are literally taking yourself through a process [that strengthens you mentally] and it becomes a domino effect that spills over into your life."
How To Make Yoga A Practice
Once we decide that we are going to try yoga in our routine for health and wellness, Tie suggests that we practice two to four times a week for at least 15 minutes or at the most 60 minutes with an instructor. As you begin to search for an instructor, remember it is about trust and finding someone you vibe with. Similar to the process of finding a therapist. It is very important to work with someone you like.

To connect with Tie Simpson follow her on Instagram and check out her Beginner's Guide to Starting Yoga for more. Also, check out Sisters of Yoga for many resources about yoga for Black people on Instagram.
Featured image by Jacob Lund/Shutterstock
In 2021, we are reaching our money goals! We have heard many times before that having multiple streams of income is the way to go. You may have heard that most millionaires have seven streams of income that they traditionally use. Those seven streams of income are:
Earned Income
Profit Income
Interest Income
Dividend Income
Rental Income
Capital Gains
Royalty Income
According to an article by the career site LinkedIn:
"There's a lot of hype going around the get-rich-quick industry about how to become a millionaire overnight, but the truth is that most people don't have an overwhelming, all-consuming desire to earn a great deal more money than they need to live comfortably. I believe that what most people want isn't to make 20 million USD in a few years. What they really want is to stop trading their time for money – or at the very least, reduce the amount of time they spend making that money."
Reducing the amount of time you spend making money is the ideal situation. There are 24 hours in a day, it is necessary to maximize that time to stream in income. Luckily, with smartphones literally at the tip of your fingers, you can turn your screen time on apps into an avenue that makes you money. It may not make you a millionaire right away but it can bring in a few hundred to thousands of dollars a month. Check out these apps to stream more income into your bank account.
TaskRabbit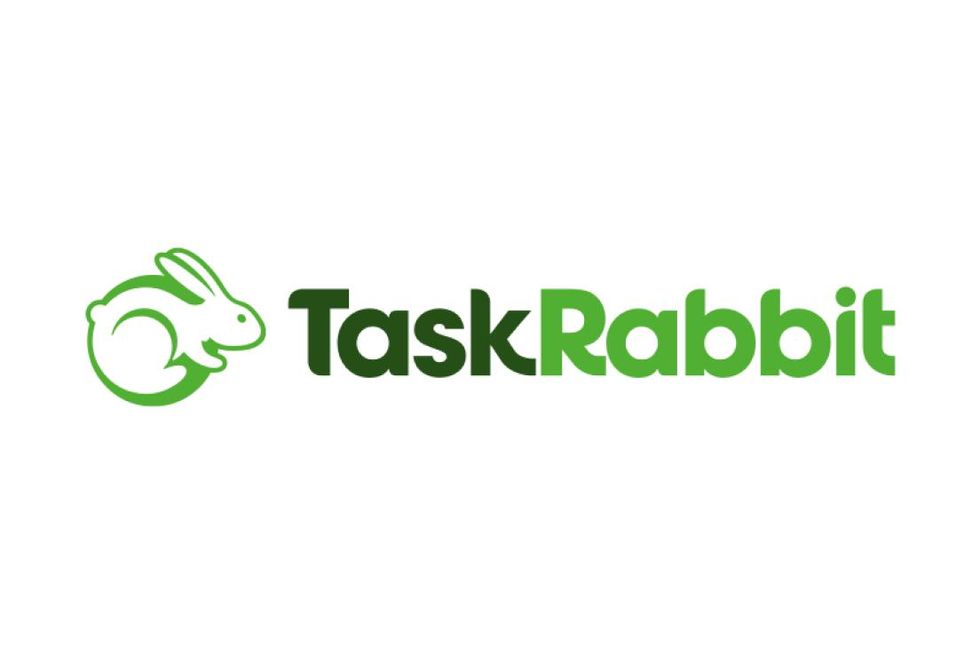 TaskRabbit
TaskRabbit is an app where you can list your services in any area and people who need those specific things can contact you for work. The most common things that appear on this app are moving furniture, mounting a TV, household cleaning, and IKEA assembly. To get started, you simply create a profile on TaskRabbit and highlight your most valuable skill. From there, you set your rates on what it takes for you to complete the job and then people are able to contact you immediately. The key to this app is the more tasks you complete, the better chance you have of getting selected to complete tasks in the future. Also, once you have completed a task, you can receive reviews that help people to select you over other taskers.
OfferUp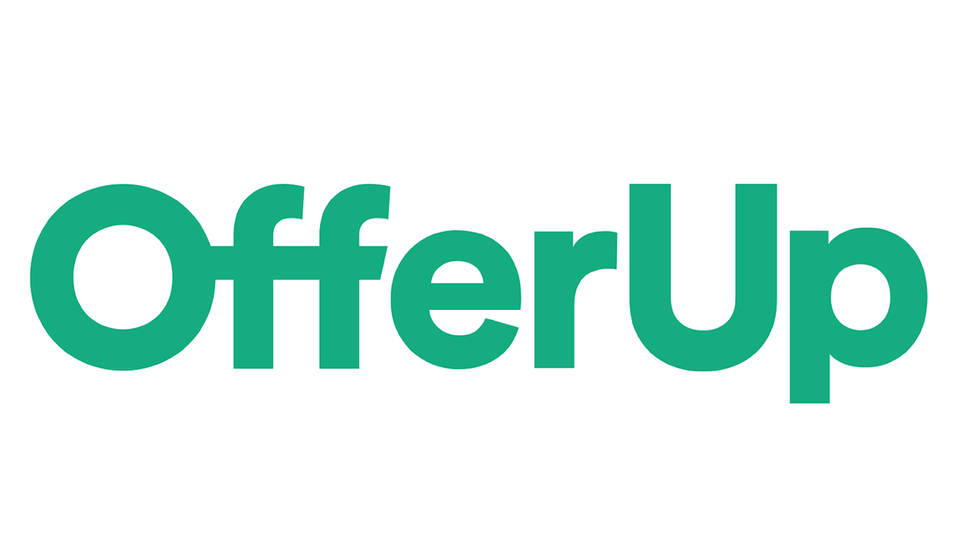 OfferUp
If you have an eye for selling things online, then this is the app for you. This app offers a great platform for sellers to sell their used items to buyers in their local area. To use this app, you upload pictures, a description, and a price point for the items you want to sell. There are sellers that have listed everything from clothing to cars on OfferUp currently. To get your listing to be viewed more often, there is an option that the app has where you can pay to promote your listing. OfferUp can be used to make quick cheap buys and flip them to make a profit. This app recently added a feature where you can ship items nationwide which can expand the seller's pool of buyers.
Acorns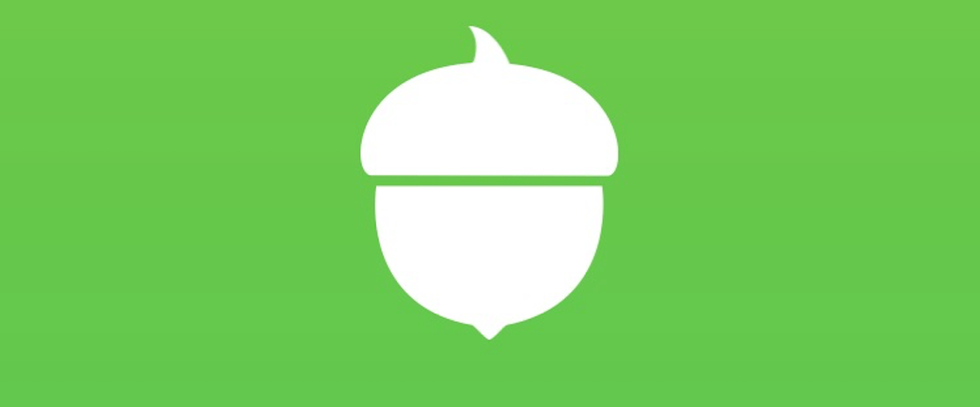 Acorns
There has been growing popularity amongst apps that help you save money in your bank account by creating a budget as well as helping you invest that money. Acorns is no different by putting your money to work by investing it. This is great for newbie investors who are looking for ways to start building up your account. The microinvesting app rounds up your spare change from card purchases and deposits it into an investment account. If you don't have lots of money to start investing, this can be the perfect way to find some extra cash laying around. Acorns has a few questions for you to answer about your risk tolerance and they will assist in the best portfolio with your needs in mind.
Bookscouter

Bookscouter
If you are like me, you have a never-ending bookshelf full of books. Some I have bought and sit in a "plan to read pile" for months on end and some that I have collected over time never to be read again. If this is sounding familiar, then Bookscouter is the app for you to get rid of those books that are taking up space in your home. Marie Kondo taught us to only keep things in our home that spark joy, and that includes books. This app allows you the opportunity to sell books online and to locate the highest bidder easily. You can choose to sell your old and used books by downloading the app, scanning the book barcodes, looking at the aggregation of buyback prices, and selling to the highest buyer. The shipping for this app is free.
Getaround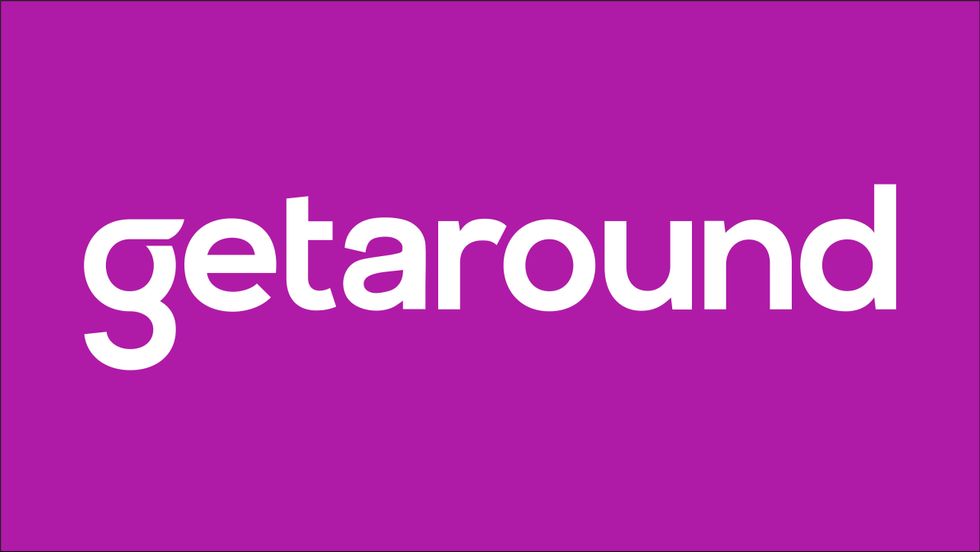 Getaround
This app is similar to Turo where it is based on the idea of people sharing their cars with strangers. According to a USAToday article:
"Getaround enables members to rent out their vehicles to strangers. Those willing to share their vehicles pay $99 for Getaround to install a device that can unlock the vehicle through a smartphone app. There also is a pouch in which the owner places the key. In addition, owners pay a $20 monthly fee to be connected to the company's network."
OK, so you can list your car starting a $5 an hour and higher based on Getaround's recommendations. If you get a client, Getaround does keep 40 percent. The app guarantees that you will make $1,000 in the first three months. However, your car can be no older than 10 years old and needs to have less than 125,000 miles. I personally have seen many people build businesses that are extremely successful and lucrative off these sorts of apps.
So, kickstart your 2021 with some of these apps and bring in that extra cash you need. There are many more out there but it is my suggestion to do your research and make sure you get cashback and not rewards. Also, apps sound like they put money in your pocket but you need to read the fine print. However, the apps I mentioned above should get you started in the right direction.
Are you a member of our insiders squad? Join us in the xoTribe Members Community today!
Featured image by Shutterstock
Do you catch yourself noticing 11:11 or other repeating numbers a lot when you look at the time? Or maybe you see 4:44 or 2:22 often? There is something about the synchronicity of repeating numbers that makes it seem like it is more than just a coincidence and maybe it is a sign. I have often seen a set of numbers (sometimes referred to as "Angel Numbers") over and over again and someone has told me I should play those numbers in the lotto. I always thought it was a silly superstition but there is some cosmic, spiritual meaning to be gained from having a sense of deja vu when you see what appears to be your lucky numbers.
Numerology is the study of numbers and their spiritual significance. It is the perfect complement to astrology if you are looking for more in-depth answers in your own personal journey. Oftentimes we look for meaning in dreams or patterns to guide us in the right direction. This life has a greater meaning for all of us and some things are more than just a coincidence. Honestly, the feeling of knowing that something is put here for a specific reason is what drives many of us to search for these answers. Connecting those dots between what we know intrinsically and can't explain to what we know to be true can bring you comfort and relief that you are on the right path.
What is Numerology?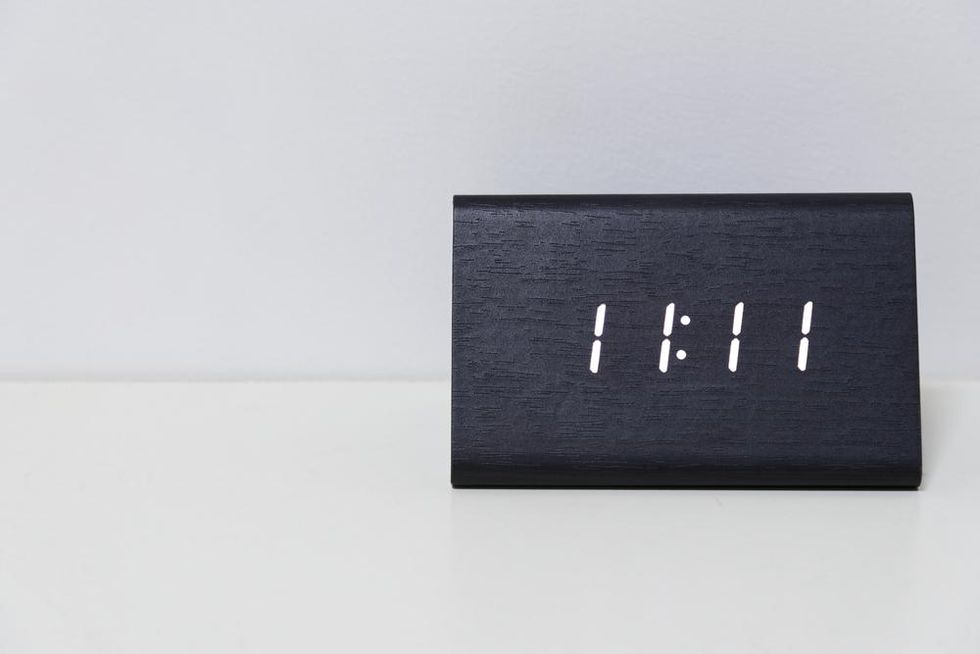 Shutterstock
Different numbers have different meanings and can signal changes or things to come in the future. Essentially, Numerology is how to interpret the numbers that appear around you to know their meaning in your journey. According to an article on REFINERY29:
"Each number, from one to nine, has a spiritual meaning, which can be applied to individuals in various ways."
What is a Life Path number?
It can be argued that your Life Path number is the most important number in your personal numerology because it has a significant influence over the direction of your life. The number is a representation of who you are at the core. Or, put another way, the person you spend your life evolving to become. As Angelica Ray, Intuitive, Healer, and Coach says, "You are able to have a better understanding of your purpose, some of the innate talents and gifts that you possess, and of the obstacles that you might experience. Ultimately, it can speak to general aspects of the path that your life might take."
Some have likened your Life Path number to the Sun sign in Astrology as an indicator of what is important to you, how you respond in situations, and how you process life in general. Don't simply think of your Life Path number as a list of traits, instead think of it as a specific set of positive and negative traits that manifest however you desire.
How do you calculate your Life Path number?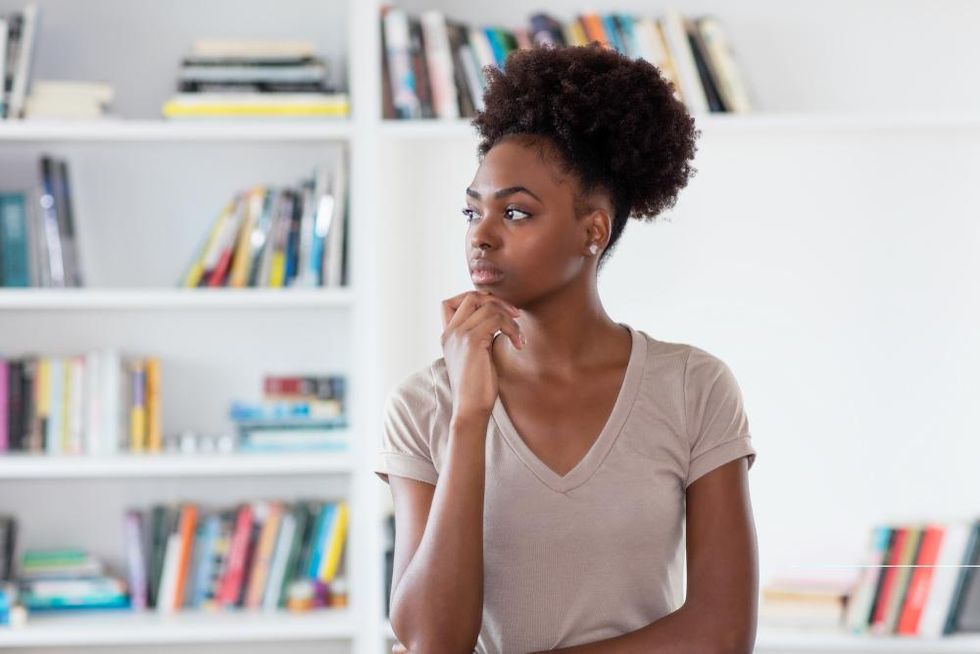 Shutterstock
To calculate your Life Path number, you need to use your birth date: the month, day, and year. Basically, your Life Path number is the sum of all these numbers reduced down to a single number in a specific method. One important note to make is that there are Master Numbers (e.g. 11, 22, and 33), but this specific method of calculating your Life Path number prevents these numbers from happening. Life Path numbers only occur through the single digits of 1 to 9.
According to Numerology.com:
"There is only one correct way to calculate your Life Path number. First, you must reduce each of the three parts of your birthday to a single digit or Master Number, then add up THOSE digits to find your Life Path number. If you end up with a two-digit number that isn't one of the Master Numbers, keep reducing it until you get to a single digit."
OK, so let's use my birthday for example 09/16/1985.
Start with the month, 09:
0 + 9 = 9
Then the day, 16:
1 + 6 = 7
Then the year, 1985:
1 + 9 + 8 + 5 = 23; reduce 23
2 + 3 = 5
Now add them all together and reduce if need be:
9 + 7 + 5 = 21; reduce 21
2 + 1 = 3
My Life Path number is 3.
So what does each Life Path number mean, from 1 to 9?
Life Path number 1 - This number reflects someone who is an innovator and a pioneer and is full of energy and motivation. People with this Life Path number are normally natural leaders that are capable of creating opportunities for themselves. What they need to learn is how to become confident in their own abilities and practice trusting each other.
Life Path number 2 - People who fall into this category are quiet but are very powerful. They tend to be calm, cooperative and have an appreciation for partnerships in life. They need to learn to find their voice and make sure they speak up and advocate for themselves when their needs are not being met.
Life Path number 3 - These people are creative and communicative with a youthful energy that is very exciting to others. People who have a Life Path number 3 are very positive and charming. What challenges they have to overcome is they are naive about the world. They need to accept and explore deep, tough issues and emotions that will help them on their personal growth journey.
Life Path number 4 - This is a practical person who is singularly focused on service and hard work. They are strong and can act as a stable foundation in other people's lives. They will have to learn to loosen up their way of thinking and processes to really understand that love and enjoyment are also fulfilling.
Life Path number 5 - People who have the Life Path number 5 truly live a well-lived adventurous life. These people have a curiosity and taste for life and thrive on variety and upbeat social settings. The thing they need to learn most is commitment because they have a constant need to change their situation. This may ultimately lead to an unfulfilling life.
Life Path number 6 - These are the lovers, nurturers, and protectors of the Life Path group. They have a very big heart and a large capacity to support others. During their journey, they must realize the importance of self-love and to put their own needs in a position of priority.
Life Path number 7 - The people who have a Life Path number 7 are naturally inquisitive people with an appetite for searching for the truth. They will need to learn to be more social as they like to spend a lot of time alone. They need to learn about relationships and vulnerability in their journey.
Life Path number 8 - This group tends to find a lot of success in life because they give things constant attention, intention, and effort to their work. They will excel professionally most of the time. However, they need to work on how to work well with other people.
Life Path number 9 - Those who fall into the group of Life Path number 9 have a sensitivity toward humanity and support all things that are for the greatest good. They are the tolerant, loving, and deeply connected group and are very in touch with their inner wisdom. They have the challenge of releasing past pains by addressing their needs and values.
For a deeper explanation of each number, Allureis a great resource for a break down of each group.
What do we do when we find our Life Path numbers?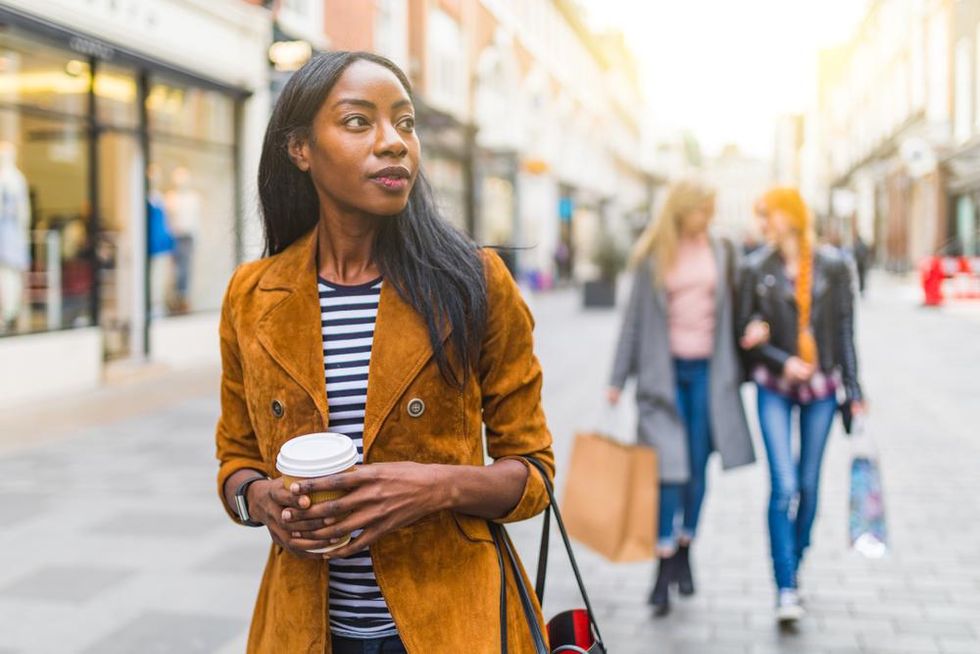 Shutterstock
Once we find our Life Path numbers Angelica suggests, "All of the different modalities are pointing the same energies. It is very common to see synergies and commonalities amongst these different modalities. The Life Path number is helpful because it can point you more towards a path rather than Astrology which can be a little bit more present-focused or character-focused. The Life Path can speak a lot about the road ahead."
Angelica does recommend working with a numerologist because they are better able to break down patterning and add context around timing. Also, they are able to help decipher intricacies around tendencies, the path forward, lessons, and journey. It is always better to get a reading by someone who is trained in the language of the energy so that you get a much more in-depth experience than online.
The best way to use your Life Path number in your everyday life is as a guide that points you toward a specific direction in your life.
Are you a member of our insiders squad? Join us in the xoTribe Members Community today!
Featured image by Shutterstock