It comes as no surprise that the cannabis industry and the legalization of marijuana are yet another barrier that Black business owners face. A new report released by Grand View Research, Inc stated that the global legal marijuana market size is expected to reach $73.6 billion by 2027. However, many states have very specific guidelines that stand as barriers for many people of color looking to get into the cannabis business, and Black and brown people are still serving harsher sentences for the possession and distribution of drugs than their white counterparts.
In tandem with that, Black people across the country lack the capital and access to venture into the marijuana business due to the various restrictions on who can own cannabis businesses. While the fight continues to dismantle another area in which systemic racism oppresses our community, these business owners are propelling forward to be the diversity that the whitewashed wellness industry so desperately needs. Here are five Black-owned CBD brands to support with varying products.
The Jersey-based CBD dispensary founded by Almaz Adeigbolo offers everything from pre-rolls and honey, to bath bombs that reduce anxiety. They also sell strains of CBD flower to help with depression and insomnia. Additionally, Adeigbolo is also a chef, and she curates cannabis-infused culinary experiences with her boutique food company, brwnbox kitchen.
BROWN GIRL jane is owned by sisters Malaika and Nia Jones and beauty and wellness expert Tai Beauchamp. The Spellman grads started the company after Malaika fell in love with the healing properties of plants and CBD, and felt frustrated with the lack of representation of people of color. Their products range from facial serums to body butter and yoni oils.
Founded by Dorian Morris, Undefined Beauty combines cannabis and skincare. The clean beauty advocate's line features firming serums, cruelty-free lip balms, and bath salts.
Not sure where to begin your CBD journey? This company provides a monthly subscription service of products such as calming wearable patches, chocolates that fight anxiety, nourishing facial masks, feel-good teas, healthful treats, and soothing balms all delivered to your door.
Yes, you read that right, hot sauce. Chef Paul Booker intends to blend up his passion for food and cannabis for all to enjoy. The former athlete shared that after enduring injuries and extreme physical stress on his body after his college football days, Satan's Breath was born.
If you're curious about exploring CBD, support these Black-owned brands as you venture into this area of wellness!
Let's make things inbox official! Sign up for the xoNecole newsletter for daily love, wellness, career, and exclusive content delivered straight to your inbox.
Featured image by Catherine Falls Commercial/Getty Images
Originally published on September 23, 2020
Marsai Martin is making moves. At only 17 years old, the actress has founded a production company, Genius Productions, became Hollywood's youngest producer after starring and producing Little, and more recently, she launched a luxury press-on nail company called Mari by Marsai.
The two-time SAG Award winner made the announcement on Instagram in January and the line dropped February 2. So, what prompted the black-ish star to go into the luxury press-on nails business? According to her Instagram, "everybody and they momma was doing makeup so I wanted to do something different."
Marsai's press-on nail packs range from $20-$22 and she also provided a tutorial on how to properly apply the nails. But while the actress is now getting to the press-on nails bag, she isn't the only one. There are many Black-owned press-on nails companies to choose from.
Check them out below:
Nail Candy Press-Ons
Nail Candy Press-Ons are handmade acrylic press-on nails that offer a variety of styles and sizes that are trendy and chic. According to the site, Nail Candy was founded by a "small-town gal" who wanted to provide beautiful nails at an instant.
Nailed By LA Studios
Atlanta nail artist LeAndrea, aka LA, provides acrylics, gel as well as press-on nails for her clients. The prices range from $35-60 and she provides various shapes from short coffin to XL square.
The Sassy Nails Studio
The Sassy Nails Studio is a custom press-on nails business founded by Jamie Barbie. From jelly nails to blingy nails, The Sassy Nails Studio does it all and has it all. They also have an option where you can create your own press-on manicure by providing clients with their own tools.
Nailed By Ren
According to Renee's Instagram, Nailed By Ren offers "100% handcrafted affordable and reusable press-on nails." Based in Toronto, you can choose your pick from ballerina, stiletto, or almond-shaped nails and if you're really feeling bold, you can even choose from press-on toenails.
Pretty N Pressed
Pretty N Pressed provides you with all of your press-on nails' needs such as sizing kits, E-files, and budget-friendly options that start at $12. If you're looking to start your own press-on nails business, they also offer classes that show you how to get started in the right direction.
Featured image by Emma McIntyre/Getty Images
To know Zerina Akers is to know that she puts on for the culture. Since she made the fashion world her playground years ago while interning at W Magazine and studying under Stella McCartney, Akers has always known that she wanted to learn everything the industry had to offer. It was in 2014 that she finally felt like she was in a place to show the world what she had to offer. The moment was marked by the spark of her creative partnership with Beyonce Giselle Knowles-Carter as a stylist and costume designer. That very moment allowed Akers to break ground on an abundance of life-changing looks in the "Formation" video to the countless ensembles in Black is King.
The Maryland native recently personified Cardi's lyric, "If it's up, then it's stuck," when she transformed her finsta account into an e-commerce promised land for Black folks. Black Owned Everything is the new home to 14,000 registered Black-owned businesses with the mission to elevate the visibility of Black-owned brands. Akers acknowledges that Black businesses have fought exclusion, systematic oppression, and active disenfranchisement for decades. Because of that, BOE's goal is to change the narrative and to invite you to support Black-owned businesses, celebrate Black creators, and participate in an inclusive, unified community.
On this IG account, with over 200,000 followers, you'll find a bio that reads, "For When The Trend Is Over" and we have never loved a six-word social media biography more. In an interview with HIGHSNOBIETY, she elaborates on why she felt it was important to make this point. Akers says:
"BOE is a medium for creating meaningful and long-lasting participation for Black-owned businesses. We are building a community, growing socioeconomic status, showing pride in our product and what we produce. Taking ownership of our creativity so other brands don't take or sell our stories."
You can expect BOE to always be intentional about spotlighting our brands and our stories because we deserve. We deserve the immersive storytelling content, designer collaborations, capsule collections, and curations that Akers is set to make available on Black Owned Everything. This is what we mean when we say, "Black people deserve luxury."
By opening the world's eyes to the beauty we create as a people, we deny cultural appropriators the means of shoplifting our customs and heritage. Essentially, this creative genius wants to use BOE to teach the industry "to give proper recognition to Black creatives. All of the brands on BOE are innovative and bring a unique perspective to the marketplace." Not only can you shop gifted designers like Fe Noel and CISE but you can also add beauty items from SKINBUTTR, home goods from The Fond Home and hair products from Girl+Hair, to your cart; and that's not even scratching the surface of this gold mine.
Basically, you can outfit your whole life from Akers' luxury domain. And while this space us for Black people by Black people, it's for everyone because this experience needs support from everyone.
We are so thankful to this queen for providing a unique lens for us to see ourselves as true pioneers. For more information on Black Owned Everything, click here.
Join our xoTribe, an exclusive community dedicated to YOU and your stories and all things xoNecole. Be a part of a growing community of women from all over the world who come together to uplift, inspire, and inform each other on all things related to the glow up.
Featured image by Shutterstock
It's my favorite time of the week, y'all! Time to loosen those purse strings and buy some black-owned goodiesss! #hellosomebody
And listen, I know it can be difficult at times to get out hands on those accessible to our day-to-day shopping, but fear not! I'm here to help a sista out with all this tea of where to find them. And what better way to help us all out than pointing us to major retailers? I mean, if you're already at Ulta Beauty, why not grab a few black-owned products while there, right? Right.
So, consider this list as a guide and a flex, because these business owners have worked hard out here, mkay?! Alexa, get in here and play "F.U.B.U." We're about to support some black-owned businesses today!
OK, you may not know this, but Ulta Beauty has recently unveiled a plan to double Black-owned brands on store shelves by the end of 2021. Additionally, they plan to invest in media campaigns that feature Black women and expand employee training to fight unconscious bias. In this plan, Ulta Beauty has pledged to spend $25 million on the initiative, including more than $4 million toward marketing that fuels growth of Black-owned brands. Also, Tracee Ellis Ross will become the company's diversity and inclusion advisor.
Currently, the beauty giant has 241 black-owned products in stores and online, including, Pattern, Juvia's Place, tgin, Mented Cosmetics, and Shark Tank alums, Kreyol Essence.
Shop online via this link, or head into their stores to get your hands on a few gems.
Much like Ulta Beauty, our forever bae, Target, has committed to supporting black-owned businesses--an initiative that they have supported for a very long time. They've recently added badges to its site and app that helps shoppers identify--and support--black-owned brands.
Additionally, one of the brands that they carry (and one of our favorites), The Lip Bar, has curated a full list of products sold in stores and online. Get into it!
Walmart has also swept in and answered the call of adding more black-owned beauty brands to their shelves, which they highlight on their website here.
OK, Wally World, I see you!
Sephora is the GOAT at this BO product game, as they have been inclusive to the culture for years. They've dedicated their website to much of the BO products they carry, and have it broken down by makeup, skincare, haircare, and more. Sephora also spotlights black-owned brands and is committed to taking part of the 15 Percent Pledge--where because Black people are 15 percent of the U.S. population, we'll have that much shelf space in their stores. Shout out to their very fierce (and black) Beauty Director, Myiesha Sewell.
Sidebar: this is a great time to pitch to them, sis! So stop waiting and get on it! Yes, YOU!
Not much more can be said about Amazon's support for BOB except that they are fckin ON it. Get on over there, ladies. They have a LOT to choose from.
Much like the other retailers, Nordstrom is stepping up to combat the issue of product disparity with Black_Space, a dedicated shop of Black-owned brands. Black_Space was created as part of Nordstrom's New Concepts pop-up initiative. Nordstrom tapped into a group of five Black creatives for this initiative: creative consultant Azza Yousif, stylist Marcus Paul, entrepreneur Beth Birkett, artist Harris Elliott, and stylist Matthew Henson, all of which have spearheaded and curated the shop's featured brands. What was born, was a large selection of menswear, womenswear, accessories, and beauty products from 28 Black-owned companies, 25 of which are new to Nordstrom.
Get those coins, y'all. Get all the coins.
Learn more, and shop more, here.
--
Featured image by Shutterstock
Ladies, Valentine's Day is up the street and around the corner, meaning it is time to plan all the sappiness our little hearts can handle. And to get bae in the M-O-O-D, even with a full-blown pandemic still lurking around (because ya'll won't stay your asses in the house), what better way to celebrate than to host a date night at home?! More specifically, a date night at home where you can also support black businesses at the same time. Hello!
Black-owned businesses have quietly become the new, "who's all over there?" making V-Day no different for finding goodies to stock all of our needs. From wine to lingerie, we've got you, sis! Here's a list of black businesses to support for this year's Valentine's Day.
"Sleepover and feeling fancy? This sequin PJ set is meant to make a statement and doesn't have to be worn just as PJ's!" That's what the website reads for these fancy threads. Created by Influencer, Nichole Lynel, this label shows off the genius that is Lynel, one garment at a time.
Now, that we have your outfit together, you'll need some bomb tools while making dinner. In, walks HoH Kitchenware, your premium source for kitchen gadgets and unique kitchenware finds, perfect for all foodies alike. Their website has everything you'll need to whip up that bomb dinner, so don't be shy!
Black-owned nude sets. That's it. That's the sentence.
Philosophy Winery & Vineyard is the first African-American (as well as women-owned) winery in the state of Maryland. They produce high quality wines, with their Reign Rose' being ready to ship, just in time for the holiday.
To my curvy girls, you'll need some lingerie to go under those pj's, sis! Make sure bae is drooling when you show off your Curvy Fox wear. They have a new Valentine's Day collection on sale, to take care of all your sexpot needs. #purrr
Our good sis, Jackie Aina, has created mood candles for the win! Their website reads:
"Black women don't always have to be strong. Black women deserve self-care. Black women deserve luxury. Black women deserve to be spoiled. Black women deserve. We want to give you the products to live this new narrative out loud. We want to bring you self-care. We want to bring you luxury. We want to spoil you. As a brand, we're writing a love letter from Black women, to Black women. We're rewriting our narrative together."
Girl, just take my money. Whew.
For those of us who love the sweets, Mayas Cookies is your new fave dessert hub. They offer gluten-free cookies, ship worldwide, and are vegan. Oh, and they're black woman-owned.
Charismatic Creations had me at their tagline: "...Because a great night never started with a salad!" Based in the DMV, they specialize in all things "bar", offering everything you need to get the night poppin'. *wink*
Canna Luxe is a luxury smoking, femme-powered brand that specialize in accessories that get you right. Their newest LOVE ME bundle fits perfectly into all your V-Day plans, no questions asked.
Estelle Colored Glass has built a massive network of glass lovers who claw to get their hands on some of their products. They are a luxury brand of hand-blown colored glass, all made in Poland. Expect to find their inventory filled with color options to match any special occasion.
--
Happy Valentine's Day, queens!
Are you a member of our insiders squad? Join us in the xoTribe Members Community today!
Featured image by Shutterstock

This article is in partnership with Ford.
No one could have predicted the dire effects of the COVID-19 crisis, especially on Black communities. One consequence: Black-owned businesses are now almost twice as likely to close as other businesses because they're more likely to be located in areas hit hardest by the pandemic. If these effects--and this roller coaster of a year--have taught us anything, it's the need for people to not only recognize racial disparities but also take meaningful action to undo them.
As lockdowns took effect and the reality of what was in store sunk in across America, many individuals and businesses shifted gears from driving profits to community-focused problem-solving. Ford is one such company that put nearly all business aside early on to focus heavily on helping Americans in vulnerable positions, including first responders, educators, and small business owners.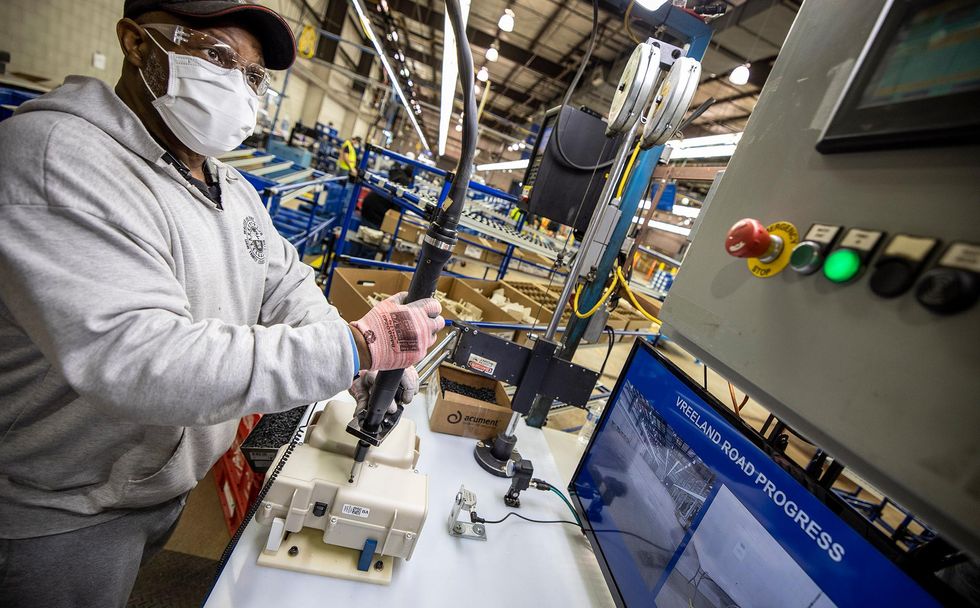 Ford
The automaker has historically been one of the largest employers of African-Americans in the country, and supported initiatives and organizations that positively impact black communities.
That's especially true in the wake of the COVID-19 crisis. For one, Ford has teamed up with the National Urban League, to give Black business owners exactly what they need to get back on their feet ASAP: money.
"Access to capital is one of the biggest hurdles Black-owned businesses face," says National Urban League President and CEO Marc H. Morial. "The pandemic has only widened the racial disparity." That's why Ford and the National Urban League have established the Emergency Capital Access Program (ECAP) to give Black business owners immediate access to a total of $600,000 in grants, along with technical assistance and counseling.
With priority given to businesses located in areas with Black populations of 25 percent or more, Ford and the National Urban League aren't just helping Black businesses, they're giving a necessary boost to Black communities too. "Small businesses are a cornerstone of the African-American community and play a vital role in their economic success," notes Pamela Alexander, director of Community Development at Ford Motor Company Fund, on the importance of deeply-rooted Black businesses fostering community well-being.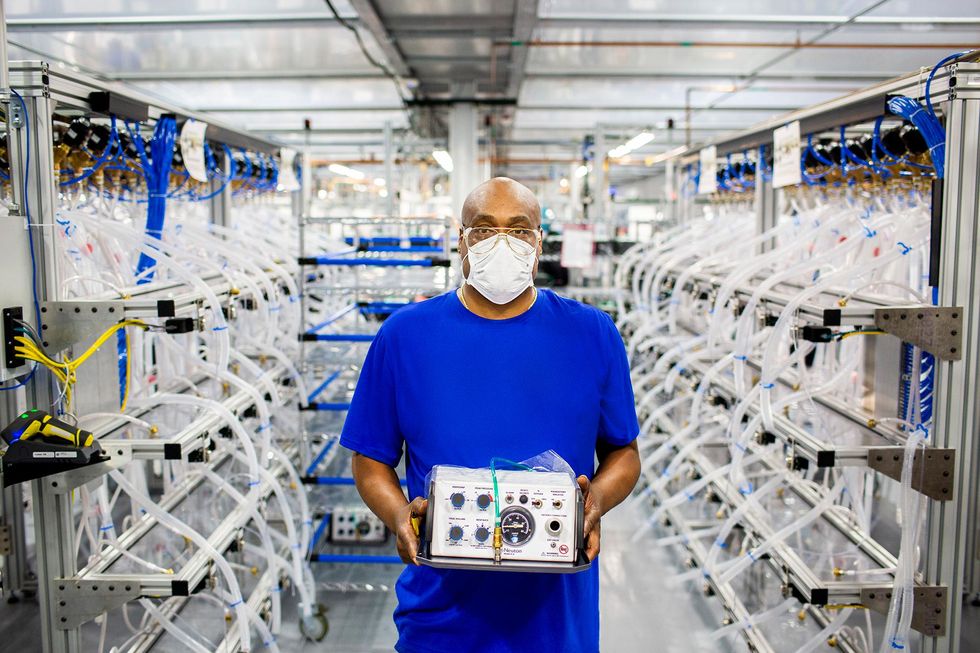 Ford
Of course, the most important way to support Black communities at this time is to focus on their health. Ford has also teamed up with Wayne State University and social services organization ACCESS to deploy its own vehicles as mobile testing units, servicing more than 10,000 residents in the company's home state of Michigan. The units are also equipped to test for conditions that can put individuals at high risk for contracting COVID--some of which are more commonly experienced by African-Americans than other groups. "Although there is still a strong need for COVID-19 testing, expanding our services to include blood pressure and HIV testing, and broadening our community outreach, allows us to have even a bigger impact in improving community health," says Wayne State University's Dr. Phillip Levy, M.P.H.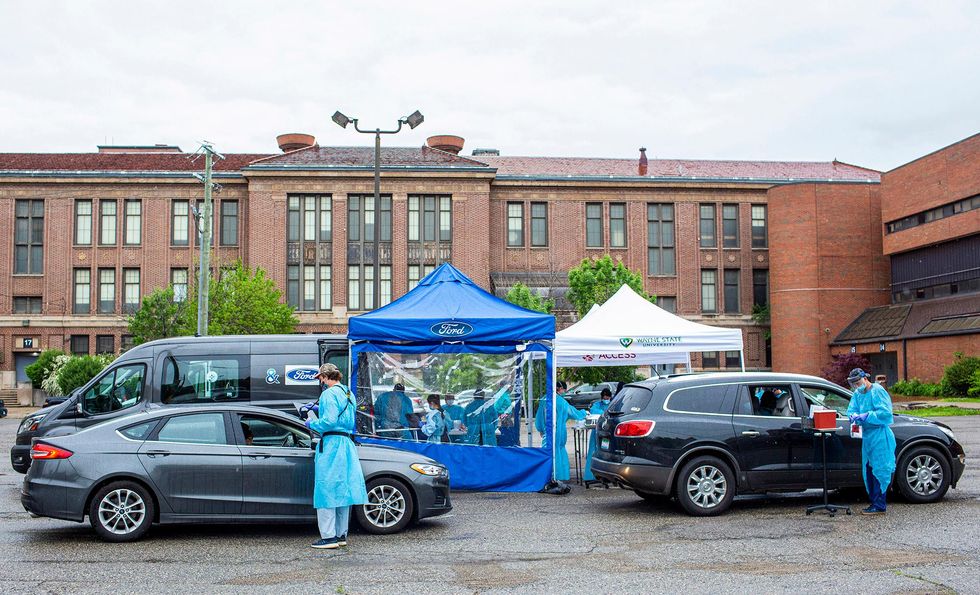 Ford
Above all, the most notable response to COVID-19 by Ford has been Project Apollo. Not long after the U.S. went on lockdown in March, the automaker quickly pivoted from producing auto parts to creating millions of CDC-compliant masks, face shields, ventilators, respirators and washable isolation gowns. This massive supply of PPE continues to be distributed to Black communities and HBCUs, as well as healthcare workers, first responders, disabled veterans, food banks, schools in the Hispanic Association of Colleges and Universities, and other at-risk individuals throughout Michigan. In October, more than 700,000 of the masks Ford produced were delivered to breast cancer patients, survivors and their families in recognition of Breast Cancer Awareness Month, showing that, despite the pandemic, the auto company is continuing its existing outreach programs like Ford Warriors in Pink®.
Though nothing will right the innumerable wrongs Black communities have and continue to endure, these invested, forward-thinking initiatives offer a glimpse of much-needed positivity and teamwork in a country healing from more than just COVID. And while recovering from the pandemic will no doubt be a long process, prioritizing communities that need the most help is the best way to ensure that we'll come back even better than before.
Featured image courtesy of Ford