The gag is Black does crack. Not as often as we think but we must be careful with the catchy saying because it lends to misinformation. And while we love the many blessings of having melanin skin, we still have to be good to our skin. As the temperatures and seasons change, we must arm ourselves with the best products and tips to keep our skin on glow. To do that, we enlisted some help.
---
Self-proclaimed, Native New Yawker, Danielle Gray is a skincare girly we can trust. For years, she's been helping us get our skin together one online video at a time. You may know her as the @stylenbeautydoc on Instagram but Gray has also been featured in Allure, ESSENCE, Good Housekeeping and seen on Rachael Ray, Dr. Phil, and New York Live. We had the opportunity to chat with her about some hacks and products she trusts and this is what she had to say about keeping her skin glowing all winter long.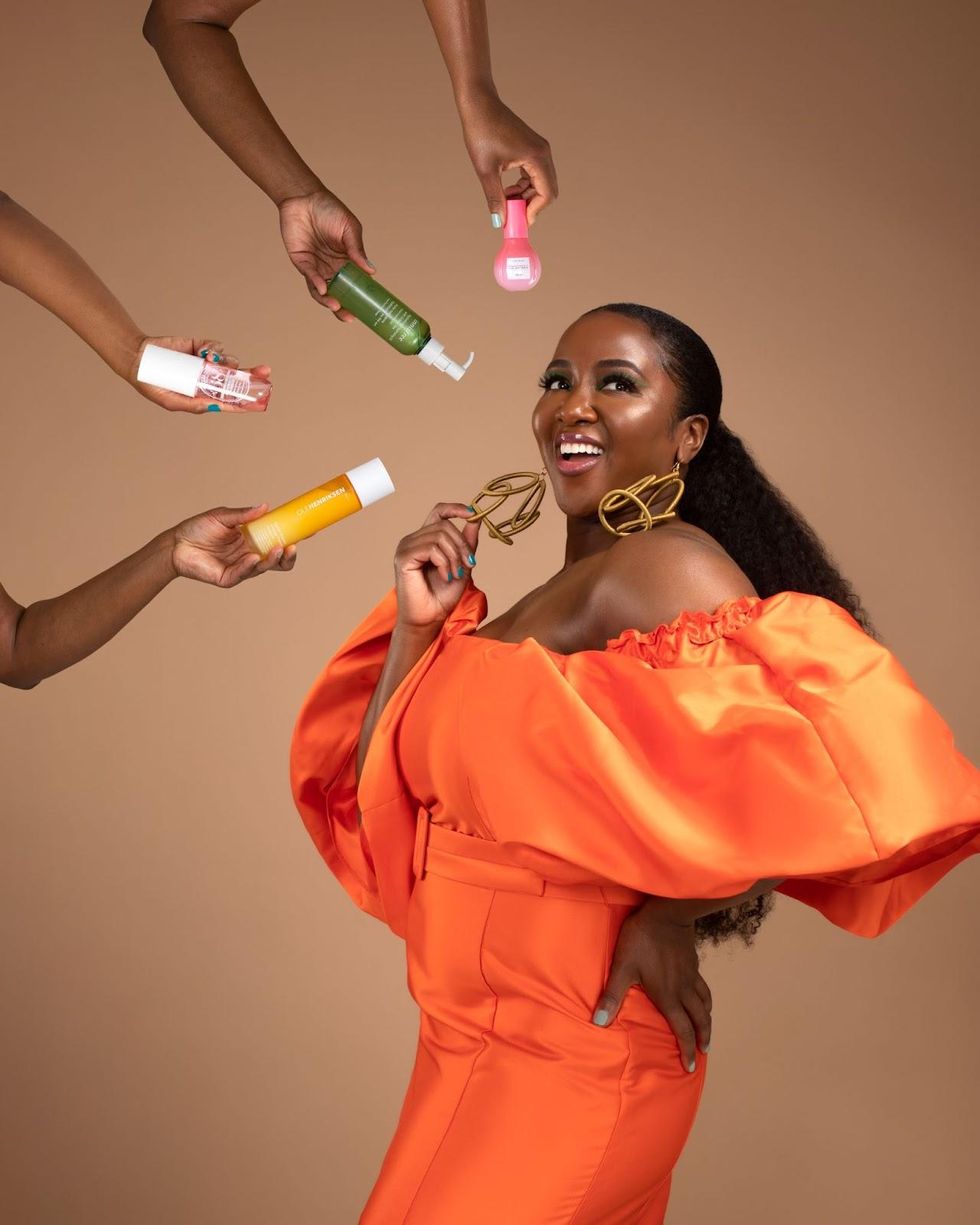 Courtesy of Danielle Gray
Her top fall/winter skincare must-haves: 
Sunscreen: "Yes, even darker skin—sun exposure also worsens pigmentation."
Retinoids: "They do a number of things for the skin—help with texture, discoloration, boosts collagen, etc."
Essence + Hydrating Serum: "Hydrated skin glows, looks bouncy, and is less prone to damage. And yes, you need to hydrate even if you have oily skin. I have oily skin and love using a combo of an essence and a hydrating serum on damp skin, followed by a moisturizer."
Vitamin C: "It may not be for everybody, but I love vitamin C because there's good research on its ability to protect the skin from environmental damage, boosting collagen, and its brightening properties. Aka, it comes with receipts that it's going to help your skin look more snatched and glowy."
Derm visits: "Okay, I know this isn't a product, but I love how my derm treatments have made improvements to my skin along with what I do at home with my skincare routine."
Her go-to products for hyperpigmentation and discoloration: 
"I know my answer is about to make people mad, but honestly, the best product is very subjective. What your skin loves, my skin may hate. But if you're looking to treat discoloration, there are some things you can look for, but you'll have to actually try the products to see how they work for you. Look for ingredients like niacinamide, lactic acid, alpha arbutin, licorice root, tranexamic acid, glycolic acid, vitamin C, retinoids, etc. You don't need to find 8 different products with these ingredients—look for products that have a number of these ingredients, like Murad Rapid Dark Spot Correcting Serum.
"You also want to use sunscreen religiously–year-round. Sun exposure worsens pigmentation. Avoiding getting discoloration is probably one of the best ways to treat it—though in some cases, this isn't practical. Irritation can lead to inflammation that can lead to hyperpigmentation. So avoiding irritation to the skin (i.e. burns, scratches, dryness, bug bites, acne, friction, etc.) can lessen your likelihood of getting dark spots.
"Another great tool is a skin of color pro—an esthetician and/or dermatologist who has extensive experience working on skin of color. Some discoloration doesn't respond well to at-home treatments, and you may need to see a pro—but again, you want to see someone who knows what they're doing with [your skin] because, in the wrong hands, it could get worse."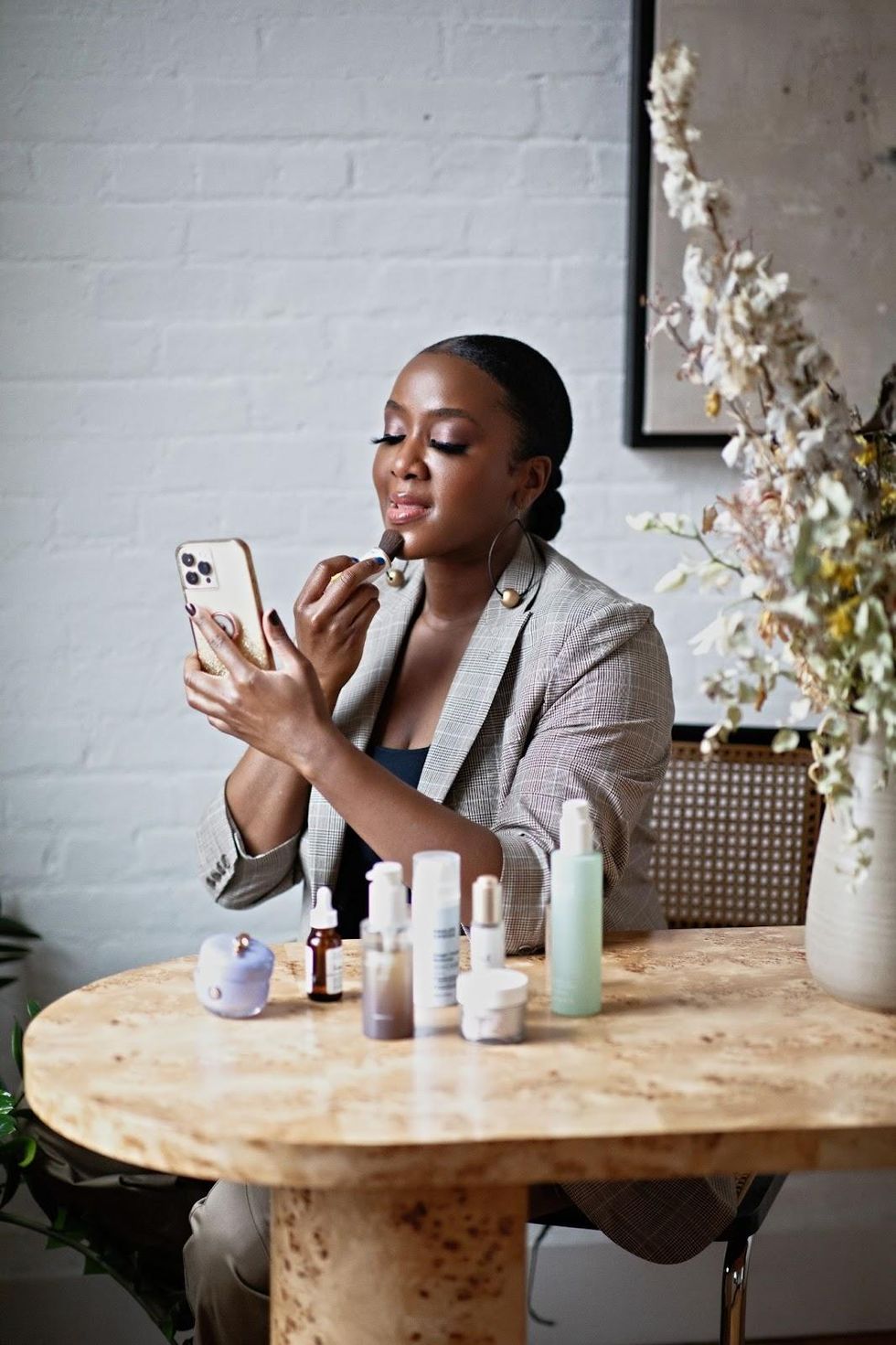 Courtesy of Danielle Gray
Her ultimate tip for avoiding dry skin in the winter: 
"One of the best things you can do is remove yourself from hot showers. People HATE when I say this, but I'm not telling you to take an ice-cold shower. Hot water zaps the skin, and skin of color already suffers from dry skin—when you add cold winter and drying things like indoor heating and fabrics like wool, it's a Sahara. Turn the water temperature down bit by bit. You can do it! Another best practice is to apply your moisturizer right after a shower while your skin is still damp."
Her recommendation for a simple nighttime skincare routine:
"Use a gentle cleanser for your skin type and current skin needs, slap on a moisturizer, and good night. If you wear makeup, remove the makeup first, gentle cleanser, and then moisturize. If you want to elevate this, you can use a retinol moisturizer Olay Retinol24 moisturizerso you kill two birds with one stone."
Featured image courtesy of Danielle Gray