When it comes to skincare, I have to say we are spoiled. We have a variety of products on the market that help us achieve that natural, youthful glow we all want. From gels, oils, serums, creams, foams, scrubs, and vitamins, we clearly can't go wrong. If you're obsessed with taking care of your skin or have been prone to skin problems like me, you've probably used retinol, hyaluronic acid, glycolic acid, salicylic acid, and benzoyl peroxide as part of your skincare routine. These are just common key ingredients that have been on the market for decades. Now, there are so many other types of acids and supplements that give your skincare routine the upgrade you didn't know it needed.
---
Enter niacinamide. According to an article from Healthline, niacinamide is a form of vitamin B-3 that is an essential nutrient and is water-soluble. Vitamin B-3 is found in eggs, cereals, green veggies, beans, fish, and milk. When you are deficient in vitamin B-3, it can lead to skin disorders or other types of health conditions. Did you know our bodies can also produce niacinamide? When our body has too much niacin (vitamin B-3), it's converted to niacinamide. So, how does our skin benefit from niacinamide?
Overall, niacinamide builds proteins in the skin and prevents environmental damage by locking in moisture. It also helps treat skin conditions like acne and rosacea, and it protects against sun damage and oxidative stress (pollution or toxins).
Here are the specific skin issues niacinamide can help treat and the products you should add to your skincare routine:
A Smoother Skin Texture
Some of us were not blessed with smooth skin and invisible pores. I have what you call orange-peel skin, which is when the pores are enlarged and visible. Niacinamide improves skin texture by making pores look smaller and also helps balance oil production. It has also been proven to reverse and prevent signs of aging, reduce redness and irritation, minimize fine lines, and brighten the skin.
Hyperpigmentation Issues
If you are like me, you might struggle with dark spots or post-inflammatory hyperpigmentation (PIH). I've used medical-grade acne medication such as a sulfur wash, retinol, and hydroquinone to lighten my dark spots, but research has shown niacinamide can be almost as effective in comparison to hydroquinone when it comes to fading dark spots.
In a Vogueinterview, dermatologist Blair Murphy-Rose recommended using niacinamide with skin brightening ingredients, such as kojic acid (found in mushrooms and a byproduct of fermented rice) and a tranexamic acid (a man-made form of amino acid) to maximize the benefits of niacinamide. However, niacinamide can be paired with retinol, peptides, and hyaluronic acid too.
How to Use Niacinamide in Your Skincare Routine: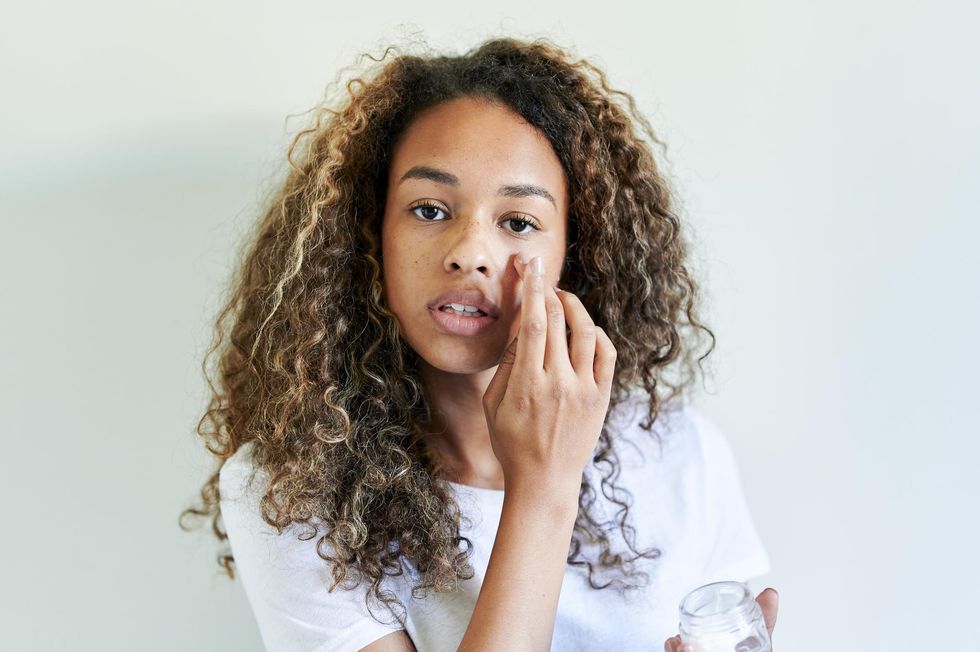 Getty Images
To achieve the flawless skin you've always wanted, niacinamide should be applied topically via a cream, lotion, or serum. It's the type of ingredient that is well-absorbed by the skin.
You can safely use niacinamide twice a day with a moisturizer and sunscreen. Serums have a higher potency and higher concentrations, so you want to be sure to use a low concentration (2% to 5%) because a higher one can irritate the skin.
If you plan to add niacinamide to your skincare routine, it should look something like this:
Cleanse your face.
Tone.
Apply niacinamide.
Apply moisturizer.
Sunscreen.
Recommended Products
Niacinamide has become a popular ingredient used in moisturizers, serums, sunscreens, and face masks. Some trending beauty products approved by skin experts containing niacinamide include:

I personally haven't tried any serum-based products with niacinamide, but I can say I have tried other products from The Ordinary and I've used the EltaMD UV Clear Broad-Spectrum sunscreen. These are two of my favorite skincare brands because they are affordable. The sunscreen is recommended by my own dermatologist and esthetician.
I know trying different skincare products can be a hit or miss, but don't knock the product until after four weeks or more. Your skin takes time to heal, especially if you have hyperpigmentation problems. Any dermatologist will tell you that results become apparent over time with consistency and correct application.
Upgrade your skincare routine with niacinamide, sis.
To get your beauty fix and to stay up to date with the latest trends, check out the xoNecole Beauty section here.
Featured image via Getty Images