There are some blanket statements I hear people make that automatically earn the response, "Yeah. OK. If you say so." One that immediately comes to mind is, "I don't care what people think."
---
I'm not so sure gossip blogs, YouTube videos, or terms like "clapping back" would thrive in the way that they do if that were the case. As a matter of fact, I think that a part of the reason why a lot of us are more stressed out than we should be is that we care too much about what the wrong people think. Strangers. Trolls. Negativity addicts. Folks who are critical just for criticism's sake. And also people from our past who haven't spoken to us enough in the past five years to provide much valid insight one way or another.
Being that I used to be one of the people who cared (more than I should) what those categories of folks thought about me, I will provide a little food for thought. Several months ago, someone heard that I was pregnant and approached me about it. I've been abstinent for 12 years now, so the rumor was so ridiculous that it was funny more than it was offensive. I didn't inquire who said it. I didn't chase it down. It was…whatever.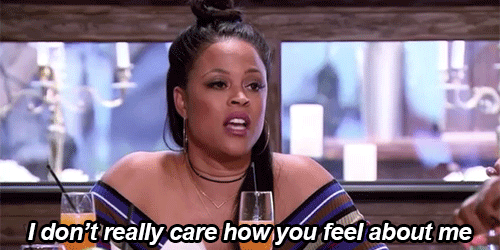 media.giphy.com
But when I was throwin' it back and that kind of gossip came my way, I was pissed. What it taught me is sometimes I care because there is something within the rumors that has relevance. Because of that, it was a trigger.

These days, I get triggered less and less, though. Some people tell me it's because I don't care what anyone thinks, but that's not true. I truly care what some people think; it's just that my list is very short. People who, through their character and commitment have proven that they truly care about me as a whole, I care what they think. Because their actions show that they really do care about me.
And caring what they think has been a lifesaver in more ways than one. Here's why I say that:
​We Automatically Have a Biased Perspective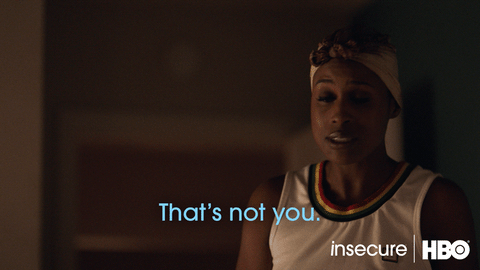 There's a guy I know who used to live by the motto, "I counsel myself." What in the world? Counseling oneself is like trying to strangle yourself to death. Both are virtually impossible because we are naturally wired to do what makes us most comfortable—in the moment.

Case in point. There's a woman I know who, throughout her entire dating relationship with her boyfriend, he was cheating—A LOT. I know for a fact that at least 10 people told her that, but she didn't listen. It was almost like she was making it a mission to marry him. She did. And guess what? He's still cheating.
I know what it's like to be so emotionally caught up (or sexually sprung) that I only choose to see what I want to see. That's why it's good to get the vision (i.e., discernment) of other people into the mix. They are able to look at the cold hard facts and the reality of what's going on so that you can gain a more balanced perspective.
You're looking from the inside out and someone who loves you looking from the outside in will give you a better view of what you're dealing with so that you can make non-rose-colored-glasses decisions that are truly best for your life.
Even the Bible says getting outside counsel is a smart thing to do (Proverbs 11:14). Because it is.
People Who Truly Care About You Have No Ulterior Motives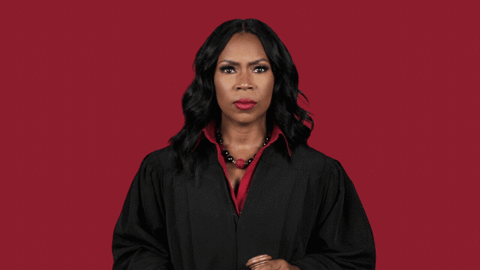 One time, while talking to a wife about some drama I was going through with a guy, she said something that was true; still, I didn't really wanna hear all that. While I was telling her, for the umpteenth time, about more stress that he was putting me through, she turned around from washing dishes and simply said, "Shellie, he's not your husband. He's a boyfriend. Stop making this complicated and break up."
When I told her that I didn't like how flippant she was being she said, "I have a husband. And four kids. And bills. My life is going to go on whether you stay with that guy or not. I'm telling you what I wish someone had told me when I was in toxic situations." Then she paused and said, "But you do know I'm making time to listen to all of this…right?"
If you RBTL (Read Between The Lines), it's obvious that she was saying, "I care about you and that's the only reason why I care to have this conversation." My takeaway from that is we should care about what some people think because they are being caring, thoughtful, and loving enough to make our lives a priority in the midst of their own. It's not a right that they care. It's a privilege.
Pride Comes Before the Fall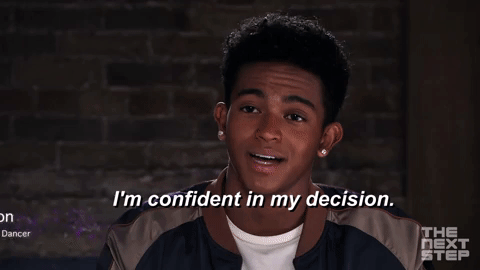 Some people claim to not care what people think because they interpret it as judgment. Maybe sometimes, but I think that perspective is usually a defense mechanism. My friends know that whenever someone is on the "Don't judge me tip", I'm quick to say, "So, you know if someone compliments you, that's also a judgment call…right?" If most of us were honest with ourselves, we don't have a problem with being "judged", just so long as it comes in the form of praise and not criticism.
But sometimes, the exact thing that we need is to be called out on our stuff. It helps us to see where we're messing up so that we can recalibrate and avoid some unnecessary missteps and mistakes. If all we received was flattery, we'd think we were perfect and that's a surefire way to let your ego set you up for some colossal downfalls.
The past eight years or so of my life have been less dramatic than any other time. I'm sure time and maturity play a part but so does truly valuing the opinions, perspectives, and insights of certain people in my life.
It has literally saved my life to care what some people think. Care enough about yourself to care what some people in your life think too.
Feature image by Getty Images.