---
No matter how your week went, there's nothing that will put you in a weekend mood like a bomb ass playlist.
From Normani dropping her 90's inspired video for her latest single "Motivation" to Doja Cat making cellulite king in her creative new video for "Juicy," our playlist is abundant with bops that you need to get you through the remainder of this hot girl summer.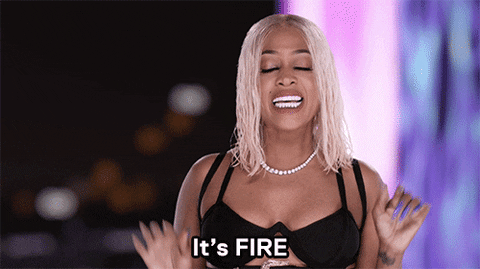 media1.giphy.com
It's Friday, you got a job, and you probably have a lot of sh*t to do. But that shouldn't stop you from kicking your feet, rolling up something sticky, and getting into this smooth playlist specially curated by us, for you. Here are 10 new songs you should add to your summer playlist ASAP:

Normani - "Motivation"
Earlier today, Normani dropped her video for her latest single and the visuals will give you all the '90s nostalgia. If you weren't familiar with this former Fifth Harmony member before now, her poppin melanin and killer choreography skills prove that she was divinely touched by ancestors of R&B.
Doja Cat, Tyga - "Juicy"
"Juicy" is the natural booty confidence booster you didn't know you needed in your life. You're welcome for putting you on your new favorite shower song that will encourage you to appreciate your curves and cellulite alike.
Jorja Smith (Feat. Burna Boy) - "Be Honest"
Jorja Smith and African rapper Burna Boy served up a whole mood on this tropical track that will have you feeling like you need to be on a beach with somebody's son as soon as possible.
Snoh Aalegra - "Find Someone Like You"
Although this Swedish soul singer initially emerged on the scene in 2014, Snoh is just now getting the recognition she rightfully deserves and recently released her latest album, -Ugh Those Feels Again. The Persian princess credits her smoky singing style to inspirations like Billie Holiday and gives us big Amy Winehouse-ish vibes on this mellow single.
Megan Thee Stallion (feat. Ty Dolla Sign & Nicki Minaj) - "Hot Girl Summer"
Nicki Minaj got some sh*t off her chest this week, and sis said it with her chest. Although this track released last week, the fearless savagery and unapologetic comradery amongst Black women that has taken in the music industry over the past few weeks has me bumping this track all damn weekend.
Kiana Lede - "Title" 
This piano-playing singer just dropped something for us to vibe to all weekend long. While the artist is on tour until the end of the summer, that doesn't stop Kiana from dropping situationship inspired-heat that we can all relate to.
Ari Lennox - "BMO"
We Stan for a brown skinned beauty, so please, give Ari all of the things. The singer recently released the highly anticipated video for her single "BMO" and it was the perfect amount of bougie badness we needed this week.
Ariana Grande, Social House - "boyfriend"
This groovy track wasn't typical for Ariana, but nevertheless, it was hittin'. The song was released earlier this month, sparking rumors that she and Mikey from Social House were officially an item, but judging from the song's number one spot on the Top 100, sis is unbothered.
Big Sean - "Single Again"
Can we take a moment to discuss how absolutely adorable Ryan Destiny and Keith Powell are in this semi-short film? Big Sean rids us of our singledom scaries and reminds us that being alone doesn't make you lonely with an assist from ex-girlfriend Jhene Aiko and Ty Dolla $ign on the track.
Throwback Jam Of The Week: "U.N.I.T.Y." - Queen Latifah
Last but not least, I wanna take you back, way back to a time when only one or two female rappers could exist to the top. When Queen Latifah dropped "U.N.I.T.Y.", she changed the narrative of Black women in the rap game and opened the door for women like Nicki, Trina, Cardi, and Megan to thrive, and even in 2019, I'm here for all of it. Bump this track this weekend in honor of a long real one!
Featured image via Giphy