Tyler Lepley first received acclaim for his roles in Baggage Claim co-starring Paula Patton and Tyler Perry's The Haves and The Have Nots original series on OWN, which both premiered in 2013. Fast forward ten years later, the 80s baby's acting receipts have extended to Katori Hall's P-Valley as a series regular, and a role in Amazon Prime's original series Harlem.
---
As Ian Walker, Lepley takes on the role of a passionate chef whose dreams drive him to make it in the Big Apple. Lucky for Lepley, his character's aspirations are his day-to-day reality. The 35-year-old Philly-born actor spoke with xoNecole's contributing features writer D'Shonda Brown for our xoMan series about his definition of Black love, the importance of putting Black female voices in the forefront of Hollywood, and love advice he would give his Harlem character.
"I think I would tell him that even though you run into obstacle after obstacle, following your heart is something that's worth following," Lepley told xoNecole about relationship and love advice he would give his character. "Finding that love is something that is worth fighting for, even though it may feel negative at times. I think one thing that he would share with me is he would say, 'You're right where you're supposed to be.'"
Seen in the media proudly as a partner to Miracle Watts and a father to their son Xi Lei Lepley as well as two other children from a previous relationship, the actor has been in the limelight for not only being a talented man but also one who wears his love for his new family unapologetically on his sleeve. But what does love look like to the episodic Tales actor? "To me, Black love looks like effort. When you love something, initially it can feel like it's a knee-jerk reaction," he said.
"But soon, we'll figure out that the honeymoon phase in anything wears off initially. Then, we got to get into a place where we're committed to staying in a place that feels good. It takes effort. It takes time. It takes a higher emotional IQ."
He added, "Again, it takes a lot of effort. It's something that's worth fighting for; something you got to be committed to. Not one foot in one foot out, just so you can bounce anytime. It feels hard, but truly to stay committed to it to see what it grows into."
In the Tracy Oliver-written show Harlem, the heartthrob portrays Ian Walker and has been actively part of the cast alongside Meagan Good, Grace Byers, Shoniqua Shandai, and Jerrie Johnson since the first season debut in 2021. Now gearing up for the show's highly-anticipated second season, Lepley reflected on how being part of the ensemble has allowed him to grow as a thespian and overall creative in the entertainment industry.
"I would say that the number one way that I have grown as a creative and also as an individual is to just understand how important collaborative efforts are when we're trying to get to a collective goal," Lepley shared about the lessons he's learned while being part of the Amazon Prime series.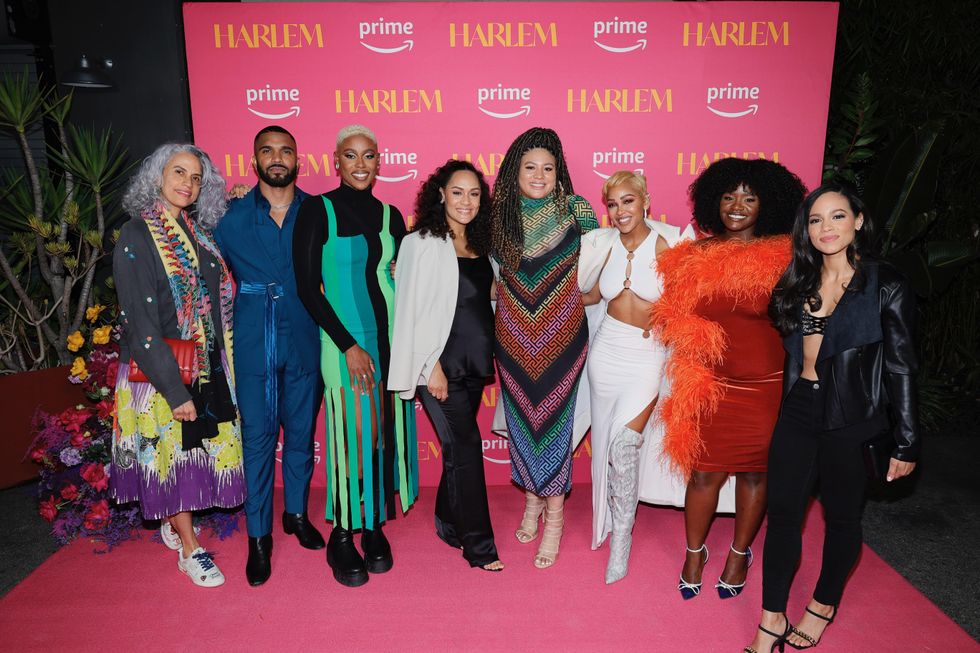 (L-R) Mimi Valdes, Tyler Lepley, Jerrie Johnson, Grace Byers, Tracy Oliver, Meagan Good, Shoniqua Shandai and Juani Feliz
Arnold Turner/Getty Images for Prime Video
"As an Aries, as an only child, I'm very headstrong. I'm a leader. I feel like when a problem arises, I'll fix it, 10 [times] out of 10," Lepley continued confidently. "However, in a family environment, family structure, in a group effort, you get some of that magic by listening to each other and helping each other, being the ear to listen to while also having something to say yourself. I would definitely say as a man and as a creative, understanding the dynamic of teamwork is definitely something I took away from being here at Harlem."
With a show about a group of women navigating life, love, and personal growth in their 30s, and as a male protagonist in the show, Lepley gives flowers to the story arcs of Harlem for giving these strong Black female leads depth, strength, and interest throughout every episode that audience members can connect to. "One thing I've learned is that to have these Black women at the forefront is something that's not just welcome but something that's necessary," he championed for the stories told in the show.
"I've been speaking about this time and time again, that I've never been more supported by anyone in life, more than a Black woman. The sense of strength, the sense of being able to feel safe in that space is something that's not only beneficial but something that's necessary and something that I really took away from being in this family that we call Harlem and something that I'll forever be grateful for."
Let's make things inbox official! Sign up for the xoNecole newsletter for daily love, wellness, career, and exclusive content delivered straight to your inbox.
Featured image by Arnold Turner/Getty Images for Prime Video