---
This year has provided us all with a new outlook on how we celebrate ourselves, the ones we love and, of course, special occasions like weddings, birthdays and baby showers. But even before this global pandemic, the holiday season had started to take on a new definition for me.
For the past decade, I've lived over two thousand miles away from my closest friends and family.
Which means I, the person with seemingly more flexibility and no children, has oftentimes been expected to take on the onus of holiday travel. The hustle and bustle of airports, the long lines for rental cars and the inflated airline ticket costs are a great way to kill the yuletide cheer before it even begins. Not to mention the convos centered around if and when you're settling down, starting a family or moving back home once you've arrived. So last year, I decided if I was going to be "home for the holidays", it was going to mean being in my own home and if I was going to spend my hard-earned cash, it was going to be on myself.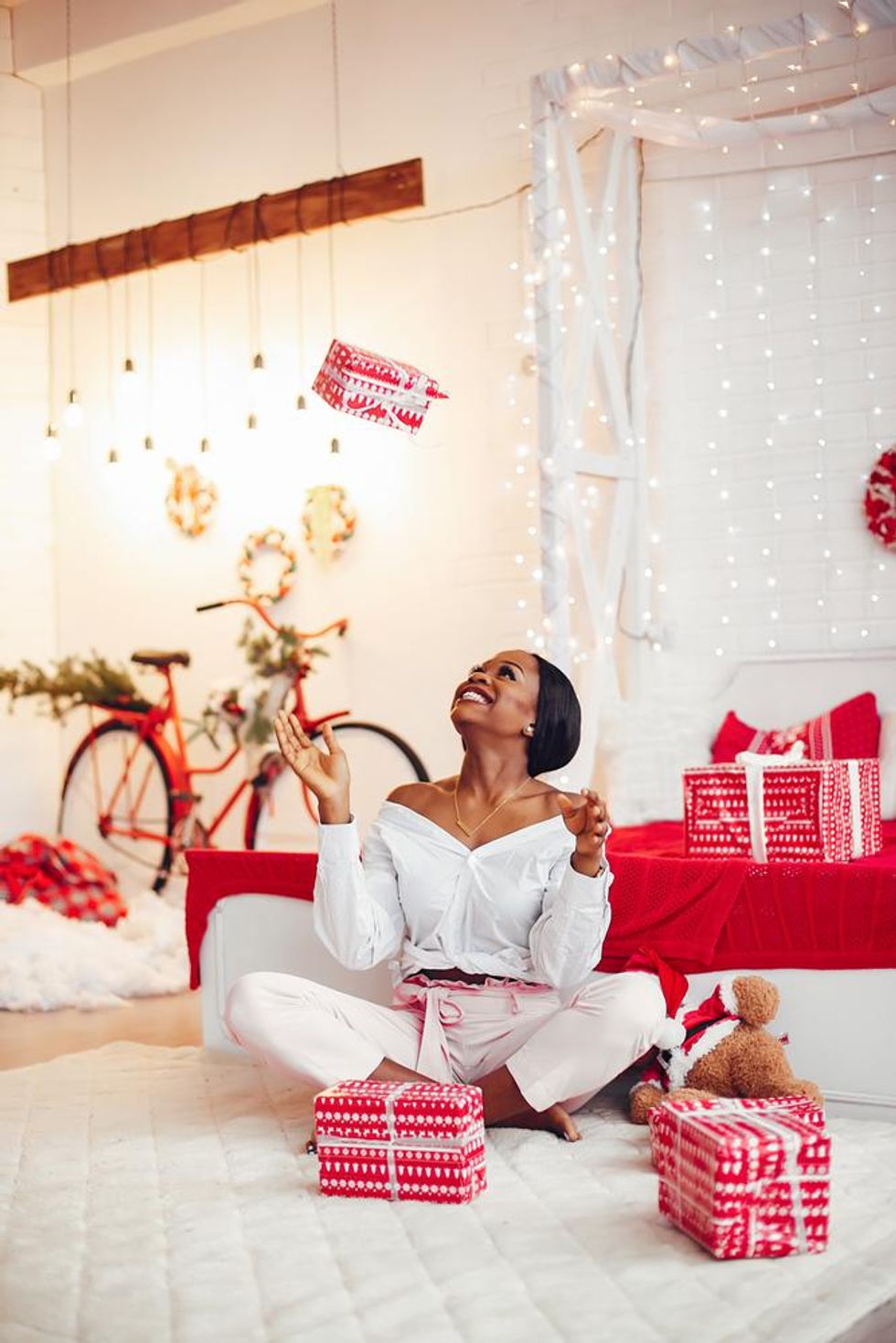 Shutterstock
Now I know if you're a woman-identifying person, especially a Black one, you may have cringed at that last statement.
Oftentimes, we're taught to put everyone else before ourselves. To stretch ourselves thin to please others. To give with reckless abandon. So much so, that the thought of making ourselves a priority makes us uncomfortable.
But I wanted to reclaim my holiday season even if it meant not seeing some of the people I've long cherished. I had hard conversations with family and friends who thought it was "sad" that I'd be spending the holidays alone or had just become used to my yearly winter exodus that it never occurred to them that my entire Christmas experience was shaped around their traditions, not my own.
And I realized a few things.
​First, I don't like decorating Christmas trees. No, seriously. I love lights. And wreaths. Personalized stockings are adorable. But Christmas trees? Hard pass. It occurred to me that every year I was doing something that I actually didn't even like doing in the name of holiday cheer. I wondered how many other things in my life I did for any number of seemingly obligatory reasons and then set about tearing down any other monuments to pleasing others that remained. Christmas carols? Bye. Christmas movie soundtracks? Yes, ma'am. On and on I went until I was left with what I, and only I, found to be most pleasing about this part of the year that can lead to so much unnecessary anxiety, financial strain and overextension.
It was, without a doubt, one of the most fulfilling Christmases I've ever had.
I missed the time shared with my loved ones, of course, but I was so grateful for being able to remember that the greatest gift I can give myself is to honor the things that matter to me. And how can I truly do that if I don't make time to figure out what those things are? The reason for the season is truly being able to look back on what is, hopefully, a year of growth and prosperity, to truly be able to rest and plan for the year coming and to be present---not just in the physical---with those we love.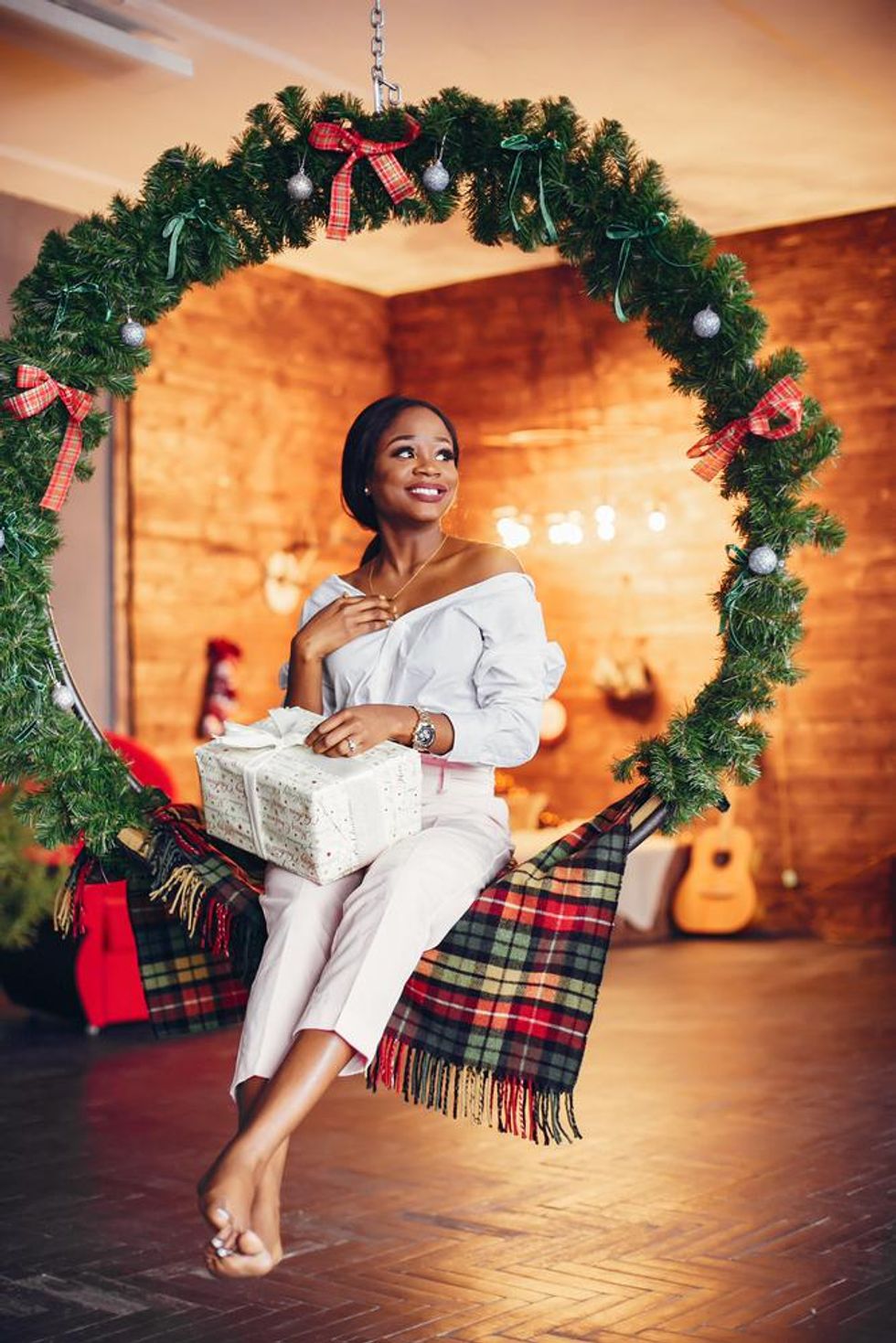 Shutterstock
I had much more in-depth conversations with the people I hold dearest being away from them than I have wearing ugly sweaters and drinking spiked apple cider in years past. I was in a much happier mood not having to fight through the throes of people in packed airports scrambling to make it to their destinations. The gifts that I bought myself, while not lavish in the least, were things that brought me joy and added to my personal goals.
I have zero regrets about choosing myself last Christmas.
Heading into a holiday season that will force many of us to redefine what this time of year is all about--I'm glad I got a head start on being my own north star. Whether you'll be with family or will be spending this joyful time alone, I want you to set aside a moment to honor your own desires for these final weeks of 2020. Give a full body "no" to the things that don't set your soul on fire and a full body yes to those things that do.
Decide how much of your energy and resources will go into others, cut it in half and redirect it into yourself. Trust me, after a year like this one, you need it more than you think. Be open to the possibility of you being the only yuletide cheer you truly need and embracing that wholeheartedly. Create new traditions and let go of old ones that no longer serve the person you are or want to become. Unwrap the parts of you that don't need to come to 2021 and bask in the presence of all that you are.
Everything else can wait.
Featured image by Shutterstock