---
You want to really boss up? Heal. Money, success, and fame are not substitutes for emotional wellness. When it comes to really leveling up your life, you have to take responsibility for your own healing and Nia Long says that her father's death was a potent reminder of this truth.
The 49-year-old actress recently pulled up at The Breakfast Club and shared that although she's been quietly killing the industry for decades, she's been battling an inner turmoil that stems from her childhood:

"I lost my father recently. He was a great man and it's amazing. I learned more about him by being in Trenton for a week, just putting the whole thing together, than I never knew. I'm an adult. My life is in California. He was in Trenton. And he was such an icon in the community and did so much for so many of those kids, living down there. I was really proud of him. He is a poet, a writer, a photographer, just a renaissance man. Loved jazz music and good food. He was really like Larenz Tate in 'Love Jones' but older."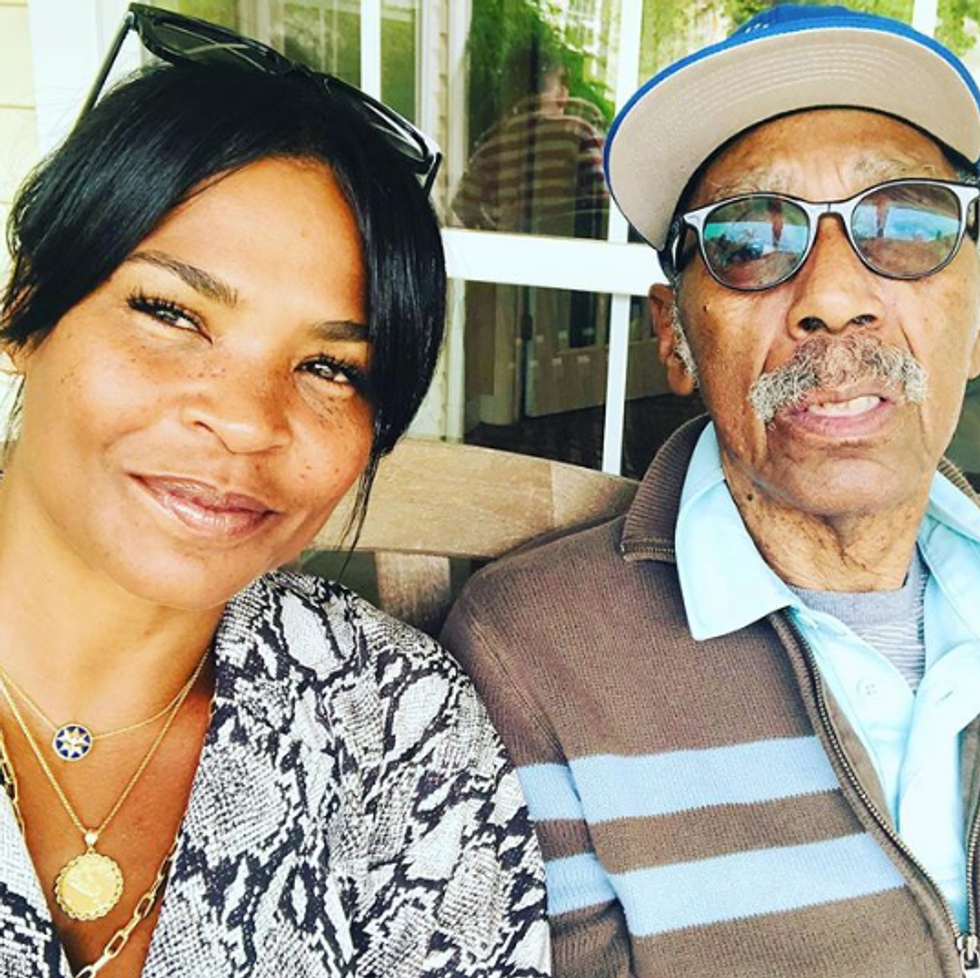 Instagram
Nia explained that while the family friends that attended her father's memorial spoke fondly of her father, her memory served her much differently.

"The school Trenton High School did a beautiful tribute to my father. They did spoken word and some of his past students came. I could not stop crying. I was like this is amazing. Because sometimes, what a person can't do for their own children, they do for the world. And I'm okay with that if that meant that I had to share him."
Nia explained that like most of us, she used her disappointment and anger towards her father as an excuse to delay her own healing, but after therapy and self-reflection, the actress says that she has a new philosophy on the power of forgiveness:
"You have to really do it for yourself. If you commit that healing with yourself, it will honestly change the way you experience your own life. Because I think for a lot of years I was disappointed and angry and I wanted my dad to read me a bedtime story and be there and do all of the things that a daddy is supposed to do."
Nia says that although her father wasn't always who she wanted, her experience was what she needed to grow. She explained that because she has found the courage to forgive her father, she has also found the audacity to forgive her damn self:
"When I look at my life—and I'm going to be 50 this year—I can't believe it. But my point is when you get to this age, it's a beautiful time in my life because I can actually put everything in perspective and now it all makes sense. And I feel more free and alive than I have in the last ten years because I have understanding and I've forgiven myself for not forgiving people sooner in my own life or forgiving my father for things that he was unable to do. And it's a good thing to do."
In the interview, Nia also had a word about the importance of going to therapy:
"Absolutely, the fact that you just said I've spoken to my therapist about certain things. Black people were not saying that 15-20 years ago. Because the idea was if you got to therapy there's something really wrong with you. And the reality is, we have so much information coming at us. 24/7 with our phones, with the world, with a crazy president. You need to be able to sit down and organize your life and your thoughts. And if you don't do that you will be in a constant state—you'll have anxiety."
To watch the full interview, click here!
Featured image by Instagram/@iamnialong.