---
Sexpectations can be stressful, right? Recently, designer and your royal flyness, Melody Ehsani dropped a new tee for the 2016 and let's just say the PSA couldn't have "come" at a better time.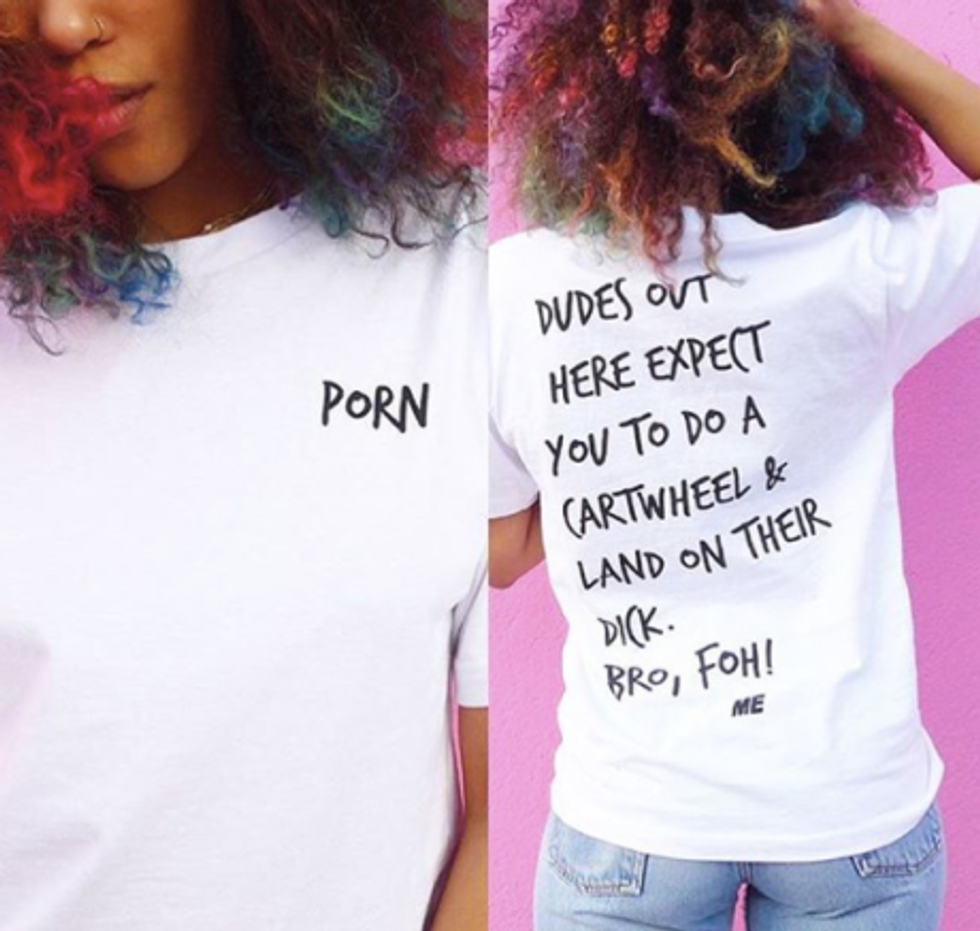 The O.G. curator of dope things, from cool accessories to limited edition Reebook sneakers, peeled back from any elaborate designs this time, opting instead to let her limited words do the big talking. Choosing a classic white crew neck, the word "PORN" can be seen etched into the shirt's chest. The back, however, goes on to elaborate:
"Dudes out here expect you to do a cartwheel and land on their dick. Bro, FOH! --M.E."
Ahh, simplici-tee at its finest!
Melody also goes deeper into the tee's description, breaking down the meaning and inspiration behind the shirt, regarding the distorted lines that separates computer love from real lovemaking:
"Porn isn't what it was. The stakes keep getting higher and with technology making it so accessible, It's become an epidemic of sorts for many reasons. In this era most males are getting their first intro to sexual education by watching porn. We feel this has created some distortion. Sex is sacred, powerful and should always be about mutuality. Lets talk about it! P.S. If you can do a cartwheel more power to you!"
If this isn't the truth! And per Mel's suggestion to "talk about it," we're going to do just that!
The reality is, like most things taken in excess, porn can lead to unrealistic expectations for sex. And unfortunately in 2016, hardcore pornography can be accessed by nearly any and everyone, dangerously confusing perception for reality to the young and sexless.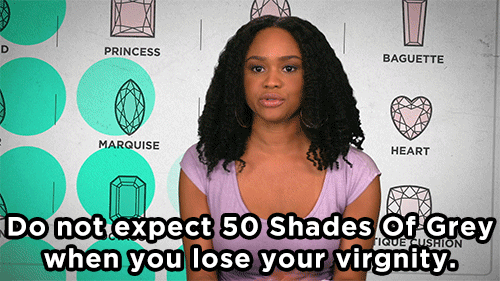 Parental control settings for web browsing is a joke and everyone has a phone with internet these days, anyways. And let's not forget that social media is practically soft-core porn within itself. We're all just a hashtag away from clicking into a "Titty Tuesday," "Eggplant Friday," or a "Sweet P***y Saturday," as deemed by rapper Plies.
So what does all the sensationalizing mean? Well for one, for those growing up in the computer era, it allows more and more young women to be viewed (as well as view themselves) as objects and not goddesses. And frankly baby girl, your body is a temple. It should be sanctified, not objectified. Even as adult women many of us know this, yet still tend to forget. So imagine how much harder it is to believe in your exclusivity when you're watching graphic porn in HD, as young as the average age of 10 to 13.
Porn places pressures on both male and females, especially unsuspecting ones, in a few ways:
1. Distorted Male Body Images: the idea that the size of a male's member is the leading factor in measuring your pleasure. When in reality, camera angles play a huge role in how a penis looks on a monitor. Not to mention, it's not always fair to lose interest based on inches.
2. Distorted Female Body Images: The same goes for women feeling like they need to be insanely curvaceous and have fake breasts and/or butts in order to be desired. All shapes are beautiful, and your partner should love and cherish you as is!
3. Party of 3: Sex between two people is so 90's... according to porn these days. Pornography will have you thinking that a party of two just won't do, and that casually throwing in a third person is clutch for a climax. But not so fast. Sex is a beautiful bonding of the bodies and a very personal act. Unless this is something you and your partner both agree to, no woman should feel pressured into inviting someone else into their bed. Just ask our relationship writer, sometimes less is more when you're trying to score. And the extra sweat isn't worth the regret.
4. Inserting Anything, Anywhere: In porn, using foreign objects is seen as the norm. However, when it comes to toys and sex games, there are dangers in product placement- so be careful. A 2014 sex-surveyvia Reddit showed that the majority of the 100 women surveyed did not prefer being "probed" with objects during sex with their man, no matter how erotic porn makes it look. Sometimes the real deal "D" is all she needs, along with some phenomenal foreplay of course.
5. Duration: Pornography is a movie- literally. And most of us know this. However, something about trying to "recreate" a movie seems to be goals for those going at it in the bedroom. Especially when you're young and impressionable. Truth is, after foreplay, the actual act of sex can last a anywhere between a satisfactory 3 to 7 minutes. Don't believe us? Peep how "Most women are here for 5 minute sex."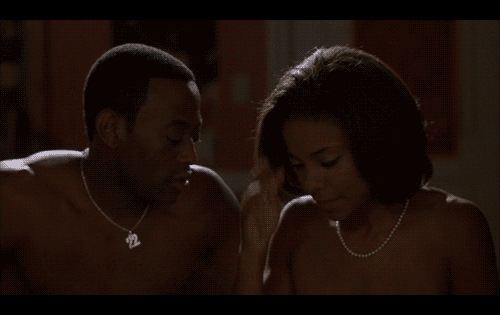 All in all, it's okay to watch a good movie but it's important to know the difference between pause and play. The dangers of such explicit exposure for most adolescent and teen introduction to intercourse, is that it is much less a setup for a healthy sex life later, than it is a disaster. Long gone are the days where the "first time" was once portrayed in movies by high school seniors who, although inexperience, at least had enough sense to keep it sensible and sensual more than anything.
Even rapper J.Cole recounted losing his virginity in his track, "Wet Dreamz," where he rapped a few lines about his first time, admitting he felt pressure to satisfy his partner, who herself was a virgin:
I'm hoping that she won't notice it's my first time
I'm hoping that my sh-t is big enough to f-ck with
And most of all I'm praying, "God don't let me bust quick"
I'm watching pornos trying to see just how to stroke right

At the end of the day, Melody's "PORN" tee is pretty neat. No one is saying you can't spice it up in the bedroom, just make sure that the "seasoning" is even-- and that both parties are making it hot! At the end of the day, love making should be a mutual exchange of the minds and bodies, not just a demand from one partner. Sex should be respected more than expected. And it should always, always be consensual!
Get Melody Ehsani's "PORN" tee here! What are your thoughts on it?