Erotic literature, sex stories, freaky tales, whatever you want to call it, most of us have had our fair share of indulging in some pretty sexy stories. Whether you were reading Eric Jerome Dickey back in the day, came across a Reddit sex story thread, or simply listening to a girlfriend talk about a sexual encounter, hearing real sex stories is fun!
Reading erotic fiction gives you the opportunity to pretty much imagine yourself in the scene as you fulfill your unquenched sexual desires. Or maybe even re-imagine the best sex experience you ever had. Either way, you will be surprised how much reading true sex stories or can get you aroused and ready to let all your inhibitions go.
---
And ladies (and gents), there is no shame in wanting to explore this side of your sexuality. Do you! Here are some of the top real sex confessions submitted to xoNecole.
7 Juicy Real Life Sex Confessions That Will Leave You Speechless
Here's a quick guide to help you navigate which story might pique your interest the most...keep scrolling for the juicy details.
1. Fantasy Erotica
2. Sex Addict
3. One Night Stand
4. Swingers
5. Masturbation
6. First Orgasm
7. Threesomes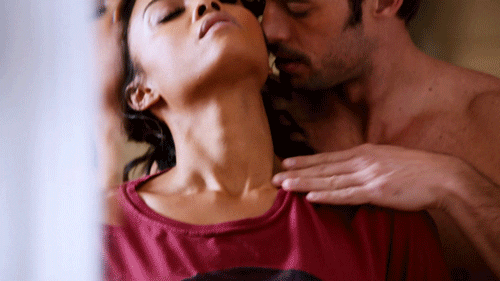 sharon leal love GIFGiphy
1. Fantasy Erotic Sex Stories

"I remember asking him to take me thrifting with him one day, but I ultimately just decided to invite him to come over (because really, who am I kidding?) What was supposed to be catch up and wine down quickly evolved into something more, as he pulled me into his lap after my first glass. His lips grazed my neck, coaxing me to meet his mouth with my own. I was more than ready to succumb to my desire. The motion of one movement to another was like water. I remember laying back on my bed after pulling my shorts down and him lifting my leg to put my toes in his mouth. It tickled and bite back a soft moan, but truth be told, I didn't want him there.
I flipped on my stomach to change the song that played on shuffle, and swiftly he moved to take me from behind, pulling my panties to the side so that he could taste me. Everything about it felt so heightened for some reason. And the bliss that radiated throughout my entire body, sparking a fire on my skin had me absolutely delirious. I didn't think it could be any more intense, but when he entered me, it was like the levees to my euphoria broke. I was underneath his spell, writhing and arching up into him.
Heat and electricity and wetness met to form an explosive harmony as we rocked and rode the rhythm our lovemaking created. I found myself coming undone so many times at the call of his stroke, his chaste kisses, and my desperate hands that marred trails along the length of his back. Further evidence of my pleasure. I came twice before he announced his arrival, and then I came again."
2. Sex Addict Sex Stories
"A few weeks before my 40th birthday, I went through a societal modern-day two-month relationship with a self-proclaimed alpha male that quickly grew into sex addiction. For me, it was true. Sex really was overrated.
I eventually grew lonely for companionship and accepted a birthday date from a guy that had been pursuing me for quite some time. I just turned 40, and felt like if I didn't at least give it another chance, then I wasn't being fair to myself.
After four dates, the sexual chemistry had boiled over. That star-filled and magical night, we ended up engaged in a wild bout for control, all while completely naked. I felt like a lioness in the jungle. The fear and excitement of being caught and tamed to submission melted my core. He handled me with care, but not fear. The passion and the height of voice that I thought I could never reach played syllables off of his walls. I was sick with defeat and weak in praise. The next morning, that awkward walk of shame was a walk of fame for me as I felt like a new woman bouncing down to that Uber car with my thong in my purse.
There were no inhibitions on my behalf, I was sexually open for him. You couldn't tell me anything; I was ready for more and I got more. I went back every weekend for six months."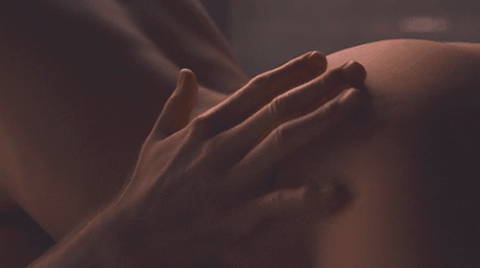 Goodreads
3. One Night Stand Sex Confessions

"It was my second trip to Jamaica and I was extremely excited. I went with a group and stayed in these awesome villas. The first time I met our butler, I felt a connection. His accent made me melt. There is something about Jamaica that makes me feel bolder.
On my last day there, I really wanted to see him, so I asked one of the other butlers to find him for me. I was chilling by the pool, waiting to go to the airport and the next thing I knew, I was told that I had a visitor. It was him. We talked, exchanged contact info, and I headed to the airport, only to miss my flight. I didn't care.
I called him to tell him that I missed my flight and when I got back to the villa, he was there waiting for me. He looked so yummy! I was excited and nervous at the same time. He took me out the back way on a golf cart to his villa and he held and kissed my hand the whole ride. I was in heaven. We arrived where he was staying and all inhibitions were out the window.
We had the most amazing sex...in the hot tub, in the bed…I didn't want to leave.
He asked me to stay with him for the night but I didn't want anyone to see me doing the "walk of shame" the next morning, so I had him take me back to my room. We hugged and kissed, and I was happy at that moment. It had been nine months since I had been with anyone and that Jamaican man was JUST what I needed! He showed me respect, kindness, gentleness, and the sex was unforgettable!"
4. Swinger Erotica Sex Story
"Ever since starting my Master's in Human Sexuality I became intrigued with the idea of testing and pushing my boundaries with eroticism. As you may have presumed, this has left me more curious than ever about the kink community. In a desperate search for a play party, I found a seductive swingers club and invited my roommate to come out with me. The minute I walked in, there were rooms on either side of me equipped with makeshift beds and white towels.
At the end of the hall, by the first level bar, there was a couple having sex ever-so-casually on the lounge chairs. I was exhilarated! We went upstairs and headed over to the bar before cozying up in a middle booth. The first thing I did was scope out the room to find Black people and at first, there was nothing, but as it got a little later, the place became slightly peppered with melanated couples making me lucky as the only single.
As I watched the couple, I remember feeling my clitoris shoot off smoke flares through my pants as I tried to simmer down.
Although I'm never aroused by women giving head in porn, there was something about watching this woman bob and weave on her partner's solid dick that created a tension in my body that could only escape me one way. Doubting myself and what I came for, I kept telling my roommate that I couldn't wait to get home and masturbate. She reminded me that I was more than welcome to do so at the party, a refreshingly new experience to not have to leave the club when you grew too horny of dry humping on the dance floor but I wasn't ready for all of that.
Or so I thought.
I spent another hour watching this couple, playing coy, and making bathroom runs to get their attention before they and another black couple disappeared from the main floor. Still mesmerized by the one couple, I completely disregarded the other, and finally, after coming up for air, the woman asked me if I wanted to join in.
With minimal hesitation, I hopped up and quickly began mimicking oral sex with the same energy she had been giving him just five minutes earlier. I could see why she was so into it and quite frankly, I forgot what it was like to be so attracted to someone that giving head turned me on uncontrollably. After a short while, I was asked to join them in a private room and I did."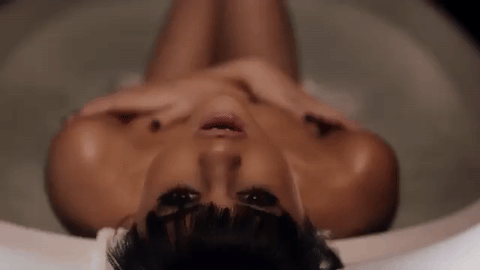 i.gifer.com
5. Masturbation Sex Confessions

"So masturbation is seriously an amazing hobby of mine. I woke up and rolled over to my goody drawer to begin my morning routine of getting a couple of orgasms out of the way before going about my day.
Usually, I'm a pretty quick and to-the-point self-lover but there were moans, sheet grabbing, and real-life seduction as if I wasn't laying in my covers by my damn self. And it was a stomach-piercing feeling that caused me to suck the air from my lungs back in.
My breathing was nonexistent. Hell, I didn't even realize I was holding my breath until the liquid shot out of me. This orgasm was long as hell and very rambunctious. I tried to gain control of the muscles down there but it just couldn't happen.
After I had collected myself, I couldn't even try to manage another out like usual. I got up to begin my day and a big ass wet spot was where I had been, proof that the clitoral stimulator sex toy had just pushed every important person in my life one spot to the left to make room for this!"
6. First Orgasm Sex Story
"Despite what my language might suggest, I was content with sex without orgasms. It always felt like a performative act that if wasn't achieved took a hit to my partner's ego.
In one night he changed my mind about orgasms. He showed me the glory of how it feels to pulsate around someone and writhe through waves of pleasure while touching another person in an act of deep intimacy. It happened so quickly and so effortlessly, without a strategically placed finger or a beckon for it at his lips. It was pure passion and my willingness to surrender to the spotlight I had always shied away from, a spotlight I drew closer to solely because he didn't ask it of me. He got me. He taught me that surrender does not mean I have been conquered.
He taught me that sex was a walk, not a race.
A combination of the sensuality of our act, the intensity, and how perfectly he fit within me made sex feel like nothing I ever felt before. He was like nothing I ever felt before. I let go. He didn't speed up his stroke at my center's fluttering, instead, he kept steady in his movements. Slow, deep, purposeful strokes. My legs were on his shoulders, he bit my calf muscle and moaned in response to feeling me grip around him. 'There we go baby,' he whispered against me. And I fell, surrendered to it and him completely. I was his."
7. Threesome Sex Stories
"Back in undergrad, one of my closest friends also happened to be my roommate. She was going through a bad breakup and after a night of my then-boyfriend and I listening to her whine about it, I randomly said, 'We're going to have sex now. You're welcome to join. That may help get your mind off of things.' With very little hesitation, she asked for 30 minutes to clean herself up (shave and whatnot), and not too long after that we all fucked.
"Having sex with my best friend and my boyfriend for my first threesome was great. Knowing that I trusted them and we all were very familiar with one another definitely made us all more comfortable. I do think my boyfriend was having a mental conflict. He wasn't able to keep a hard-on with my best friend. After the threesome was over, he had to finish in our room with me. The days following were pretty normal. We laughed about it, but there were no awkward moments."
Read more threesome erotic sex stories via…
There is something exhilarating about confessing your kinky sex experience to total strangers, especially anonymously and we love to see it! If you are ready to take things up a notch and get into more visual stimulation, check out these steamy movies that are basically porn on Netflix.
Also, be sure to visit our story archives to indulge in more content around sex. Yes, sexual health counts towards your total wellness and should not be something to shy away from out of embarrassment.
Whatever way you decide to please yourself sexually it is totally up to you. And just know, reading erotic fiction is nothing to be ashamed of at all. No judgment from us!
Featured image by Shutterstock