As Told To is a recurring segment on xoNecole where real women are given a platform to tell their stories in the first-person narrative as told to a writer. If you have a story you'd like to share but aren't sure about how to put it into words, contact us at submissions@xonecole.com with the subject "As Told To" for your story to be featured.
This is Mistress Marley's story, as told to Charmin Michelle.
I love sex.
And I love it in all forms. The industry, the trends, the toys.
---
I was a high school freshman when I discovered it. I lost my virginity that year to some inexperienced guy, and I had no clue what I was doing either. Worst experience ever. I actually didn't begin to enjoy sex until I entered college and started taking more control over how I interacted with my partners.
Fast forward to 22 years old: I became a stripper. And not because I aspired to be one, but because a girlfriend and I randomly decided to try out on a whim, and got the job. As a stripper, I learned the majority of the sleazy rules about the business—probably more than I wanted to know. But ultimately, it wasn't for me. I mean, I loved the superficiality of flashy outfits and the attention that came with performing, but I hated the politics behind the scenes. It was just too much. I was outta there after only four months.
When I quit, I remained fascinated with the sex field. I began to research different kinks and fetishes, along with the BDSM world in general. I didn't have a guide or a mentor; it's kind of something I just fell into and kept rolling with. But I was enamored with what I found. I was liberated.
Today, I am a professional dominatrix. Specifically, I teach "financial domination"—where women learn to control men and their wallets. I've been featured on the sex podcast, WHOREible Decisions, and featured in Refinery 29's Unbothered. I founded an organization named 'Black Domme Society' and I teach kink and I throw black swinger parties.
Let me explain.
In becoming a dominatrix, I learned that this industry is an incredibly lucrative business venture. You'd be surprised how many wealthy men prefer some form of financial and sexual control. I took everything I learned, packaged it, and committed to teaching black women how to get their coins.
My specialty is guidance in breaking into the industry. From lingo to pricing, I am happy to detail it all. Kink hasn't evolved much in our community and most black people aren't vocal in talking about it or don't even know the many different kinks and fetishes that are out there. My goal is to get the community talking and participating in the most comfortable way—with zero judgment. It's also why I throw "play parties" for black millennials in the city.
As a disclaimer for my ladies, please understand that just like any other industry, to enter this world, you have to do your research and have an idea of what you specifically want, and expect, from it. Sound advice would be to find a mentor, if possible. I didn't have a mentor when I started, so I focus on mentoring other black women who are interested in domme.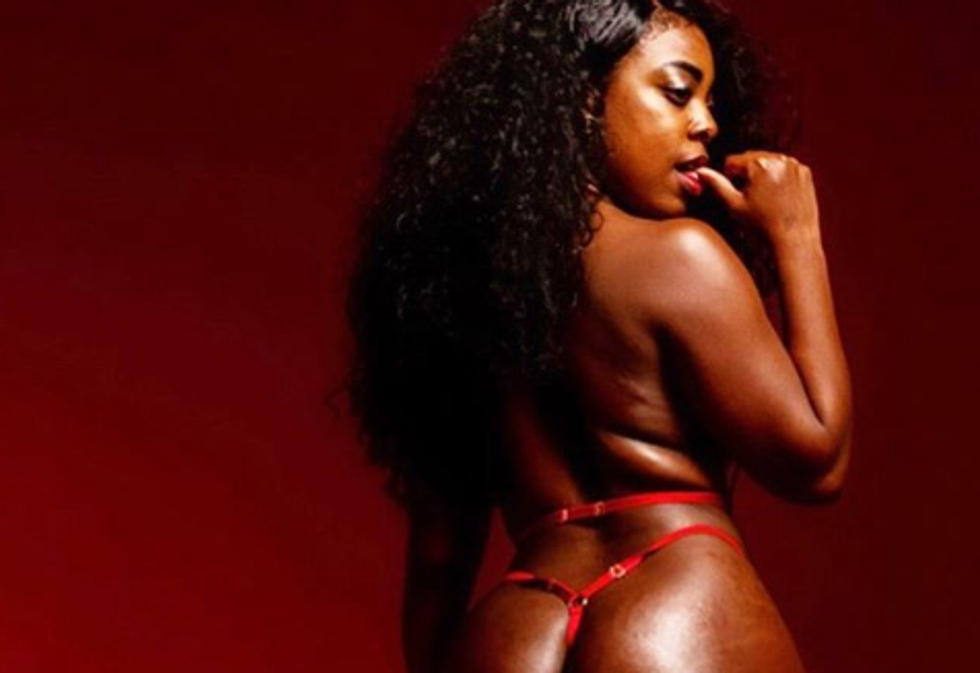 Courtesy of Mistress Marley
But once I knew my direction and learned the tricks and trades, becoming a domme was extremely freeing for me. It helped me learn exactly what I do and don't like when it comes to being in control. It shaped the confidence I naturally possess, and it taught me how to own my sexuality in a way where I could still learn about myself at the same time.

The curious often ask what happens when I have a client, and in short, it depends on the client. I secure half a deposit before meeting and, upon arrival at the session site, they are required to give me the remainder. We chat for about 10 minutes before beginning, just to outline their soft and hard limits (BDSM levels they're okay with, or anything they would or not want to do). The session then begins and they're all mine to control. I always go the extra mile to keep myself protected by doing background checks and screenings. And I also always have security with me.
And that's it.
As time has passed, and as I've become seasoned in this industry, I've conditioned myself to ignore judgment and to combat stereotypes. Yes, guys, my parents are super supportive and are always wanting to hear about what events I'm throwing for the month, or what type of clients I come across. Yes, my friends are always at my events to support me. Yes, I get offers for dates all the time, and yes, I hate 50 Shades of Grey.
But the biggest stereotype is definitely that sex workers are dirty, lazy, or have no respect for themselves. To be honest, me having respect for myself is why I entered this industry; to show people that I run the show.
Do I let any of it affect me? Of course not.
C'mon, I'm a large-scale BDSM educator. I am well aware that most of the stigmas regarding my line of work. And I'm fully aware that those judgments usually come from a place of ignorance, or people that are so clouded by their own morals that they project them onto other people. But in order to accomplish any of my goals, I have to be unwavering in my efforts to normalize a taboo industry in such a close-minded world.
I thrive on the challenge of doing so, and I'm taking ownership of everything that comes my way.
Financial Domination allows me to explore my altitude of power, which is something I encourage every single woman to tap into. There's nothing wrong with having the power to have multi-million dollar men freely hand you their credit card. There's nothing wrong with learning a wealthy man's fetishes and acting on them.
Own that.
Own the power of walking into a room, and all eyes are on you. Own the power of having everyone wonder how you do it all as they watch your next move. Own that they want to know more. And own your mystique—because, at the end of the day, a dominatrix's power is all about not letting people know too much about you. But just enough.
To get in contact with Mistress Marleyor have her directly mentor you, you can join her organization "Black Domme Sorority." You can also contact her through all her social media channels, business email, or FetLife (a kink-based website that connects BDSM players).