One of the questions I'm asked the most is, "What is it like being a Black asexual model in the modeling industry?"
It's probably because that combination sounds like something inherently contentious and I can no longer deny the truth in that. Yes, modeling is associated with sexuality - sometimes justifiably, sometimes not.
It's also associated with a rather specific beauty standard which hasn't always been appreciative of Black phenotypes. Asexuality has never been associated with Blackness; in a world where Black people are either hypersexualized or desexualized by the white gaze, being Black and asexual is often treated as paradoxical. So, all in all, existing as all of those things must be a little weird, right?
Yes, but not for the reasons most usually assume.
I entered the modeling industry not because I thought I was strikingly beautiful - quite the opposite. With my big alien-shaped head, cartoon-looking features, Bratz doll proportions, and gothic style, I thought I could be one of those 'weird' models. You know the kind. I was specifically drawn to a more alternative style of modeling in particular because it seemed like a space for outcasts like myself. Only, even in that space, it was ironically white. With my work, I was trying to increase the representation out there for alternative Black girls in a time when it was quite rare to see us. I wanted to be the change I wanted to see and needed growing up. It turned out that I'd carry that same ethos into my activism in the future.
Some picture the modeling industry as being a space full of sexist objectification, with pervy photographers, seedy studio activities, and an unhealthy culture. That can sometimes be the case, but that hasn't really been part of my experience. The complexity for me has little to do with my experiences actually navigating the industry itself. After all, that's influenced more by your physical appearance than your life story. Despite what people think often happens in the studio, the focus is on angles, lighting, and making sure the clothes look alright, rather than the lack of sexual attraction that I experience.
Of course, there were moments when it got a little awkward. When the male photographer asks me to look at the camera like it's my boyfriend, being asexual and aromantic meant that nothing immediately came to mind. I doubt I nailed it.
When I've been asked to participate in shoots that seem like they're more about them molding and selling my personal 'sexual allure' rather than creative expression or advertising products, I've had to turn them down. And I've always been acutely aware of the fact that being associated so heavily with an obscured, often stereotyped sexual orientation isn't going to win me many mainstream campaigns outside of Pride Month.
But that's not the contentious part. That part happens when the images taken in the studio make it to the outside world. That's when those intersections play a role.
Capturing an image means representing something. If that image contains someone who is part of a social group, it becomes representation for an entire demographic, whether you like it or not. Before I publicly came out as asexual, there was nothing particularly controversial about my image as a Black woman in 'racy' clothing. It's not exactly an uncommon way that Black women are depicted in the media, so despite modeling in various styles, I became most known for 'sexualized' images and the reception I got was pretty positive.
But when I publicly came out as someone who doesn't experience sexual attraction, I became an example of asexual representation, and that's when the problems started. After all, I wasn't the 'right kind' of asexual representation.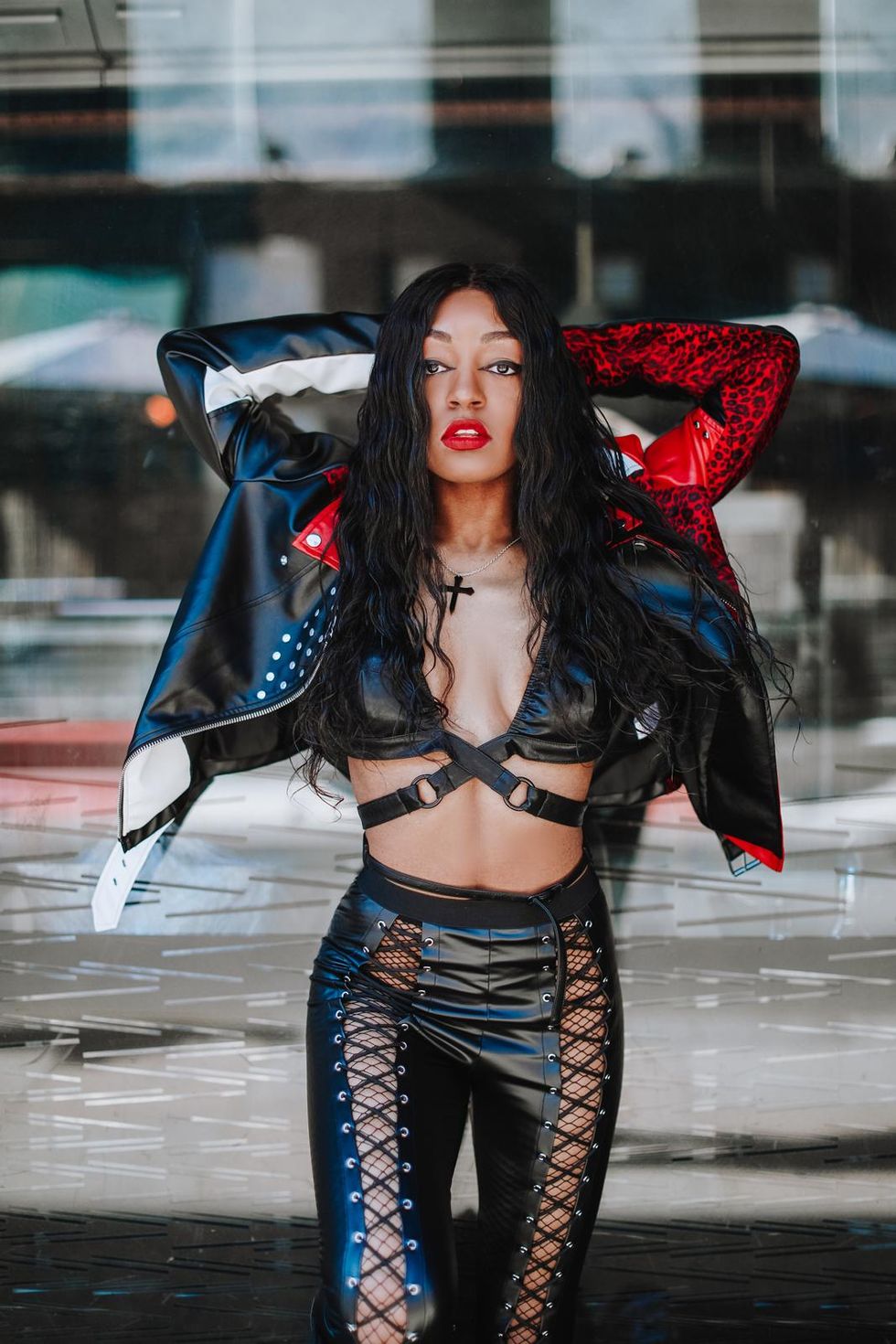 Yasmin Benoit
Rachel Sherlock
There is a certain 'look' associated with asexuality. Something between The Big Bang Theory's Sheldon Cooper and someone more...homely and frumpy. If you're not sexually attracted to anyone, you're expected to make yourself sexually unattractive. You shouldn't allow yourself to be interesting to look at. Ideally, you should be white, and come across with an aura of childlike awkwardness that must come innately with being 'out of touch' with the expected forms of sexuality. A Black woman unapologetically dressed like a gothic half-naked Dead or Alive video game girl, talking a lot and throwing up devil horns wasn't what the average person expects when they hear the word 'asexual.'
Those inside and outside of the asexual community collectively raised their eyebrows and part of me thinks that shared morbid curiosity contributed to me being recognized as an asexual activist quickly. I found myself in documentaries, being used in clickbait headlines about the 'asexual lingerie model who doesn't want sex,' being invited to speak at universities, across online platforms, appearing in Pride campaigns for brands like Uber and even collaborating with Budweiser to open an asexual pop-up bar. Fortunately, I've always had more to bring to the table than shock value, but that hasn't always been acknowledged. The attention was partially on my perspective but mainly on my 'controversial' outfits.
The more people became aware of me and my modeling, the more I started receiving abuse from people on social media because of my job and appearance. I was being called a slut, a whore, a cock-tease, as well as a virgin loser simultaneously–on a strangely regular basis. I was a living, breathing sex toy and an anti-sex agenda all at the same time. If I had a penny every time someone described me as an attention-seeking narcissist, I'd have made more money than I ever earned at a photoshoot. And I know that me working in a shallow industry has as much to do with me being called an attention-seeking narcissist as the stereotypes often associated with asexual people does.
I've encountered people who assume that I must be the kind of asexual who thinks I'm too good for anybody; that no one meets my standards enough to be sexually attractive to me. It's a natural conclusion to jump to, considering that my asexuality hasn't rendered me a nervous wreck who hides myself away out of shame for not meeting societal expectations (though I would've been more acceptable if I had). It must be my life's mission to tempt and agitate men, while contributing to the sexual objectification of women, with my troublesome asexual tits...or something like that.
If these assumptions people make about me sound a little extreme, it's because they are. It is the consequence of being caught between two contradicting narratives - the one where Black women are inherently hypersexual and must be sexually available, and the one where asexual people need to be sexless and unappealing with an aversion to anything associated with sexuality. As my asexuality makes me sexually unavailable to others, to them, my body and what I do with it is just a provocative lie. But I embrace the perplexity. I'm okay with being an oxymoron, as I know there are people out there who find my work empowering.
Maybe if I wasn't so perplexing, I wouldn't have found myself in a position where I'm able to show what being asexual actually is. It's a sexual orientation, not a lifestyle choice, not a personality flaw, not a limitation. You can be asexual and express yourself however you want to, be whoever you want to, wear whatever you want to, and fall into any demographic. Being a Black asexual model might make me less palatable, more scandalous, and more likely to attract racist, sexist, and acephobic abuse. But as long as I get to keep being myself, I'm past caring.
Featured image courtesy of Yasmin Benoit
Before I begin, let me be clear, I love sex. There's nothing like a man that knows how to make love to your mind as well as your body.
However, while I have memories that I will always cherish, there are memories I honestly wish I could eliminate. The thing is, I knew I was having sex for all the wrong reasons. There were feelings that I didn't want to deal with and I used sex as a way to deal. I wasn't happy with my life, and it was nothing for me to call up one of my "junts" and release those feelings. I quickly learned that I only received a temporary release.
Nothing could take away the thoughts and personal issues I had with myself.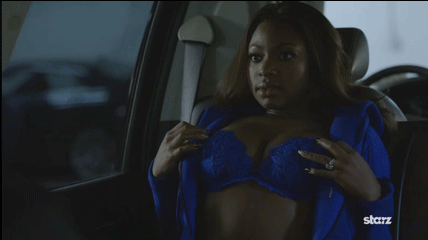 It didn't hit me that I was using sex as a drug until I was damn near going crazy without it.

Like drugs and alcohol, sex can become an addiction when used as a coping mechanism. People who are addicted to sex tend to use sex as a means to avoid stressful problems. Some sex addicts even find relief from boredom, discomfort, anxiety, and depression. I would literally stay up at night, looking at the wall because I quit cold turkey. I needed a break simply because sex wasn't doing it for me anymore; I would have a few sexual highs here and there but I was left with nothing but an empty feeling.
There I was sharing my body with men I didn't give two fucks about, nor see a future with. When I realized I used sex to avoid my feelings, I knew I had to stop.
One can walk a fine line between being addicted to sex and sexual gratification. An individual who is addicted to sex crosses this line without realizing the dangers of doing so. Sexual addiction can destroy not just the life of the addict, but also the lives of the people around them. This addiction can disrupt various aspects of one's life, like their relationships, careers, finances, psychological health, and emotional well-being. The urges related to sexual addiction can spiral from being intense to becoming obsessive. Moreover, the person who is addicted to sex will pursue sexual adventures to the point of no return. Sex addiction cases are more common than many people realize.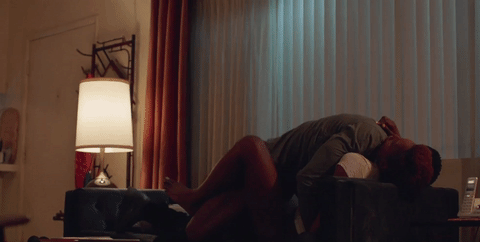 Sharing my feelings has never been easy. When I felt disappointed or frustrated, I used sex as a way to express my feelings with the guy I was seeing at the time. Not knowing what I was doing was not only harming myself but harming him as well. I couldn't keep looking at sex as an antidepressant. When I went that year without sex, I found my truth and I finally knew I had to face it. I didn't like where my life was heading. I was looking for any and every way not to deal with problems. I felt left behind. But I wasn't willing to put the work in to change my life either. I was literally waiting for a blessing to fall from the sky, without me working for it. It wasn't until I fell in love that I knew I had to change.
I had to face my demons before I took someone down with me and I knew I didn't want to hurt the love of my life.
So when I took that break from sex, my life changed and I grew a deeper self-control with my needs and body. I learned to go without it, and also to please myself without looking for a man to please me. When I discovered my worth, I had this guilty feeling of all that I'd done. While I didn't sleep with the world, I shared my body with men that didn't deserve me. Men who didn't deserve my spirit or time, let alone my body. For a long time, I felt guilty for my past mistakes and didn't feel like I deserve happiness because of my bad choices. Until I turned it into a blog, and now I'm doing pieces for a woman who deeply inspires me.
I've come to learn that some people used sex to seek that spiritual connection that they must find within themselves first. In this sense, the sex responsible for producing each of us connects us seamlessly with nature, with the whole universe, and with each other.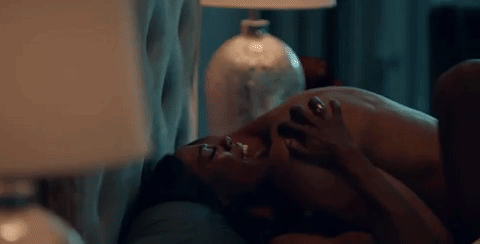 As I grew to learn about my body, sex is only as powerful for me when I'm laying down with a man I'm in love with.
In the Hindu Kama Sutra and Tibetan Buddhist Tantra traditions, spiritual development involving mastery of sexual energy in the context of mature male-female relationships reveal the possibility of a fruitful merging of sex and spirituality. Instead, we seek so many to please us, because we don't have a clue to how we need to please ourselves. We tend to consider the main purpose of sex as pleasure rather than either procreation or spiritual development. We seem to accept that "anything goes, as long as it does not harm anyone."

We aim for fidelity in pair-bond relationships but acknowledge this more as an ideal than a genuine goal. We just settle for sex because finding that timeless love is hard. However, once we change our thoughts and views on love, we will not only find what we want, but what we need. Peeling back the layers and unearthing the roots of my codependency on sex as drug taught me that.
xoNecole is always looking for new voices and empowering stories to add to our platform. If you have an interesting story or personal essay that you'd love to share, we'd love to hear from you. Contact us at submissions@xonecole.com.
Featured image by Getty Images
I've never had a one night stand. Despite how sexually liberated and free I feel, it's a realm I've never dared to enter. And not for lack of opportunity, just for lack of thought. As an emotional person, I feel things deeply and I believed that a one night stand would do nothing for me. I would have the physical and not the emotional, which takes a toll on the overall quality of a sexual experience.
Even in my casual experiences, emotion has lived there. It's why sex with the same person gets better over time. It's why my most powerful orgasms unearth and unravel. It's why I feel full instead of empty afterwards. The emotion is there, so the connection runs deep.
But my mind on the matter changed this summer. It was blown. Thoroughly and completely.
New Orleans has always been a city of magic, so I shouldn't have been surprised by the transformative experience that enlightened my life and my perspective on hit it and quit it sex. It was a work trip, but he insisted on bringing me pleasure. I had been in town for a couple of days for the festival, and when I met him I was absolutely exasperated by my schedule and made that sentiment clear in the backseat of his Lyft.
A vent session about work quickly became a conversation about oral sex and the importance of reciprocity with our perfect stranger, all because of a DJ Khaled track that popped up on the radio. It wasn't a surprise to me when he dropped me in front of the Ace Hotel that he insisted I take his number so that he could be a tour guide and show me the city. I said okay. Aside from my crab roll I devoured for lunch, it was one of the highlights of that day.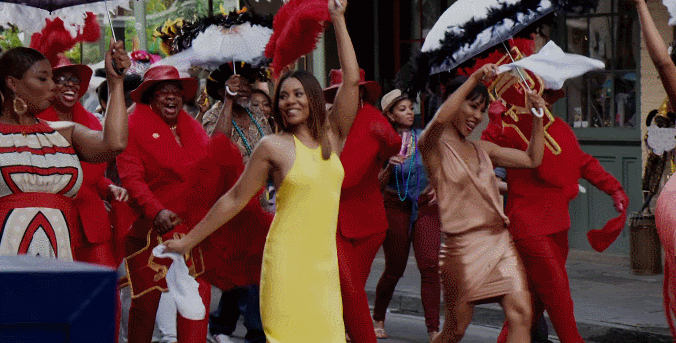 On the eve of my flight back to Atlanta, I decided to take him up on his offer. I had seen the city but so far underneath a very curated lens and I wanted to be with the people, so I decided to skip Sunday night's concert series for fun with Mr. Tour Guide aka Bearded Bae. He picked me up from my hotel and asked me what I wanted. I told him about a weak ass Hurricane I had a couple of hours before and told him I wanted something frozen. He had the perfect place in mind.
With our frozen margaritas in hand, we strolled down Bourbon, immersed in jazz being played in the outside air and impromptu twerk sessions and tangos. It was the laughter and the fun I had been missing. And his smile was everything. As a true lightweight, I was tipsy halfway through my cup, but it didn't stop the conversation from flowing as we gave one another our backstories and present truths. He made me feel an ease that was reminiscent of knowing someone for years versus days and a few text messages here and there.
I don't know if either of us knew sex would be in the cards for us, but after we left a rooftop bar and he pulled me into his arms for a kiss that made my knees buckle and my back arch simultaneously, I was sold.
I wanted to give myself over to the moment.
Despite what my brain told me about how I felt about one-nighters or casual sex with someone I barely knew, I wanted to be true to the way he made me crave and melt with lust and desire. I didn't realize it until then, but I had been fantasizing about juices dripping in his beard since the first time I laid eyes on him. I had just been telling myself "no" until I said "yes."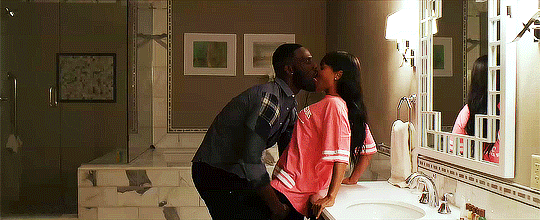 And that night, I kept saying "yes".
As he grabbed my booty and bit my lip to access my tongue. He suggested a quick stop to the store to get condoms.
As he followed me into the elevator of my hotel and continued to pepper me with hot kisses, I was a faucet by the time we entered my room. We took turns undressing each other and I caressed his caramel skin before he picked me up and walked us to the bed, guiding the length of my body against my disheveled sheets. It was such a gentle careful act and it surprisingly took me higher.
He fulfilled my dripping beard fantasy briefly before I tapped him, begging him to end my misery and grant me what he promised me: Him.
When he penetrated me, I felt like I was flying. Maybe it was the alcohol. Maybe it was the thought of every fantasy I had envisioned about him in the past couple of days being fulfilled. Maybe it was a combination of them both. All I knew was everything was so heightened. "Give it to me," he kept whispering in my ear in between languid, purposeful thrusts.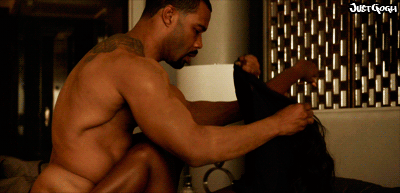 I came undone almost instantly. And after the third or fourth time, he followed me over pleasure's edge, announcing his orgasm. Music to my ears.
We cuddled briefly before he had to bounce to attend a club outing with his homeboys, but he promised to be back, if he was welcomed. I agreed even though I didn't believe he'd return. But hours later, he did. We held one another for the remainder of the late night early morning we shared together, pressing play from where we had paused. He overslept and missed his early a.m. shift at the clinic but unbegrudgingly helped himself to seconds with a round of morning sex before I had to catch my flight.
It was a night to remember and one I reminisce on often. Not only because the pleasure I experienced was one for the books, but also because it changed my stance on how I thought about one night stands altogether. I understand them now. It's not about time, it's about feeling. And I think although it's a feeling that's coursed through my veins before, it's another part of me that I inherently swallow because as a woman, it's frowned upon to move through the world a certain way.
No matter how much we lift it up and bear the weight of it on our backs.
So, the next time you lay eyes on someone you think could take you there but push the fantasy from your thoughts because of logic and reasoning, consider paying that little voice dust and let yourself be enticed by the flow of going with it. When you allow yourself to be true to the moment and to the energies that pull you two together like a magnet, the universe rewards you.
I never thought a perfect stranger could ever make me come, let alone make me feel him so deeply both emotionally and sexually. I was wrong.
Featured image by Getty Images
I think as we get older, we tend to try to figure out which fairytales could we turn our lives into and which ones were just bullshit. I'm pretty sure that we all heard of the man in the moon, we can't stand Cinderella's bald head ass, and most women have even added the infamous ability to squirt to that fairytale list as well.
Well, I am calling you all here today to tell you it is indeed freaking possible! So masturbation is seriously an amazing hobby of mine. Yes a hobby - I enjoy doing it to pass time, can't nobody do it like me, and now I've figured out how to make myself squirt on demand.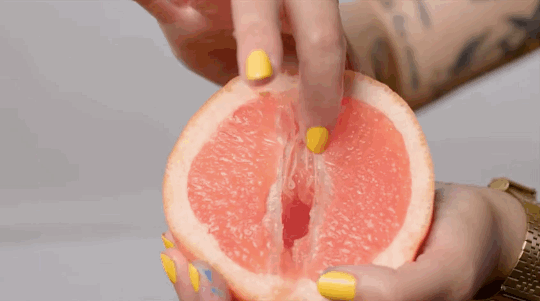 media.giphy.com
Like many women, I do give great props to the body wand. It was my first real vibrator that could make me come hard and fast, and, on top of that, it was durable. I really couldn't can't ask for much more than that… I thought. Well, after starting my sex blog, I began receiving toys to test out and one of those was the clitoral stimulator.

I woke up and rolled over to my goody drawer to begin my morning routine of getting a couple of orgasms out of the way before going about my day and being an adult and I thought, how about trying out the Satisfyer clitoral stimulator today? Using it was simple enough. It had an on/off button, speeds, and a suction cup that you place over your clit. From there, you hold it in place with your hand and let the stimulator do the rest.
Now, this is where it got real. The climb was unlike any I had ever had before. It wasn't quick and precise like the body wand, it was slow, deep, and swirled around like a hurricane in my lady parts. It made me circle around my orgasm, demanding that I be patient, and that was delicious. This toy came with freaking foreplay it felt like.
Usually, I'm a pretty quick and to the point self-lover but there were moans, sheet grabbing, and real life seduction as if I wasn't laying in my covers by my damn self. And the finale changed my life! I literally got to my peak and fell.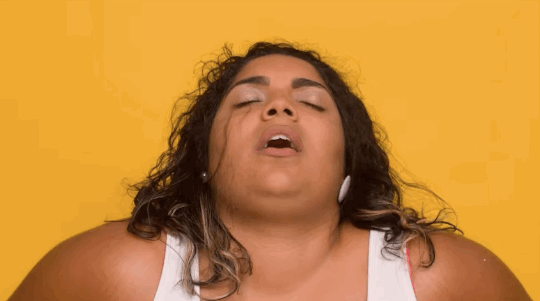 media.giphy.com
And it was a stomach piercing feeling that caused me to suck the air from my lungs back in. My breathing was nonexistent. Hell, I didn't even realize I was holding my breath until the liquid shot out of me. This orgasm was long as hell and very rambunctious. I tried to gain control of the muscles down there but it just couldn't happen. After I had collected myself, I couldn't even try to manage another out like usual. I got up to begin my day and a big ass wet spot was where I had been, proof that the clitoral stimulator had just pushed every important person in my life one spot to the left to make room for this!

Now I know everyone doesn't come the same way as others, but every time I have a client tell me that they have never had orgasm or has never squirted, this is the toy that I recommend for multiple reasons:
It wines and dines you. When I say that I mean it takes its time getting you to your peak, which provides a map for the woman on what her journey to orgasm really feels like so that when she's with her partner she will feel those familiar signs and can better direct him of what to do.
It stimulates countless nerves at once, which more often than not, can easily result in the female ejaculation, or as we may better recognize it, "squirting."
The battery life is amazinggggggg. The battery operated one is great but for about $50 more, you could get the rechargeable one and have multiple sessions without needing a recharge.
It's great to use with other toys. For example, slip a yoni egg or some Ben wa balls inside you and then use the clitoral stimulator, and tell me it doesn't change your life.
Did I mention it makes you squirt? Often… okay.
If you need to purchase a clitoral stimulator or find out more about Orgasms and hands on Sex Workshops, contact Samia Burton or @SexualEssentials on Instagram and Facebook. You can also cop your very own Satisfyer clitoral stimulator here.
Related Stories:
All You Ever Needed to Know About Squirting - Read More
It's A Vibe: The One Vibrator Every Woman Needs - Read More

I Had a Billion Dollar Orgasm With This $2000 Sex Toy - Read More

Before rabbits and bullets, there was the magical world of the hitachi AKA the wand AKA the massager (wink, wink). Still, for as long as the wands have been on the market I've wondered what all the hype was about. Well, today is the day that both you and I find out what the best wand vibrator is and why we should invest in this highly regarded sex toy.
I was inspired by xoNecole's Managing Editor, who wrote a raving review on wands not all that long ago -- I mean when something sounds as good as she made it sound, who am I to deny myself that pleasure? Furthermore, there had to be something powerful about the damn thing because not only has it been on the market since the dawn of time, but companies are still banging out their own little renditions of wand vibrators -- they're far from dated, even with the demand for technology to keep up with the times.
Wand vibrators are perfect for clitoral stimulation with their bendable, silicone tips and unusually high voltage of power. But, it's the hitatchi that has made a name for both itself and the others. Yet, that doesn't stop other companies from trying their hand in the wand business and although I wouldn't dare to say superior -- many of them are damn good proteges.
Here's all you need to know about 6 types of wands, including the original. Click through the gallery below!
6 Of The Best Wand Vibrators: I Tried Them All
Adam & Eve Magic Massager Deluxe 8x, $69.95
Adam & Eve did create a wand that very closely resembles the blueprint of the original. For a slightly higher price tag, you can definitely get a powerful vibration out of this wand with eight different vibrations and an additional five pulsating speeds. However, edging is not my thing. But somehow that's exactly what happened as I dripped onto the massager, effectively shutting it down. After a downpour, I looked down to find little bolts of electricity ending what was sure to be a good time. As someone who has the magic ability to squirt whenever my clitoris is thoroughly stimulated through powerful masturbation, this wasn't the toy for me. However, I don't necessarily think this is reflective of the toy or surprising, as it is electric. Nonetheless, it's something you must know if you are someone who experiences next level wetness of any sort.
Shop the product here.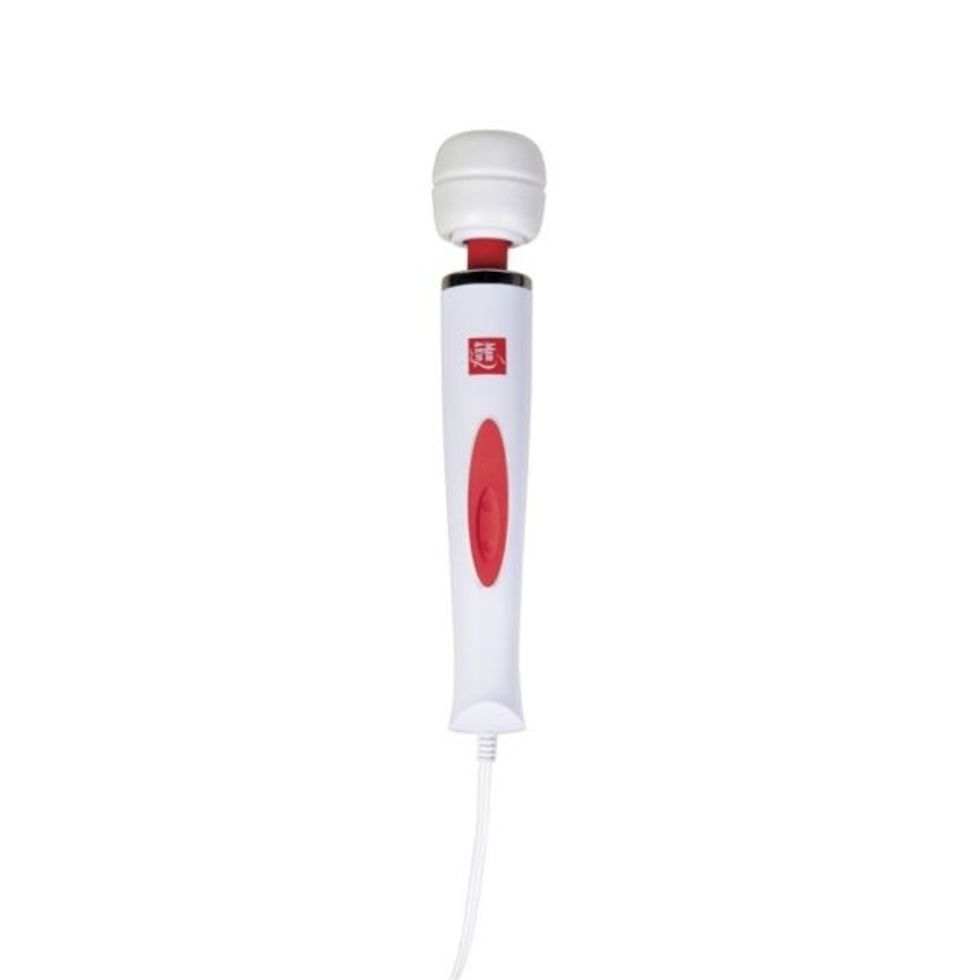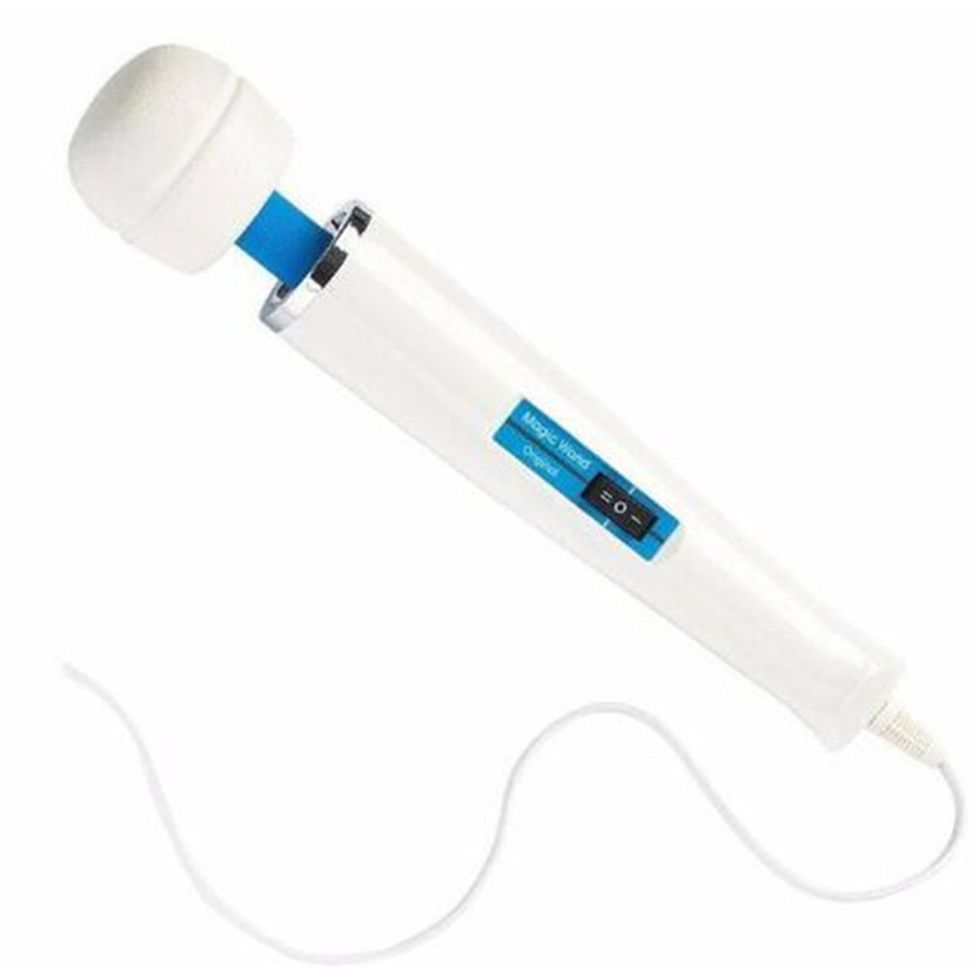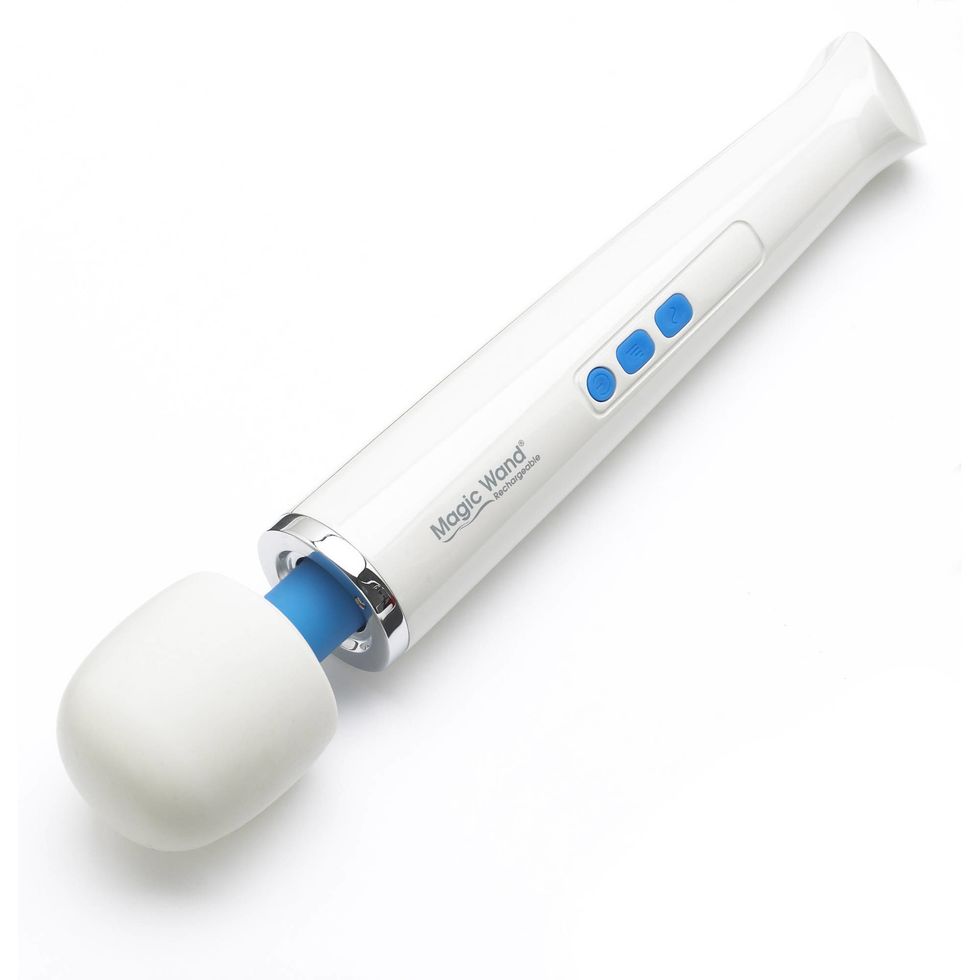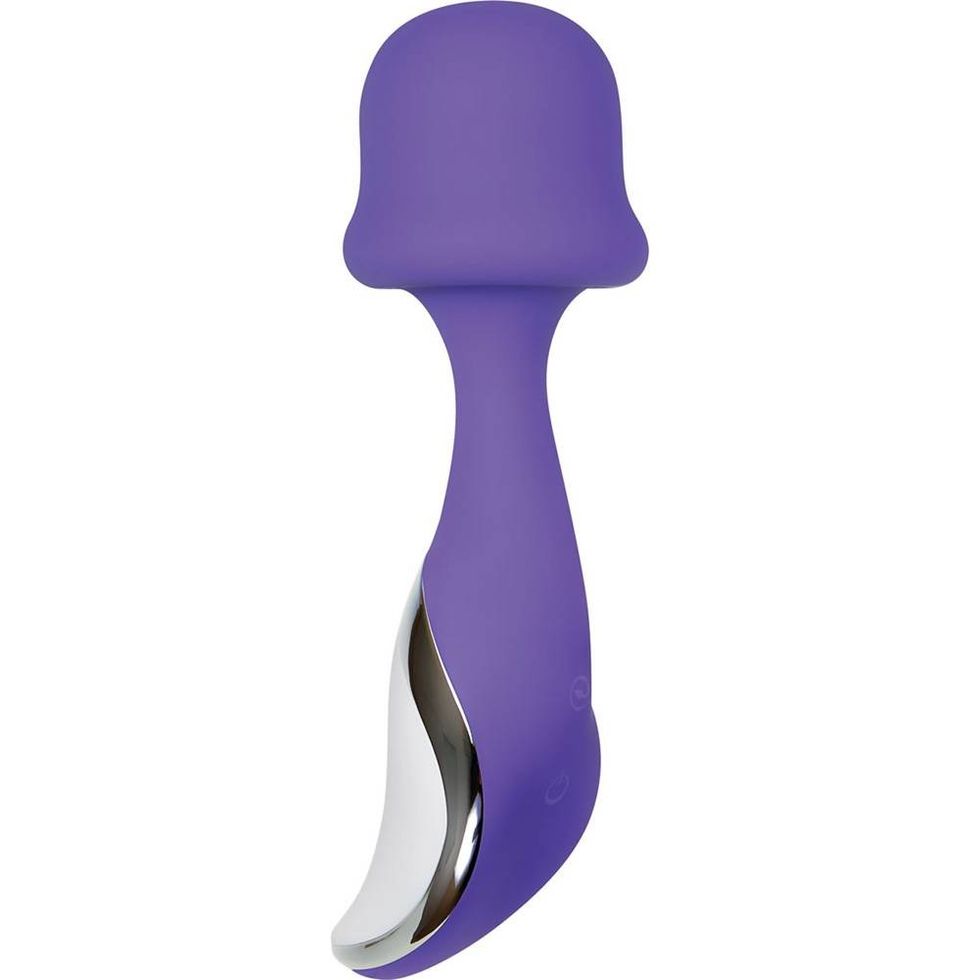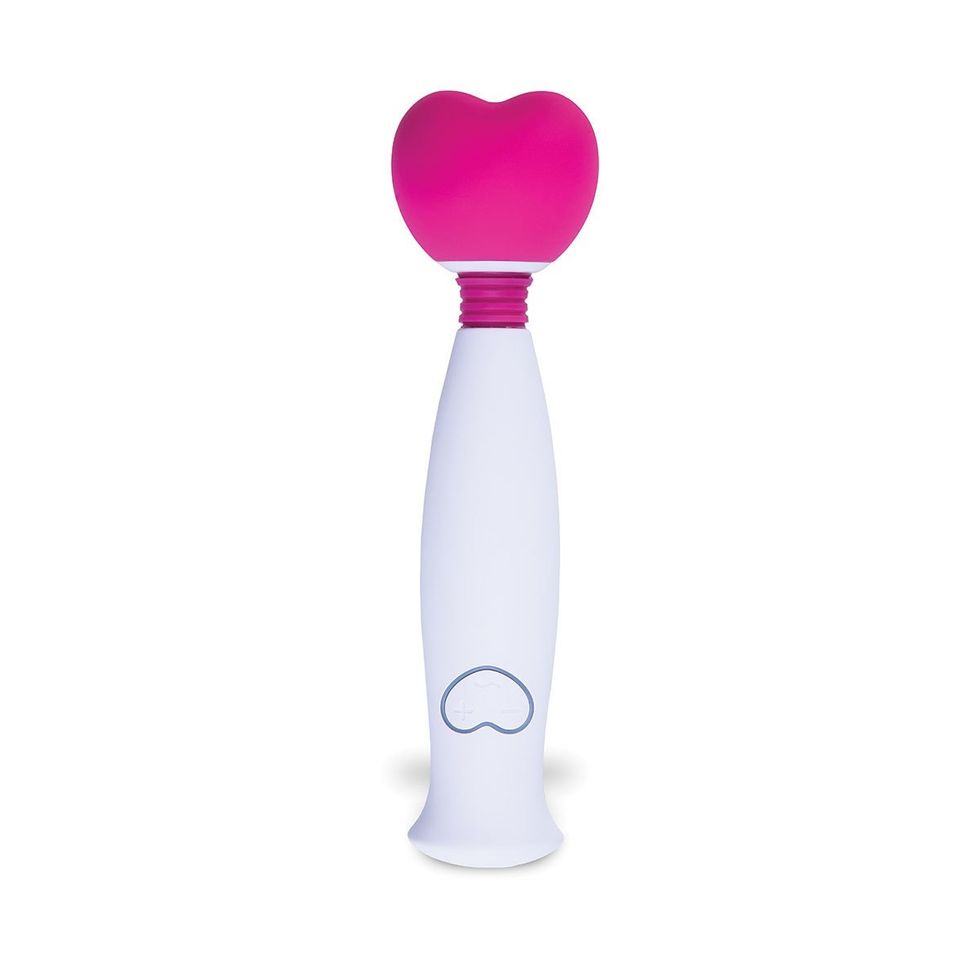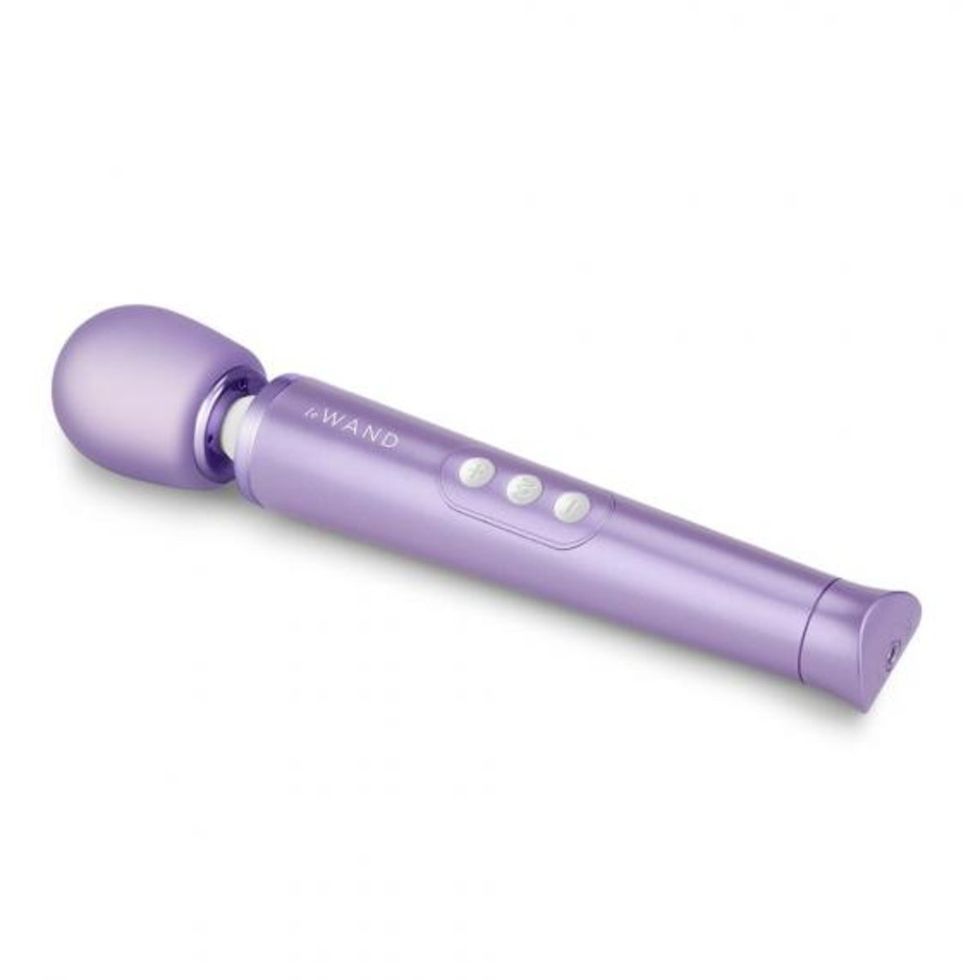 Would you try a wand? Let us know in the comments below!
The products above were sent to me in exchange for a review, but all opinions stated are my own.
Since I've began attending school for my Master's in Human Sexuality, I've come to learn just how vanilla I am when it comes to sex. Classes have poked and prodded in order to get at my boundaries and, you know what? It's working. But it's also helped me to create a realistic expectation of what exploring my sexuality looks like, as I've honed in on my actual desires to test the boundaries of those things that already give me immense pleasure. I love being bound, getting my ass slapped, and the only thing that's better than a firm smack on my ass, is being brought to an intense orgasm as someone's hand is clenched around my throat while I moan softly searching for air.
Nonetheless, this doesn't necessarily mean I'm ready to be shipped off to a bootcamp for bondage and masochism. So, this is what I mean about testing and pushing the boundaries of my current eroticism. Enter, my story of my night engaging in swingers sex at the swingers club.
media2.giphy.com
As you may have presumed, this has left me more curious than ever about the kink community. In a desperate search for a play party, I fell short and found an equally seductive swingers club, which I'm also not opposed to. I invited my roommate to come out with me and we were joined by another member of our cohort, and a couple. There was only one of us who had been to a swingers' club or anything like this and it was not me.

For fear of being disappointed, I delayed my expectations until I no longer could, and really the place was what dreams are made of, in the fact that it actually lived up to the hype and public perception of what a swingers' club looks like.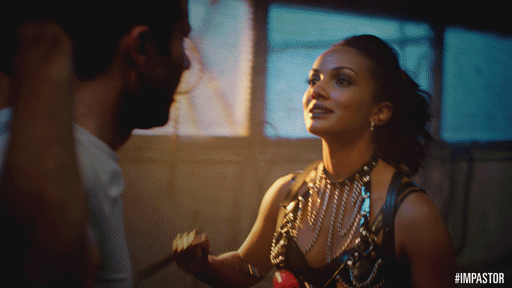 media.giphy.com
The minute I walked in, there were rooms on either side of me equipped with makeshift beds and white towels. At the end of the hall, by the first level bar, there was a couple fucking ever-so-casually on the lounge chairs. And me? Well, I was exhilarated! We went upstairs and headed over to the bar before cozying up in a middle booth.

The first thing I did was scope out the room to find Black people and at first there was nothing, but as it got a little later, the place became slightly peppered with melanated couples making me lucky as the only single. Although there was a guy scoping me out for he and his girlfriend, I had my sights set on something else.
As I watched the couple, I remember feeling my clitoris shoot off smoke flares through my pants as I tried to simmer down.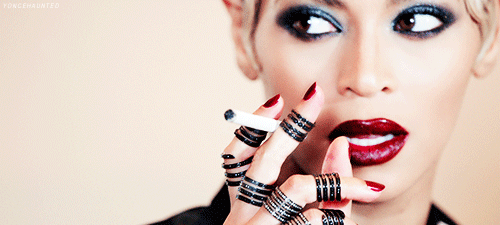 Although I'm never aroused by women giving head in porn, there was something about watching this woman bob and weave on her partner's solid dick that created a tension in my body that could only escape me one way. Doubting myself and what I came for, I kept telling my roommate that I couldn't wait to get home and masturbate. She reminded me that I was more than welcome to do so at the party, a refreshingly new experience to not have to leave the club when you grew too horny of dry humping on the dance floor but I wasn't ready for all of that.
Or, so I thought.
I spent another hour watching this couple, playing coy, and making bathroom runs to get their attention before they and another black couple disappeared from the main floor. Something in me told me that they went off to find somewhere a little more private, and I was right. I followed them downstairs and asked to watch because closer is better! Still mesmerized by the one couple, I completely disregarded the other and finally after coming up for air, the woman asked me if I wanted to join in.

With minimal hesitation, I hopped up and quickly began mimicking the same energy she had been giving him just five minutes earlier. I could see why she was so into it and quite frankly, I forgot what it was like to be so attracted to someone that giving head turned me on uncontrollably. After a short while, I was asked to join them in a private room and I did.
We undressed and this time, the woman went down on me, as I stuffed her partner's penis into the depths of my throat but not beyond my gag reflex. This was all a first for me and it was happening so fast.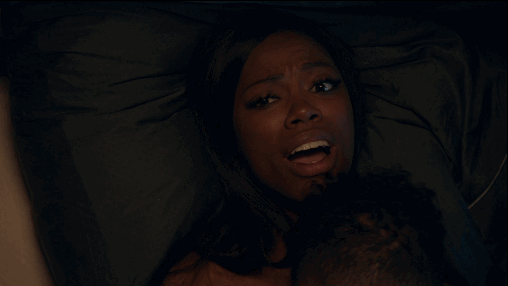 Like musical chairs, we all switched and I nibbled on that woman's pussy, probably giving her the worst delivery ever. But instead of her partner ever reciprocating oral sex (rolls eyes), he decided it was time to go to work.
He began unfoiling the condom and that's when sh-t really hit me. Not that I had engaged in a threesome with some random couple that I didn't even exchange names with, but that I literally was the idiot who went balls deep on a stranger's dick without protection and then had the audacity to pull out a condom when the vaginal penetration was about to begin. I mean, really, make it make sense?
Condoms had been an afterthought until that moment and I could not make it make sense.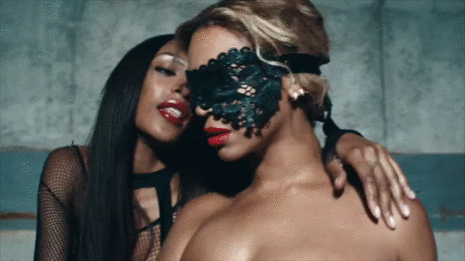 And because I couldn't make sense of it, I began to freak the f-ck out and although I didn't leave until I got what I came for -- I could no longer just lay back and enjoy the experience.
New to the city, I couldn't speed dial my gyno on the spot but please believe, the next day I was Yelping like nobody's business to find a GYN and ensure that the consequences for compromising my health were nonexistent. And, they were...this time.
Still, this situation highlighted how willing I was to risk it all for a good 15 minutes of leading with my curiosity. Despite what the saying says, curiosity has actually been known to kill the cat, my kitty just so happened to escape untouched. I also realize that I'm not alone in allowing a pleasurable moment get the best of me, as it's not the first time I've allowed it to do so, and I get the feeling that it's a common experience amongst many others.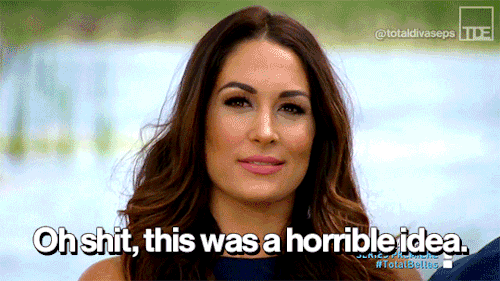 78.media.tumblr.com
Mostly because I think there's a lot of misconceptions about the transmission of diseases and/or infections. I've heard a myriad of people say they wear condoms for safety during vaginal/anal penetration but bypass this process during oral sex or use condoms for penis, but fail to bust out the dental dams or saran when eating the p-ssy.
This leaves room for me to assume that they may be ignorant to the fact that failing to protect yourself during any sexual penetration, may that be tongue or genitalia, leaves you vulnerable to the unknown.

And although I realize there's not nothing that I couldn't handle, should I find out that luck didn't favor me, I'd rather not. We live in a society where it's difficult enough to disclose what type of kinky stuff we're into, much less trying to disclose to any new partner that I have an untreatable venereal disease. It doesn't mean life is over, but let's not dispute the fact that it does make things far more complicated in an already tricky romantic climate to weather.
That said, if you're like me, and safety has ever become an afterthought in the midst of any tryst that's not with a trusted partner, slow. down. Hear me when I say: the d-ck ain't going nowhere.
Featured image by Giphy