Imagine sitting at your cubicle at work, wondering why you were in a cubicle to begin with when you knew you wanted something different for yourself. Sound familiar?
---
Well that train of thought was exactly what led Julia Beverly, former Editor-in-Chief of Ozone Magazine,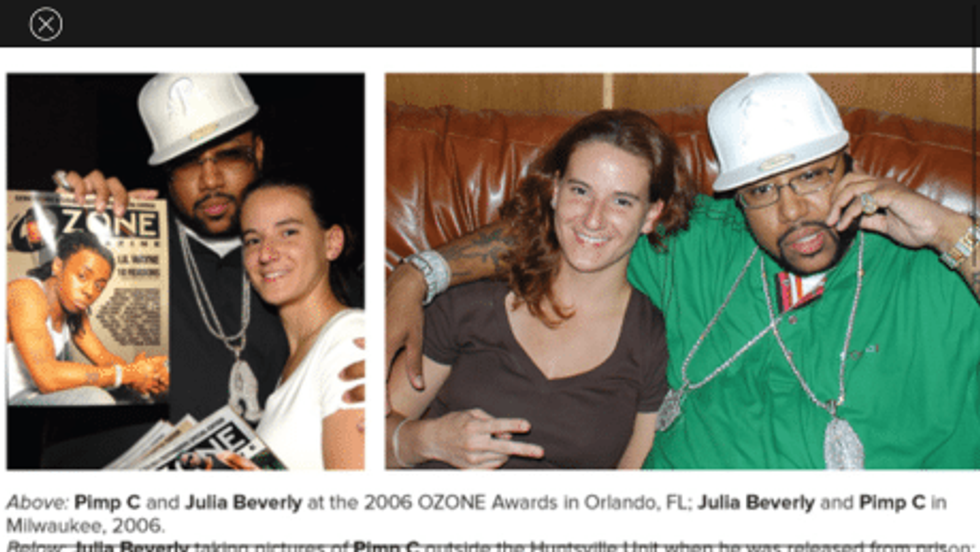 into a dynamic, and successful 10 plus year career in the Hip Hop industry. Julia has been credited with single handedly giving Southern music a voice through Ozone Magazine, which closed shop in 2010 after an outstanding eight year run. In fact, some of America's biggest Hip Hop acts were featured in Ozone, including Rick Ross, Young Jeezy, Jim Jones, T-Pain, T.I., Lil' Wayne, and David Banner.
In a 2010 Creative Loafing article, Julia was described as, "A 28-year-old white woman in an industry composed largely of black men, she's the unlikeliest of rap moguls, and has seen her name recklessly slandered by people who believe she has no business doing what she does.  In the same article, she is given credit for helping to give southern Hip Hop a voice by Scarface, who said he was a big fan of her work.  "I really respect what she does," he said. "Ozone has always told our side of the story. There was a whole market down here that was making noise, and you only heard about some of it. Now, thanks to Ozone, you hear about all of it."
Since closing Ozone's doors, Julia is now dedicated the next leg of her journey that she probably didn't see happening years ago. After about five years of interviews, preparation, and investigation, Julia is now author of the late Pimp C's biography, Sweet Jones: Pimp C's Trill Life Story.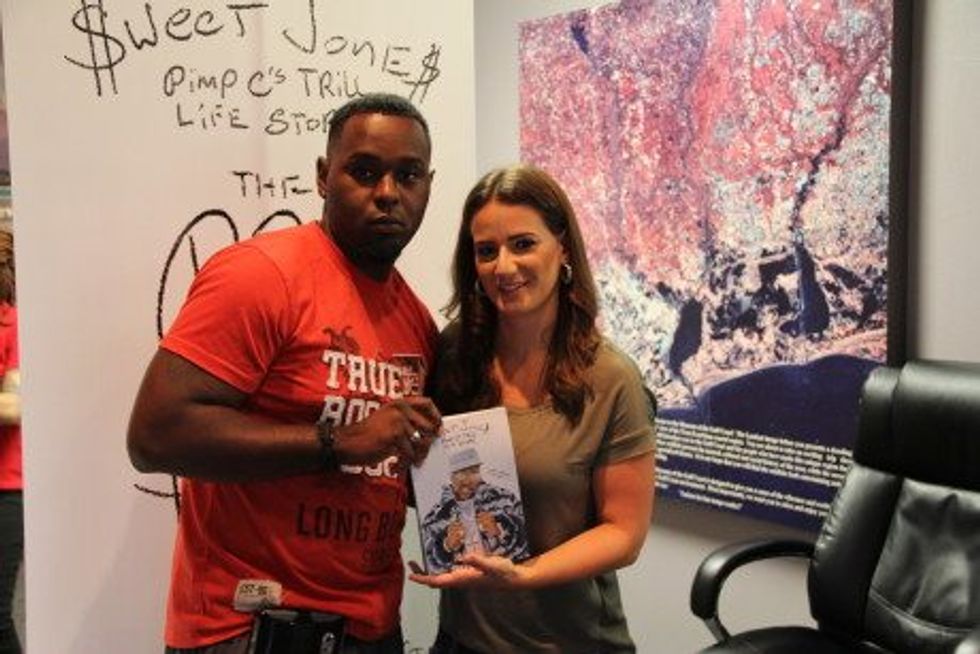 Julia Beverly poses with a fan during a book signing event at the Museum of the Gulf Coast in Port Arthur, Texas. (Photo: Da Pit Productions)
When I met Julia for an interview during her book signing event at the Museum of the Gulf Coast in Port Arthur, Texas, the petite beauty seemed content being around the same people she interviewed for the biography. That day, Julia looked like she was around extended family, as Pimp C's family and friends gave the impression of gratitude to her for taking years of her time to do real investigative journalism work on the biography of one of Port Arthur's hometown heroes.
During our interview, I got to know how the soft spoken Orlando, Fla. native commanded attention in the Hip Hop world, which can often be unforgiving and misogynistic. Listening to her journey made me have a deeper appreciation for her contribution to Hip Hop music, and how she grew to be a girl boss that any woman could admire.
How were you introduced to Hip Hop music?
In high school, I had a class with a guy that would play Outkast all day--the ATLiens album. I didn't even know it was hip-hop.
After getting out of high school, how did you start working in Hip Hop music?
I was actually working a day job at an architectural firm. I was doing IT work, and so it's kind of funny that I ended up with this, but I just transitioned to being more like a photographer, into a [graphic] designer, and then eventually doing a magazine. And I've been in the music industry really since I was 19, so I've kind of done it all in the music business. I've had the opportunity to play all those different roles. And it's kind of funny now to be the artist, the one being interviewed. Normally I'm the one doing interviews, taking pictures, and all that. It's been a different experience, but it's been a lot of fun.
You said you did everything while you were at Ozone?
Well not just at Ozone. I'm a photographer, I'm a graphic designer, I'm a booking agent, you know. Everything A-Z behind the business, I've kind of done that at one point or another. That's why I said now to be the artist actually on promo tour is kind funny to be spearheading the project, so to speak.
How did it feel to be a girl boss at Ozone?
Pimp's mom told me as I was writing the book with her that Pimp had made a com ment to her, like he
was joking around with her, she didn't like women that were like real feminine and like frilly... She was kind of hard core, too. And Pimp said, "Oh no, she's bitchy like you."
So you know, as a woman, when you're firm with your pricing, or you try to handle business, people will call you a bitch. That's fine, you know? That's cool. I've always felt like you could take it as a positive thing. People will think you're hard core, you're about your business.
[Tweet "I think for women, you have to work a lot harder to maintain your reputation..."]... And make sure that people know that you're serious
Was that one of the reasons why you chose not to sue Mistah F.A.B. for defamation of character?
That was such a minor situation, and I never had any dealings with him at all. If people don't have anything bad to say about you, and you're a woman, [they'll say], "Aww, you're a whore." But whatever. Or be a white female [like myself], that's the only thing they can come up with.
[Editor's note: Back in 2009, Mistah F.A.B. and Julia got into a Twitter beef, where Mistah F.A.B. accused Julia of sleeping around the industry. After he refused to apologize for the statements that he made about Julia on Twitter, which she says were "defamatory," she decided to take legal action. Julia later said that she chose not to go through with a lawsuit because she didn't want to give the issue any more attention.]
I very much agree with you. In doing research about you, I felt it was kind of the same with [Waka Flocka's mom] Deb Antney. 
That's a totally different situation.  If you're going to stand for something, you're going to make some enemies at some point, you know? Deb was just mad because I had done an article about them [her company] taking all of this money from promoters up front for a tour that never happened. I had talked with all of these promoters that had lost $40,000 to $50,000, and never got what they paid for. So I did an article about that. But that was more Johnnie Cabbell, Johnnie [who was the booking agent for Nicki Minaj and a few other rap acts at the time] was taking all of this money, and he had to change the name of his company after that, because he had so many lawsuits.
I just got to the point that whatever someone has to say about me, I really don't care. They can say whatever they want.
Has there been any experiences where you had to overcome being treated like an object as a woman in a male dominated industry?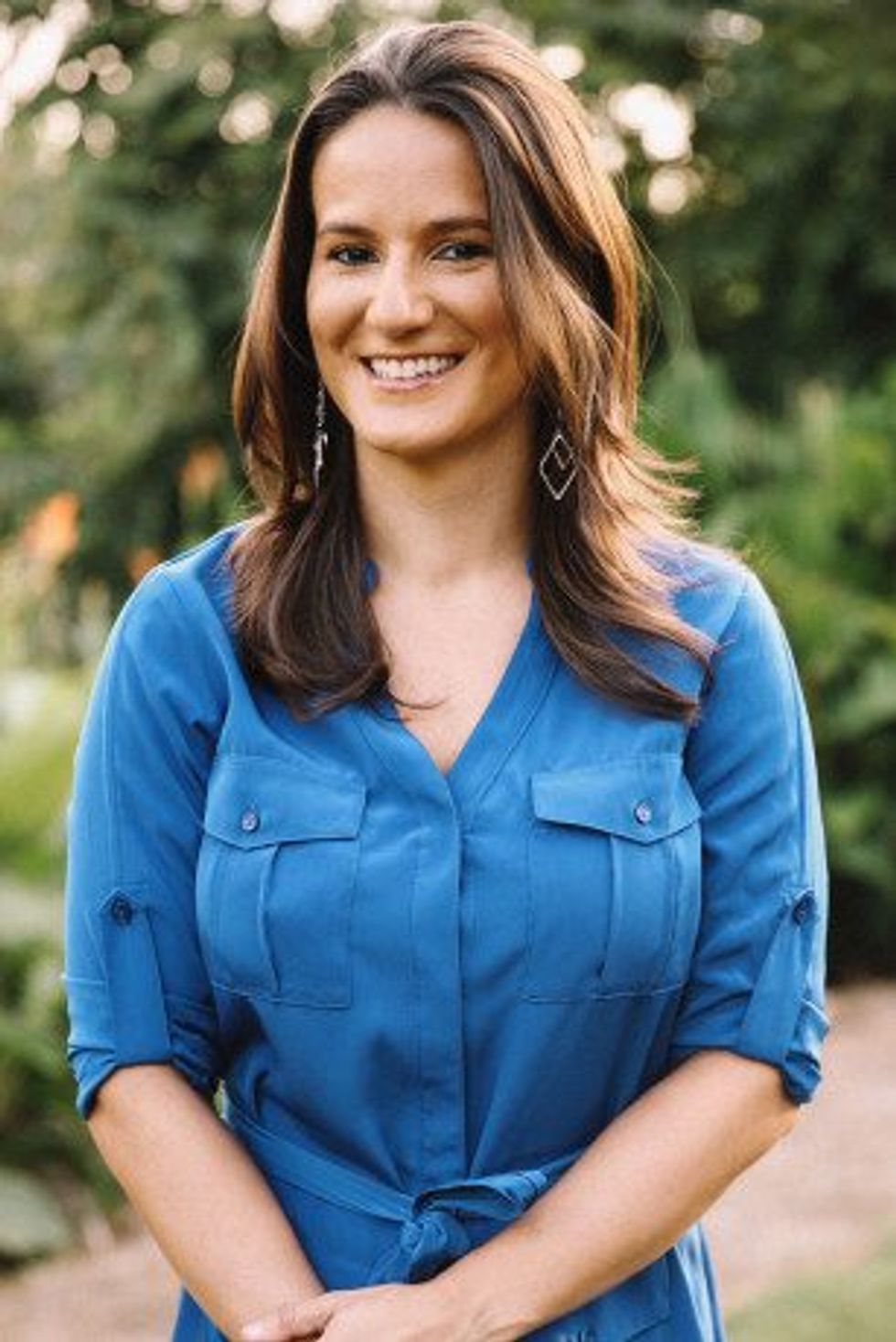 That's like every day, every show. Usually the artist have their little entourage hanging out, and try to meet girls. You walk into certain situations [like a tour bus], or backstage in a dressing room, or a hotel, they're going to say something to you. Like, "Hey girl what's up?" Or comment on your booty. Me personally, I say, "Here's my magazine," or "Here's my book, check it out." I'm a smart ass anyway. Say something smart to me, I'm gonna say something smart back. More than likely, we're just going to end up becoming friends.
It's funny because like, Necole is a friend of mine, and I'm friends with a lot of other women in the industry [like] Angela Yee. People like that that are respected, but [someone] will always have something to say. Like, "Oh, she slept with such and such." A majority of the time, that's not even true. Most of that is like, you're just the homie. Most of the women that I know who are successful in the business have mastered being friends with guys, and it not be a sexual thing.
You've got to be "the homie" and not the girl that they're talking about [on wax].
[Tweet "That's part of success, is making people see you as a person..."]...and not someone trying to get backstage with a rapper
Do you have any advice for aspiring writers?
It's hard to make a living doing any kind of media. Now everything is so accessible. Photography used to be my main source of income, but now everybody has smartphone, DSLR cameras--it's hard to make money off of that. I think you should diversify, and not just do one thing. Once you've mastered something, maybe experiment with some other things. So that's how I've been able to maintain, by wearing a lot of different hats.
Even as a writer, it's hard to make money, even if you get a salaried position at a newspaper or a magazine, because the truth is they're not really making money. You may have to freelance for different blogs, start your own blog. You know, have a different hustle on the side. Like me, I'm a booking agent by day, writer by night. Just kind of balancing different hustles. Writing is kind of like my creative outlet.
Is [print magazine being a dying format] the reason why you gave up Ozone?
The main reason was kind of being bored. We did Ozone monthly for eight years, and I kind of felt like I was doing the same interview over and over again. All the artists now have similar stories, and it was getting repetitive.
To put out a monthly magazine, that's a good 2-3 weeks out of your month where your schedule is filled up. But I got the opportunity to travel. I was filming with Flo-Rida, so when I got opportunities to go overseas for a couple weeks at a time, that's when I realized how much I was missing out on by not doing other things.
Why a book about Pimp C?
Now that I've been in the industry for more than a decade, you know Pimp C was one of the most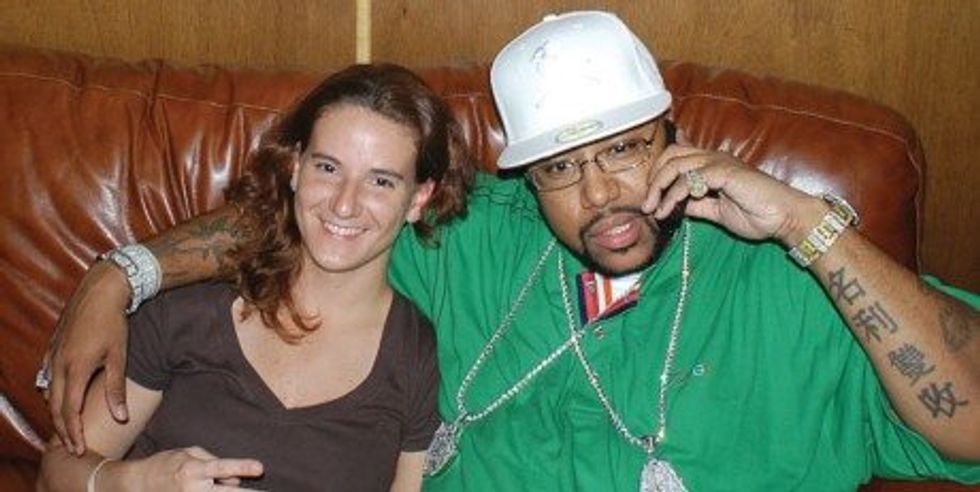 Julia Beverly and Pimp C 
interesting [people] that I met during that time frame. I felt like a lot could be learned from his story, like a lot of up and coming artists, I felt like they should read what he went through as far as the music business. He had bad managers, bad record deals, there was a lot of trials and tribulations that he went through, and there's a lot that they could learn from his experience.  
Who are you looking at now musically? You were in charge of emerging the most notable and iconic Southern artists, so is there any new artists who interest you?
I don't really take credit for it. You know, I can't make somebody a star, but I can kind of expose someone who already is a star, or already has it [a movement] going. But I'm kind of out of that line of work. I've been listening to Pimp C's stuff as I've been researching [for] the book. So I'm not really up on [current music]. I don't have any great predictions for the future.
What are you going to do as soon as this book tour is done?
I would like to do some [more] traveling next year for sure. We're going to continue this [book tour] for another month or two. I'm going to keep doing the booking agency thing. I went to Alaska with Brian McKnight and Slim Thug. Went to Hong Kong with Ray J, and being a booking agent has allowed me to travel. I literally went to China, ran the great wall, flew to Macau, China, went to a show with Ray J. It was fun.
Purchase Julia Beverly's book, Sweet Jones: Pimp C's Trill Life Story on Amazon and iTunes and follow her on Twitter and Instagram at @juliabeverly.