I have a pussy mold. Similar to expecting moms getting molds of their bellies, I got a mold of my pussy. Artist Andrew Prince, the owner of 3D Perceptions, specializes in lifecasting and I discovered his profile through Instagram's discover page. Lifecasting produces three-dimensional replicas of a human body by molding and casting techniques. Some of his best work was featured on his Instagram page, which has since been deleted.
---
His lifecast pieces included butts, breasts, vulvas, penises, and a few full-body casts. Among my favorites was the full-body cast of two lovers intertwined in a sex act. After falling in love with Andrew's work, I DM'd him to inquire about having my mold made.
The Man Behind the Mold
Andrew operates out of his garage in Huntsville, Alabama. It is filled with plasters, Hoyer lifts, benches, and everything needed to create the dynamic works of art he creates. Andrew, a NASA engineer by day, explained that he became interested in molding after he constructed a 3D volcano with his son for a school project. Lifecasting was born out of curiosity after he made a mold of his former girlfriend's ass to sell on Etsy.
Nowadays, Andrew sells his pieces in art shows around the world. His work has been exhibited in Las Vegas, Erotic Art Shows in Seattle and Detroit, as well as in London, England. Depending on the piece, his art sells for $300-$3500. If you prefer to do your own casting, he also sells at-home kits for $60.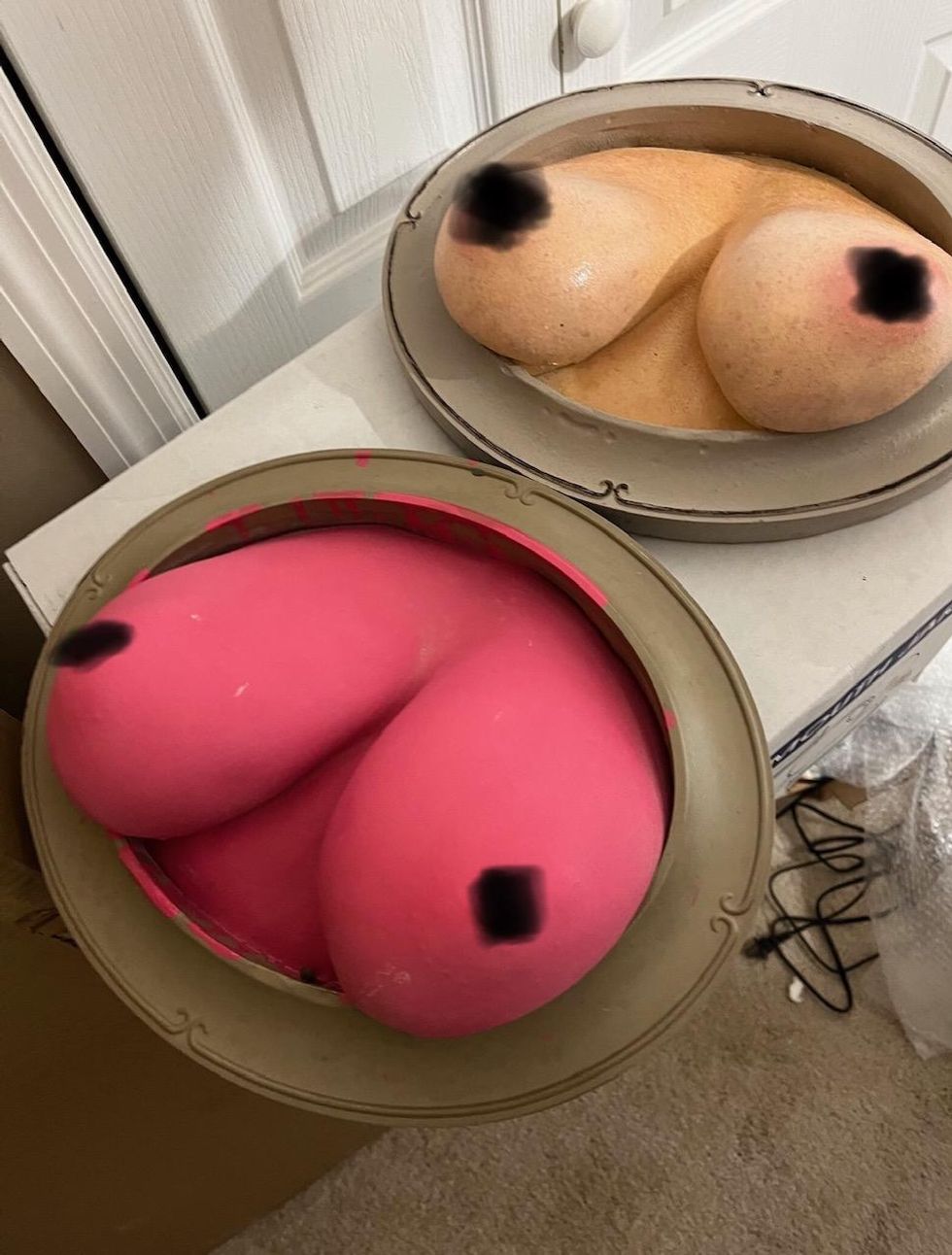 Courtesy of Ashley Cobb
The Process
Usually, Andrew finds his models through Craigslist or word of mouth, rather than on Instagram as he did with me. Because his art pieces are so time-consuming and can require some flexibility, modeling for Andrew isn't an easy task. The entire process takes about 40 minutes. Essentially, I had to lay perfectly still for nearly an hour with my legs in stirrups, similar to a Gyno visit. I'm not sure about your legs, but my legs aren't used to holding that position for more than ten minutes. Talk about a workout!
He began by layering my pussy with an all-natural seaweed-type lubricant used as an alginate. The alginate also added a layer of protection between the plaster and my vulva. Pussies are sensitive and we can have plaster getting into them throwing off pHs and shit. He then added plaster and plaster bondages layer by layer in a similar manner to paper-mâché. There was a lukewarm, creamy texture to the plaster, similar to yogurt. As the plaster sets, it becomes slimy and feels like firm jello as it warms up.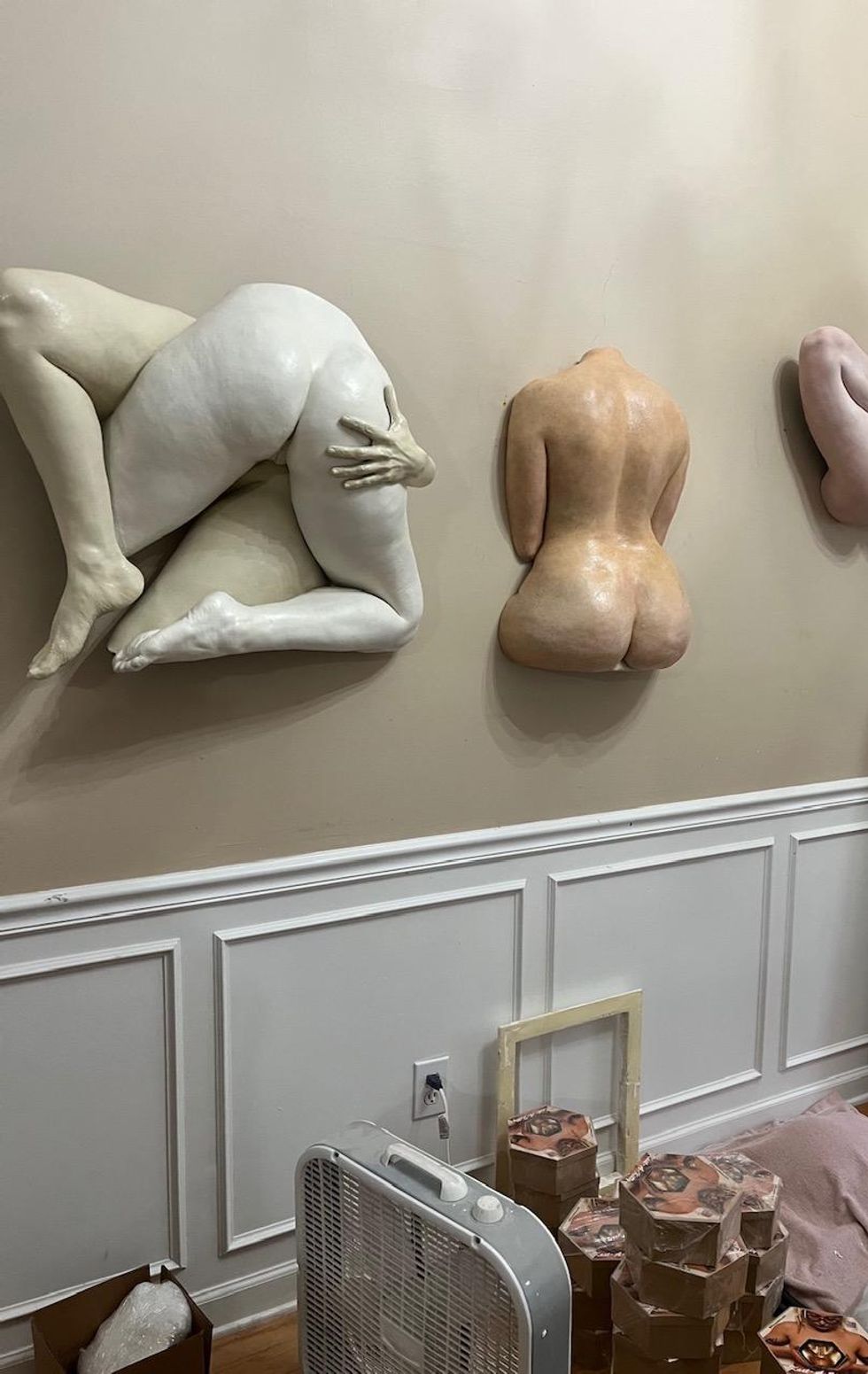 Courtesy of Ashley Cobb
The Result
Once completely set, Andrew eased the plaster off of me. Since it wasn't sticky, it slipped right off. As Andrew de-molded, sanded and detailed my pussy mold, I went to the bathroom to wash off any remaining plaster. Typically, it would take Andrew several days to weeks to complete his molds and get them ready for sale. However, because I wasn't selling mine, he completed it in a few hours.
I'm still not sure what I'm going to do with my pussy mold. I may paint it and hang it up on my wall. But then again, do I really want everyone who comes to my house looking at my pussy?
To find out more about Andrew and 3D Perceptions, visit www.etsy.com/shop/3DPerceptions.
Let's make things inbox official! Sign up for the xoNecole newsletter for daily love, wellness, career, and exclusive content delivered straight to your inbox.
Feature image by Harbucks/ Getty Images