Ashley Cobb
Ashley Cobb is an Atlanta-based sexpert, blogger, and HIV Activist known for her fun, down-to-earth and practical commentary. Her work has also been in Essence, Madamenoire, and other publications on the internet. Follow her on all platforms @sexwithashley.
What is the difference between bad, average, and great sex? If I ask thirty people this question, I would get thirty different answers. As someone who's had their fair share of both good and not-so-good sex, I understand that there is no one size fits all answer to this question. "Great sex" can mean different things to different people. Case in point, I once had an amazing sexual experience with a guy that a mutual "friend" had a horrible experience with. Great sex is subjective AF! According to the mutual friend his sex was subpar at best. One person's trash is another one's treasure. Great sex boils down to what is good for you and your partner at the moment. No two people are the same so no two sexual experiences will be the same either.
Even though what constitutes great sex differs from person to person, there are some common denominators we all share. I find that most people need: honest communication, vulnerability, and chemistry regardless of age, sexual orientation, and relationship status for great sex to take place. Rarely are penis size and earth-shattering orgasms a determining factor of great sex. I know for me, the older I get the more I realize great sex is less about big dicks and more about chemistry and connection.
But you don't have to take my word for it here's what some of my social media followers had to say about what makes sex great for them.
"I can honestly say, for me, now that I'm older, great sex is based off of mental stimulation. If we aren't able to obtain this, the sex is just okay."
"Chemistry/attraction, communication, skills, he needs to have rhythm in his hips and talk dirty, be dominant, and submit sometimes when I feel like being dominant. There needs to be some music going on in the background, eye contact, not be in a rush if it's not a quickie, reciprocity, and adventurous. Be vocal, silent sex doesn't do it for me, like what is this, a cemetery? Open your mouth and let those pleasure sounds out, hunny."
"Genuine chemistry. Yes, sex can still be bomb when someone checks off your physical boxes: big ass, tall, dad bod... Whatever makes your sex organs tingle. But when you actually like them AND they are good in bed, then it's greatness."
"When it feels like an effortless, sensual, passionate dance. When we flow seamlessly communicating without words with our bodies. The chemistry, connection, and attraction inside of the bedroom [are] only an extension of the feelings outside of the bedroom."
"Paying attention to my body, talking me through my orgasm, not just pounding blindly like I'm some kind of sex toy, taking time to make sure I'm satisfied, and flipping my big ass like I'm a gyatdamn pillow."
"Feeling free enough to act/try things in a non-judgmental environment. Openness to criticism or direction. Accepting not everyone is the same and not everything is enjoyed or not by everybody. Our experience is OURS. And what we like with each other we may not like [with] others. We have to find our wave."
"After being with my husband for 35 years (since 10th grade) and married for 23, intimacy is key. We take our time and really enjoy each other. I'm not only still in love with him, but I still LIKE him."
"A safe space, trust, emotional awareness, intimacy, vulnerability, knowing each other's love languages, open communication, chemistry, and paying attention to each other's bodies, wants, and desires in and out of the bedroom."
"Willingness to communicate and adjust even during the act. Don't give excuses that you were so caught up in what was going on that you didn't pay attention. Great sex also includes willingness to quit expecting to duplicate what you see in porn, especially when the other person says they're not interested."
"Total connection...meaning you wrap yourself around me, in me...try to see through me. Experience me...let me Experience you...your sounds. Guttural, ancestral...your smell...your released...come undone."
"The transcendent feeling when the world stops around you, there's no sound but you two, and there is no longer a goal. The pleasure is so all-consuming you remember how powerful it can be to surrender."
"True intimacy. It's something that happens naturally when people are kind to each other. Attentiveness to the body. Equal satisfaction (because men that don't like eating coochie are not fair partners to me), great foreplay, great aftercare (I make my partner clean me up before I get up to do anything and I do the same at times)."
"You have to be comfortable with the person. Sex should be fun, exploring what feels good instead of what you think pleasure should look like. Taking your time. Folks are in such a hurry to get to it, they miss all the good stuff that makes getting there even better. It's not a race. Intimacy...in all its forms."
"Bravery. Vulnerability. Softness (from the dominant/masculine partner). Boldness (from the feminine/submissive partner). Actually LIKING who you are with. (I don't mean chemistry. I mean actually LIKING the person). And communicating after leaving each other's presence. I LOVE a good recap or something to let me know that it's still lingering on you!"
Let's make things inbox official! Sign up for the xoNecole newsletter for daily love, wellness, career, and exclusive content delivered straight to your inbox.
Featured image by LWA/Getty Images
I remember my first orgasm like it was yesterday. Similar to how you never forget your first kiss, you always remember your first orgasm. It is cemented in your memory forever. My first orgasm was the most magical thing I've ever experienced. I literally saw the heavens open and heard angels singing from up above. Up until that point orgasms were like seeing a good Madea movie, I heard they existed but I ain't never seen one. I couldn't quite put my finger on the issue. I was having plenty of sex but the Big O I kept hearing so much about kept bypassing me.
It wasn't until I learned about my body and what turned me on that I experienced my first orgasm; it was a clitoral orgasm. Penis alone rarely got the job done for me, I always needed some type of clitoral stimulation and according to research, I wasn't alone. About 70% of women need clitoral stimulation to orgasm. The clitoris is composed of 8,000 nerve endings, which is about 2,000 more than the tip of the penis, plus it is the only organ in the human body designed purely for pleasure. So, it makes all the sense in the world that most women would need clitoral stimulation to orgasm. It's how our bodies are designed.
But wait, there's more! Did you know that in addition to clitoral, there are 11 different types of orgasms that women can experience? You could literally attempt to have a different type of orgasm every day for almost two weeks without repeating one. Some orgasms solely focus on the vagina while others allow you to feel pleasure in ways you never knew existed. Why limit yourself when you can taste all the colors of the orgasmic rainbow?
From clitoral orgasms to nipple orgasms and all the places in between, here are all the kinds of orgasms the female body is capable of.
1

.

​G-spot orgasm: 
G-spot orgasms are the most coveted orgasm of them all yet not always the easiest to experience. The G-spot is located about two to three inches inside the vagina and feels a little bit spongy. Pressing this spot gently and stroking it lightly is the best way to stimulate this area. When sexually aroused, the G-spot will fill with blood and swell up with fluid. Touching it in a way that feels good to you with fingers, your partner's penis (or strap), a dildo, or a vibrator can trigger what many women describe as deeply intense, that in most cases trigger squirting.
2

.

A-spot orgasm: 
The Anterior Fornix Orgasm aka "second G-spot" is located above the cervix and is achieved by deep penetration. About four to five inches in the vagina is sensitive tissue near the inner front end of the vaginal tube. This area generally does not become too sensitive after orgasm so it can be continued to be stimulated.
3

.

U-spot orgasm: 
This kind of female orgasm comes from stimulating a small area of sensitive erectile tissue located on either side of the urethral opening. It is in the small area between the urethra and the vagina. This spot can be stimulated with the tongue, fingers, or tip of the penis or dildo.
4

.

Nipple orgasm: 
Did you know that most women can climax if their nipples are stimulated properly? Nipples are major erogenous zones; they're loaded with nerve endings and super-sensitive skin. When the nipples are stimulated, oxytocin is released, which causes the same vaginal contractions associated with orgasm. This brings more blood flow to the genitals and can trigger an orgasm.
5

.

Anal orgasm: 
I know that most of us have our reservations when it comes to anal sex; but, if done properly, a butt orgasm can be just as powerful as a clitoral one. Because the anus and rectum are so close to the vagina and clitoris—and are connected by a thin stretch of tissue called the perineum—they share many of the same nerves and muscles, including the pelvic floor muscle. The pelvic floor muscle is highly sensitive for many women, and stimulating it can trigger a vaginal orgasm. All that's needed is a lot of preparation and tons of lube!
6

.

Blended orgasm:
A blended orgasm is like 'the best of both worlds.' It's a climax that happens when more than one erogenous zone is being stimulated at the same time. G-spot penetration along with clitoral stimulation is one way to experience a blended orgasm, but it could also come from vaginal penetration along with clitoral, nipple, or anal stimulation.
7

.

Coregasm:
Coregasms are orgasms that are triggered by exercise. It isn't one of the toe-curling, mind-blowing orgasms you read about in books either. Although this is something I've never experienced, a study from Indiana University found that 370 of 530 women surveyed had experienced orgasm or sexual pleasure while working out, usually from core-based exercises.
8

.

Sleep-gasm ("snore-gasm"):
The sheer power of the brain means that anyone can orgasm while they sleep. Orgasms happen in the brain, and the brain is quite active at night. In your sleep, your mind can freely explore your sexual fantasies without feeling rushed or judged. This can turn you on so much that you can end up having an orgasm without even touching yourself.
9

.

Cervical orgasm: 
Also known as a "c-spot orgasm" involves nerve endings located in the cervix and around the uterus. Cervical orgasms are best achieved during deep vaginal penetration such as doggy-style. Cervical orgasms have been reported as very intense, full-body orgasms that begin in the cervix and spread through the entire abdomen or even the whole body.
10

.

 Kissing orgasm: 
​According to the Kama Sutra, passionate kissing can spark an orgasm for both men and women. It states that a woman's mouth mirrors her genitals, with the lips like the labia, the cupid's bow like the clitoris, and the roof of the mouth like the G-spot. Our lips are also full of nerve endings, similar to the nipples and the clitoris. The roof of the mouth is said to be one of the most neglected erogenous zones, so by gently rubbing and flicking it with your tongue, it has the potential to stimulate an orgasm.
11

.

 Multiple orgasms: 
Not to be confused with blended orgasms, multiple orgasms are orgasms that happen one right after the other, with no prolonged stopping in between. These are more common in women and less common in men. Many people find multiple orgasms easier to achieve with a partner because they find it difficult to continue stimulation on their own after one orgasm.
Let's make things inbox official! Sign up for the xoNecole newsletter for daily love, wellness, career, and exclusive content delivered straight to your inbox.
Featured image by Adene Sanchez/Getty Images
Anyone who says that penis size doesn't matter is lying. If you've got a penis, or you have sex with a penis, you know that certain sizes and shapes feel better than others. There isn't a right or a wrong size, nor a good or a bad. All penises are great, no matter the size, but there are some pros and cons for each.
Here are some sex tips for every sized penis.
Sex With a Small Penis
Men with smaller penises are often much harder when erect than those with a large penis – as the blood flow has less space to fill. I don't know about you but a harder penis equals a good time to me.
The Pros of Sex With a Small Penis:
Better and more attentive lovers
Quiet as it's kept, small penises can be more enjoyable than larger ones. Almost every tiny dicked dude I've had sex with was a better lover than his big penis counterpart. Guys with less-than-average penises tend to have a lot to prove, and who am I to try and stop them?
Better for anal play
When it comes to anal sex, size most definitely matters. Most women complain that anal hurts. A bigger penis tends to be too much for butt sex. I'm way more excited to have anal sex when I see that the guy doesn't have a third leg. Small penises are ideal for backdoor fun because they don't cause pain, tearing, bleeding, or discomfort.
Easier to make adjustments
You can always make a small penis larger, but you can't make a large penis smaller. With sex toys such as penis extenders any penis can become a bigger penis. Penis extenders are external devices that stretch the penis to make it longer. You can also use a cock ring to create a firmer, bigger erection. As well as penis pumps—a vacuum pump— that can temporarily grow a penis up to an inch in both length and girth.
The Cons of Sex With a Small Penis:
Limited range of motion
Smaller penises tend to "fall out" more often, creating a limitation in the type of sexual positions they can perform. Positions like doggystyle and spooning are great positions that will give maximum access. As a general rule, people with smaller penises should stick with positions that facilitate deep penetration, to utilize the entire shaft length.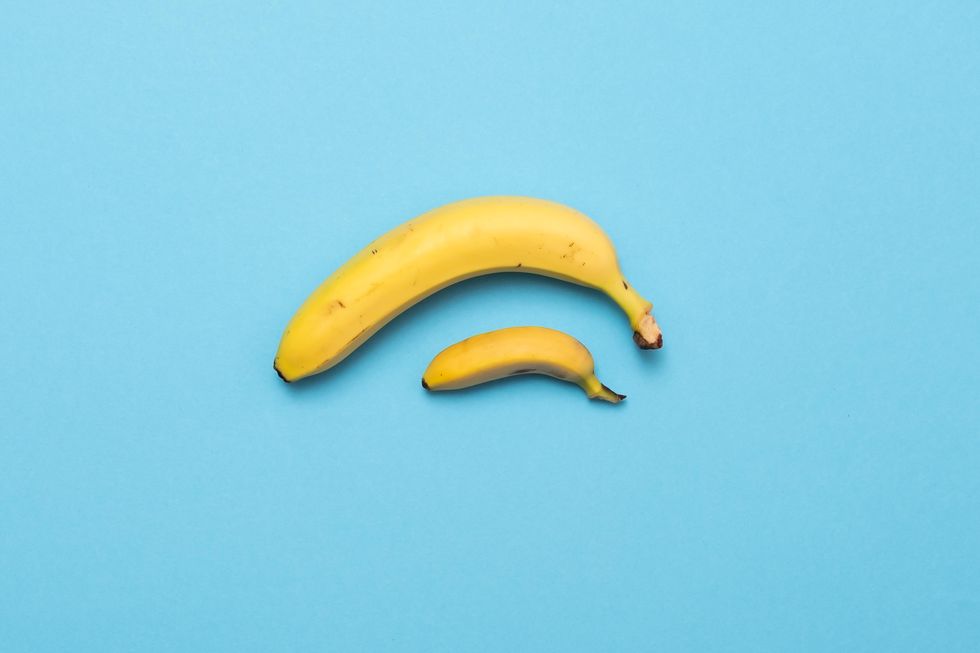 Koldunova_Anna/Getty Images
Sex With a Average Penis
Random fact, most men are average. The average penis in America is just over 5 inches. Only 15% of all men have penis larger than 7 inches and just a tiny 2% are bigger than 8 inches, as documented in a study published in the Journal of Sexual Medicine. So by these statistics, most men have an average normal penis of about 5 inches. But average doesn't have to mean bad, in fact, when it comes to sex, its a good thing.
The Pros of Sex with an Average Penis:
Works with most positions
If a guy is on the smaller or bigger side, certain positions can be tough. If he's in the average range, the world is your sexual oyster and you can pretty much try anything without too much discomfort.
More comfortable
Average penises just feel better. Contrary to popular belief, most of us don't enjoy having our cervix banged up. Average sized penis fits more comfortably in the cervix. Never have I ever heard someone say that sex was painful from an average penis. The most sensitive part of the vagina is the lower part, and a man with an average penis will have no problem reaching it. He can cause all of the pleasure without all the length.
Better blow jobs
It is a lot easier to perform oral on a man with an average penis than on a man with a larger or smaller one. When he's average, you don't have to worry about it fitting in your mouth or gagging and they're easier to deep throat.
The Cons of Sex With an Average Penis:
I see none! Moving right along!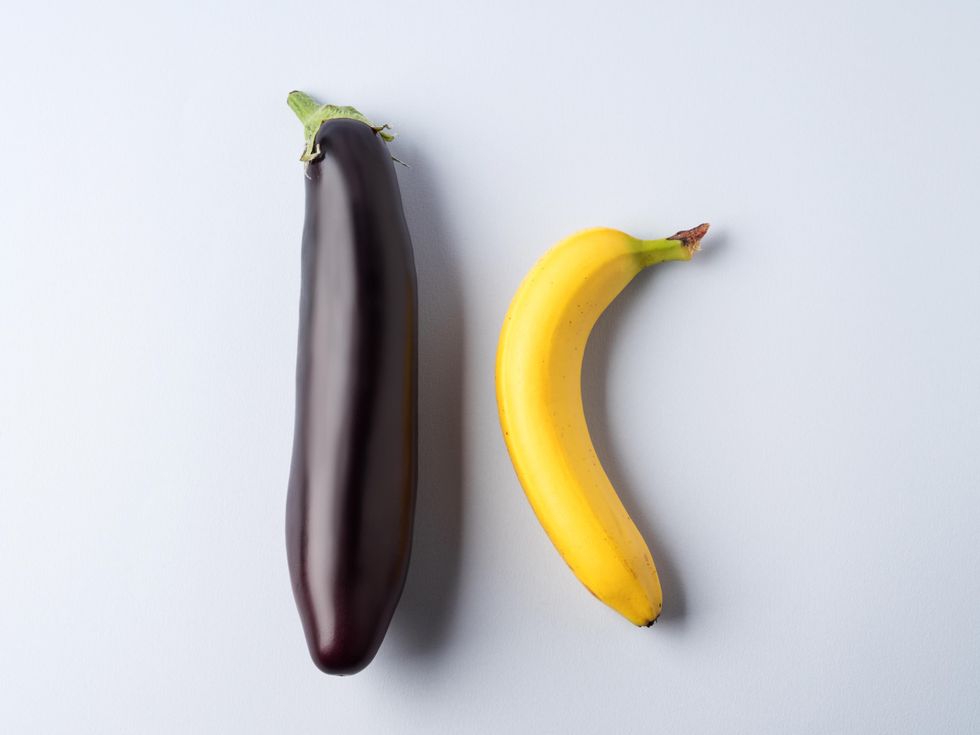 tenkende/Getty Images
Sex With a Large Penis
For some people size really does matter. Although size has no bearing on its ability to give and receive pleasure some people just prefer bigger. The bigger, the better. There's nothing wrong with that, we all have preferences. To each their own.
The Pros of Sex With a Large Penis:
Never will be too small
A lot of men worry about being big enough to please a woman. By now we all know that it's not the size of the boat that matters but the motion in the ocean. Skill trumps size any day, but at least if you have a large penis you won't have to worry about a partner finding you to be too small.
Easier orgasms for some partners
Whether from just the excitement or from actually being stimulated more, some people find it easier to climax with a larger penis. In particular, a thicker penis will provide more of a "stretching" and "filling" feeling. Girthy penises can stimulate the G spot without the use of specific positions or angles. For women a longer penis can also reach the posterior and anterior fornices, which can be very stimulating.
The Cons of Sex With a Large Penis:
Too big
Big penises sound fun on paper but in real life, bigger is not always better. There is such a thing as "too big." That might be a hard thing to accept, and what constitutes as too big differs for each person. Having sex with someone with a too big penis can be painful.

Foreplay and lube are mandatory
I'll always advocate for the importance of foreplay in sex with any size of the penis. There's so much more to good sex than just thrusting of dick in and out. When you have a partner with a larger penis foreplay becomes mandatory. Lube is also mandatory; very few women produce nearly enough natural lubricant to handle the sustained action of a thick penis.
Limited sex positions
Excess length poses a real problem with heterosexual sex: vaginas are not bottomless pits and the cervix at the back end is for most women very sensitive. This means that certain positions like the ever-popular doggystyle are off limits, but sex positions like cowgirl and missionary are better suited because they avoid thrusting too deep.
Featured image by LaylaBird/Getty Images
Two years ago, I hired a dom for my birthday. It was during the height of the pandemic and since I couldn't go outside, I decided to bring the "outside" to me. This dom specialized in choking and considering I'd never experimented with it before, I thought this would be a fun way to celebrate my birthday. Choking had been something I wanted to try for years but was apprehensive about because I didn't want to die. The sex expert in me knows that when done properly choking can be both enjoyable and safe but the human in me computes choking with harm. Plus, if I'm being completely honest, I didn't trust any of my past partners enough to even want to try it. What if they get overzealous and kill me by mistake? No ma'am, no sir, death by choking by way of sex was not going to be the reason I checked out of here!
Choking also known as erotic asphyxiation is a part of the kink known as breath play. Breath play is a BDSM-style activity that involves intentionally cutting off the air supply as a result, the person becomes dizzy and lightheaded. However, when not performed properly choking is dangerous AF and can lead to death. So, if choking is dangerous, why would anyone want to try it and how does that translate to pleasure? This is why I hired a dom, I wanted to find out why people liked being choked. According to a few of my friends, choking can intensify orgasms. During breath play, dopamine and serotonin flood your body, and the release of these hormones contributes to heightened sexual stimulation which is why your brain associates pain with pleasure.
I'm not usually someone who enjoys pain as pleasure. For me pain is pain and pleasure is pleasure. I don't like mixing the two, but since I wanted to explore a new kink safely, I was up for the challenge. If you're curious about being choked, here are several tips I learned from my session with the dom that can help you explore choking safely.
Must Have Consent
​Consent is an agreement between participants and should be clearly and freely communicated before engaging in any sexual activity. Prior to my session, the dom and I discussed expectations, choking safety, my safe word, and hard no's. Consent and discussing expectations are extremely important with breath play to ensure both partners fully understand the health risks involved. Choking is a kind of play that requires trust and is never something that should be done without a thorough discussion first.
Establish a Safeword
Because I'm not creative at all every time I hear the word "safe word," I automatically think about Kevin Hart and pineapples. So the safe word I chose for our session was "pineapples." The dom explained to me that anytime I say the word "pineapple" he would immediately stop and check in with me.
In addition to using a safe word, establish a safe hand signal—mine was a raised fist. Hand signals are good ways to communicate if your airway is restricted and talking isn't possible. Having these safety precautions help both parties feel relaxed and safe. They also ensure that everyone is enjoying what's happening during the sexual encounter.
How To Choke Properly
When it comes to choking, the trick is to aim for the sides of the neck, not the windpipe. My dom placed his hands gently around the sides of my neck just below the jawline. The front of the neck is not built to handle the full weight of another person. Applying pressure here can end up damaging your partner's windpipe, leading to breathing problems and an emergency medical situation. Placing pressure on the side of the neck is where the carotid arteries control oxygen-rich blood flow to your head and brain which will trigger those endorphins.
Speaking of applying pressure, you don't want to start off too rough. My dom started with a gentle grip and asked my permission to apply more pressure. I can't overemphasize how vital it is to start gently — especially if it's your first time experimenting with choking.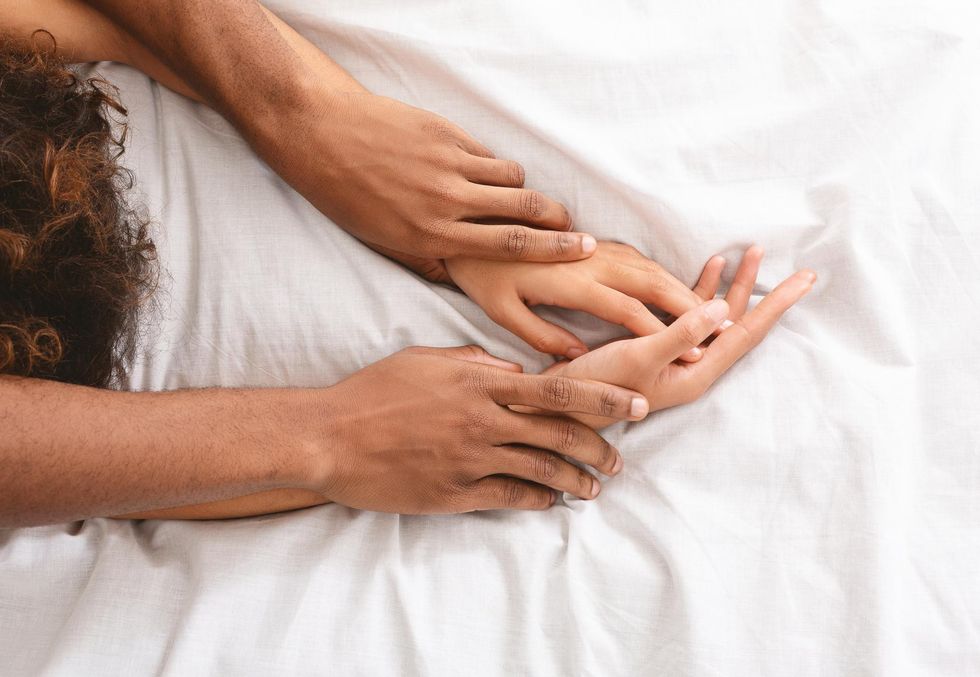 Prostock-Studio/Getty Images
Education is Key
If you want to try choking but don't want to go the route I took and hire a dom, then it's vital that you learn as much as possible before experimenting. The internet can be a good place to turn to if you are serious about getting into breath play. One online resource that can be particularly helpful is FetLife.com, which is the Facebook of the BDSM community, and although it's a social networking site, there are several discussion groups that users can join, and engage in open conversations about interests, techniques, and safety.
Aftercare
After our session, the dom gave me a big embrace and we verbally checked in with each other about the experience. Aftercare is key to every healthy sexual experience. It's the simple step of gently supporting the physical come-down after sex, and checking in verbally. We discussed the session itself, all of my sexy highlights, as well as anything that could be adjusted next time during our next session.
I highly recommend exploring any new kink with a trained professional, like a dom or sex educator. Knowing that I was in the hands of a highly recommended professional helped to ease my anxiety and built trust. I'm also an avid supporter of sex workers. I believe in paying the professionals. Instead of taking the risk with someone who thinks they know what they're doing, I hired someone who could provide receipts. And I'm so glad I did!
Featured image by kupicoo/Getty Images
If sex clubs had frequent flier miles, I would have earned a free visit by now. To say I've gone to my fair share of sex clubs would be an understatement. I've not been to many since the pandemic, but before COVID, I would go pretty often. Sex clubs for me are a place to explore my inner freak with whatever lover I have at the time. I don't have a dungeon in my house, but the sex club up the street does. I visited my first club in 2018. I was both nervous and excited. They were something I was always curious about but not sure how to find. So when a friend of a friend asked me to go with her to one that she found and it was, surprisingly, located just thirty minutes away, I was all in.
This was a "first" for both of us. We were clueless. Even though I had an idea of what a sex club was from watching Eyes WideShut and Real Sex, I still had questions. What kind of sex goes on there? What type of people frequent this club? Will someone I know recognize me? These and a million more questions were running through my mind. I'd envisioned sex clubs to be a big orgy fest with sex everywhere. In reality, it's just a bar where people also fuck.
While COVID and monkeypox are most definitely a thing, if you are considering going to a sex club in the distant future, here are some things to keep in mind.
Look before you try.
To help me and my friend prepare for our wild night of sex clubbing, I visited the club's website. This is a practice I recommend to all newbies because on it they list the dress code, cost of admission, and the theme of the night. Sex clubs understand that people have questions and they want you to be as prepared as possible when visiting their establishment. Checking out a club's website is a great way to get a sneak peek into the experience and figure out general information regarding what the club has to offer, its rules, etc.
Dress the part.
The club we attended had a sexy lingerie theme. Luckily for me, I already had a few pieces of sexy negligee in the closet so there was no need to buy anything. I decided to go with something that was cute yet simple. I didn't want to do too much or be too flamboyant on my first visit. I wanted to blend in while being comfortable. Nothing is worse than thinking you're cute but having to adjust straps and hooks all night.
It's important to note that you can't wear lingerie to the club. You have to bring a "main outfit" and change into sexy lingerie once inside. My main outfit consisted of a cute "City Girls" dress—you know the kind: short, tight with my titties sitting right. Your main outfit should be an outfit you'd wear to a regular club or bar. Pick something exciting yet sexy. Just like in regular clubs, first impressions matter.
Feel your way through.
My friend and I made sure to get there early! We wanted to allow ourselves plenty of time to get acclimated. For a newbie, going to a sex club can be a bit of sensory overload. The surprise isn't so much about all the other couples or singles, but about the reality of the atmosphere compared to what your imagination conjured up. Show up early, and chat with the bartenders or hosts to get a feel for what the place is like. The club we went to gave us a tour, which was extremely helpful. It gave us an opportunity to ask questions and come up with a plan of action. I made mental notes of all the things I did and didn't want to try.
It's different strokes for different folks.
That night, I had zero sex. I just watched and took it all in. At a sex club, you can do as much or as little as you like. It's a common misconception that you have to have sex. In the words of my momma, the only two things I have to do in this life are "stay Black and die." This same sentiment holds true when attending sex clubs. In fact, some people never engage in sex at these establishments. Some people enjoy the voyeurism thrill of watching people have sex, while exhibitionists enjoy having sex in front of others. There are also people who are a mixture of the two.
The important thing to remember is that you control what happens, no one will force you to do anything you don't want to do. Oh yeah, and bring your own shit, too! Even though I didn't engage with anyone on my first visit, I was prepared just in case. You won't have to get ready if you stay ready, period! I had a bag packed with sex toys, condoms, and lube. Most sex clubs have condoms on deck but I still like bringing my own.
After people-watching and mingling for hours, my friend and I called it a night around 2 a.m. I went back several times after that without her and each time was better than the time before. Guess you can say I was hooked.
Sex clubs are truly what you make them. I think everybody should visit a sex club at least once because they truly have something for everyone who is willing to get out of their comfort zone. But as always, if you do wish to partake, stay safe out here.
Featured image by Juan Algar/Getty Images
When was the last time you held a mirror and took a good look at your pussy? I mean a real hard look at it. What does she look like? Is your vagina normal? Several years ago, I received a DM from a young lady asking me this very question. She wanted to know if her vagina looked "normal." She went on to explain that her pussy wasn't as "pretty" as the ones she'd seen in porn and how insecure that made her feel. I can totally relate to her insecurities. I couldn't begin to tell you how many jokes I've heard over the years from men about women and their vaginas. I would be lying if I said I've never pondered the same.
At one time or another, I think all vagina owners have been self-conscious about how things looked down there. Ultimately, no matter the gender of the person we're engaging with sexually, we want them to look at our pussies and be in love. I want every lover of mine to see my pussy and be in awe of its beauty. My pussy is beautiful and you should love it because it's mine! Vaginas are like snowflakes: They all may be anatomically similar but no two pussies are exactly the same. Also, I would soon learn that even though my pussy is unique to me, it had a few doppelgangers out there, too.
Two years ago during the pandemic lockdown, I participated in a "Virtual Pussy Show & Tell" workshop where I plastered my pussy on a Zoom camera for all to see. The intent of the workshop was for women to get an up-close-and-personal view of other people's pussies. Up until that moment, I'd never intensely looked at someone else's before. There's been the occasional changing of clothes in front of friends and shower room situations, but I'd never had pussy all up in my face until that workshop.
One by one, women of all races and backgrounds showed their pussies on a Zoom call to complete strangers. From this experience, I got to see all the beautifully different styles and shapes the vagina had to offer. I also noticed that even though everyone's pussy was uniquely different, a lot of them looked very similar to one another.
Betty Dodson, sex education pioneer and the originator of the "Genital Show & Tell," started identifying the different styles of pussy back in the '70s. She categorized pussy into one of six styles: Classical, Gothic, Modern, Renaissance, Baroque, and Heart.
The Classical vulva has symmetrical inner and outer labia and a moderately sized clitoris.
The Gothic vulva has an elongated clitoral hood and the dramatic draping of the inner labia.
The Modern has a large clitoris, sleek lines of the labia, and vaginal opening.
The Renaissance vulva has ruffled inner labia that drape down from the clitoral hood like beautiful fabric.
The Baroque vulva has a labia with several scallops and turns and the unique hood folds over the clitoris.
The Heart vulva makes a heart shape when the labia is pulled to the sides.
Seeing all these similar yet uniquely different pussies taught me there is no such thing as a so-called "normal" vagina. All pussies look like pussies and no matter the shape or "style," there is someone else with a similar-looking one. So, the next time someone asks me whether their vagina is normal, I am going to say, 'Yep, it's normal for you!'
Featured image by Christopher Pedraza/Getty Images