Ashley Cobb
Ashley Cobb is an Atlanta-based sexpert, blogger, and HIV Activist known for her fun, down-to-earth and practical commentary. Her work has also been in Essence, Madamenoire, and other publications on the internet. Follow her on all platforms @sexwithashley.
Being on top used to be my least favorite sex position. Call me a pillow princess, but I preferred my partner to be in control, and being on top puts me in the driver's seat. Additionally, riding is exhausting and intimidating. Once I realized cowgirl was the ultimate way to take control of my pleasure, my perspective changed. It turns out you don't have to have Megan's knees to ride, in fact, there are several knee-friendly riding techniques that are both comfortable and pleasurable, and also provide mind-blowing orgasms.
Known for its versatility and popularity, the cowgirl position allows the person on top to control penetration depth, intensity, and thrust angle. For most women penetration alone rarely leads to orgasms, but in this position, you have full control of the penetration. In cowgirl, there are many options for stimulating clits by manipulating positions. Your partner might know your body and how to satisfy you, but you are the only one who knows exactly when to push deeper, faster, or "a bit to the left!" Being on top also allows you to replace shyness with sexiness.
On top, you're in your partner's line of sight, which can make anyone feel shy. Nevertheless, if you follow a few hints and tips, you can ride him like a rodeo without getting tired or hurting your knees and finally throw your shyness out the window.
Rock instead of bounce.
It's common for the person on top to bounce violently up and down for what feels like an eternity in porn. Porn, however, is entertainment, not life. While bouncing is great, rocking back and forth can allow you to explore more angles and sensations, and it's better for your knees. When you're rocking instead of bouncing, it's easier to involve your clit. In the beginning, it can help you get used to sex on top by grinding rather than bouncing. Straddle your partner and lower yourself onto their penis before slowly rocking them back and forth as they lie flat on their back.
Use pillows for support. 
You can add pillows to kneeling if it becomes too hard on your knees. By propping a pillow underneath both knees, you can bounce more easily, and you will cover less ground. Using sex pillows or wedges, the receiving partner can draw the penetrating partner deeper inside by placing one under their booty.
Put it in reverse. 
The reverse cowgirl (where you are in the same position, but with your back to your partner) is another option. You will be able to bend over and let your knees loosen a bit, as you can control the movement with your hands - placed on your partner's thighs. When you do reverse rider on your knees, you can easily shift your body forward and back to find the right position. In addition, it allows your partner to see your booty, which is always nice to see. Similar to the traditional cowgirl position, reverse cowgirl gives you total control over how you move.
Leaning backward will give you more space to stimulate your own clitoris. It can be done with your hands or with an external sex toy like a vibrator. If you're into booty play, this will give your partner all the access they could imagine to give it some love.
Let him do the work.
Being on top does not mean you need to ride them all the time. There are positions that require them to do some of the work too. For example, lay on your partner while they move their hips, or squat above them while they work. The point is, being on top doesn't mean it's all about you doing the work. Ask your partner to move you around if you're new to cowgirl or need a little guidance. Try out different movements, speeds, and penetration levels that feel good to you both so that you don't have to be the one coordinating everything.
Use a chair.
Using a chair for cowgirl is pretty straightforward. You're doing classic cowgirl just on a chair. Ask your partner to sit in a chair the same way as they normally would. There's no need to seek out a chair that's uncomfortable and relatively wide-based for this, but climb on top of your partner as soon as they're seated, straddling them. Your shins can rest along the outside of your partner's legs if your chair is wide enough. If it's a tighter squeeze, you may have to rest your feet and shins along your partner's thighs.
Once you're there, your partner can lean back or pull you in close—and you can do the same. You can grind forward and backward, slide up and down, as you normally would. Just make sure the chair is sturdy enough so it won't fall over as soon as things get started.
Featured image by David Jakle/Getty Images
Boobs are pretty awesome if you ask me. Whether big or small, perky or slightly saggy, real or surgically enhanced, they are a lot of fun to play with and quite arousing. Depending on the person, breast play can be either foreplay or the main event. Breast play is an act of touching, rubbing, or sucking on nipples during sex. It involves fondling a woman's breasts or even a man's nipples.
There are a lot of women who really, really enjoy breast play so much that they can reach orgasm through nipple stimulation alone, while others need breast play in conjunction with genital stimulation. According to a study in the Journal of Sexual Medicine, sensation from the nipples travels to the same part of the brain as sensations from the vagina, clitoris and cervix. How cool would it be to learn how to please your partner by simply playing with their breasts? Well, lucky for you, I have some techniques here to get you started.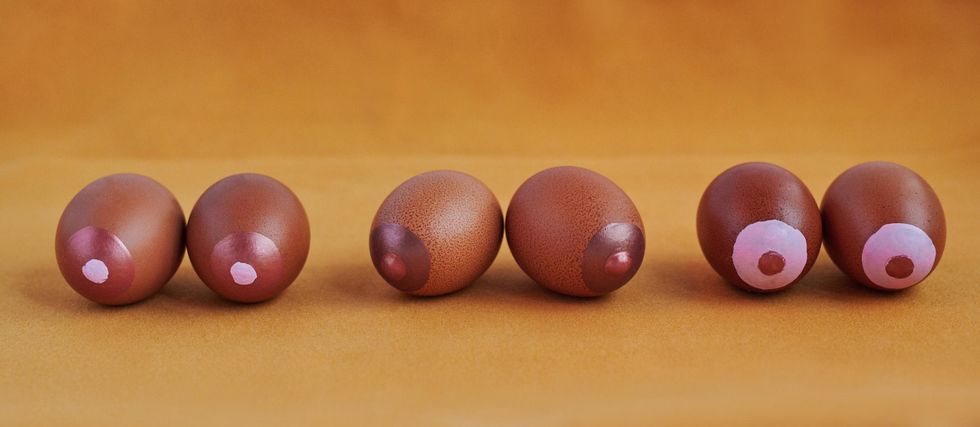 Getty Images
​Focus on the areola.
Areolas surround the nipple and are more sensitive than the nipple itself. You should focus on the upper quadrant of her breast, between 10 and 2 o'clock. It's the most sensitive part of the bull's eye. Stroke the nipple and circle the areola gently with a finger, or circle the nipple with your thumb and forefinger.
​Use your mouth...
If the nipples are erect, use your tongue to draw circles around them. You can alternate between licking and sucking the nipple. Use your lips, tongue, and teeth, as well as your hands to lick, suck, and nibble on them. Use your tongue to flick the nipple a few times before slowly and gently taking it into your mouth. You can also get some temperature play going by licking a breast and lightly blowing on the moistened spot. Start gently, and gradually increase the pressure until you find what works for your partner if he or she enjoys a lot of pressure.

​But, don't bite.
Never bite someone's nipple without consent. Nipples are sensitive AF and everyone doesn't think pain is pleasure. You do not want to interrupt a good time by doing that. Before nibbling or pulling on her nipple, ask, "Do you want more?" or "Harder?"
​Build the intensity.
Nipples are similar to clitorises: some people can barely stand direct contact, while others require strong pressure. Just like the clitoris, it's best to begin gently, then work your way up to more pressure. If they want more intensity, gently pinch the nipples between your thumb and forefinger.
You can gradually increase the pressure, and ask them to let you know when it goes too far. You can also gently twist the nipples, but be careful with this move since it's pretty intense. You can also cup the breast in your hand and gently pull on the nipple with your thumb and forefinger.

Don't forget the toys.
For new sensations on the breasts, you can use vibrators or feather ticklers. Silk ties or scarves can feel great too. If your partner prefers intense nipple play, you can buy nipple clamps or suckers. In addition, you can blindfold your partner and use different toys or materials to touch It. You can also apply lube or massage oil to help your hands really slide around on their breasts.
​Combine breast foreplay with clitoral stimulation.
In order to achieve the best nipplegasm, combine nipple stimulation with stimulation of the clitoris. Start stimulation through your mouth while simultaneously using your hands or a sex toy like a vibrator to tease the clitoris.

Featured image by Adene Sanchez/Getty Images
In my opinion, New Year's is the best time to start over. I love the first of the year because it inspires me to dream big again and to recommit to goals I didn't achieve the previous year, like getting back into the gym, eating healthier, and reading more books. New year resolutions help us become better versions of ourselves. But how about our sex lives? We rarely think of including our sexual lives in our new year resolutions.
A study by EdenFantasies found that one-third of Americans in relationships are unhappy with their sex life, which tells me more people should make sex a part of their resolutions. Sex resolutions are just like regular resolutions. You make them after reflecting on the past and deciding how you want things to be different in the future. A good sex resolution is one that makes sex more comfortable, pleasurable, and exciting. This could mean taking a whole new approach to the bedroom or just swapping out some old toys for new ones.
This year along with my usual New Year, New Me resolutions, I'm including resolutions that deal specifically with improving my sex life and I want you to add some too. Here are some sex resolutions we all can incorporate this year to have a better more fulfilled sex life this year and for years to come.
Featured image by blackCAT/Getty Images
The most enjoyable part of sex for me is getting my pussy ate. It's a widely known fact that eating pussy is the most reliable way to make a person with a vulva orgasm. According to a 2017 study published in the Journal of Sex and Marital Therapy, only 18% of vulva owners can orgasm solely through penetration. To climax, the rest need clitoral stimulation, and eating pussy puts the clitoris in the spotlight.
But what if the person you're with doesn't know what they're doing down there? Like with any sexual act, eating pussy can be taught. From incorporating toys to trying different positions, to using your tongue in unique ways, there are many examples of how to improve your oral sex technique. However, I believe the best tips for eating pussies come from people who have them.
So I asked around for tips from real women on how to have amazing cunnilingus. This is what the women I talked to had to say.
1. "Start slowly unless I indicate otherwise."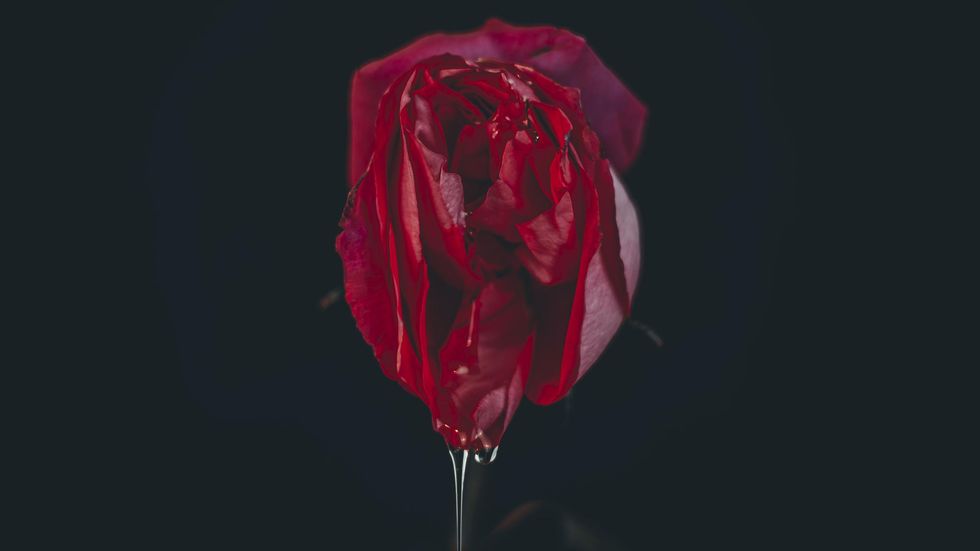 Kateryna Hushylo/ Getty Images
2. "Oral health matters. I have patients who frequently have yeast infections and bacterial vaginosis because their partners have terrible oral care."
3. "Eat it like a very ripe mango (like when it's a 'lil mushy) but more softly and only with your lips and tongue."
4. "Lift the [clitoral] hood! Start slow, don't be too aggressive. The clitoris [says] please and thank you."
5. "Don't go straight for the clitoris. Warm her up. Kiss the lips like they are on her face; lots of tongue and saliva. Suck everything; lips, clit...all the things."
6. "Circle your tongue at the opening of the vagina. Slowly, like [you're] looking for something— get lost, King."
7. "Trigger points are apparently on the mons [pubis]... I was shook and I don't know what she did, but babayyyy."
8. "If you not suffocating a little bit and gotta come up for air, you not doing it right."
9. "Never underestimate the power of slipping a finger or two inside her (thoroughly cleaned) to help with the fun."
10. "Be tf soft! Soften that tongue, them lips, that finger, all that shit. Make it soft!"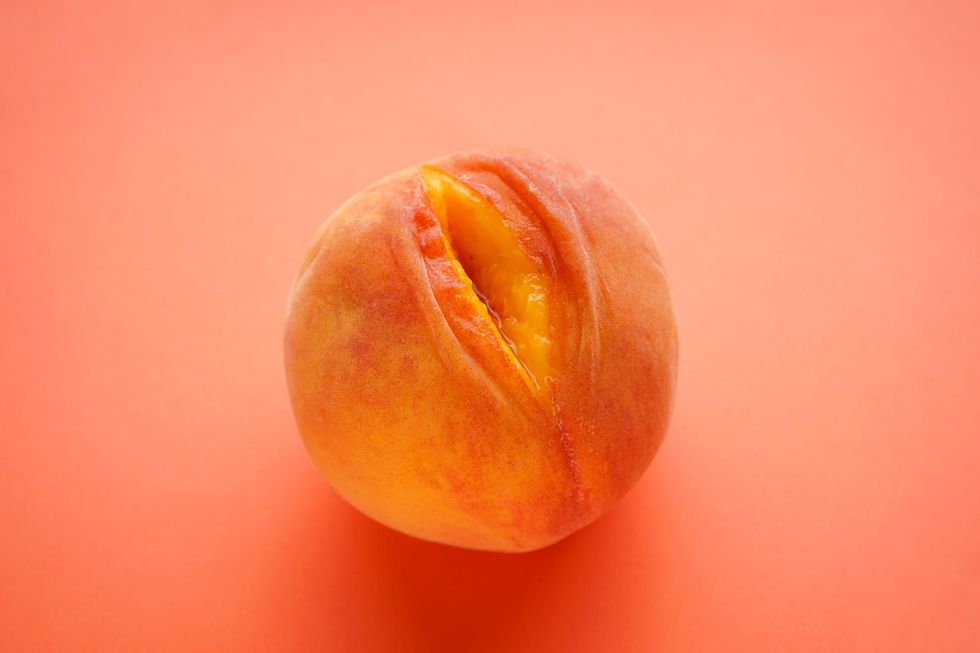 Volodymyr Bushmelov /Getty Images
11. "Every vulva you meet enjoys a different way to be a tasty treat. So ask your partner if you truly don't know which way to go. Beginner tips: suck the clit, the vagina, and lick the lips. Oh, and make it juicy. Nobody likes dry lips."
12. "Please be patient! The climax will not be instantaneous and typically will not happen expeditiously. In addition, if she says she's almost there… DO NOT change that motion/sensation/stroke/whatever…'cause then you gotta start again to build [it] up.:
13. "Build up before going down on her. Don't go all in. Slow down. Use your hands. Tell me I taste good, encourage me, grab my belly, my thighs, move what you gotta move out the way, and do it with honor. Don't stuff her like a chicken. Tell her to come hither."
14. "Listen to your partner, and pay attention to not just words but what the body responds to. Ask questions like 'What do you like?' 'What feels good?' Also, eat it like it's your last meal."
15. "For the love of everything that is good, please flatten your tongue!"
16. "When I say, 'Ooh, right there. Don't stop.' That means wherever your mouth is, don't stop licking right there."
17. "Ask. What. She. Likes. Can't fail if you ask the teacher for the answers."
18. "Wipe her off with a warm towel when she's done."
19. "The best combo is to lick and suck slightly like you would spaghetti noodles. Put the clit in your mouth, roll it around your tongue clockwise, rinse and repeat…"
20. "Enthusiasm is key!  Be aware of your partner's pleasure responses and wetness. When you hear moans—do more of that. Lick, slurp, suck, kiss. Enjoy yourself while enjoying your partner enjoy you."
Let's make things inbox official! Sign up for the xoNecole newsletter for daily love, wellness, career, and exclusive content delivered straight to your inbox.
Feature image by Harbucks/ Getty Images
I have a pussy mold. Similar to expecting moms getting molds of their bellies, I got a mold of my pussy. Artist Andrew Prince, the owner of 3D Perceptions, specializes in lifecasting and I discovered his profile through Instagram's discover page. Lifecasting produces three-dimensional replicas of a human body by molding and casting techniques. Some of his best work was featured on his Instagram page, which has since been deleted.
His lifecast pieces included butts, breasts, vulvas, penises, and a few full-body casts. Among my favorites was the full-body cast of two lovers intertwined in a sex act. After falling in love with Andrew's work, I DM'd him to inquire about having my mold made.
The Man Behind the Mold
Andrew operates out of his garage in Huntsville, Alabama. It is filled with plasters, Hoyer lifts, benches, and everything needed to create the dynamic works of art he creates. Andrew, a NASA engineer by day, explained that he became interested in molding after he constructed a 3D volcano with his son for a school project. Lifecasting was born out of curiosity after he made a mold of his former girlfriend's ass to sell on Etsy.
Nowadays, Andrew sells his pieces in art shows around the world. His work has been exhibited in Las Vegas, Erotic Art Shows in Seattle and Detroit, as well as in London, England. Depending on the piece, his art sells for $300-$3500. If you prefer to do your own casting, he also sells at-home kits for $60.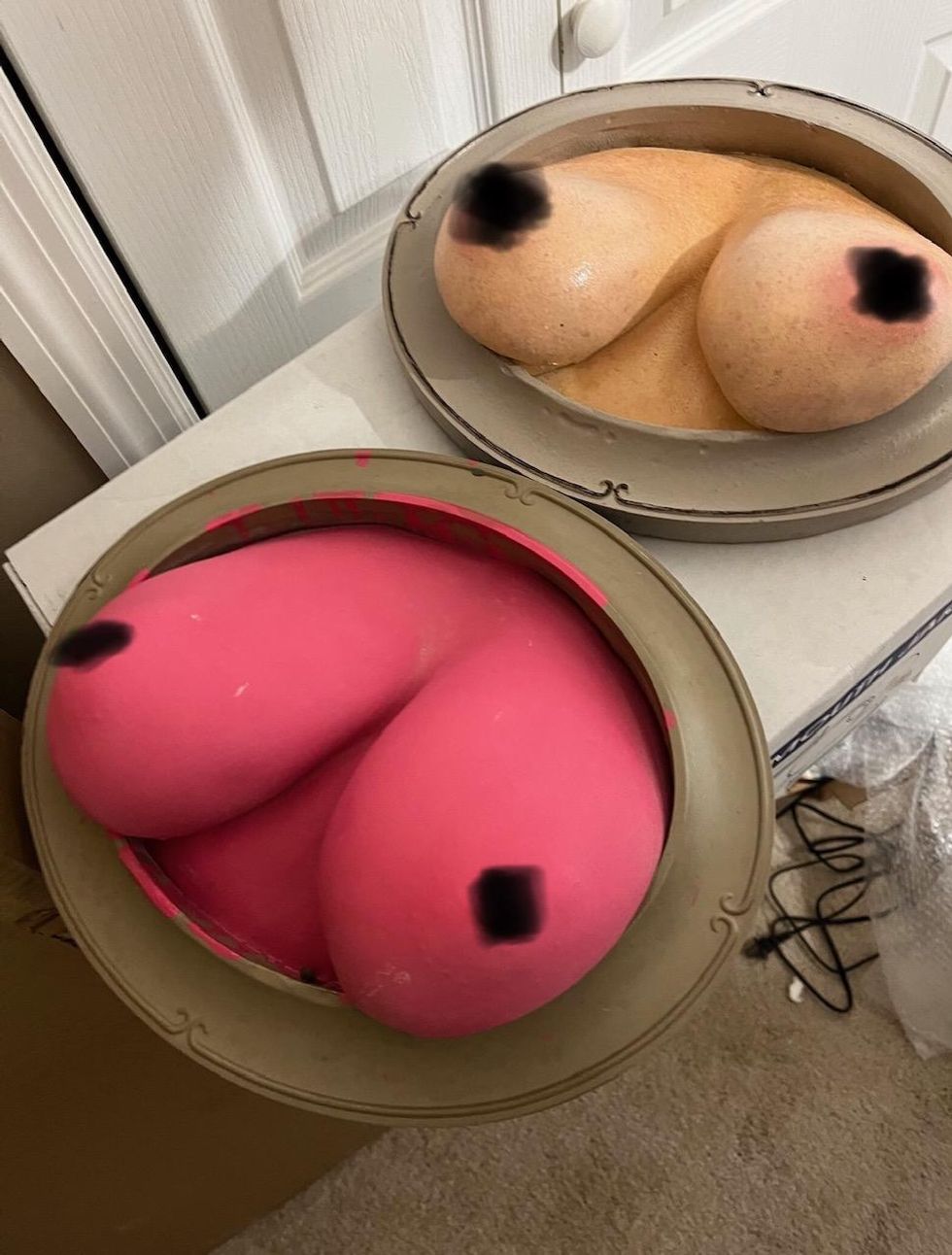 Courtesy of Ashley Cobb
The Process
Usually, Andrew finds his models through Craigslist or word of mouth, rather than on Instagram as he did with me. Because his art pieces are so time-consuming and can require some flexibility, modeling for Andrew isn't an easy task. The entire process takes about 40 minutes. Essentially, I had to lay perfectly still for nearly an hour with my legs in stirrups, similar to a Gyno visit. I'm not sure about your legs, but my legs aren't used to holding that position for more than ten minutes. Talk about a workout!
He began by layering my pussy with an all-natural seaweed-type lubricant used as an alginate. The alginate also added a layer of protection between the plaster and my vulva. Pussies are sensitive and we can have plaster getting into them throwing off pHs and shit. He then added plaster and plaster bondages layer by layer in a similar manner to paper-mâché. There was a lukewarm, creamy texture to the plaster, similar to yogurt. As the plaster sets, it becomes slimy and feels like firm jello as it warms up.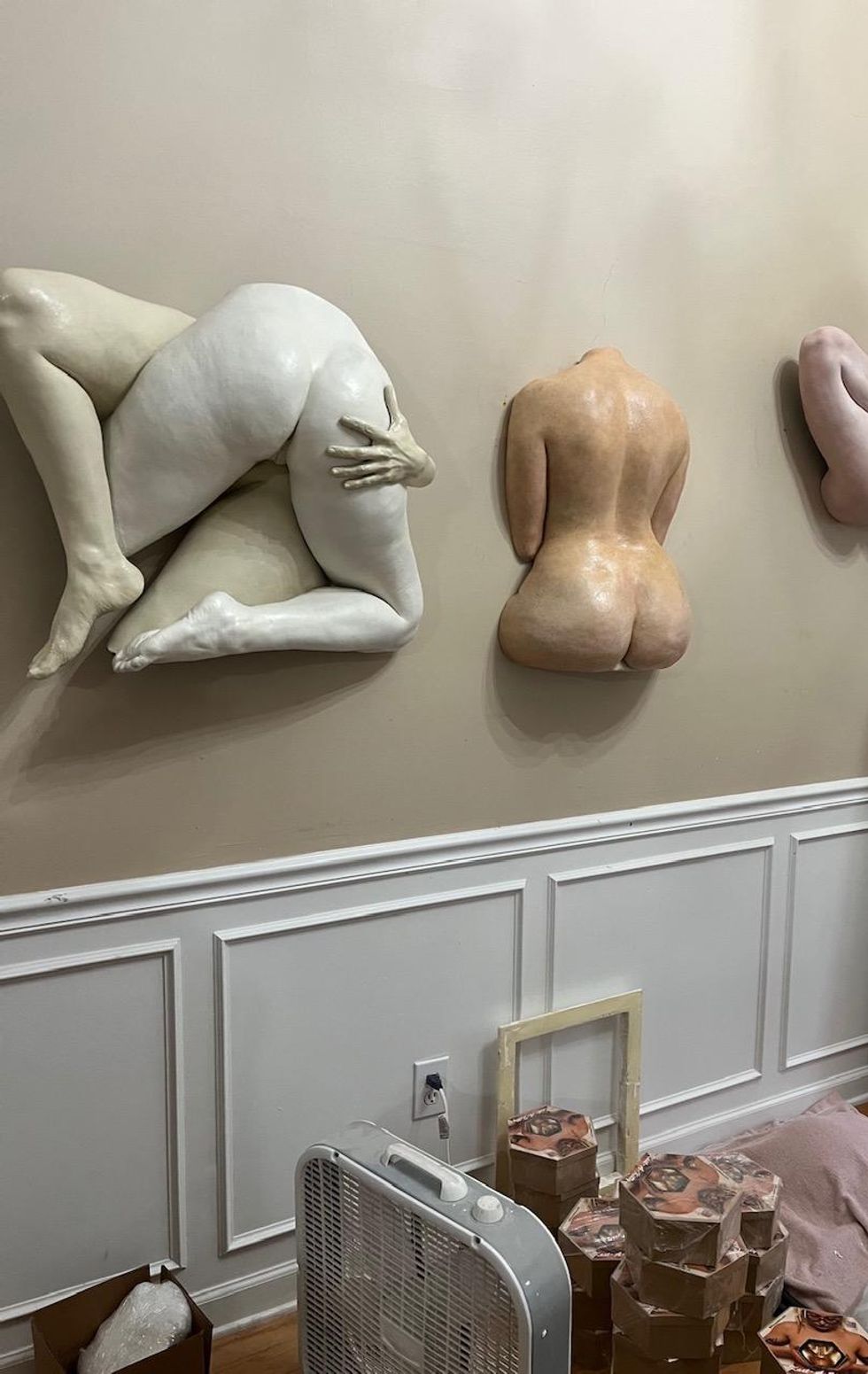 Courtesy of Ashley Cobb
The Result
Once completely set, Andrew eased the plaster off of me. Since it wasn't sticky, it slipped right off. As Andrew de-molded, sanded and detailed my pussy mold, I went to the bathroom to wash off any remaining plaster. Typically, it would take Andrew several days to weeks to complete his molds and get them ready for sale. However, because I wasn't selling mine, he completed it in a few hours.
I'm still not sure what I'm going to do with my pussy mold. I may paint it and hang it up on my wall. But then again, do I really want everyone who comes to my house looking at my pussy?
To find out more about Andrew and 3D Perceptions, visit www.etsy.com/shop/3DPerceptions.
Let's make things inbox official! Sign up for the xoNecole newsletter for daily love, wellness, career, and exclusive content delivered straight to your inbox.
Feature image by Harbucks/ Getty Images
Do you know how to give a blowjob? Not just any blowjob, but an amazing blowjob? Three 6 Mafia had a song out when I was in high school that suggested giving great head was as simple as slobbing on the knob like corn on the cob, but it's much more involved than that. Giving a great blowjob ain't easy. To quote Samantha from Sex and the City: "Teeth placement, and jaw stress, and suction, and gag reflex, and all the while bobbing up and down, moaning and trying to breathe through our noses. Easy? Honey, they don't call it a job for nothing."
Giving a blowjob can be intimidating but it can also be very enjoyable. Like with all things, the science behind the perfect blowjob is practice. It makes perfect. Below, you'll find 9 blowjob tips from sex experts that will make you a blowjob pro in no time.
Featured image by Caroline Woodham/Getty Images