---
Living in Los Angeles, I've learned quickly it is definitely a workout city and everyone has their thing. From trap yoga to high yoga, hiking to HIIT, pilates to crossfit to biking on Venice. There are endless places and types of workouts to do here and I have yet to find my niche went it comes to fitness.
When my friend Angel first told me about Evoleros, her exercise studio that combined yoga with fitness and sexercise, I nodded along but I really didn't get it. She went on to explain that her classes were a way for couples to become more fit while learning new sexual positions to spice things up in the bedroom while building intimacy. With their motto of "Couples that workout together stay together & have better sex," I was intrigued.
When she asked my husband and I to take a free private class, I agreed but had no idea what to expect as we walked into her studio.
The studio was dimly lit and the mirrors that lined the room were accented with blue lights, creating a sexy atmosphere. That, along with the soft music that played in the background, helped set the mood. We removed our shoes and positioned ourselves on our mats as Angel began to instruct us. Within minutes, I knew this was no fu fu workout.
After stretching, she had us do different workouts together as a unit. We did sits ups facing each other, where we would kiss after each sit up, and push ups where we would clap hands after. The physical touches that we did while being physical tapped into an energy I didn't know exercise could hit. Despite the inevitable workout pain, it was a pleasurable experience to be able to work out with my husband outside of a crowded gym in a sexy one-on-one environment.
After a lengthy warmup, my husband and I both looked at each other knowingly. We were ready for the sexercise portion the Evoleros experience promised.
Angel read our minds.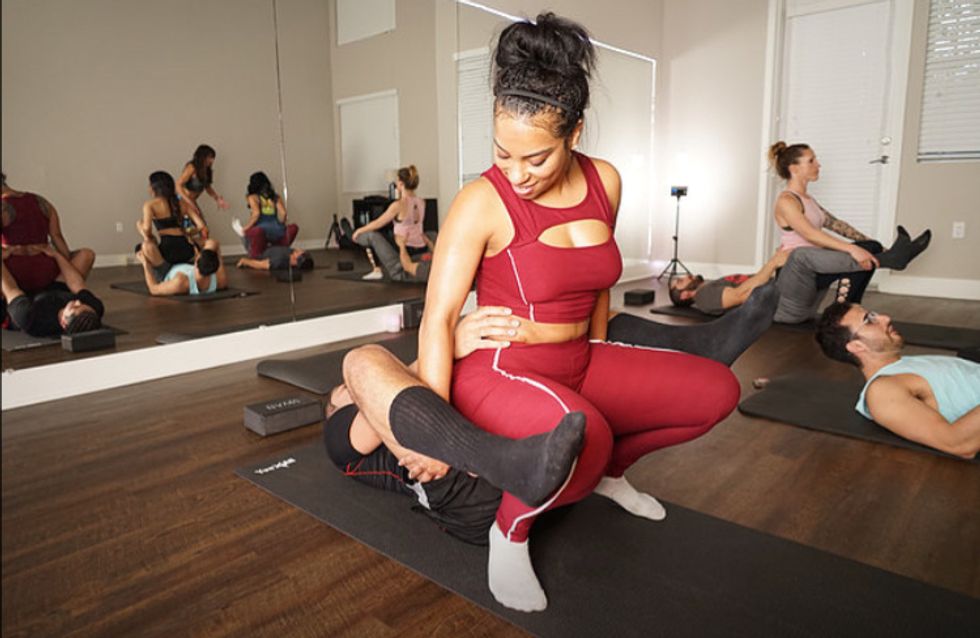 EVOLEROS
After the beginning warmup, we did yoga poses together and workouts that prepared our bodies for the sexual poses, aka the sexercise portion of the workout. The mission behind sexercise is to do fitness exercises that strengthen your body while giving you stamina for different sexual positions, aside from the usual few positions most couples pull out in the bedroom as their default moves. Being that it was our first class and we are not being active members of #teamyoga or #teamfit, we took a more beginner's class where the exercises and sexual positions were more catered to our fitness level.

We tried a few different sex positions. Some were more basic ones like reverse cowgirl but there were also newer ones like the the arc, where I straddled him and basically bent completely backwards while keeping my waist on his; the wheelbarrow which is just as you'd imagine. In the position, my husband stood up on his knees from a seated position and I held my arms on the ground while my legs were wrapped around his waist. We also tried the lotus, which was a very easy one where I sat on top of him with my legs straddled around him.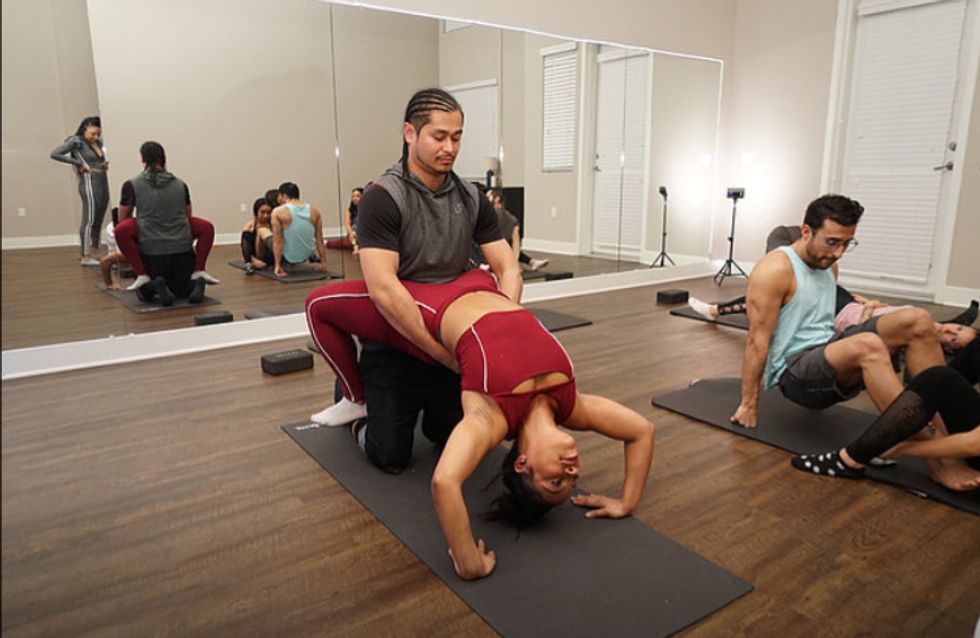 EVOLEROS
In each position, we had to hold it for up to a few minutes after each workout. Some were definitely more comfortable than others. The wheelbarrow was really fun, but the arc definitely requires a level of flexibility I have yet to master. Some of the moves were hilarious for us to maneuver into after having a few shots before the class. (Don't drink before working out guys.) Laughter also made the whole experience more sexy for us. I caught my husband giving me the eye quite a few times, which made us want to ditch the class and head home for the real workout...
After taking quite a few breaks, learning a few new moves for the bedroom, and getting an amazing workout in with my husband, the hour-long session was up, and we survived our first sexercise class. All in all the class was fun, sexy, and is definitely something I would recommend to married couples who want to add some spice to their life while becoming more active in general.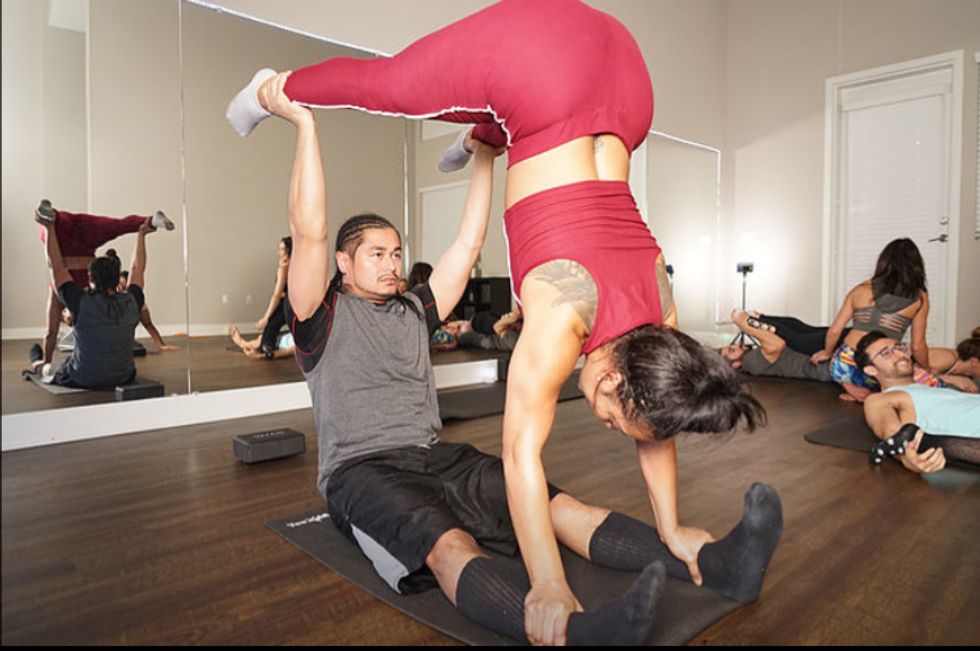 EVOLEROS
I'm still searching for my thing when it comes to a workout I can be consistent with, but this is definitely a class I will be taking again and tips I will be using in the future when it comes to working out in and out the bedroom!
If you're in LA and want to learn more about Evoleros, you can visit the website here https://www.evoleros.com/ or check out their IG @evoleros_studio.
Would you take a sexercise class?
xoNecole is always looking for new voices and empowering stories to add to our platform. If you have an interesting story or personal essay that you'd love to share, we'd love to hear from you. Contact us at submissions@xonecole.com.