---
This week's episode of Insecure gave us all the Memorial Day weekend feels with Molly and Andrew's tropical baecation. It was just the boost we needed after Issa's failed attempts at "getting over" their friend fight that left off with her walking away from a Molly confrontation.
But back to Sunday's episode, "Lowkey Trippin'" that gave us palm trees, mile-high club, bikinis, balcony sex, umbrella drinks, a 50 Shades-level bedroom scene (Thank you, HBO) and made me miss catching flights and feelings.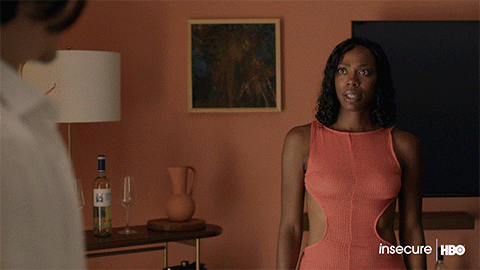 media.giphy.com
Here's what you need to know…

After a week-long wait, we finally got Molly's POV who seemed to be "getting over" the friend fight a bit better than Issa because, hello, baecation. Things got HOT between Molly and Andrew in Mexico, like sex-toys-and-tossing-the-salad HOT. Their bedroom playtime got off to an awkward start since Molly and Andrew had very different ideas of how to spice things up. Eventually, though they got on the same page.
When discussing these sexy scenes with my friends, the overall consensus was that communication is key. Andrew and Molly clearly had very different ideas what "spicing things up" meant. Although short-lived, the awkwardness could have been completely avoided with a quick convo. I know I'd want to be warned if my travel buddy was walking around with a secret sex arsenal that included butt stuff and handcuffs before we get to the bedroom. I'm all for spontaneity, but not when it comes to butt stuff. Let's have a conversation. As for a time frame, I don't do anything by a specific schedule. If it feels, it feels right.

But that's just me and everyone approaches butt stuff and other kinks on their own terms. So, I asked Insecure fans this:
At what point in a relationship do you spice things up in the bedroom? How do you do it?
Communicate. Communicate. Communicate.
"I think when it comes to 'spicing things up', you have to first communicate if there is anything that is lacking or if both parties' needs are being met. Especially if the relationship is new, why isn't it exciting anymore? After that, I think it's fair game to introduce toys that will add to the experience. It's all about what people are comfortable with." –Sherryll Morton
Keep The Toys Charged For Go Time
"Well, I think there should always be a healthy dialogue about each other's sexual desires. After years of being with the same woman you got to be honest in what you want. The things you watch in private, the thoughts etc. Try to recreate them. There is no specific time where it should be spiced up.
"However, places out of the norm usually gives a thrilling sensation. Why do the same things over and over?
"The bedroom is always going to be there but how often are you on a boat ride, or in a crowded store or in another country with a background only seen in screen savers? Tie me up, spank her, make sure the toys are charged and blow her back out." –James Cameau, Patient Advocate
Have The Sex Conversation BEFORE Sex
"Oh boy, oh boy! You should always be spicy in the bedroom. I think we should be having the sex conversation BEFORE we have sex. Talking about the things we like sexually allows us to decide what's too much for us or what piques our interest.
"In the past I've simply bought toys or games to enhance the sexual experience between me and my partner. It could be something as simple as warming lubricant oil or something more kinky like rope. Either way you have to create a safe space for your partner, set a sexy mood and create a stimulating experience. Get some sex dice, light some candles, roll and go." –AmiyahDeziire, Author, Midnight Confessions
Keep It Spicy From Day One
"From day one, gotta keep 'em guessing. If you start doing extra shit later you're admitting that the relationship has gone stale and need to be shook up. You can't fix it when the thrill is gone." –Michael Gordon, Freelance Videographer
Don't Wait For Things To Get Stale
"I don't think there is a specific time frame or a certain relationship level. I think that if you are comfortable with the person that you are with, there's always room to try new things.
"There's always this 'Oh, I'm not doing that until I'm married' or 'That's reserved for my man'. When having a deep sexual connection with someone (no matter their title), there's nothing but space and opportunity.
"But if we are speaking in terms of a relationship, I think that you should always feel free to try new things. Don't wait for things to get stale." –Ashlee Graham, Senior Producer, BET Digital
Don't Be Scurred
"This episode was very interesting, yes, but not as kinky as the writers were making it seem. From my point of view, I would say that those items that Andrew had with him on the trip with Molly are definitely the basics and a necessity for sure in any bedroom. That's just me, of course, everyone has different styles, but I like the direction Andrew was headed in [laughs].
"If I had to put a time stamp on when to introduce my style and kink level, I would have to say in the first three months for sure. Again, that's just me. It may sound too fast to some, but I think it's more so about not wasting time and being progressive. It's based on the person you're with, yes, and once y'all reach that point where sex is involved, soon after the talk about preferences can be introduced. Why wait? I think being pleased is the main goal, and what better way to get more satisfied than expressing what you like and don't like with your person. Don't be scared. Tell them what you want and save yourself wasted time with the same old routine." –Sgt. Simone Victor,U.S. Army
Want more stories like this? Sign up for our newsletter here to receive our latest articles and news straight to your inbox.
Featured image by Insecure/HBO