---
After reading Eureka Calhoun's xoNecole article "How I Healed My Uterine Fibroids the Holistic Way", I began to think more about my vaginal health. Like many women of color, some of us suffer from the harsh realities of having fibroids. I am one of those women. As someone who doesn't have kids, I became paranoid and afraid of the possibility of ever carrying a baby full-term. Every doctor I have visited has given me the same solutions to a never-ending problem.
At the time, I felt like having a fibroid was a death sentence. I was preparing my mind to endure the emotional roller coaster of having infertility issues.
One of the running themes many OB-GYNs will say is, "Let's just see what happens." After paying a copay, the last thing I want is for my medical provider to twiddle her thumbs looking at the clock. That isn't reassuring enough for me. After talking to different women and reading a slew of articles, I found simple ways to take my power back.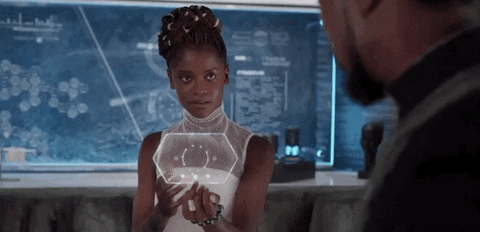 Product Overhaul
In 2016, an OB-GYN suggested I get an IUD to help maintain my fibroid size. At the time, it was "5 centimeters". (I put that in quotes because that seems to be the initial size they give all women when it's discovered that they have a fibroid.) We are all different from all walks of life, and we all have the same size fibroid? That was a red flag for me. As I've gotten older, I've given up belief in solutions like synthetic hormones, which are what birth control produces. I'm not here to preach to you about my morals and values. I'm here to present different alternatives so your vagina can be happy and healthy.
No matter what you cut out of your diet, how many crunches you do, and how many thoughts you have about going vegan, many women don't consider how many of our feminine products are harmful to us. We, as women, have introduced our bodies to so many toxins that they're almost hard to count. We have to be cognizant of what we are putting on and in our bodies.
A straightforward product can throw a wrench in your pH balance. My challenge to you is to read the ingredients in all of your products and Google what you find. For example, I've been using a particular brand of panty liners for years, and one day, I decided to pull out the packaging and look for the ingredients. I found it strange that they weren't listed on the package. I called the customer service number on the box and asked the representative about the ingredients. One of them was one that is found in antifreeze.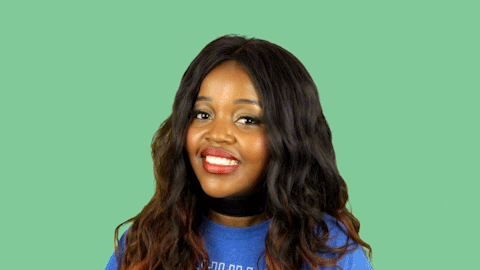 Image via Giphy
This product had become part of my hygiene regimen for years, and unbeknownst to me, it was something that I should've stopped using a long time ago. As a woman who puts all of her trust in these companies that promote vaginal health, I found it deceiving to mislead the masses.
I didn't go on a rampage and throw everything away because I'm not wasting my hard-earned money. What I did instead was limit my use of these products. I began changing them more than usual and avoided wearing them if it wasn't necessary. After spending days and weeks reading articles and conducting my own research, I have found alternatives that will help promote a healthier vagina.
100% Cotton Alternatives
After I used my last "toxic" liner, I wanted to research the alternatives, and there are thousands of them. I knew there had to be something that catered to feminine care and hygiene. A co-worker of mine mentioned to me that 100% cotton panty liners and pads do exist, and they can be found at your local drug store. After doing a quick Google search, I verified that she was correct.
I wrote all of these products down to make sure I wouldn't forget them later. After spending 30 minutes in the feminine care aisle reading and re-reading ingredients, I came across a product that was better than what popular corporations offer but not significant enough to tell my family and friends about. What stood out most was it stated that it was chlorine-free and fragrance-free. After becoming restless, I grabbed the box and went to check out.
In total, the product has five ingredients, but what turned me off was that two of them started with "poly," which in Latin means "many." So that meant that multiple chemicals created that one ingredient or that one ingredient can be broken down and used several different ways. Again, it had less additives than others on the shelves but not as significant to gloat about. I decided to use this panty liner the same way I would use the other one: in moderation.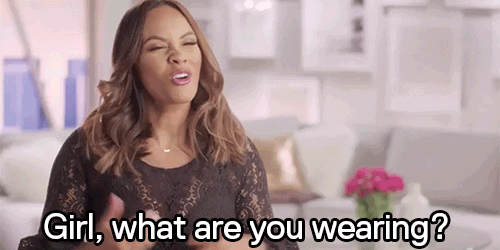 Image via Giphy
Leak-Proof Underwear
To skip over the pad, panty liners, and tampons, another option is leak-proof underwear. With proper care, these can be handwashed to be worn over and over again.

Brands offer lingerie that caters to heavy days, light days, and regular days, so one pair of underwear might not fit all during certain days. The sizes provided depend on where you are in your cycle. Also, for some of us, they can be on the expensive side, with one pair retailing at $36.00. It's recommended that you don't use any fabric softener, but you must read respective care instructions by the brand.
Vegan-Friendly Feminine Wash
Like many of you, I visited my local Target and Wal-Mart to purchase the Honey Pot's feminine wash, and after using it for two days, it has changed my life. The packaging, the scents, and even the instructions indicate the love and the passion behind the products. The company makes women feel like they are the priority, and the product feels like it's doing the job. It lathers well and doesn't leave any residue.

I know we love the smells of an ocean breeze, citrus, and rose, but popular washes with those scents only disrupt the pH. Most of the ingredients in the Honey Pot's products are commonly familiar, such as lavender and aloe vera.
Using these as directed can help with pH issues and provide a freshness that we would never have to feel insecure about. I would encourage you all to go on the website and take the quiz. You will then get recommendations on what products to use based on your needs.
And remember, feminine washes should never be inserted directly in the vagina. Science says that the vagina can clean itself. If you must use anything, rinse all products thoroughly.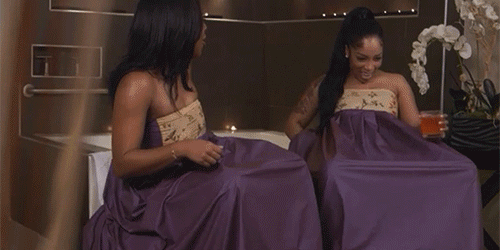 Image via Giphy
Vaginal Steaming
No matter how many times you refresh the explore page about vaginal health on Instagram, there is always a post on vaginal steaming. Some of the benefits of steaming can include reduced bloating during menstruation, regulation of irregular periods, increase in fertility, and detoxification. Based on your current pH balance, steaming can lead to a yeast infection, and it is not recommended if you currently have an IUD or are pregnant.
This technique is an ancient practice that has roots in Africa, Asia, and Central America. Testimonials across the web highly recommend that all women practice steaming. Not only does it detoxify your vagina, but it detoxifies your spirit, and many women use this time to meditate and practice spiritual affirmations. Before trying vaginal steaming, consult with your doctor and read the instructions.
Since having my IUD removed more than a month ago, I'm allowing my body to heal or go back to normal on its own. I've made it a routine to consume the proper supplements that will contribute to a healthier vagina, hormone regulation, and regular menstrual cycles in hopes of increasing my chances of bearing children one day. In hindsight, when we nurture and care for the most sacred part of our body, the rest of it seems to fall in place. Doing so creates a healthy balance that will only enhance our womanhood.
Did you know that xoNecole has a podcast? Subscribe on Apple Podcasts or Spotify to join us for weekly convos over cocktails (without the early morning hangover.)
Featured image via Shutterstock