---
Six months into the year, I'm finally seeing some of my goals for the new year come to fruition. My workout habits have increased from three times a month to four times a week, I'm drinking more water, and getting closer to my ideal weight. Despite my hard work, I'm still miles away from having the abs of my dreams. Luckily, Halle Berry just blessed Instagram with the 15-minute workout that will get our bodies all the way together.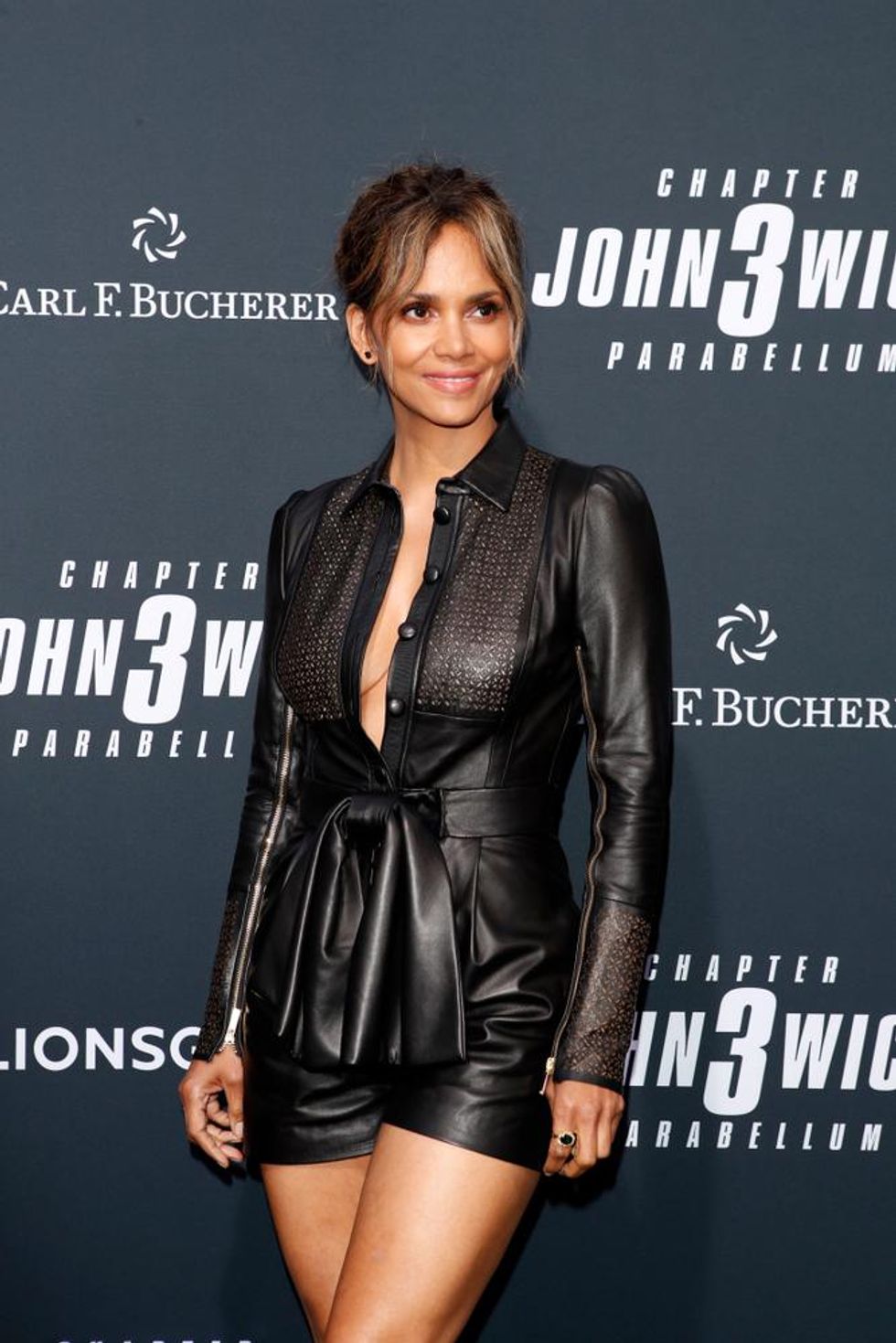 Kathy Hutchins / Shutterstock.com
Being summertime fine isn't just seasonal for Halle Berry, issa lifestyle. Ms. Berry has been body goals since I was in diapers, and decades later, sis is still slaying. The mother of two hasn't been selfish with the secrets to her banging physique and drops gems on how to look 25 at 52 every Friday on her Instagram. Last week, the John Wick: Chapter 3 actress dropped one of her high-intensity fitness routines and we are taking notes. She wrote on Instagram:

"This #FitnessFriday is about to motivate some of y'all non-believers who think they don't have enough time in their day to complete a full body workout, because I am about to introduce you to your new best friend … the 15-Min Mini Circuit. This circuit can be squeezed into nearly every schedule and I'm not kidding when I say it will KICK. YOUR. BUTT. It's a great combination of strength training and quick cardio, plus it requires little to no equipment! Head to stories for the breakdown of each exercise - let's all take 15 and break a quick sweat."
Here's how you can recreate this sweat-inducing full-body fitness cycle and look like a whole snack for the summertime. Grab a friend, two dumbbells and a towel and get in formation, sis:

*Repeat each exercise for one minute to complete an entire cycle.*
Single Dumbbell Front Squat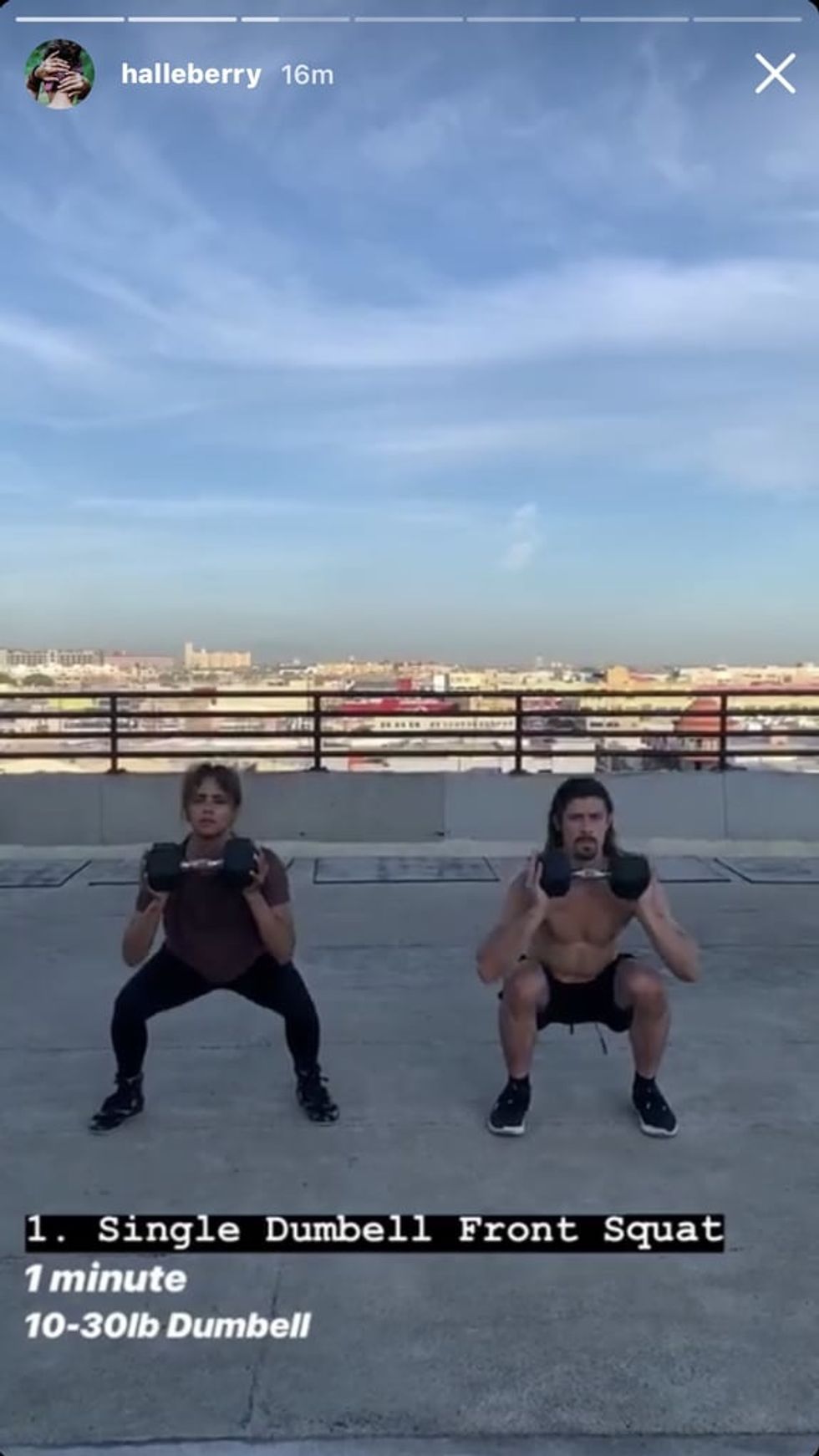 Instagram/@HalleBerry
If you thought squats were hard, wait until you see what happens when you add a 30-pound dumbbell in the mix. Start with your feet hip-distance apart and sit into a squat with your dumbbell directly in front of your chest. Use the weight from your heels and squeeze your glutes to stand and repeat for one minute to complete one cycle.
Double Dumbbell Skier Swing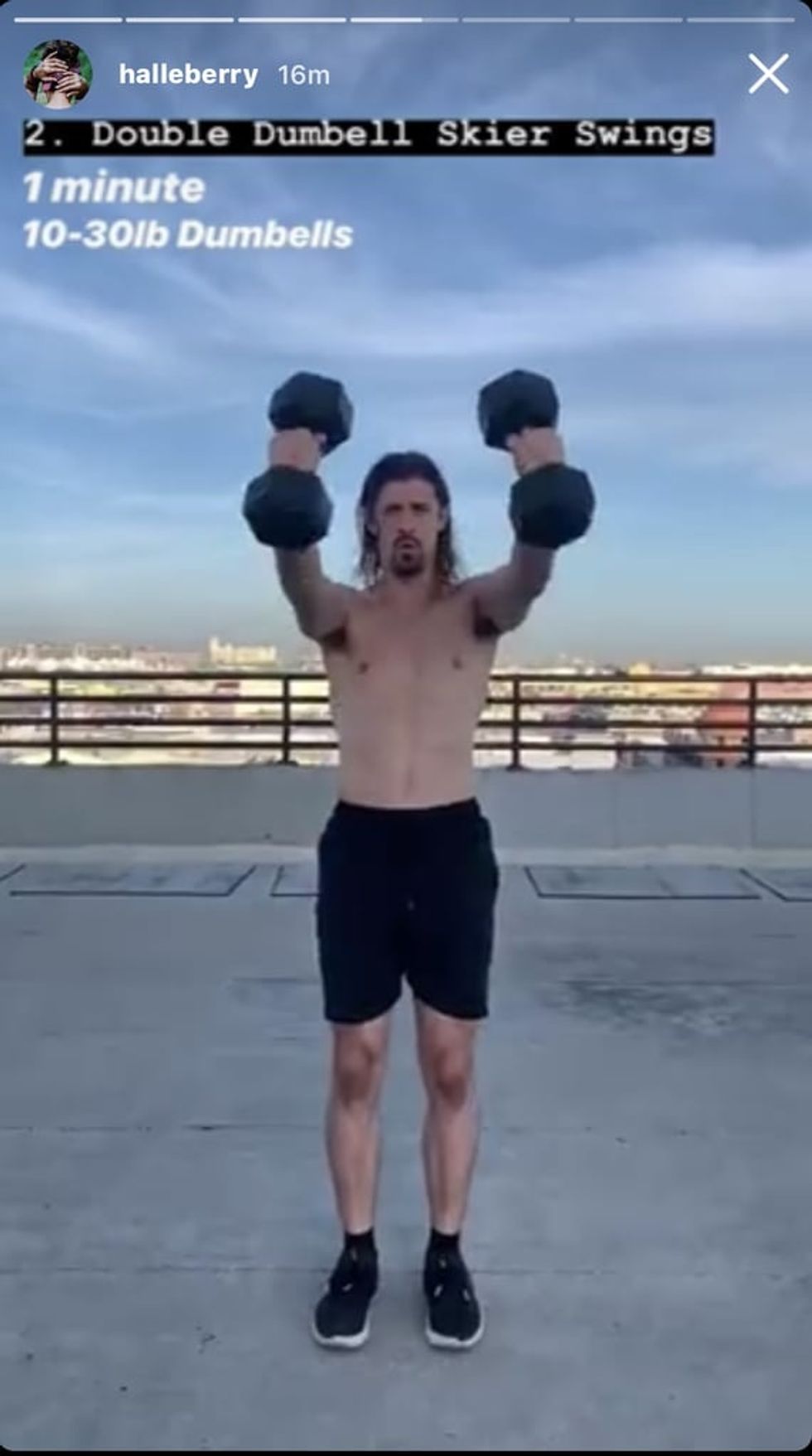 Instagram/@HalleBerry
This exercise requires you to hold two dumbbells at arm's length with your feet shoulder width apart while slightly bending your knees. Swing the dumbbells backward while pushing your hips back. Then, thrust your hips forward while coming to a full stand, swinging your dumbbells out in front of your chest.
Single Dumbbell Squat Pass & Press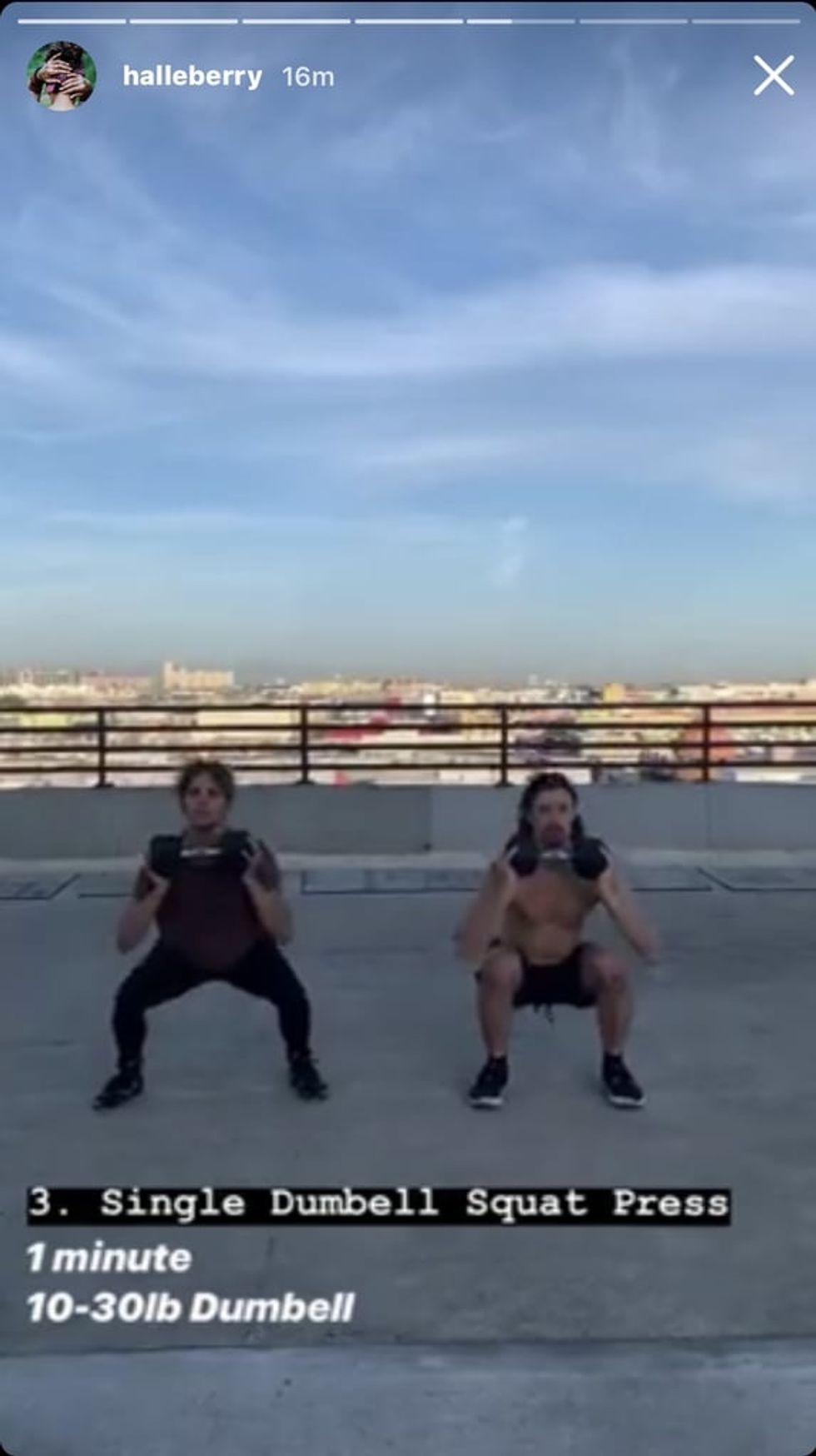 Instagram/@HalleBerry
Think of this like doing regular squats, but harder. Begin by holding one dumbbell directly above your chest with your weight on your heels and your legs a little further than hip-distance apart and then sit into a normal squat. Bring your dumbbell over your head as you stand up to complete one rep.
Kneeling Curl, Press, and Overhead Triceps Extension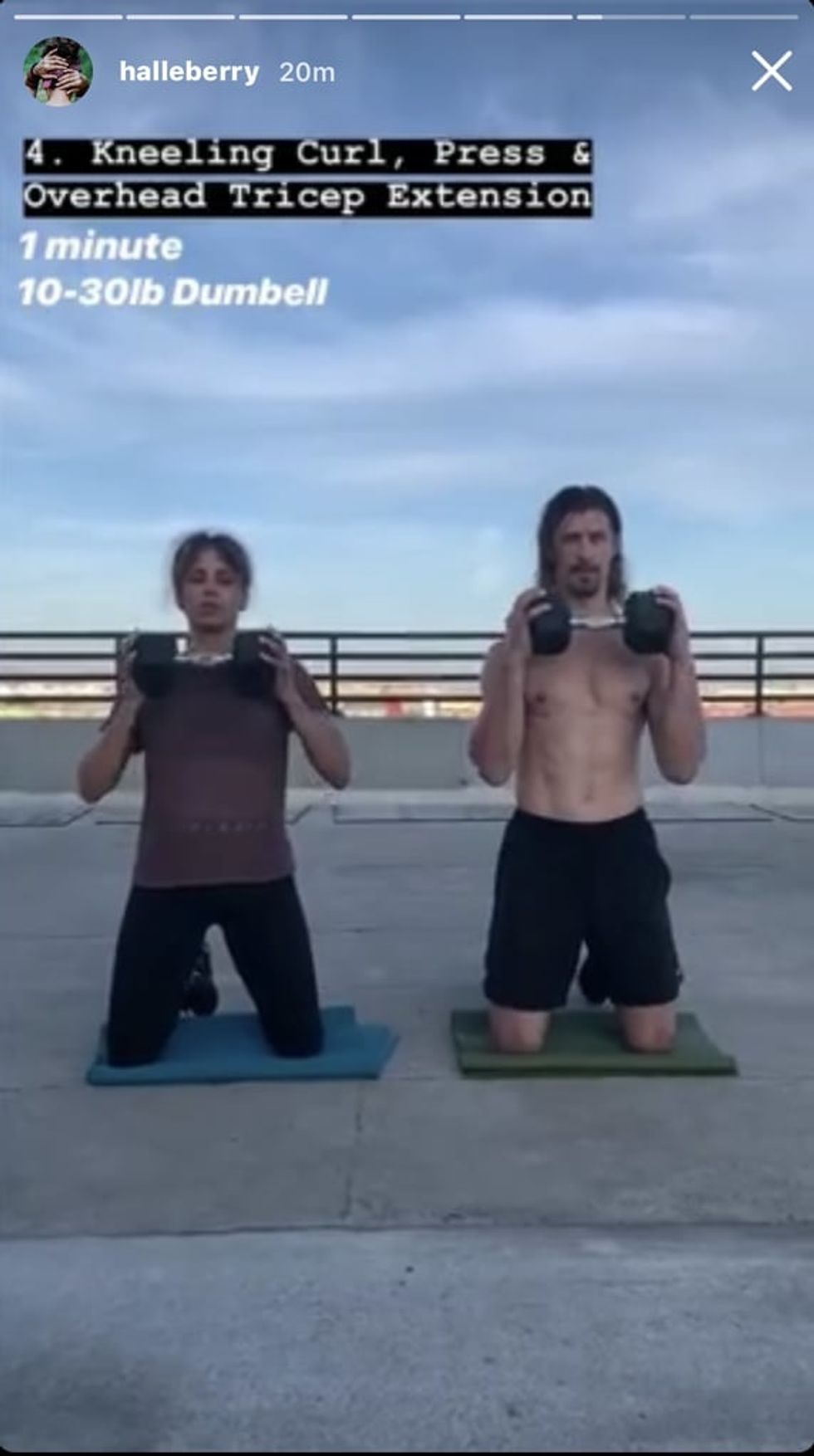 Instagram/@HalleBerry
Using one dumbbell, kneel on the ground. Bring the dumbbell up to your shoulders. Straighten your arms to lift the dumbbell above and then behind your head.
Plyo Push-Up and Single-Dumbbell Row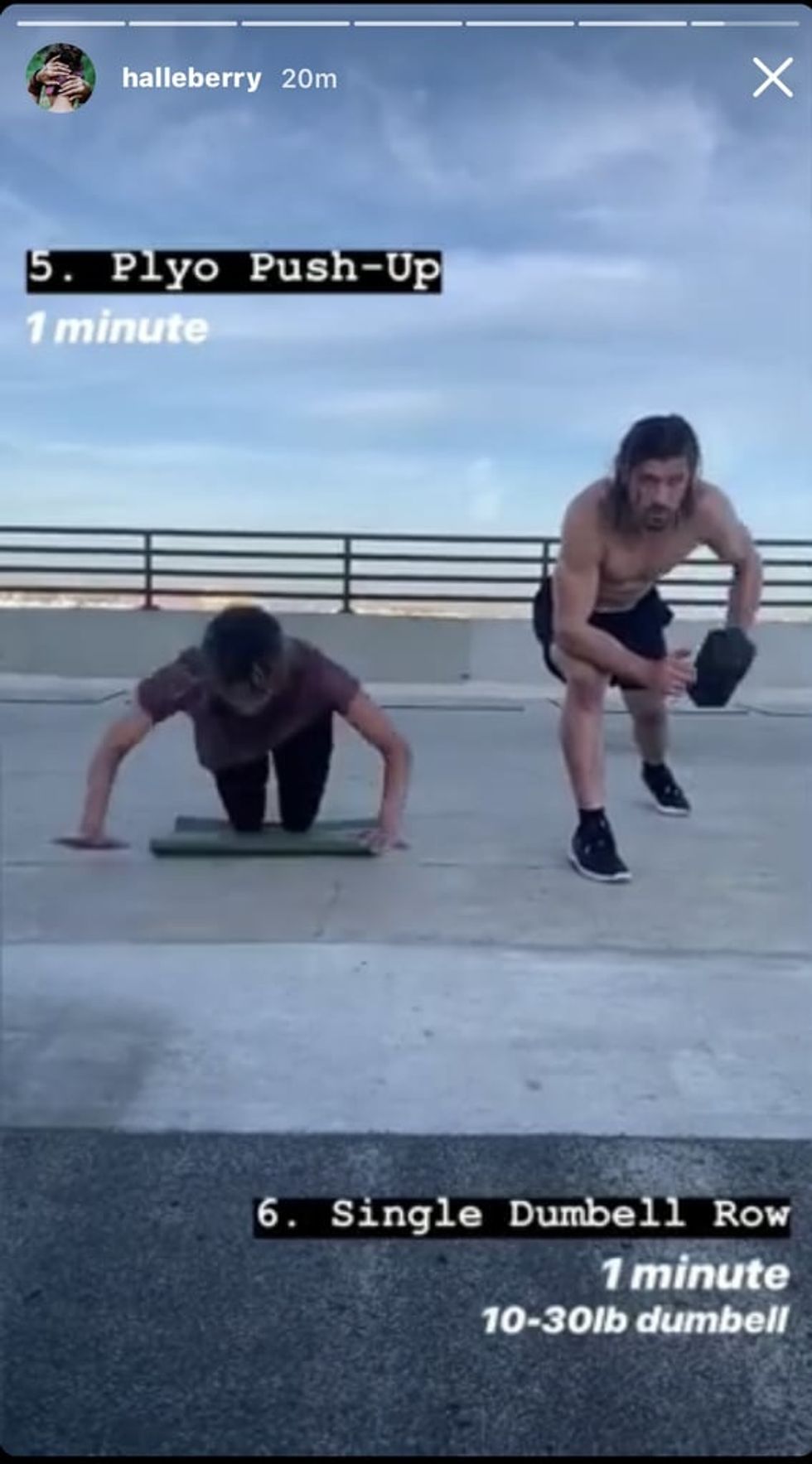 Instagram/@HalleBerry
Even though you're drenched with sweat and ready to quit, you've only got one more set to go, sis. Keep pushing. Start in a plank position with your body parallel to the ground, placing weight on your core. Use your palms to push yourself off the ground, followed by one minute of single dumbbell rows.
Featured image by Kathy Hutchins / Shutterstock.com