How We Met is a series where xoNecole talks love and relationships with real-life couples. We learn how they met, how like turned into love, and how they make their love work.
When Colby Holiday, 37, met Khaliah O. Guillory, 42, neither of them knew the start of a life together was staring them in the face. What brought the couple together was a chance encounter during a press trip in Houston where travel writer and content creator Colby was on assignment. The story was about Black-owned Houston and since Khaliah is the proud founder and CEO of the Black-owned sanctuary Nap Bar, it made sense that the PR team had them cross paths. A Friday night meeting would prove to be much more than the typical exchange between a journalist and her subject. Instead of the small talk that often presents itself in an initial professional-ish one-on-one, their conversations went beyond the norm and landed into deeper territory.
---
Colby found herself drawn to Khaliah's energy and Khaliah was drawn to not just Colby's beauty but also her intellect as they spoke about spirituality among other things. But still, they left each other with Colby thinking they'd stay in contact and Khaliah knowing they were bound for something more. Before meeting Colby, Khaliah had entered a year-long dating sabbatical to allow herself time to heal and eventually attract love from a place of wholeness. On her 41st birthday, she wrote a 'divine list' of what she wanted in her partner. For her, Colby was the embodiment of that list. After meeting, she showed her intentions in wanting to build a life with Colby in every step of getting to know her through energy and effort. Leading up to their first official date, there were handwritten letters, curated playlists, infinite voice notes, and FaceTime calls that would plant the love seeds for what they both endearingly refer to as "the best date ever."
Colby would learn early on in their relationship that Khaliah was the one. Unlike anyone she had ever been with, Khaliah prayed over her and it was an action that put her above anyone else in Colby's heart, mind, and soul. Khaliah knew Colby, whom she affectionately calls "Colbs," was the one a month after they met, to the date. Since then, this couple has embarked on a love story all their own that has been a whirlwind of ease and adventure in the year that they have been together. Despite living in different countries (Colby lives in Merida, Mexico and Khaliah lives in Houston, Texas), the couple who are madly in love make their relationship work.
In this installment of How We Met, Colby and Khaliah talk about the love lessons they've learned, courtship, healing, and the importance of timing.
How They Met
​Colby Holiday: We met while I was on a press trip with Visit Houston by way of Turner PR. I was covering a story on Black-owned Houston and the PR rep set Kay (Khaliah) and me up on a meet and greet since she is the owner of Nap Bar -- a Black-owned rest sanctuary in Houston.
Khaliah O. Guillory: Colbs and I met in Houston, TX at Trez Bistro & Wine Bar! My peeps over at Visit Houston reached out (kind of last-minute) and mentioned they commissioned a journalist to write an article on Black-owned businesses and was wondering if I would be open to meeting her for drinks. Keep in mind this was around the time of George Floyd's murder and the Black Lives Matter movement, so my energy wasn't necessarily in the mood for such heavy, layered conversation I've had on repeat…until I saw her profile picture. Oh yeah! My French Fry is a BADDIE!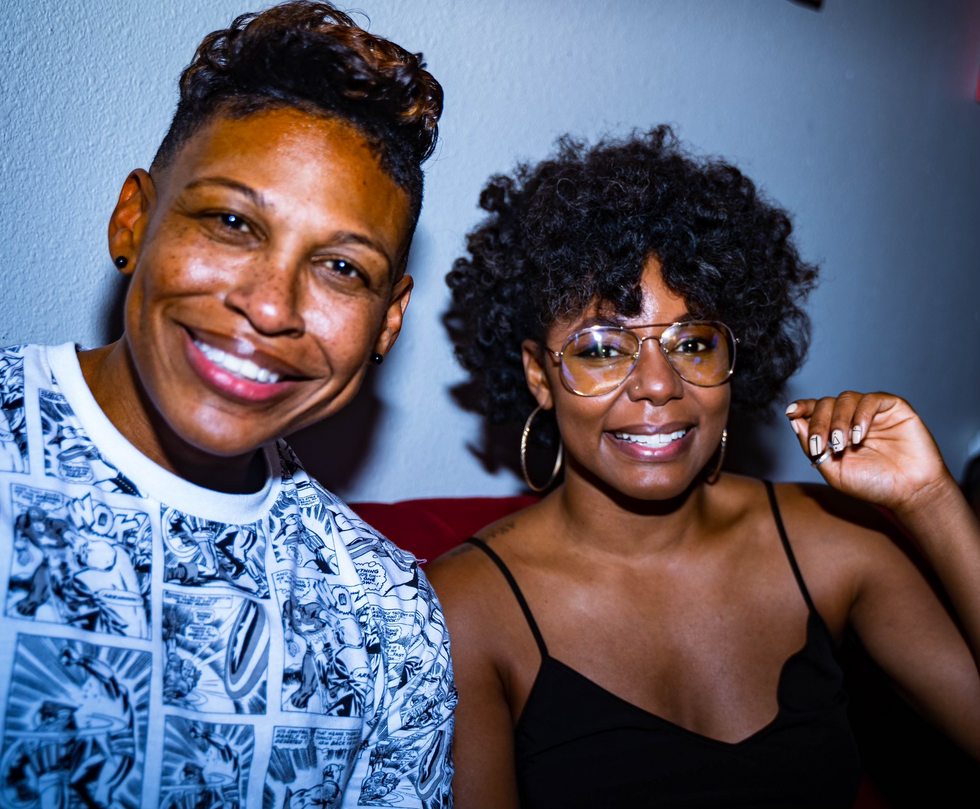 The night Khaliah and Colby met.
Courtesy of Colby Holiday
First Impressions
Colby: "Her energy is everything!" were my first thoughts. I always say I met her energy before I met her. She was just this big ball of energy in the best way. Within minutes of meeting, we were talking about manifestations and synchronicities. Her vibe was all around dope. I felt like we'd be friends beyond Houston, or at minimum keep in contact here and there, but never did I ever think we'd end up here!
Khaliah: My first impression after stalking [and] carefully researching her online… What? I had to make sure it was worth it to hang out with a "journalist" on a Friday night (laughs). Okay, so back to doing my research online. I ran across Colby's blog and immediately fell in love with her tone, style, and flow of writing. Her writing technique has a way of creating a visual story in your head as she carefully uses adjectives that give you a vivid visualization of what she is describing. I was mentally stimulated from there.
"I knew it was love when she held my hand through my most vulnerable moments and loved me anyway. Not even that she loved me through those moments, but she created a safe space to allow that vulnerability, to begin with."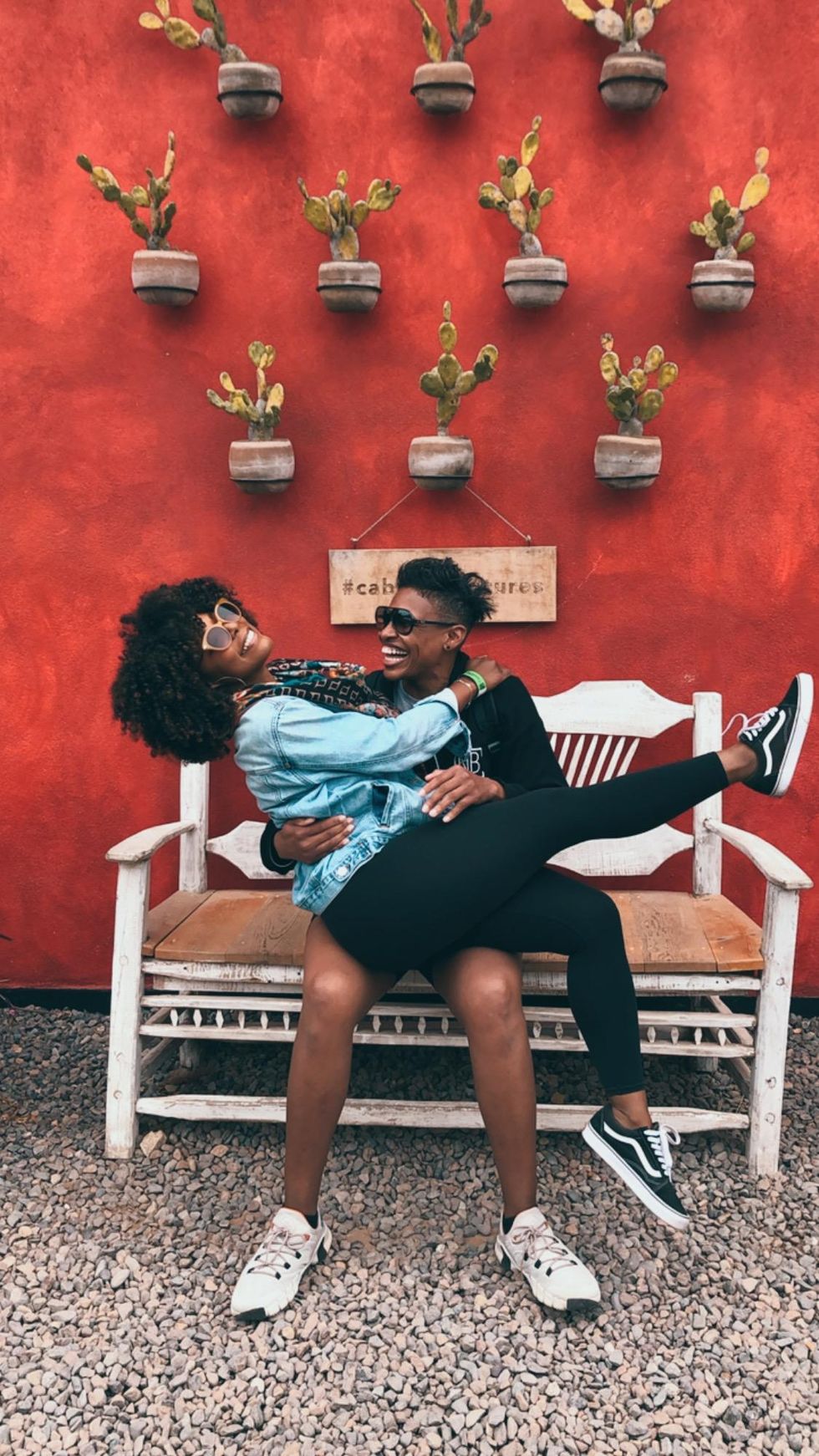 Courtesy of Colby Holiday
First Date
Colby: It was the most magical date ever! Our first official date was a surprise date planned by Kay. On day 32, she booked me a flight from Atlanta. I was going to spend nine days with her in Houston. I was so nervous because I'd only spent a few hours with her the first time I was in Houston. We see each other every day several times a day via Facetime, but now we'll be in the flesh. Would that connection be the same? Just as powerful? Just as magical? The answer was yes.
The evening started with her meeting me at baggage claim. We hugged deep. Time stood still. Silence surrounded us. It was just me and her, lost in our own world. She whisked me to the parking lot where a car with a red carpet and rose petals and a driver awaited. He drove us to, what I assumed was her apartment building. We headed to the eighth floor, to a large room, where we were met with a candlelit walkway with rose petals. We walked in and there was a guy singing and playing the guitar to one of my favorite songs!
There was also a videographer/photographer to capture every moment. I was absolutely speechless! This would be the theme as the evening unfolded — me being speechless. From the menu to the wine selection, the song selections, to the placemats she had custom-made with quotes from my writing. Every single thing was intentional and well thought out. It was hands down the best date ever!
Khaliah: I remember the first date just like it was yesterday. I flew her in for the best date ever! It started when she arrived at the airport—I sent her a curated playlist with instructions to listen to while in flight. The playlist included jams like, "Love of My Life" (Brian McKnight), "Spend My Life with You" (Eric Benét), "A Muse" (dvsn), and "You" (Raheem DeVaughn) to name a few. Now, I gave this little lady specific instructions to travel "date-ready" because we had a strict timeline. I knew she landed because I tracked the flight. After she didn't respond to the text, "I'm inside the airport at baggage claim," I started to low-key, high-key panic. I just knew she ghosted me! Well, come to find out she didn't follow directions and went to the restroom to get glammed up.
I met her inside at baggage claim and to be funny and break the awkwardness of our first "real" date, I made a sign that had her name on it—you know like what the personal drivers do! We proceeded outside to the actual driver, and he whisked us off to dinner. When she walked into the private space reserved just for us--she was greeted by my boy, Keith, who serenaded Colby with her favorite Anthony Hamilton song while walking through candlelit rose petals carefully placed on the floor. We were greeted by Chef Lynn who prepared one of Colby's favorite meals—short ribs, broccolini, and garlic mashed potatoes, paired with her favorite red blend. I knew Colby loved attention to detail so I reached out to my friend Rockie at Custom Tingz for her to create a custom placemat that included a quote from one of her many fabulous articles. I wanted her to have a keepsake. The night was nothing short of magical!
The Courtship
Colby: I would say Kay was the initiator in pursuing the relationship and I was the initiator in taking the relationship to the next level. If it were up to me, I would have left our interaction as just a moment in Houston, but Kay kept in contact after I left. We spent hours on FaceTime, and when we weren't on FaceTime, we were sending voice memos all day. She sent me hand-written love letters and an embroidered blanket, because I'm always cold, for an upcoming trip I was taking. In return, I sent her love letters and Luther Vandross' Forever, for Always, for Lovevinyl from my grandparent's collection. While I was in Kenya, she somehow managed to get a hold of the hotel I was staying at and had them leave a card and a small bouquet of fresh flowers on my pillow. Listen, her courting is next level! But, it worked.
I returned from Kenya and told my family and friends that I'd met someone, who I'm pretty sure is "the one"...oh, and it's a woman. Surprise (laughs). They were equally shocked and supportive. I think Kay was just as shocked because this was a big thing -- telling my family and friends that I was now with a woman. But, for me, it was easy and I wanted the people I love to share in the love that I have for her. A little over a month after we met, we had a casual conversation while standing in the kitchen about "what are we." I told her we were a couple and the rest is history.
Khaliah: So, check it. I'm going to give you the tea on this, okay?! Because Colby is still in full-out denial about some of her actions that catapulted our relationship to the next level. In short, I guess overall we can say I was the initiator AND she sealed the deal when she initiated the first kiss. The courtship continues. I vow to always court her. She's not regular and it's an honor for me to court her. Because we live in two different countries, the courtship, as I think about it, is the gushy kind, like a rom-com, imagine the materialization of the best quotes from Love Jones. I found myself 'Jonesin' like never before, writing four-page love letters, sending playlists, and such.
The conversation that ensued (let's call it on Day 4 or 5) was one for the record books. We were having an intimate and vulnerable conversation about what we learned in our past relationships and the healing that needed to take place in order to be "whole" for the next one. We both shared about the tumultuous journey to healing we embarked on and made a promise to each other that we vowed to never unravel the hard work. It was refreshing and would be the springboard for many deep, stimulating, and "oh my gosh I'm so in love with this woman" conversations I'll have with Colbs.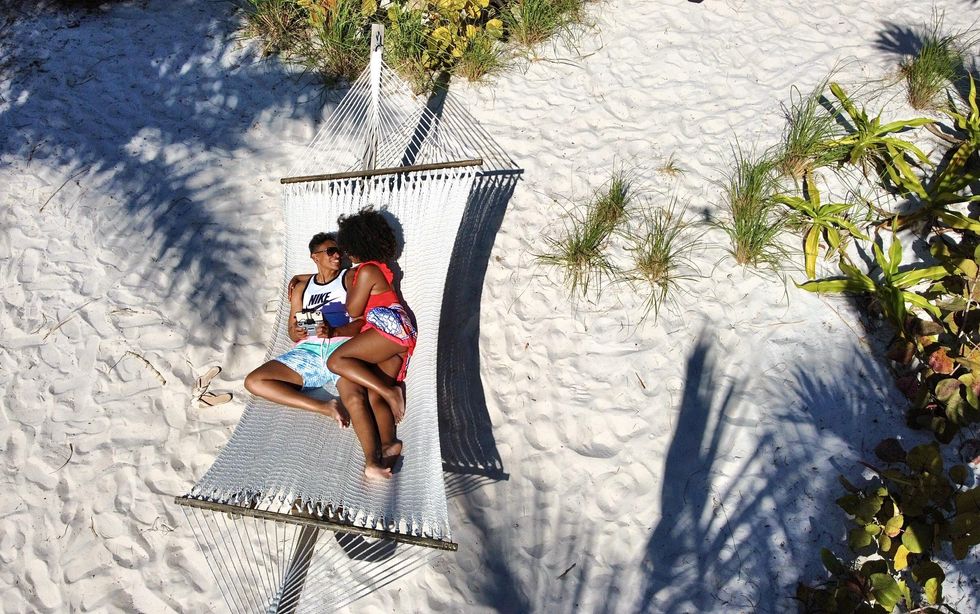 Courtesy of Colby Holiday
The One
Colby: For me, I couldn't imagine doing life with anyone else. The way she held space for me and vowed to protect my heart as if it were her own — I knew she was the one I wanted to do life with. This happened very early on — we weren't even a week in (laughs). In fact, it was the moment she prayed for me, over the phone, as I was getting ready to head out on a road trip for my birthday. It had me in tears. No one had ever prayed for me and over me that way. I knew then that I wanted to do life with her.
I knew it was love when every thought about my future included Kay -- when we spoke definitively about our future in "whens" and not hypothetical "ifs." There are few things that I can say that I am sure of, but this…this thing that Kay and I have is the most certain I've ever been about anything. I knew it was love when she held my hand through my most vulnerable moments and loved me anyway. Not even that she loved me through those moments, but she created a safe space to allow that vulnerability, to begin with.
Khaliah: I wanted to commit to a relationship the moment I realized I no longer wanted to give her the world, instead I wanted to do life and dwell in the world with her. Navigating life with all that comes with it—love, loss, happiness, grief, joy, and everything in between.
I knew it was beyond love, she was created for me. My divine partner. You see, I took 2020 to truly heal. I stopped dating and on my birthday in October 2020, I wrote out my 'divine partner' list and all the characteristics and personality traits I desired for them to have. I don't believe in luck or serendipity. After the hundredth "coincidence," I knew beyond a shadow of a doubt I was madly in love with who I was meant to journey with.
"I wanted to commit to a relationship the moment I realized I no longer wanted to give her the world, instead I wanted to do life and dwell in the world with her. Navigating life with all that comes with it—love, loss, happiness, grief, joy, and everything in between. I knew it was beyond love, she was created for me. My divine partner."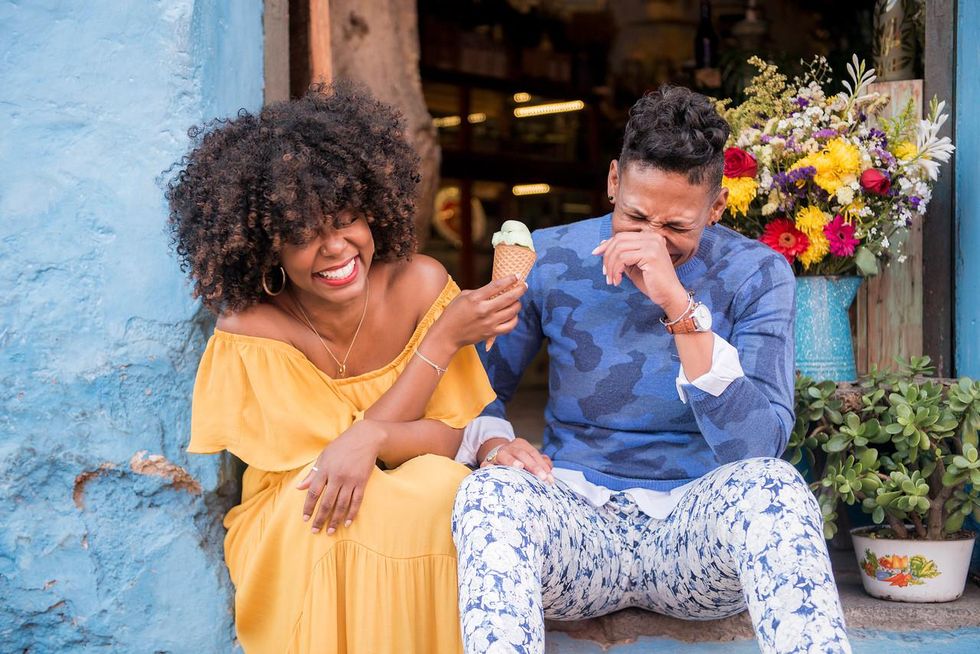 Courtesy of Colby Holiday
Individual Challenges & Challenges as a Couple
Colby: I think the biggest challenge I've had to work through is realizing that we are a team. Unrequited relationships were the theme of my past. So, even when there was someone, I never had a true partner to count on and lean on. If I wanted anything done, I had to do it myself. If I wanted a romantic evening, I had to plan it. If I needed the oil changed in my car, I had to get it changed or change it myself. You get the point. With my experience in previous relationships, coupled with childhood traumas, I am wildly independent. So, when Kay came along I had to realize that it's not just me anymore.
I don't have to do it, whatever it is, alone. She is my person and I had to learn to lean on her. Integrating someone into a world that I'd been navigating solo, and taking her thoughts and feelings into consideration was a bit of a challenge for me. I think our biggest challenge as a couple has been the distance. We live in two different countries, but we make the absolute best of it. Lots of Facetime dinner dates, evening walks, and surprises, like I'll Instacart her groceries, dinner or her favorite snacks. You can still date even when you're countries apart.
Khaliah: Initially, in the beginning, distance was one of our biggest challenges. She lives in Mexico, and I live in Houston, TX. Another was the ability to discern when I am projecting onto her or an understanding that we need to reach. One thing is for sure, two people can express their truths and they are completely different yet in reality, two truths can dwell together.
Baggage Claim
Colby: We talk about everything --- even the hard conversations that could make a relationship implode. Though I'd done a lot of healing and self-work before we became a couple, there were still times I found myself reverting back to my old ways and insecurities, like not communicating and feeling not enough. After one challenging conversation, Kay suggested I find a therapist (something I'd been putting on the backburner for years) and unpack some of these feelings.
I found a therapist the very next day because what I didn't want was for old baggage to affect our current relationship. I had to unlearn poor communication skills and masking my true feelings and thoughts, instead of saying how I really feel or what the true issue is. Therapy has helped so much with that.
Khaliah: We navigated [baggage as a couple] by seeking professional advice through therapists who "look like us" and can relate. The tools and resources they share individually have helped us countless times navigate each other's baggage and shine a flashlight on blind spots and behaviors that are preventing us from showing up in the world as we intend to. [Individually, unlearning certain 'bad' behaviors] required me to go back to 8-year-old Khaliah and rub her back and let her know that as she navigates adulthood, she will experience trauma manifested as rejection and abandonment.
You see, I am a love child and didn't establish a healthy relationship with my biological father until the last two years. Because of the absence of my father and every time he would "no call, no show" my family, bless their hearts, would "cheer me up" after each disappointment and take me to Chuck E. Cheese. Those childhood behaviors created an adult that expected, no required, other adults in my life to "cheer me up" when I felt abandoned or rejected regardless of if they were a part of the situation.
Love Lessons
Colby: [I've learned] you don't have to set yourself on fire in order to keep others warm. I am a people pleaser. I will go out my way to not inconvenience others, even if it's at my own expense. Kay is constantly reminding me that it is okay to be selfish with my time and energy. She reminds me to give myself permission to rest and to take care of me — mind, body, and spirit. We both came into our relationship with our own methods of staying grounded and centered, like practicing meditation, affirmations, yoga, exercising, etc. But, it has elevated to such a deeper act of self-care having someone that not only makes sure I'm taken care of, but that I'm taking care of myself, first and foremost.
I've learned that while love is multi-faceted, it doesn't have to be complicated. Love, with the right one, isn't hard. It doesn't hurt. I've learned that being the best version of myself was a prerequisite for this love that I had been calling forth. I still had work to do and had I met the love of my life at any other point in time, I probably would've blown it. Timing is everything. And when it's right, it doesn't have to be forced -- everything moves with flow and ease.
Khaliah: Colbs loves me as I am. The things I am afraid to admit to myself while staring in the mirror she embraces them, kisses them. The most important lesson I've learned about the love of self through her love is to not tolerate the shameful moments of my growth, celebrate them, and know I don't have to "put on" for the right people in my life –they will also celebrate those moments.
Through loving my partner in this relationship I've learned that sometimes you don't have to have a "backup" plan. Take the risk. Do the thing that truly makes you happy. Another lesson learned about love is you must release and surrender to what you thought it will "look like" and embrace what it is. We are truly writing the modern-day version of The Notebook—the adventures…and misadventures!
"Love, with the right one, isn't hard. It doesn't hurt. I've learned that being the best version of myself was a prerequisite for this love that I had been calling forth. I still had work to do and had I met the love of my life at any other point in time, I probably would've blown it. Timing is everything. And when it's right, it doesn't have to be forced -- everything moves with flow and ease."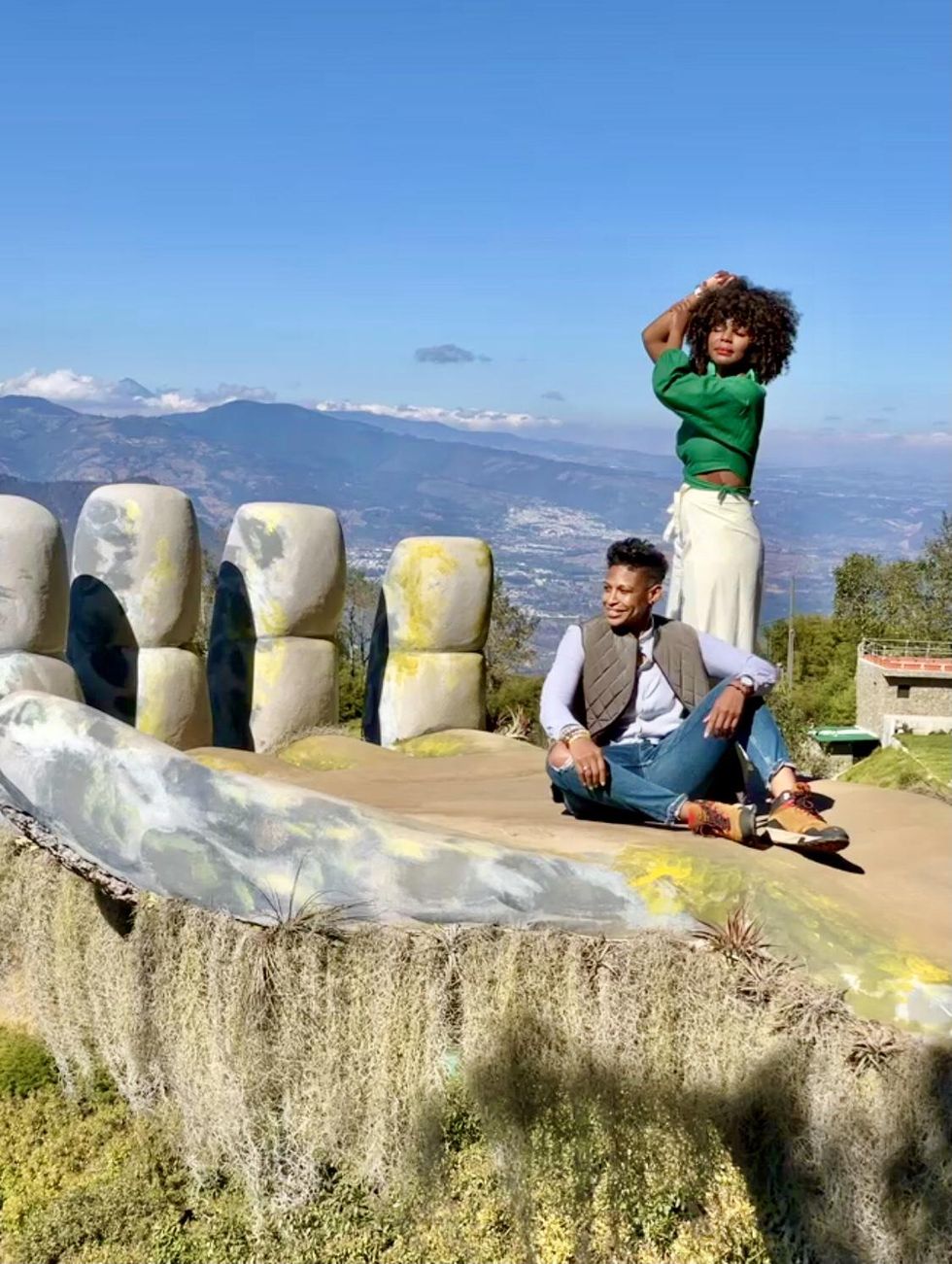 Courtesy of Colby Holiday
Shared Values
Colby: Integrity, dying empty -- meaning we both value living life to the absolute fullest, and being the change in the world.
Khaliah: Integrity, vulnerable communication, generosity, and fun.
The Best Part
Colby: My favorite thing about Kay is her thoughtfulness. She really knows how to make a girl feel special. It's the little things like little sticky notes she leaves in my luggage, in my passport, etc. when I'm traveling and getting my workspace ready for me when she knows I have a lot to do. It's the moments in the mundane that she always makes feel extra special.
Khaliah: Some of the favorite things about Colby are her heart and soul are pure, loving, free-spirited. I can bask in her presence until the end of time. I love how we communicate about the stuff that most couples would avoid in fear it would ruin the relationship.
For more of Colby and Khaliah, follow them on Instagram @worldofawanderer and @kogspeaks.
Featured image courtesy of Colby Holiday