---
I'd like to say my signature style would consist of a classic two-strand twist out.
It works every time, and I pretty much have the technique down to a science. But, occasionally I do get bored with this style and want to achieve a different type of curl. Enter stage left, the Bantu Knot Out, a style I've been eager to try for quite some time.
Now, what are Bantu Knots, you ask?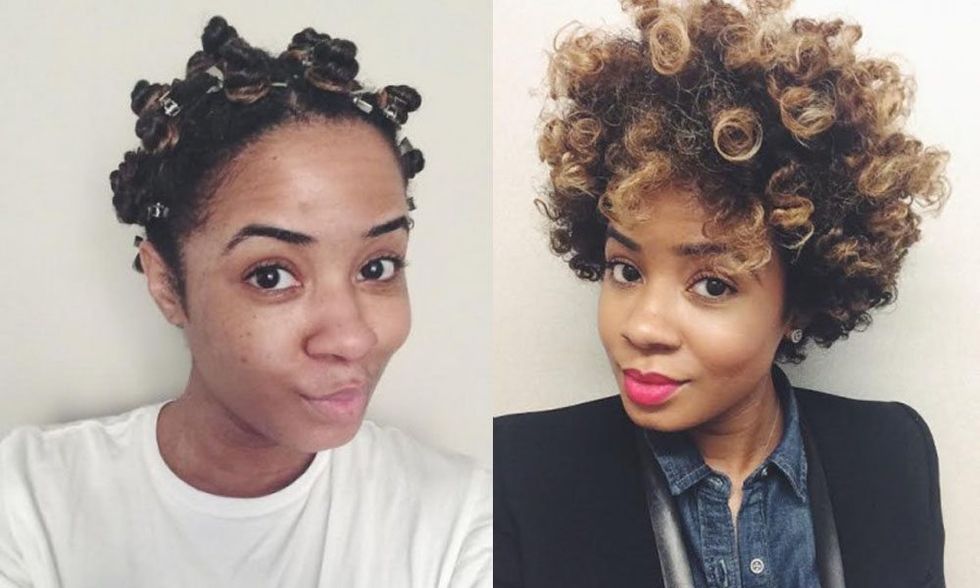 Courtesy of McKenzie Renae
Bantu Knots result in the style of springy "curly q" curls or a pretty loose wave. I've noticed they are springy on girls with shorter natural hair (think ears and up) and more of the wave or loose curl on girls with longer natural hair (think mid-neck/shoulder length down). They can be done on any hair texture or type, and will totally change the look and curl of your hair.
This was my experience. Excuse me in advance for the low resolution, these photos were taken with my iPhone and not my camera.
How To: Bantu Knot Twist-Out On Natural Hair
What You Will Need:
A spray bottle filled with water and part leave-in conditioner of your choice
Bobby pins or pin curl clips
A comb or Denman brush (I used my fingers to separate into sections, and detangled with the brush.)
Styling product of your choice (I used a light mixture of Lottabody Curl Milk and Curls Blueberry bliss Control Jelly)
A styling serum or oil for the take down (I used Castor Oil)
Patience and a lot of drying time
Bantu Knot Twist-Out: Instructions
Step 1: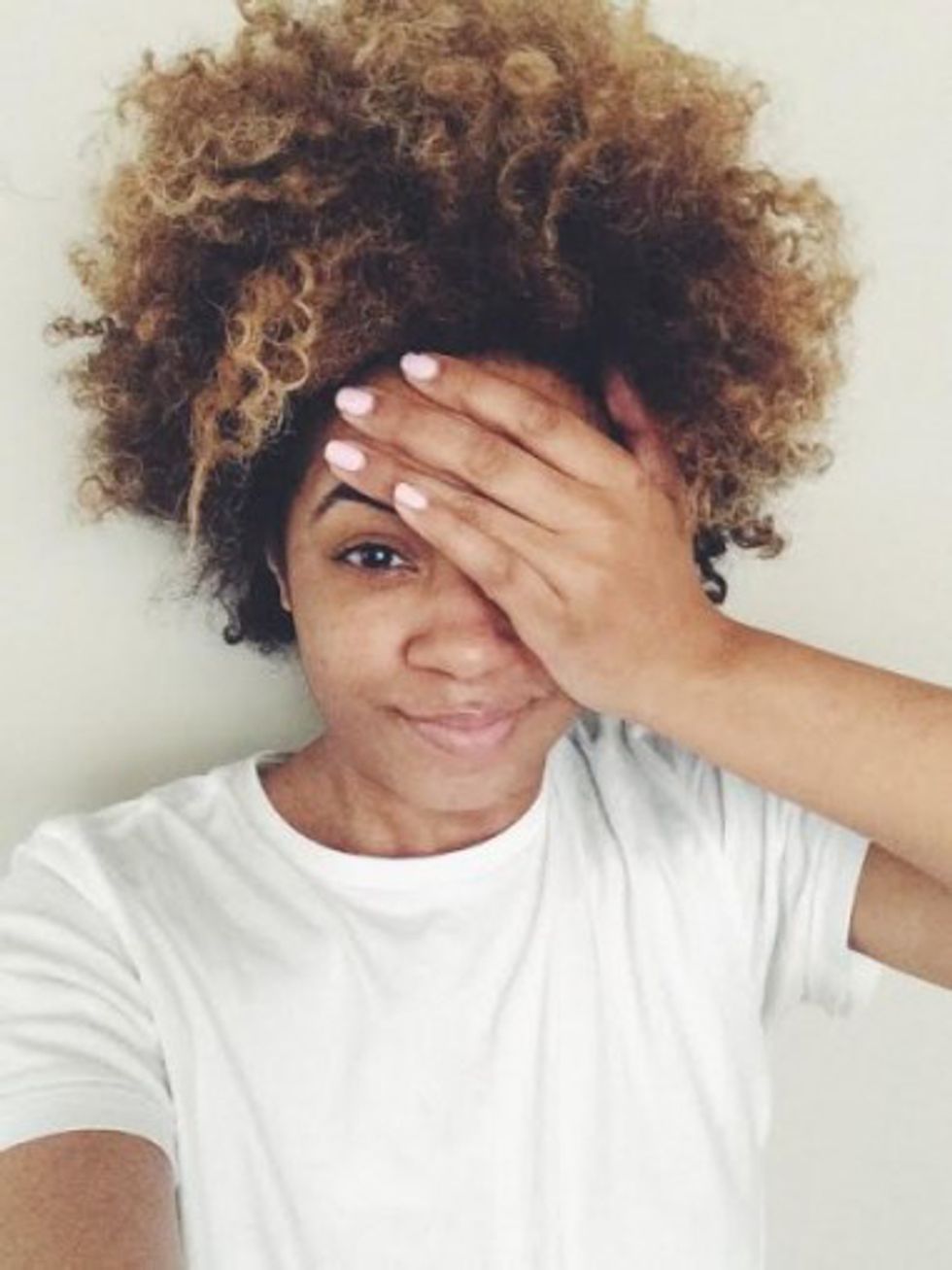 Courtesy of McKenzie Renae
I started with dry, semi-dirty hair. Probably a little over a week old.
Step 2: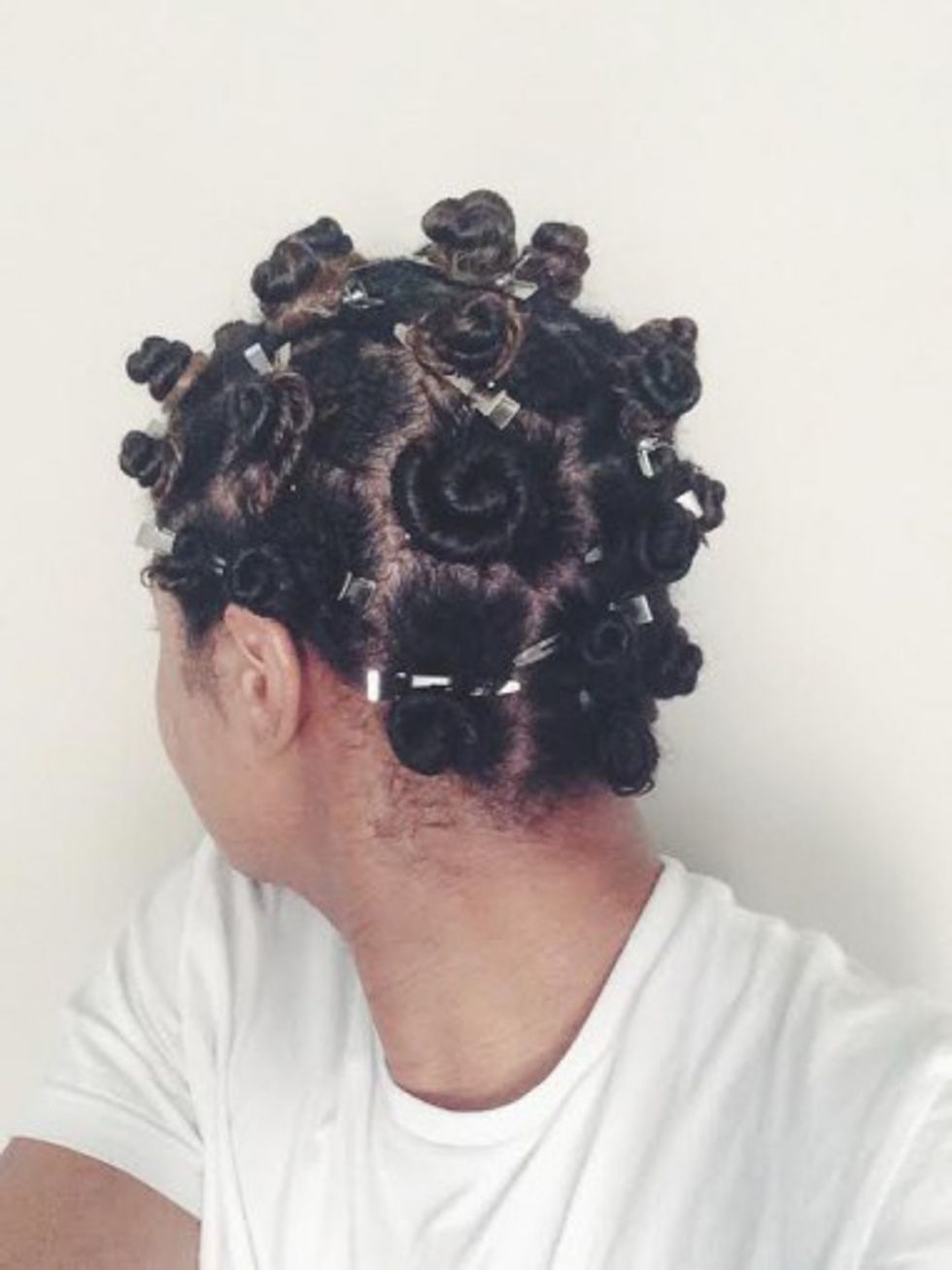 Courtesy of McKenzie Renae
I parted my hair into sections and took a spray bottle filled with water and part leave-in conditioner, sprayed each section and applied a little curl milk and control jelly section by section. Because my hair was dry after spraying, I detangled with my Denman brush before applying additional product.
NOTE: The sections should be damp, NOT soaking wet. This will save you a lot of extra drying time.
Step 3: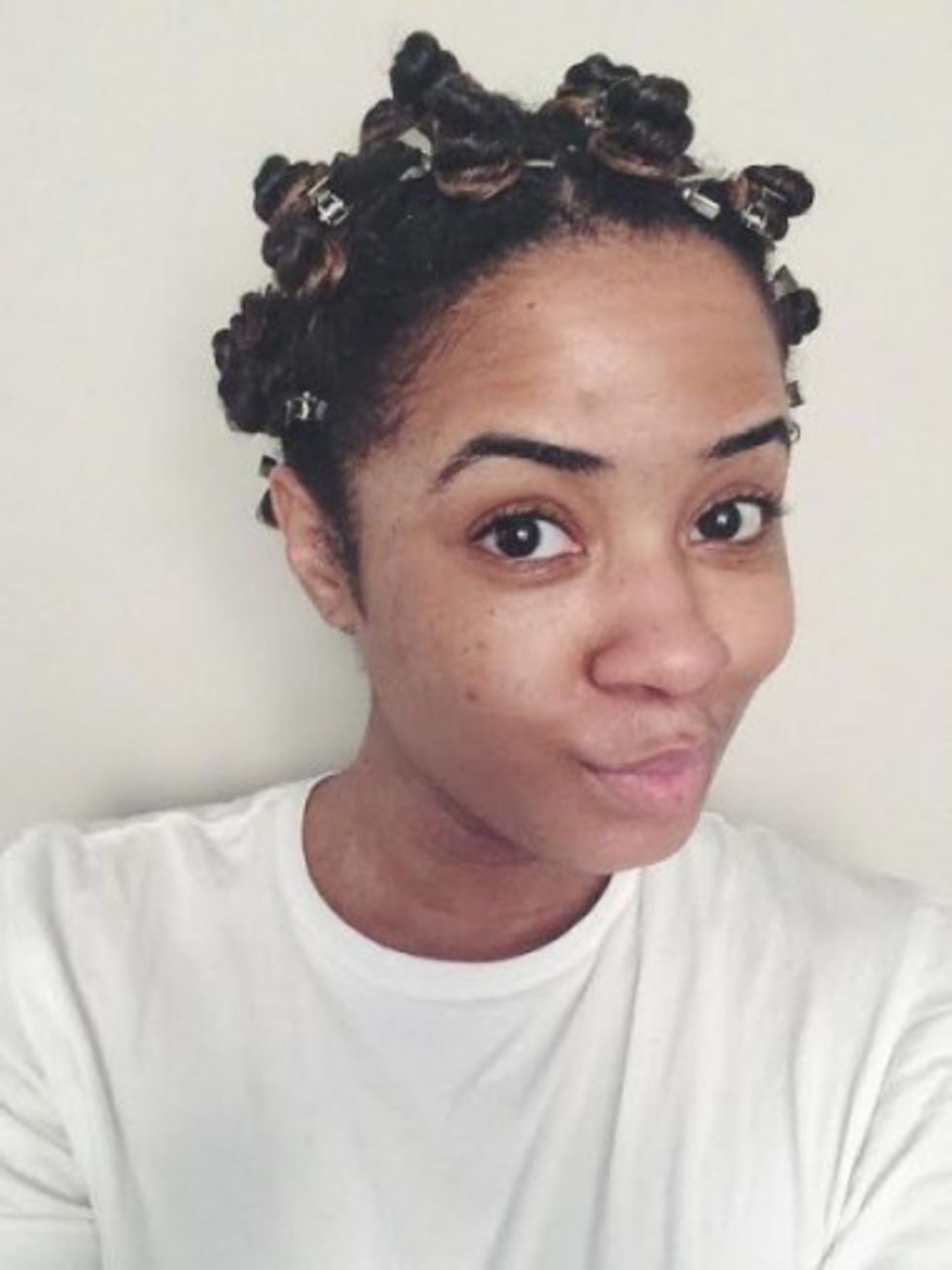 Courtesy of McKenzie Renae
After separating, twist the hair around in a circular motion until it's in a coil. Almost like twisting a wet towel into a coil before you smack someone with it (or am I the only one who's done that? lol). Tuck the ends of your hair in the coil, and use a bobby pin or pin curl clip to hold them in place so they don't unravel as they dry. Repeat this step all over.
I would say I had a total of maybe 25 knots once I was done. I made the back and sides a little smaller so my curl pattern would be a little tighter around that area, because that's just how I like it. It's important to allot plenty of time and patience and to keep your coils neat because this will determine how they dry in the end style.
Step 4: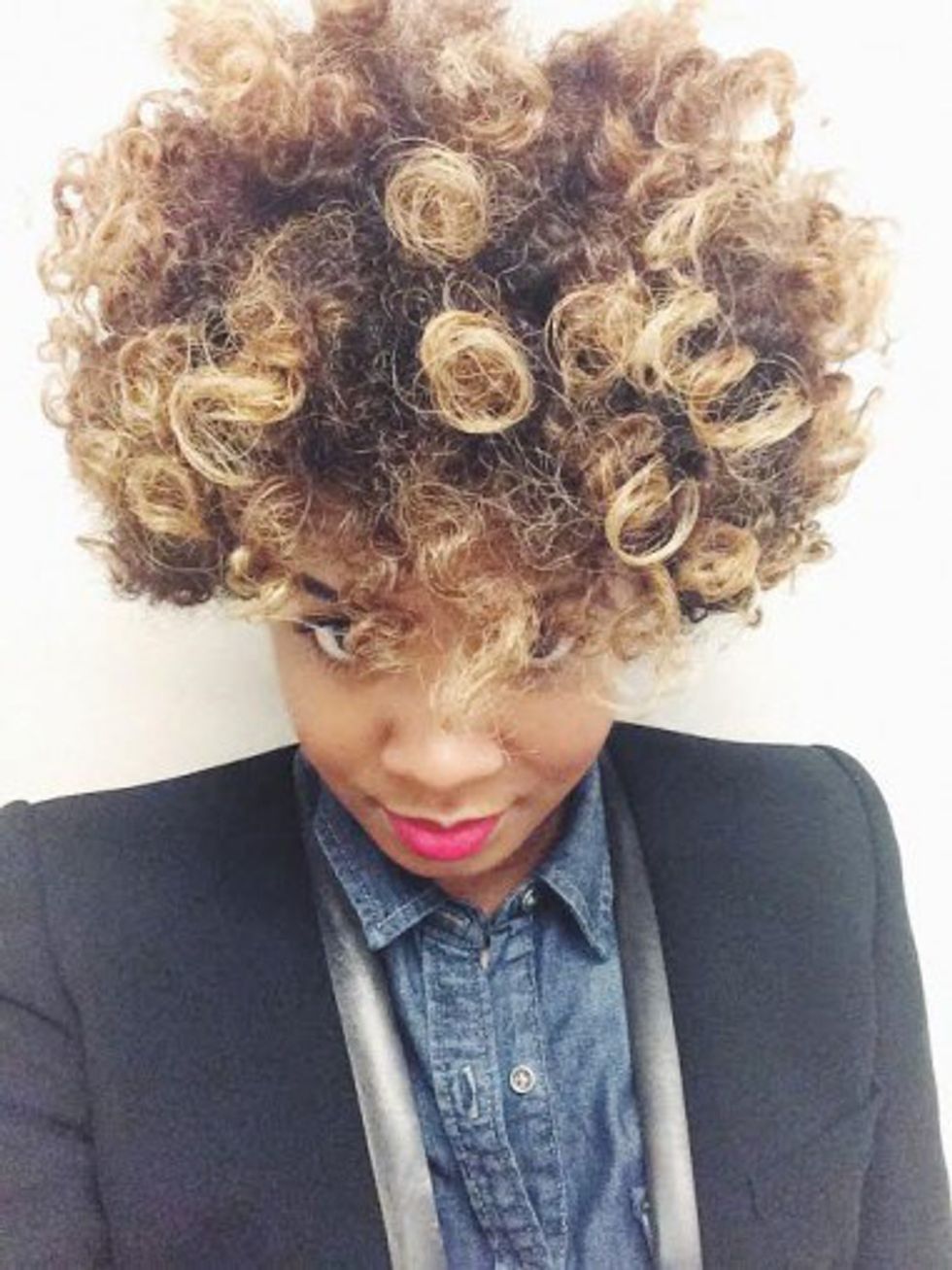 Courtesy of McKenzie Renae
You have two options once your knots are finished. You can sit under the dry for a couple of hours, or you can let your knots air dry for 24-48 hours. Remember, your hair will be tightly knotted up, so air will take longer to get in to actually dry your hair. If you take them out before they are dry, you will not get the desired look you want.
Step 5: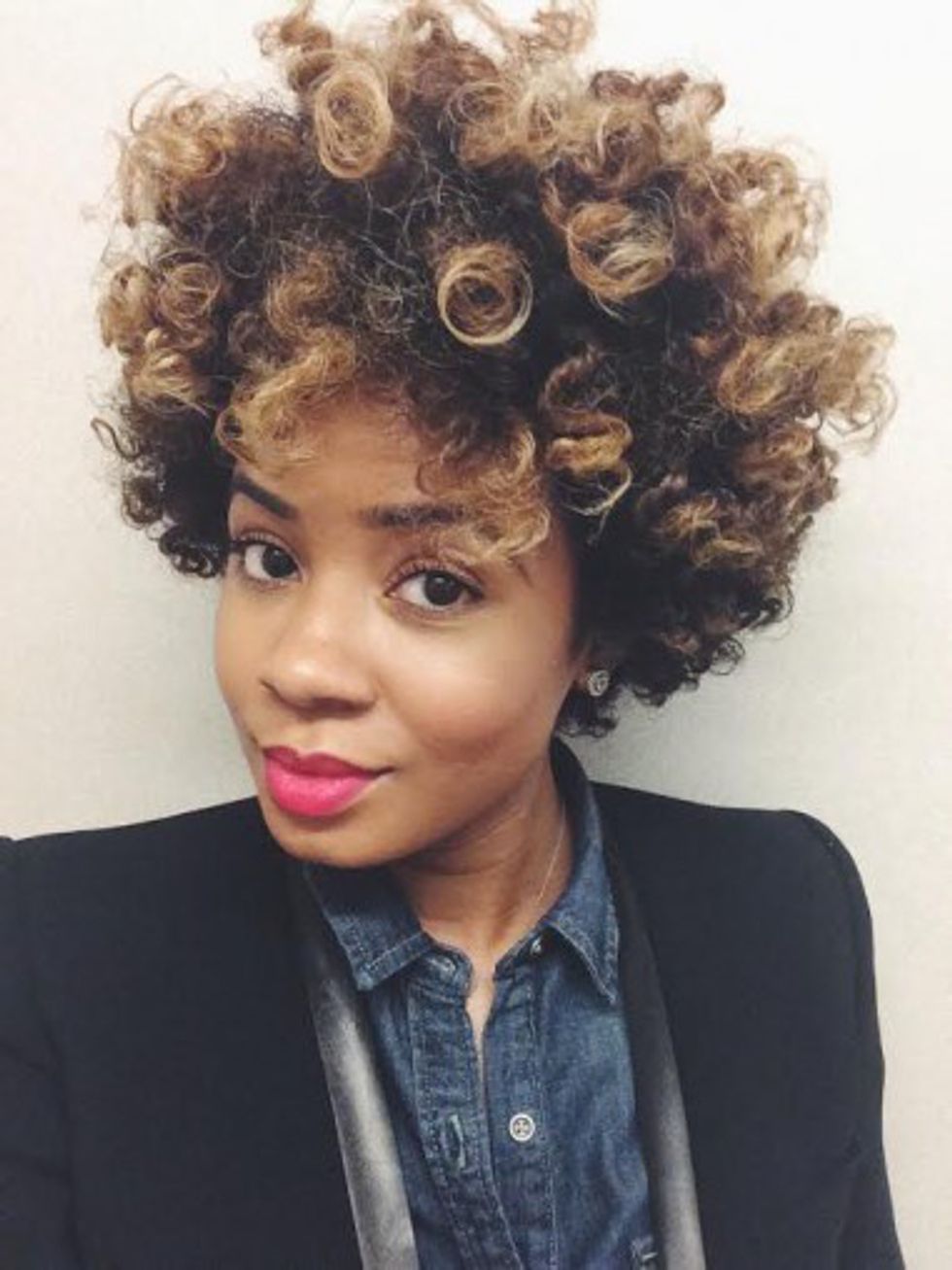 Courtesy of McKenzie Renae
I took them down similar to how I take out my twist-out. I applied a little Castor Oil onto my fingertips and gently took them out and separated them one by one. I don't have the photo of how they looked before I fluffed them out, but I used my fingers again to fluff from the roots and made sure no sectioned parts were visable.
Learning Lessons:

Although I thought my hair was completely dry after sitting under the dryer, it wasn't. What resulted was frizzy curls around the crown of my head. I'll probably devote a whole day to this look next time or sit under the dryer a tad bit longer. So please allow ample drying time!!
Honestly, I felt like a little baby doll with this style. I already look younger than my age, so that's not exactly the look I'm going for.
The style lasted three days for me then I was over it. There wasn't an easy way for me to maintain the look at night, and like my twist-out, it just didn't get better at three day "old old" hair.
I'm glad I finally did this look and tried something different, but it's just not for me. I might give it one more shot considering this was my first time doing this style. Who knows, maybe a longer length or knotting on clean hair will make a difference.
Better yet, next time maybe I'll leave my hair in the knots and rock it Rihanna-style.
How do you think I did on my first attempt?