As black women, we are raised with the belief that our hair is our crowning glory, at least that's how my mother put it. At the same time, we are also subjected to the "good hair" trope, which in turn, can create disdain for the way our hair grows towards the heavens rather than to the ground. Consequently, our self-worth has been tied to our hair for generations.
---
The traditional standard of beauty often made women of color feel as though their natural hair wasn't good enough. From relaxers and jheri curls to 20-inch lace fronts, the past few decades have seen black women wrestle with their own definition of beauty. However, the recent uptick of women embracing their natural curls and coils has ushered in a new demand for products that cater to natural hair, replacing the chemically treated options. The natural hair industry is changing the black hair care business as we know it. With more women embracing their natural hair texture, the opportunity to cash in on this segment of the nearly $761 billion dollar black hair care industry, is booming.
Any naturalista knows that although the range of products are increasing on our shelves, a lot of time, patience and MONEY goes into protecting our natural tresses.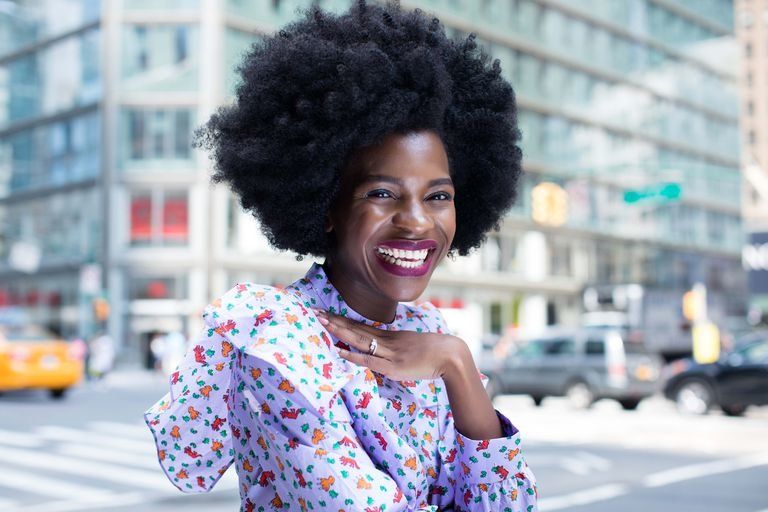 ELLE hips.hearstapps.com
Frédérique (Freddie) Harrel not only recognizes the links between our own self-worth and our hair, but she also understands the difficulty in maintaining our natural styles, as well as its high costs. So much so, that two years ago, after much research for synthetic quality and affordability, Harrel launched Big Hair No Care.

Big Hair No Care is a synthetic line of wigs and clip-in extensions that mimics the natural curl pattern of hair textures ranging from 3C to 4C, AND it is much cheaper than traditional (and often controversial) wig and extension options.
Branded as "Protective styling made EASY," Big Hair No Care's premium synthetic products offer "bold styles, low prices, premium quality, and no care needed so you can save the money and time for your OWN hair."

The blogger and hair influencer revealed that an unfortunate experience in China during a study abroad program was what forced her to rethink her wig-wearing ways. Showing up to class with glue dripping from her heavy $500 frontal, she told ELLE that the only excuse she could come up with was that she was having an "allergic reaction". She said: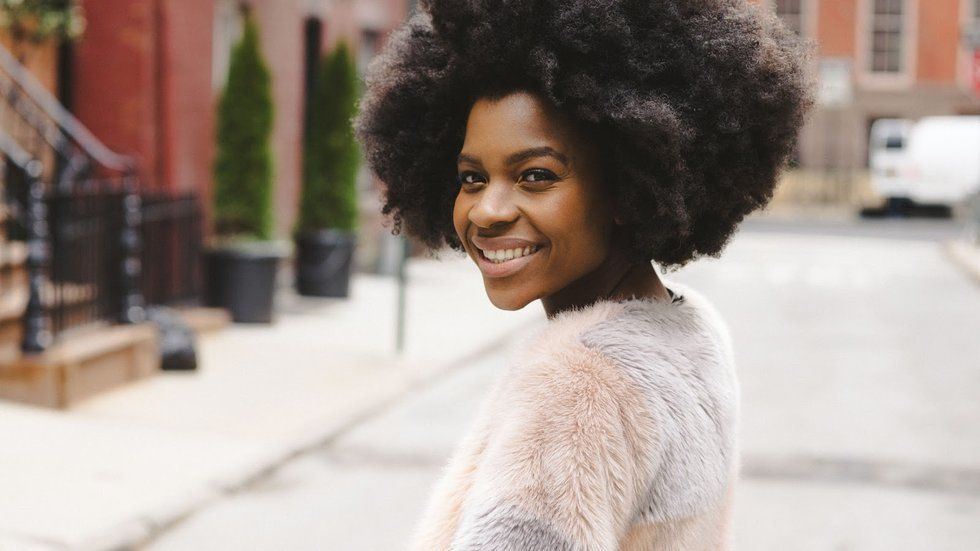 1.bp.blogspot.com
"Try explaining that to all the white people in the room."
The difficulty, expense, and embarrassment she faced wearing wigs led to her transition to using natural hair extensions instead. However, this didn't last long. After watching the BBC 3 documentary Whose Hair Is It Anyway?, by British singer Jameila, Harrel said no more.
She told ESSENCE, "When I first went natural I wanted to add a little bit a length, but it was impossible to find a synthetic wig or pieces that matched my texture."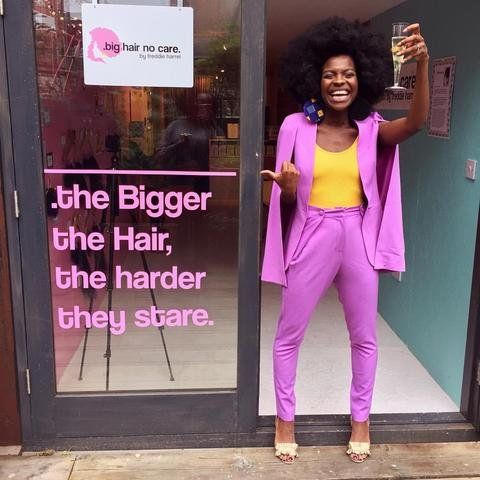 cdn.shopify.com
She told ELLE that her synthetic products require minimal maintenance, too, saying, "You don't need to wash, condition, or detangle. It's for people who are poor on time, poor on skills, and poor in money."

Much of her previous work lends itself well to this mantra, and she told ELLE that mental health should not come at the expense of your next wig. She says:
"Everyone's talking about how mental health is super important. For some people, it's too expensive to spend $70 on an hour with a therapist, but they'll spend $1,000 on a wig."
In the black community, we still have a long way to go towards eliminating the stigma surrounding mental illness and seeking therapy. What Harrel's brand is offering is the opportunity to look fly, save those coins, and invest them into other forms of self-care. Harrel also has had her own struggles with self-worth, and she told Bustle that this is the major reason why she is so passionate. She reveals:
"I grew up extremely insecure. I couldn't shake off this feeling of being inferior, rubbish. I used to look at everyone around and feel they all had their sh*t together but me. I want to speak to people who once or still feel like this, because I've come such a long way and found a lot of hacks to be happy and confident. I'm passionate about self-growth and personal development; it's a journey I'm on and I love to share it, with honesty, with the hope to lift up more women and get them to join in this growth path."
Freddie says that part of her mission is to normalize natural hair. When we can embrace everything about ourselves, we begin to free ourselves. She continues:
"Whilst we're finally talking about privilege and the different experiences we have, I also want to normalize afro hair, starting with having more of our products in the mainstream drug stores, because black women make up a strong part of our population--so our shopping experiences need to evolve accordingly. So what's next for me is to put BHNC on the high street!"
Freddie is a strong example of taking your passions and problems and turning them into money in the bank. Her ability to tap into her value as a black woman and her desire to positively impact the lives of black women all over the world is incredibly aspirational. Here's to your continued success, Freddie!