---
Guess how many people use social media? A whopping 3.1 billion folks! That's roughly one-third of the earth's population. Out of those, guess how many are addicted to it? Reportedly, 210 million folks (with most of them being young single women).
Adding to these stats, 71 percent of people sleep with their smartphone, 50 percent check their socials while driving (SMH) and 10 percent of teenagers check their cells no less than 10 times a night. I bet out of all of those findings, the main thing you're probably wondering is what constitutes a real deal Holyfield social media addiction. That's fair.
According to experts on the topic, you're leaning towards being an addict if you—check your notifications every few minutes; update your locations constantly; can't go a day without posting something (that has nothing to do with your career or platform); have to keep your phone on and close to you at night; can't go a week without taking a selfie; can't put your phone away when you're spending time with other people; check your phone while you're driving or walking; have more "friends" online than off and you internally lose it when folks don't comment on your posts. Oh, and if you can't remember the last time you went on a social media fast—if ever.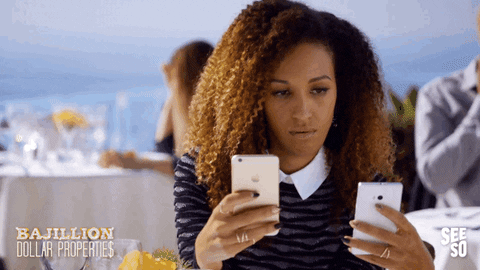 If you can check off four or more of these things, you are sho 'nuf a candidate for being a social media addict. It's problematic too, because this kind of addiction can affect your vision, give you bouts of loneliness and depression, put your productivity in jeopardy (which can put your job in jeopardy too), place a strain on your relationships and get you caught up in the illusion of the online world vs. the real one (which is offline).

I'm not sharing all of this with you so that you'll stop utilizing social media altogether. I'm simply sharing it so that you'll be intentional about protecting yourself from becoming an addict. More importantly, so that you'll take steps to protect yourself from all of the drama and negativity that is far more prevalent on social media than a lot of us realize.
And how can you do just that?
Featured image by Getty Images.
Related Articles:
What I Learned From My Two-Month Social Media Fast - Read More
Why Taking A Break From Social Media Is Critical For My Self-Care Routine - Read More
How to Shoot Your Friend Shot in the Social Media Era – Read More