"Some people feel the rain, others get wet."
For me, those words were just another affirmation that I saw on an episode of Being Mary Jane. What I had not considered was how powerful those words were when two different women applied them to their own lives.
---
You might remember the news story about Demetria Obilor, a Dallas news anchor, that became the topic of conversation after a Facebook commenter body shamed her and slammed her for having what she referred to as "a size 16/18 woman in a size 6 dress".  According to additional comments left by the troll, the prior traffic reporter dressed far more conservative and Demetria needed to take note.
The social media post quickly went viral and ended with Demetria walking away with positive vibes and lots of love from thousands of supporters, including celebrities, like Chance the Rapper and one of our favorite xoMentors, Gabrielle Union.
When Gabrielle Union got wind of the story, she wrote a touching Instagram post to Demetria for her strength and pegged her "The Real Mary Jane," referencing the character from her hit BET show.  She also revealed that she would be personally sending a new wardrobe from her exclusive New York & Company collection to "traffic bae."
She wrote:
Sending love, light and support to Dallas News Anchor Demetria Obilor who was recently body shamed online. YOU are the real life Mary Jane… A go-getter news anchor who dresses DOPE and doesn't give a s*** what everyone else thinks. Keep on kicking ass and taking names queen. We love you just the way you are! And since you slay everything you wear, I'm sending you a bunch of pieces from my @nyandcompany collection and some credit for extra pieces!
Gabrielle stood by her word, because this week Demetria posted up in the clothes and she looked absolutely stunning!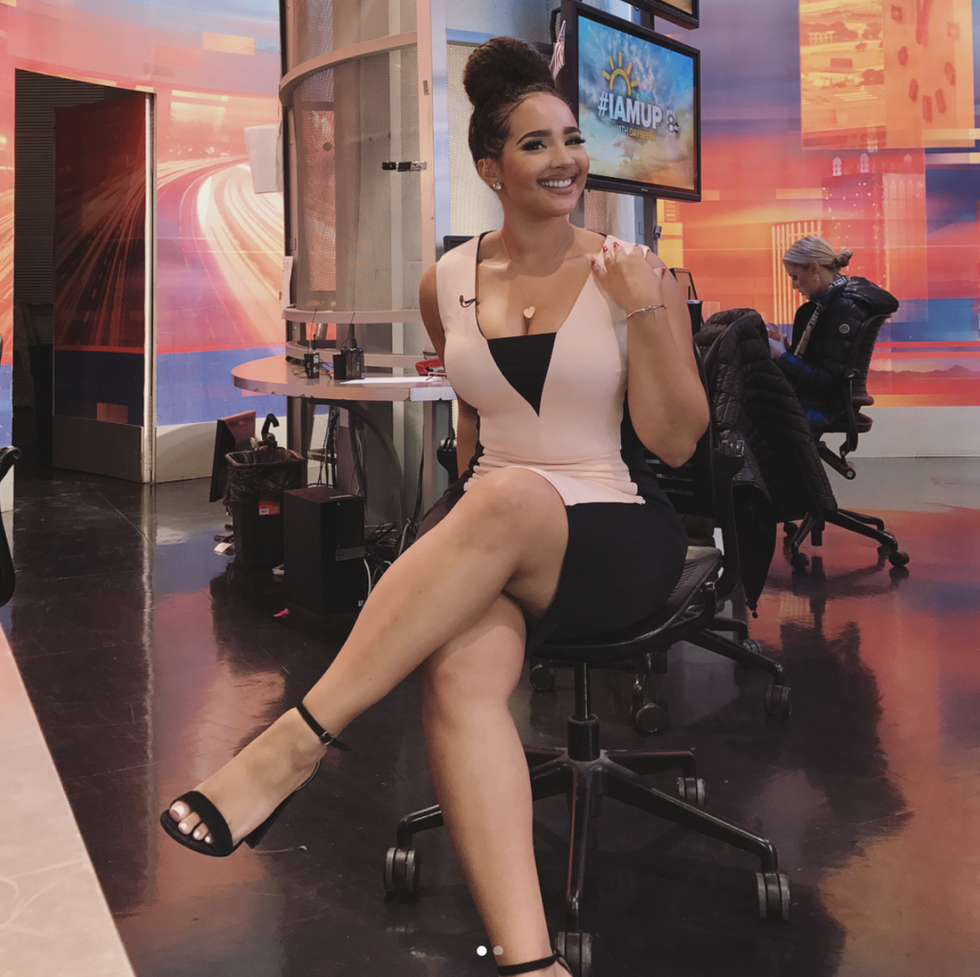 She wrote on Instagram:
MANY thanks to @gabunion and her team for coming through with the beautiful dresses from the Gabrielle Union for @nyandcompany collection! Feeling like Miss Mary Jane herself! 😍thank you so much! 💋
Werk, sis!
Demetria recently gave an exclusive to Elle where she shared her thoughts about people trying to police her body and her appearance and about how much further society needs to move as a whole in order to truly be progressive:
There's so much that's "unacceptable." Your hair needs to be straight; if it's curly or an afro it's unprofessional. If you have curves, you need to wear a huge fit-and-flare dress to hide them, because it's too big or too sensual or too erotic. I shouldn't have to wear a potato sack to make you feel comfortable. I've heard people say, "Well, you're in Texas now. We're more conservative." So you're telling me that every time I travel to a different state, I have to assimilate to its cultural norms and values in order to be accepted? That's not what America stands for. America is supposed to be a melting pot based on freedom from religious persecution and cultural persecution. Don't tell me I have to assimilate.

I have a really thick skin, so you're not going to catch me crying because you said I look a certain way in a dress or I look fat. I put myself out there to show other women:

Hey, this is okay.
Shouts to Demetria for standing up for herself and being a great example for young women looking to work in the vicious entertainment industry!