Steph and his wife Ayesha Curry are one of those couples that you just love to love. They do mostly everything right and try not to get swept up in the trenches of fame. They are grounded and keep their morals close by as they attempt to put their influence toward the good of the culture and for the good of the world.
---
In fact, one of the things that I love most about them is that they often try to do all of the above in new and creative ways. For example, Steph Curry is one of the loudest sponsors for the Howard University Collegiate Golf team. And because we know that golf isn't as prevalent in the Black community as a sport such as basketball, this is what I mean when I say they find new and creative ways to be involved.
They find the holes and seek resolutions.

This is especially true in their latest efforts: the effort to eliminate food deserts in Oakland. And they're doing so with a loud and colorful school bus.
The 'Eat. Learn. Play. Bus' is a hot pink, pale blue and yellowish gold mobile bus that will roll through the streets of Oakland, in an effort to do much more than the old school ice cream trucks that we know from back in the day. Instead, this bus will feed, teach, energize and engage Black children (and other youths of color) in Oakland's stressed communities. Ayesha opened up about the vision saying:
"This idea came basically from me wanting to find a way to eradicate food deserts within the Oakland area. At first, the idea was around, 'How can we find locations where people can come and pick up fresh produce and other things for their families?' Logistically, especially with Covid, that idea started to seem far-fetched."
From here, according to reports, CEO of Eat. Learn. Play. suggested a bus and the rest goes down in we-gotta-look-after-our-communities history. Cruising Kitchens was solicited to convert the bus, and Oakland mural artists Illuminaries created the visuals on the bus that include Ayesha Curry cooking, Stephen Curry shooting a basketball, local landmarks like the San Francisco-Oakland Bay Bridge and more. So awesome!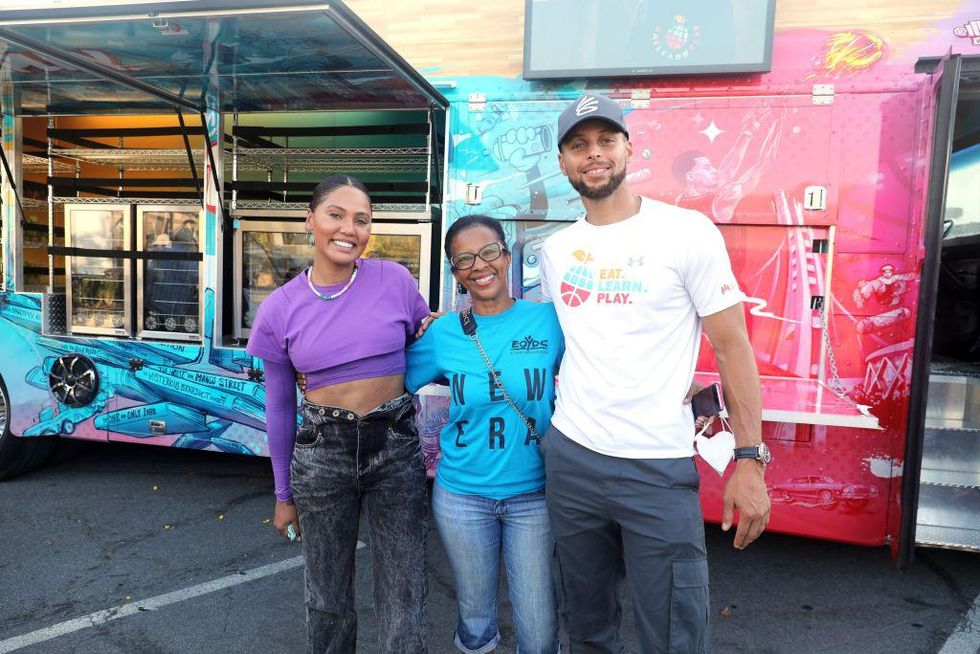 Kelly Sullivan/Getty Images for Eat. Learn. Play.
One side will function as a food truck or mobile pantry to provide the community with free hot food and fresh produce to children and families. The other side is a stacked library, packed with books and ways to engage all, which is the Currys way of staying on top of Oakland's troubling literacy rate (Black children in Oakland are four times more likely to be reading many years below their grade level in comparison to white students #whew). The bus also houses flat-screen TVs, a sound system to get the kids pumped, and a bus rooftop area that can hold up to 35 children. Of the schedule, Steph says it will travel randomly to schools, community centers, and churches.
"We want mystique about it. So it may show up anywhere, take on a life of its own and has the capabilities to host an event anywhere."
Ayesha added:
"And I know a guy who plays basketball, so we added a basketball hoop for the play pillar. It turned into this bigger-than-life idea. It's not the teacher's fault. It's not the parents' fault. It's a community issue. Let's get together, give this model a try and see if we can create some excitement around reading. If we can all join together and try to fix the issue together and turn these numbers around, then I think we're doing something right."
Adore these two! Be sure to be on the lookout, Oakland!
Are you a member of our insiders squad? Join us in the xoTribe Members Community today!

Featured image by Kelly Sullivan/Getty Images for Eat. Learn. Play.