---
Between your increasingly thriving career, familial obligations, and making time for self-care, romance may be the last thing on mind. While you've been focused on living your best life, it's possible that you've been putting bae on the back burner, but according to Steph and Ayesha Curry, your partner should be the most important thing on your to-do list, and their recent trip to Iceland was proof of this fact.
The Currys constantly have their schedules jam-packed with everything from hosting PGA golf tournaments to raising three children, but somehow despite the chaos of both their personal and professional lives, these two always seem to make time for one another. The couple, who spent their weekend in the land of volcanoes, geysers, and lava fields, celebrated 8 years of marriage in July and are a vision of melanin matrimony that is frame-worthy.
While a 7-hour flight to Viking country may not be on your bucket list, this celebrity couple just proved that one of the coolest things you can do is have a hot date on a glacier. Steph and Ayesha spent their baecation at The Retreat Blue Lagoon at Iceland, a luxury resort with floor-to-ceiling windows and lagoon views that starts at $1,300 a night; but there are also Volcano Huts and Cottages available that you can snag at a bargain for an alternatively dope experience.

Although booking a place to stay is a great place to start, Iceland has a lot more to offer than a quaint love nest when it comes to romance. If you and your boo are thinking of booking a trip, here are a few places you should check out while you're there:
Blue Lagoon
Known as one of the Top 25 wonders of the world, Iceland's man-made geothermic spa has been graced by the likes of Beyonce, Jay-Z, Ayesha and Steph Curry, and now, you and your boo! The lagoon's waters stay around 102 degrees Fahrenheit and is open year-round, but due to its popularity, it's recommended that you book well before your trip.
Thrihnukagigur
Climbing into a dormant volcanic crater may not be the ideal date night, but judging from Steph and Ayesha's photos, it sure makes for a fun one. One of the country's top attractions and the only volcano in the world that you can actually go inside, visitors can delve down up to 400 feet down into the volcano's magma chamber for a one of a kind experience.
Experience The Northern Lights At Seltjarnarnes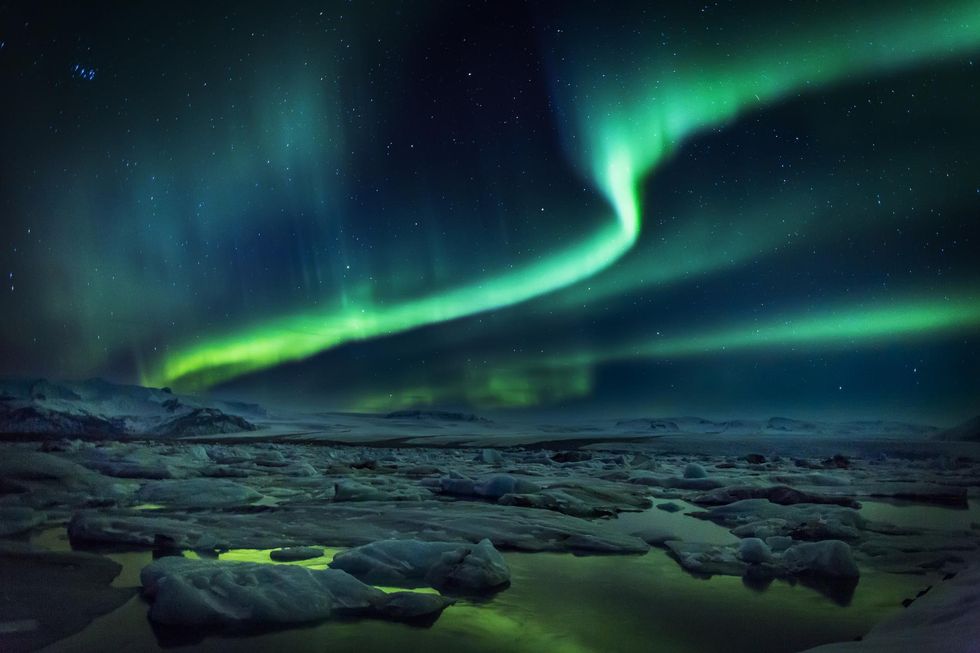 Aurora Borealis or Northern lights, Iceland
Getty Images
This quaint, mountain-view city is the perfect place for you and your partner to fall in love all over again. From late September until late March, you can experience the Northern Lights, a beautiful display of colors and stars that will set the mood for the date night of your dreams.
Featured image by Matt Winkelmeyer/Getty Images