Although I have literally no interest in sports, this week's episode of Red Table Talk offered a real-life take on love and basketball that did not disappoint.
Willow, Adrienne, and Jada traveled to Charlotte, home of NBA superstar family The Currys, to talk to the First Ladies of basketball about the ups and downs of love, marriage, and managing their mental health in the midst of the chaos. Ayesha was joined by her mother-in-law, Sonya Curry, as well as her sister-in-law, Sydel Curry, and Seth Curry's fiancé, Callie Rivers, who shared what life is like as NBA royalty, and it's not always as glamorous as it may look.
---
In this vulnerable conversation among the matriarchs of the Curry family, they got real about what it's like to be a powerful Black woman who is married to an equally powerful Black man.
Ayesha, mother of three and host of Ayesha's Home Kitchen, said that it was important for her to become an entrepreneur because she wanted her journey to be about more than just being a basketball player's wife. According to Ayesha, the saying is true: happy wife, happy life, and what makes her happiest is having the ability to be her own person.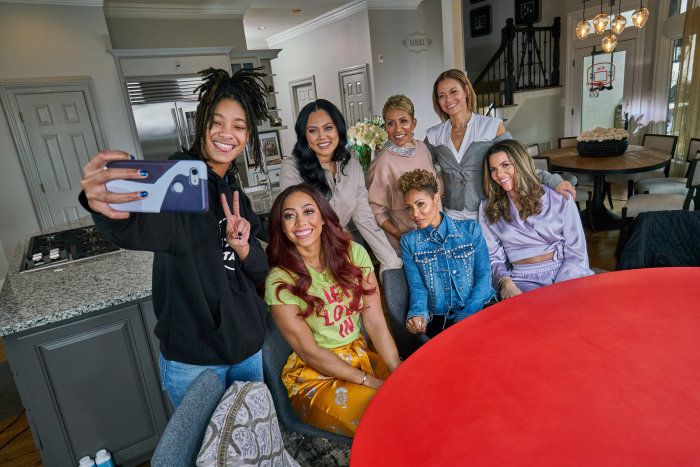 John Merrick / Red Table Talk
"I need to make sure I have something for myself. As well as my marriage. One, it's going to make me happy and full. I'm going to be a better parent. And it'll make my husband a better person as well because he has this strong woman next to him, who has her own wants and needs and knows what she wants. So I feel like I have greater value and passion and I'm just a happier person that way."
At the Red Table, Sonya, who has been married to NBA superstar Dell Curry for 30 years, and Ayesha who has been married to Steph since 2011, also agreed that the thirst is real when it comes to dating a superstar athlete. Although Jada pointed out that it's part of our primal instincts to gravitate to a man in power, Ayesha said that often, women tend to gravitate a little too closely.
"I'm a grown woman so I'll just insert myself. I'm okay with it now. The ladies will always be lurking and waiting for their moment but for me, I honestly hate it. I don't like when I feel leveled off with somebody. It irks my nerves."
She explained that it bothered her so much, that she was forced to bring it to Steph's attention.
"So we had the conversation about it, like when we're going somewhere we make sure that I'm being introduced. I don't like to have to introduce myself. It irks my nerves. So I try and make that known. But there have been a couple of times when I wanted to punch somebody in the face. But that's just human nature."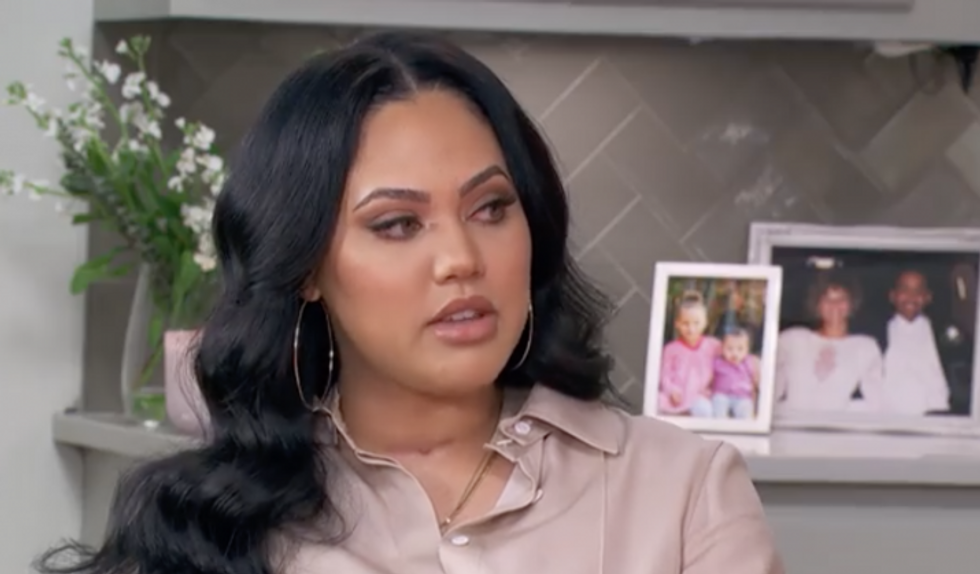 Screenshot of Ayesha Curry from 'Red Table Talk'
Ayesha shared that women crossing boundaries isn't anything new. Years ago, when she was breastfeeding Riley, she had a traumatic experience that she would never forget. Ayesha said the encounter triggered anxiety that she still has to take medication for today.

"I'll never forget we wanted to go buy bikes one day. And I'm sitting in the back, nursing Riley. She's less than one-year-old. And this lady—this group of people come over and they're trying to ask Stephen for pictures and autographs—this woman opens the car door, sticks her body in the car and is like, 'Let me see.' And I'm like, 'No, get out of the car.' And she says, 'Oh honey, you know what you signed up for.' And that's kind of stuck with me for a long time. I'm like actually no, I didn't. And I think I deserve some type of personal space and so that's where everything stems from for me."
Along with battling ongoing anxiety, her husband's celebrity has also brought on a number of insecurities for the cookbook author that she never knew she had.
"Something that really bothers me and has honestly, given me a little bit of an insecurity is like 'Yeah, there are all these women throwing themselves [at Steph] but me, the past ten years, I don't have any of that. It sounds weird but I have zero male attention. Then I internalize it and I'm like is there something wrong with me? I don't want it. But it would be nice to know that someone's looking."
Overnight, Ayesha's comments at the Red Table have caught fire on Black Twitter and raised a number of opinions. Ayesha is currently trending, and her choice of words is under siege. According to some pretty angry Twitter fingers, her inclination in the past to criticize women for wearing revealing clothing is directly correlated to this comment, and she should be punished… But, nah, sis. If you've ever watched Red Table Talk, you know it's all about vulnerability, and this episode was no different.
Ayesha Curry is pick me level 6,000 dear sweet Jesus. I didn't realize it was THIS bad.
— D. Danyelle Thomas (@UnfitChristian) May 6, 2019
Ayesha Curry would have more empathy from women on twitter had she not been so insufferable all these years with her pick-me ideologies. She spent too much time making it seem like being a modest/virtuous woman was the only respectful way to live.
— R. (@_FleurTatious) May 7, 2019
Ayesha Curry is a "pick me"?
As a married woman? pic.twitter.com/LE70MCB212
— Maggie Pierce (@C_dotDOG) May 7, 2019
If we're keeping it a buck here, everyone wants to feel beautiful, whether you're dating, married, single, or divorced. Her comments don't negate the appreciation she has for her man, but what they do prove is that no matter how rich, beautiful, or loved we are, we all have insecurities that we have to confront head-on.
After watching the entire Red Table Talk, I realized y'all took Ayesha Curry's word completely out of context. But… https://t.co/bOqcJJc5Hi

— Desh (@Desh)1557249592.0
Red table talk is an open comfortable environment. #AyeshaCurry should be able to say what she wants and anyone who has a problem too bad cause she doesn't know you 😂 now go back to living your basic life cause you can't relate
— buss down thotiana 👾 (@Mayanoi1) May 7, 2019
First of all, y'all reaching.
Second of all, y'all a bunch of haters. You know EXACTLY what Ayesha Curry was trying to say. She probably shouldn't have said it on Red Table but she chose that moment to be vulnerable as a woman.
— godiva. (@ohemakyereme) May 7, 2019
If we really took inventory, how many times have you side-eyed the waitress for giggling a little too hard at your date? If I saw my man having panties thrown at him by beautiful women every single day, I'd probably be ready to whip out my pimp hand on one of those women, too. But the truth is, just because you're entitled to your insecurities, doesn't make it okay to not deal with them.

Watch the full episode below!

What did you think about what Ayesha said? Was she wrong, or do you think she had a point? Let us know in the comments!