Karrueche Tran, I like her. She minds her business, she makes smart business moves. She has integrity, and most importantly, she loves herself enough to leave situations that no longer serve her. Tran popped on the scene roughly a decade ago as the girlfriend of Chris Brown. They had a whirlwind romance, filled with just as many highs as lows. Eventually, Karrueche ended the relationship after she found out Brown had a daughter on the way, and she moved on to pursue her passions within the entertainment industry.
---
This led to acting, where she's starred as Vivian Johnson-Garrett in the web series The Bay, and Virginia Loc on the TNT series Claws.
But it is her latest money move that solidified her place in the career pivot hall of fame, because sis is coming off of her first Emmy win!
The Emmy was for Outstanding Performance by a Lead Actress in a Daytime Fiction Program, for her performance as Vivian Johnson-Garrett in Popstar! TV's The Bay. Her win is a mega milestone for the Emmys, as Tran (who is Black and Vietnamese) is the first lead actress of AAPI descent to take home the trophy for either Daytime or Primetime Emmys.
And sis, this is a flex!
Her latest win makes this Tran's fourth Emmy win for The Bay. She won three prior trophies as a producer on the digital series, which won in the Outstanding Digital Daytime Drama Series category in 2016, 2017, and 2018.
She began her speech with speechless shock saying:
"I can't even talk. I'm so thankful and so blessed and so grateful. Thank you to the Academy and to the other nominees."
She went on to thank her friends and family, 'who have always supported me,' adding that she had to thank The Bay family, "who have believed in me from day one in me when nobody did at all. I just won an Emmy. Oh my God. Thank you so much!" she added. When asked what storyline she was most proud of this year, she said she was proud to "shine a light" on the Black Lives Matter protests.
The Bay is a soap opera, set in the posh seaside town of Bay City, where the privileged residents are entangled in one scandal, betrayal or love affair after the other.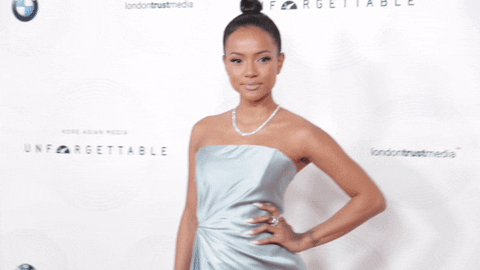 Giphy
Karrueche later took to Instagram to bask in her win.
"Y'all.. I.. really don't even know where to begin… lol when I got nominated I was soooo surprised and grateful but was like nah there's no way I'm gonna actually win.. the nom was more than enough.. but God had a different plan for me.. I'm still in shock!"
She continued:
"The icing on the cake was finding out I'm the first AAPI lead actress Emmy winner in both Daytime Emmys and Primetime.. excuse me WHATTT??! I fucking made Emmys history.. that is HUGE and makes me extremely emotional.. to be a representation of a community that is so often overlooked and under appreciated brings me to tears.. WOW I am on such a high that I know will last for a long time."
Watch the clip of her discussing the show with co-stars below:
Congratulations on such a historic win!
Are you a member of our insiders squad? Join us in the xoTribe Members Community today!

Featured image by Aaron J. Thornton/Getty Images for BET