---
Never mind her sudden success in Hollywood or the millions of eyes already tuned into her moves, Karrueche Tran is not blinded by fame. The moment the Claws actress settles into her call with xoNecole, it's clear she is set on making an impact that runs deeper than a trending moment.
Whether it's through her hit TNT series or her latest film Never Heard (released November 1), where she steps into unchartered territory as a church girl named Paris, the Los Angeles native is enamored by opportunities that allow women to see and be their authentic selves.
Determined to illuminate the humanity within each role she steps into, no matter how different they appear on the surface, the two-time Emmy winner is most excited for fans to witness pieces of themselves manifest on screen as they dive into the lives of her characters.
Her mission isn't one-dimensional, either. The model made a refreshing statement on celebrating natural beauty in the face of unattainable standards with her latest ColourPop collection, Brown Sugar. "Girls need to be reminded that you can come as you are," she champions. "You don't have to change. Embrace everything that comes with you: your journey, your story, your scars."
In this xoChat, Karrueche details building her name as a creative, tapping into the power of faith, avoiding the pitfalls of social media, and rediscovering love after heartbreak.
xoNecole: What drew you to your latest movie, 'Never Heard'?
Karrueche Tran: As a new actress, I'm still exploring roles and trying to expand my creativity and my artistry. Paris is a character that I've never played before, so I was interested in digging deep into who she is. And also, I love the story and the message of the movie itself. It's a movie about faith and redemption and the power of prayer. As creatives, as people who influence and have platforms, I think it's important for us to continue to portray these stories for the world to see and stories people can easily relate to. I think that's the great thing about this movie.
As far as your personal life goes, how much did you resonate with the heart of the movie?
I've always had a relationship with God. I'm not extremely religious, but I did grow up Christian. I had a very hard time in my life in which there was just a lot going on, and I connected myself more with God and built that relationship because, at that time, He was the only person that I had to rely on. I wasn't even relying on myself. I didn't even have any self-worth or love at the time. He restored my faith, and I left it all in His hands to help me and push me through my struggles, and thankfully, He was there for me. Even to this day, every night when I pray, I tell Him how thankful and blessed I am to have Him by my side throughout the journey of my life – the ups and the downs and the confusion and the mistakes and the great things that are happening.
"I didn't even have any self-worth or love at the time. He restored my faith, and I left it all in His hands to help me and push me through my struggles."
You've been cementing your name as an actress on the hit TNT series 'Claws' and from what we've seen, your character Paris is worlds apart from Virginia. What work goes into tapping into the lives of characters that are so different from each other?
One thing that I love is character building. For Virginia, she was a stripper, so I spent a lot of time in the strip club doing research, literally watching the girls and how they moved and how they talked to each other and communicated with their customers. For Paris, I didn't have as much time to do research like I did with Virginia, but I kind of built my vision of who I thought she was and where she came from. I personally didn't grow up in the church, but I put my mind there as the young, sweet girl who's kind of the girl next door who lost her mother [and] who has this relationship with her father that's not as strong as she would like it to be. Again, that's another great, relatable story that a lot of girls will be able to connect with, and that's what I love about the character. She's real, and she's genuine.
From Niecy Nash to Robin Givens, you've shared sets with a number of veterans in the industry. How has that stretched you as an artist?
I'm blessed to be in their presence and to be able to say that I've worked with all these amazing actors. I've worked with a lot of veterans, and for where I'm at in my career, it's truly a blessing, and I'm so thankful to work so closely to them. It definitely motivates me to be better and to push myself harder and to perfect my craft.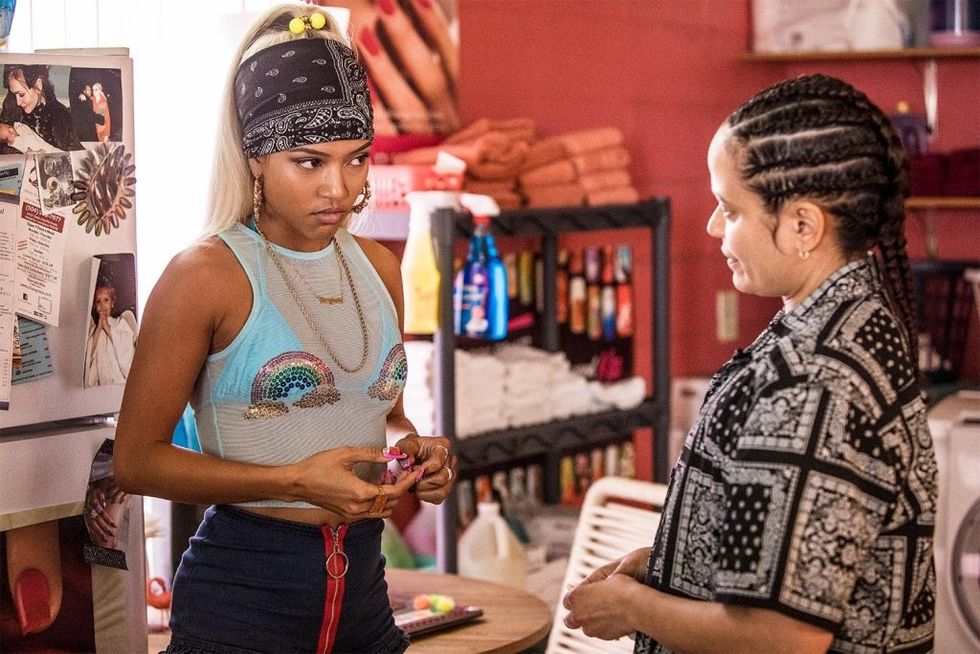 TNT
You already have two Emmys to your name, both from the web series 'The Bay' where you got your start. Is that something that you imagined you would accomplish as early as you did?
Not at all. Some people grow up wanting to be an actor, knowing that this is their calling, and I had no idea. Honestly, sometimes I forget that I have two Emmys sitting in my house. It's mind blowing. It's crazy, but it sets the tone for me to not get comfortable and to continue to work harder and live up to the standard of being able to say, "I have two Emmys."
Outside of acting, you've also established yourself in the world of fashion as a model. When we were introduced to you, though, you were on the styling end of things. Was it always in your plan to end up where you are now?
No. Again, it wasn't something that I ever expected. I'm from LA, and I've always seen myself as a regular girl. I had two jobs. I was a stylist, and I had this opportunity to be featured in a film. It was a very small role with one speaking line, but from there it sparked an interest, and from there I saw the potential. I also realized that it's not easy, and it was going to be a lot of work, but I was willing to study and work my way towards perfecting my craft.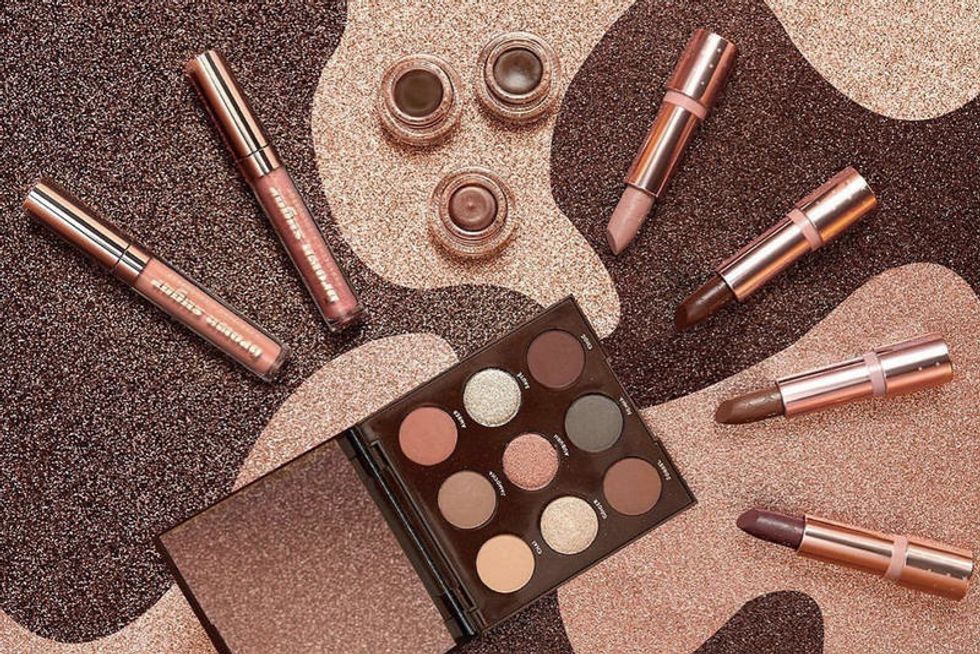 Karrueche ColourPop Brown Sugar Collection
You've been working with ColourPop since 2016 and have another joint collection out now. Tell us about your relationship with that brand. What makes it a great fit for you?
Brown Sugar, which is my latest collection, is currently available, so make sure everybody gets that (laughs). I just love that ColourPop gives me so much [freedom] to create things that are genuine to me, so all of my collections have been something that I've actually been hands on with. I pick the colors, the names, the packaging, the story behind the collection. I literally have created everything, and I think that's just so awesome because it's real, and it's something that's a part of me that I can give back to the world. And beauty is such a huge market right now. Years ago, I wasn't as into makeup, but now I have such a love for it, and you can just have so much fun [with it].
Brown Sugar seems to be a lot deeper than makeup. What's the story behind it? 
Whenever I come up with a new collection, I sit and think about what kind of headspace I'm in right now, what's going on in my life, and how I can incorporate personal ties to this collection. As much as I love makeup, I've been in this phase with social media where I feel we get a bit distracted with reality, so I wanted to bring back a sense of individuality and relay that message to girls. You don't necessarily have to look a certain way or wear certain things. Girls need to be reminded that you can come as you are. You don't have to change. Embrace everything that comes with you: your journey, your story, your scars. It doesn't matter where you come from or what you've been through, we can all be beautiful and powerful and great together.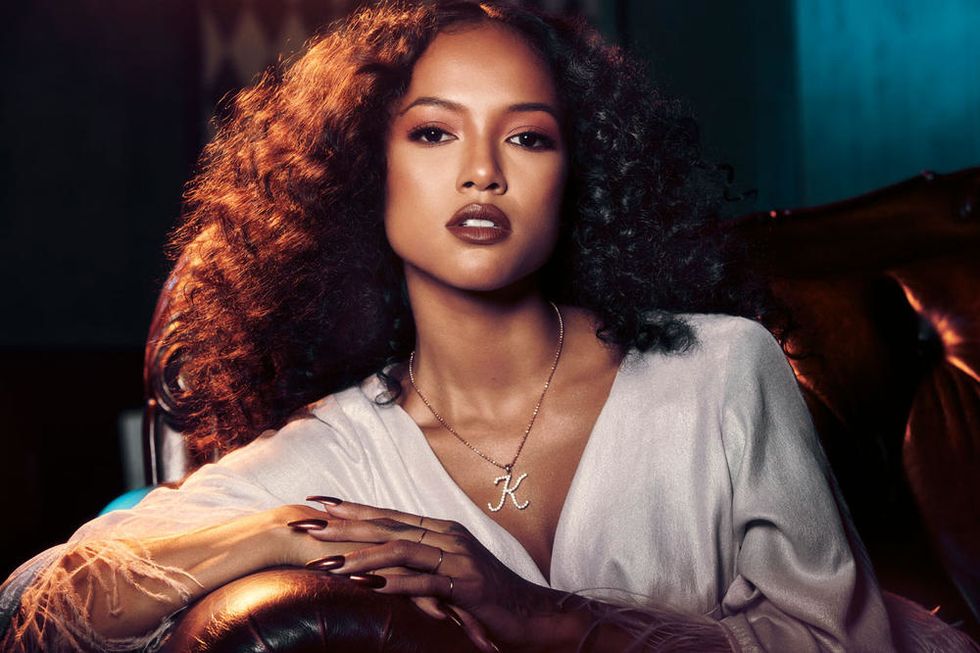 Karrueche ColourPop Brown Sugar
"Girls need to be reminded that you can come as you are. You don't have to change. Embrace everything that comes with you."
I had a diverse group of models for the photoshoot, and I included the stories of each girl. I wanted them to be more than just a face, more than just a figure that had makeup on, more than just a model. I wanted the world to see that we are all very much different, and that's okay. We're all beautiful and talented in our own ways. We all have something to offer and bring to the table, and with today's society and social media, I think that gets a little lost and our perception of what's realistic is not real. There's a lot of beautiful girls with beautiful bodies, and that's cool, but not everybody can attain that. And with the line being called Brown Sugar, it's like a little finishing touch. All you need is a little bit of this and a little bit of that, but you don't have to change anything.
You've opened up about the pressures that come with being in the spotlight and owning who you are and how you look in spite of that. Are you in a space where you're fully comfortable in your skin or is that something that you have to be intentional about celebrating?
It's a little bit of both. I'm comfortable, but then I'm not because I'll see a girl who's gorgeous and tall, and I've always wanted to be tall, but I'm 5'1'', and I'm not going to grow much more at the age of 30, you know (laughs)? And sometimes, I'll be like, Damn, I wish I looked like her, and my mind gets so consumed in that, and I have to remind myself that I have great qualities as well. It might not be the longest legs or the biggest butt, but that's okay. It's perfectly fine. I'm human. This is how God created me. I embrace it and try to let it go. That's dangerous if you become so sucked into negativity and judgment and being self-conscious. I think it can really wear and tear somebody down mentally. At one point, I did go through that heavily, and I don't want to go through that again so I reevaluate and remind myself of who I am and what I have to offer.
"I have to remind myself that I have great qualities as well. It might not be the longest legs or the biggest butt, but that's okay. It's perfectly fine. I'm human. This is how God created me."
You haven't necessarily embraced the term "influencer" that's often attached to your name. Why have you steered clear of that lane?
It's just weird (laughs). Again, I look at myself as Karrueche from LA – just a regular girl – so when I think about being an influencer, I'm like, What does that mean? It's just a strange term to me, and that's why I think I'm so vocal about pushing for positivity and embracing ourselves and our individuality because if I'm going to be called an influencer, then I'm going to utilize my voice and my platform in the best way possible so I can influence people with substance, not just, I'm cute and I'm pretty. That's cool, but let's have some power and some longevity and just something real behind that. I can go on and on about social media. I have a love/hate relationship with it because I'm able to engage with my fans and have this amazing platform where I can reach out to people, but I want to use it in the best way so that I'm actually influencing people in the right direction.
You've rediscovered love within the past year, and it looks great on you. What have you learned in your single seasons that have made it possible for you to open your heart as the public keeps tabs yet again?
I learned a lot about myself. I learned self-love and self-worth and just understanding that essentially I don't need a man or anybody else to make me happy. I spent a lot of time by myself learning what I like and what I don't like, which has helped me realize that if I had to make it on my own, I could. Do I want to? No (laughs). But, if I were to never find a man out there, then I'd be content because I have my family, I have my friends, myself, and my career. Dating different people made me realize what I will and will not tolerate, and I am very lucky that my love life is where it is right now. I'm very comfortable and in a very good space.
You turned 30 this year. If you could have a conversation with Karrueche at 20, what would you tell her about the journey ahead?
I would've told myself to be more focused in whatever interested me at the time. To stay focused and to work harder than I was before. I was too busy running around and going out, so I just wish I would've started something earlier in my life to kind of get a headstart of where I'd be now. But, I'm fully content with where I am now, whether it be the ups or downs or the struggles and mistakes that I've made. As hurtful and as hard as it was, I wouldn't be who I am today if I never went through those things. That's the beauty of life. It's the journey of trials and tribulations and figuring things out and learning from your mistakes or going through them and hoping that you do.
As we draw closer to a new year, what should we expect next from you? 
I just wrapped a movie called Embattled. We don't have a date for it yet, but it should be out sometime next year [in 2019]. I start shooting Claws again for Season 3. If anything else, you know how the industry is. Some things come up last minute or along the way, so who knows? But I'm definitely continuing to push myself, to work hard, and perfect my craft.
To keep up with Karrueche, follow her on Instagram. And check out her latest ColourPop collection Brown Sugar here.
Featured image courtesy of Karrueche Tran