Karrueche Tran has been circulating in the news lately for being the first lead actress of the AAPI community to win an Emmy. Her Emmy was for Outstanding Performance by a Lead Actress in a Daytime Fiction Program in Popstar! TV's The Bay. Because of this, her stock is going up and she has crossed over into the land of being taken seriously as an actress, regardless of how she may have arrived on the scene. And with more accolades, comes more personal life details coming to the surface, details that we may have all missed in the past.
---
In fact, one major life detail that Karrueche has revealed is that her father is gay.
Her father, who is Jamaican-American, is one of her biggest supporters, as she is of his. The admission took place during promo for her popular TNT series, Claws. While discussing her life apart from being Chris Brown's ex-girlfriend with MadameNoire, she revealed:
"I don't think I've ever told anyone this, but my father is gay. I don't think I've ever told anyone this because I don't realize that that is not necessarily normal, you know? I live my life as me and it's like, 'oh, that's just my dad.' But when I tell people sometimes, they're like, 'really?!' And he's not [transitioning like Caitlyn Jenner], but he is homosexual, he is gay."
She adds:
"I knew from like middle school. Even in elementary school, I knew something was different. And I don't know how I knew or how I even knew what gay was being so young, but I think when you're younger, you catch onto things and you watch TV, so I've always kind of known. As I grew older, we had certain talks, or I talked with my mom, and it just is what it was."
This made me wonder, who else has grown up with a parent that is of the LGBTQ community?
Well, most famously, there's Jay-Z: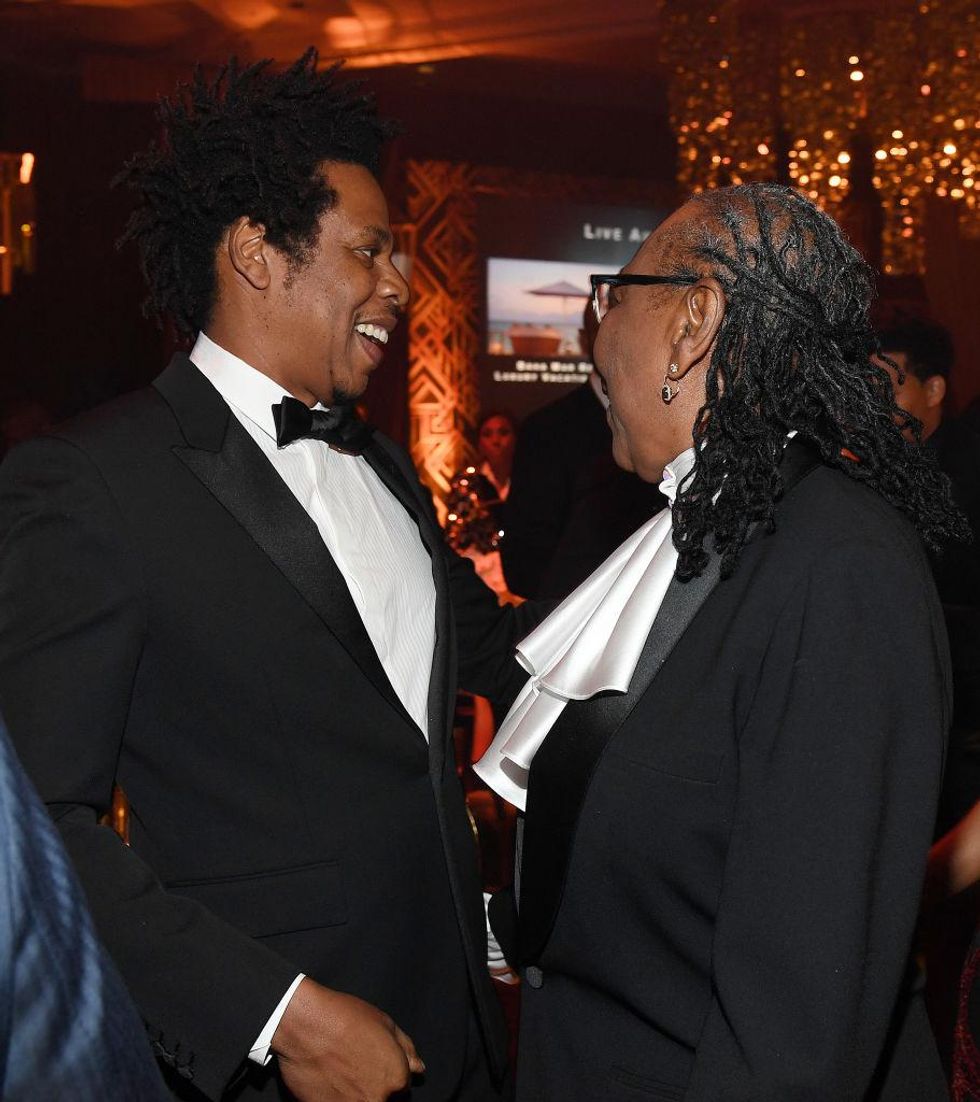 Kevin Mazur/Getty Images for Shawn Carter Foundation
Gloria Carter, Jay's mother, came out in 2017 after sharing this news with her son. Jay was very happy for her and even confessed that he cried once he realized she felt had to hide it for so long. Later on, he dedicated a song to her called "Smile" on his 4:44. album, that he recorded one day after his mother came out to him. He said on My Next Guest NeedsNo Introduction with David Letterman:
"Imagine having to live your life as someone else and you think you're protecting your kids. And for my mother to have to live as someone that she wasn't … [she] didn't want to embarrass her kids for all this time. And for her to sit in front of me and say, 'I think I love someone…' I mean, I really cried. That's a real story."
50 Cent, who's mother was lesbian:
50 Cent was raised by his mother, who, according to the rapper, was a lesbian. She died when he was only 8 years old, at which point, 50 Cent went to live with his grandparents. The rapper wrote a book called Playground about his childhood and his relationship with his mother.
Dorothy Dandridge has a story of her own:
Actress Dorothy Dandridge's mother, Ruby Dandridge, was bisexual. Ruby reportedly began dating her partner, Geneva Williams, after divorcing Dorothy's father.
...and allegedly so did Marvin Gaye:
As a kid, the future Motown Legend was often teased about his father, Marvin Gay Sr. who was rumored to be homosexual. When asked if the rumor was true, Alberta Gay admitted she wasn't sure about her former husband's sexual orientation. "He liked to wear my panties, my shoes, my gowns, even my nylon hose," she has said. Marvin Jr. went on to add the 'e' to his last name and during a performance on Midnight Special in 1974, his father showed up in drag. Ten years later, he shot and killed Gaye during an argument.
Like Marvin, O.J. Simpson's father enjoyed dressing in drag:
O.J. Simpson's father, Jimmy Lee Simpson, was a drag queen in San Francisco. He died of AIDS-related complications in 1986.
And finally, Rebecca Walker, who's mother is a major part of the culture:
Author Rebecca Walker's mother, The Color Purple author Alice Walker, is openly gay. She once had a relationship with Tracey Chapman. Rebecca herself is openly bisexual.
Karrueche hasn't disclosed much else about her father since, but she did leave us with a few gems for us to sit on:
"God creates us how he wants to create us and you have to be accepting of people and how they want to be and if that's their choice of their vision then if you love them you got to support them. Love, as we know now that gay marriage. You can marry anybody, love conquers all."
Watch the full interview below:
Are you a member of our insiders squad? Join us in the xoTribe Members Community today!

Featured image by Michael Kovac/Getty Images for Spotify