All of the haters and foes I've encountered in my life don't have sh*t on the damage I've done to my damn self. We're all our own biggest enemy and worst critic, so I can admit that my inner voice definitely gives me serious Simon Cowell vibes, and I know I'm not alone.
---
How many of us are guilty of thinking one (or maybe all) of these thoughts on a consistent basis:
I don't have enough to be successful. I don't know enough to start a business. I'm not smart enough to be an entrepreneur. I'm too old to truly live out my dreams. I'm too young to really have the things I want in life.
If you're as guilty as I am of indulging in this sh*tload of negative self-talk, I have a message from 2 Dope Queens that is sure to change your perspective: Feel the fear and do it anyway. Essence sat with the stars of the HBO original comedy series who shared that one of the most important steps on their journey to success was developing a very intimate relationship with fear.
The truth is, no matter how talented you are, if you don't believe in your potential why in the hell would anyone else? Phoebe Robinson and Jessica Williams prove fear is the boogeyman that hides in the closets of even the most successful women. 34-year-old comedian and What Men Wantstar, Phoebe Robinson told Essence that her secret to pushing past fear is spending some good old quality time with her apprehension:

"I like to become friends with my fear, you know what I mean? I'm like, 'Okay, I'm going to go out to brunch, we're gonna hang out, we're gonna talk it out.'"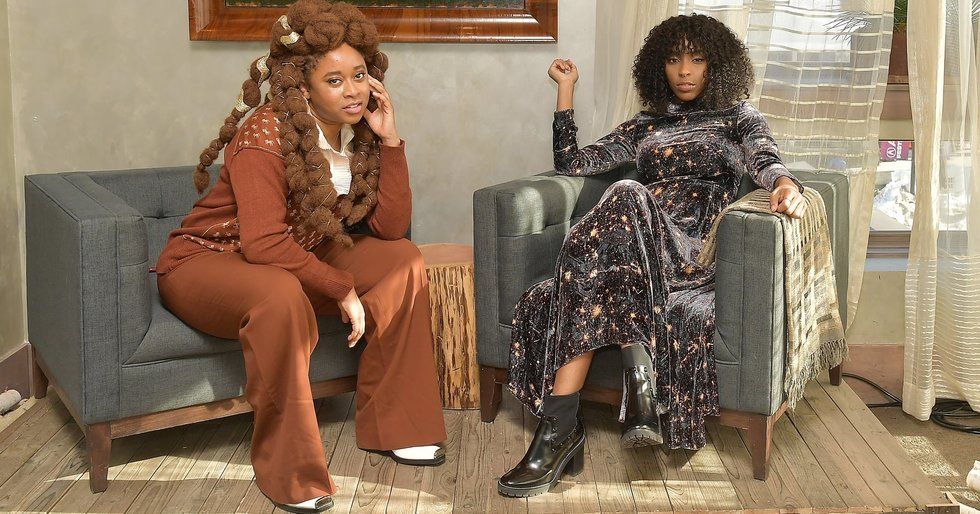 Getty/Michael Loccisano for HBO and POPSUGAR Photography
When stepping out on faith, it's important to have vision, not necessarily sight.

Although fear can be a coping mechanism that can keep us from harm, it can also be a powerful force that prevents us from reaching our greatest potential. The actress explained:

"Because, sometimes, fear is to protect you, but sometimes fear is just holding you back a little bit from your potential that you know you have. Fear and failure, making mistakes, stuff not working out or going the way that you want, that's where you learn. That's what keeps you humble and that's what makes you realize it's all just part of the process."
Jessica Williams added to this sentiment, pointing out that feeling fear isn't the problem. The real issue with fear comes from allowing it to paralyze you. Jessica shared that the best thing you can do for yourself is allowing your fear to exist without impeding on your ability to keep it pushing. She shared:
"I think it's feeling the fear and doing it anyway, not just putting it in a box but allowing it to exist. And it's interesting when you actually get up [on stage] or when you face the blank page, being like, 'Oh, this isn't the worst feeling,' you know? It's like, 'Actually, I can keep going. I can keep going. I can keep going. I can keep going.' Just keeping it as a steady marathon and not a sprint, waking up every day and having a new relationship with your fear and yourself."
Just like a relationship with a new partner, these ladies encourage us to court our fear.
When you have a clear understanding of what scares you, the future becomes a little less scary. Fear isn't an emotion that we should avoid or feel embarrassed by. Instead, grab your apprehension by the balls and remind yourself that the only person in the audience you need to impress is you.
Featured image by Michael Loccisano/Getty Images for HBO.