---
After months of eyeing Glossier's line-up of products, I decided to do a haul in hopes that their best sellers were as good as they appeared to be. Known for their minimalist approach to beauty, makeup, and skincare, the Emily Weiss-founded cosmetics company has long since been a favorite of minimalists and maximalists alike. For beauty lovers who gravitate towards "no-makeup" makeup looks, Glossier holds the keys to the kingdom, while makeup afficianados who are more about that beat-face life have their favorite tried and true beauty finds from the brand (Boy Brow, we're looking at you).
As far as my own personal adventure into Glossier Land, I decided to add their cleanser, serums, and moisturizers as well as a few of their top-selling makeup offerings. Keep reading for a quick rundown of my buys and why I cannot get enough of the magic Glossier is selling.
Skincare First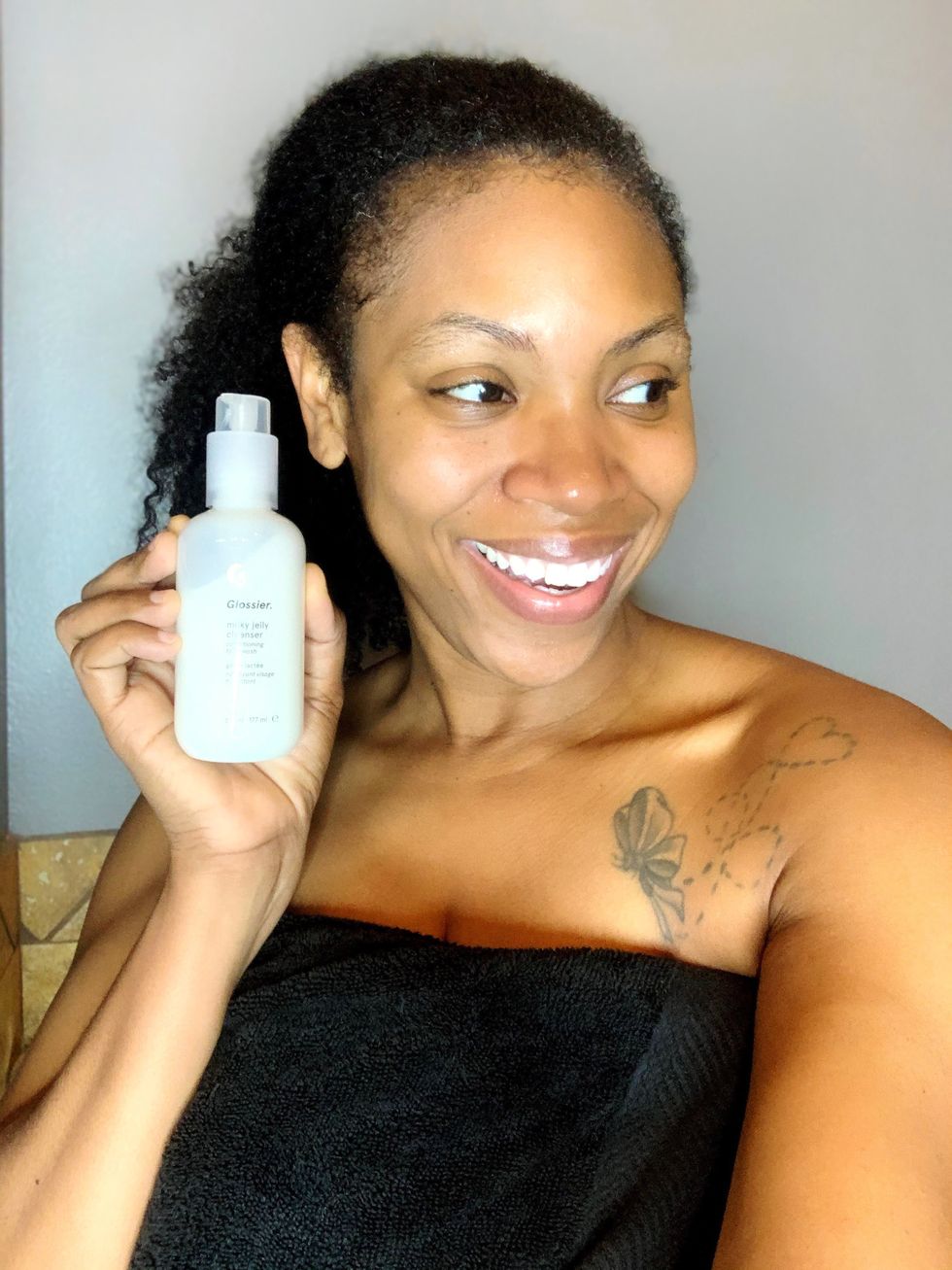 Kandice Guice/xoNecole
As I have matured, skincare has become top priority. Products that make me glow like I am well-loved and stress-free will always be a fave of mine. Glossier gets this right with a full line of products that take my glow to next-level heights. I use a three-part system that leaves me so radiant, makeup isn't a necessity.
For starters, I wash my face with Glossier's Milky Jelly Cleanser. The subtle rosy scent of this cleanser immediately makes me smile but, more than that, the creamy texture infuses my skin with moisture from the onset. With five skin conditioners included, it's no wonder this product is so soothing and nourishing. It is one of few cleansers that doesn't leave my skin feeling dry after it is rinsed away. "Rejuvenating" best describes this one.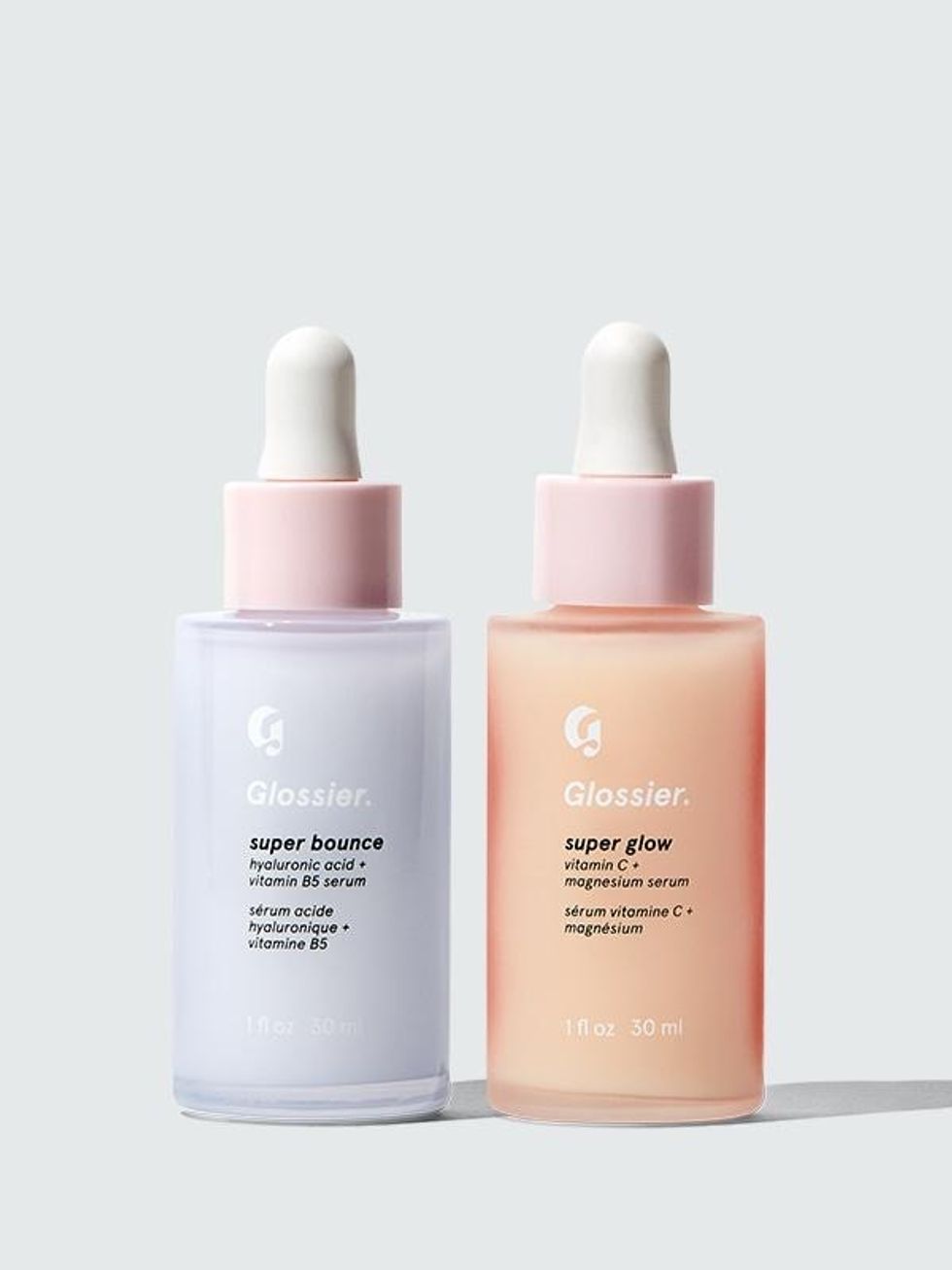 Glossier
After rinsing away the Milk Jelly Cleanser, I move right along to the Super Duo. It consists of two top-rated serums infused with vitamins. This combo works together to hydrate and brighten skin. Super Bounce is just what the doctor ordered for soothing moisture that hydrates with hyaluronic acid and Vitamin b5. Although the name speaks for itself, I can confirm that Super Glow indeed brightens skin with its powerful combination of Vitamin C and magnesium.
I follow up with a moisturizer and then jump into Futuredew.
If I had to choose only one Glossier product to live by, Futuredew would be it. You know that dewy fresh face look you get directly after using a good moisturizer or finishing up a facial? Futuredew creates this look with all-day staying power, and I cannot get enough of it. This serum is made of oils and light-reflecting minerals that will leave you looking glorious.
I could stop here and be over the moon, but when I'm feeling really ambitious, I use the following makeup products for a "no-makeup" look:
Makeup Second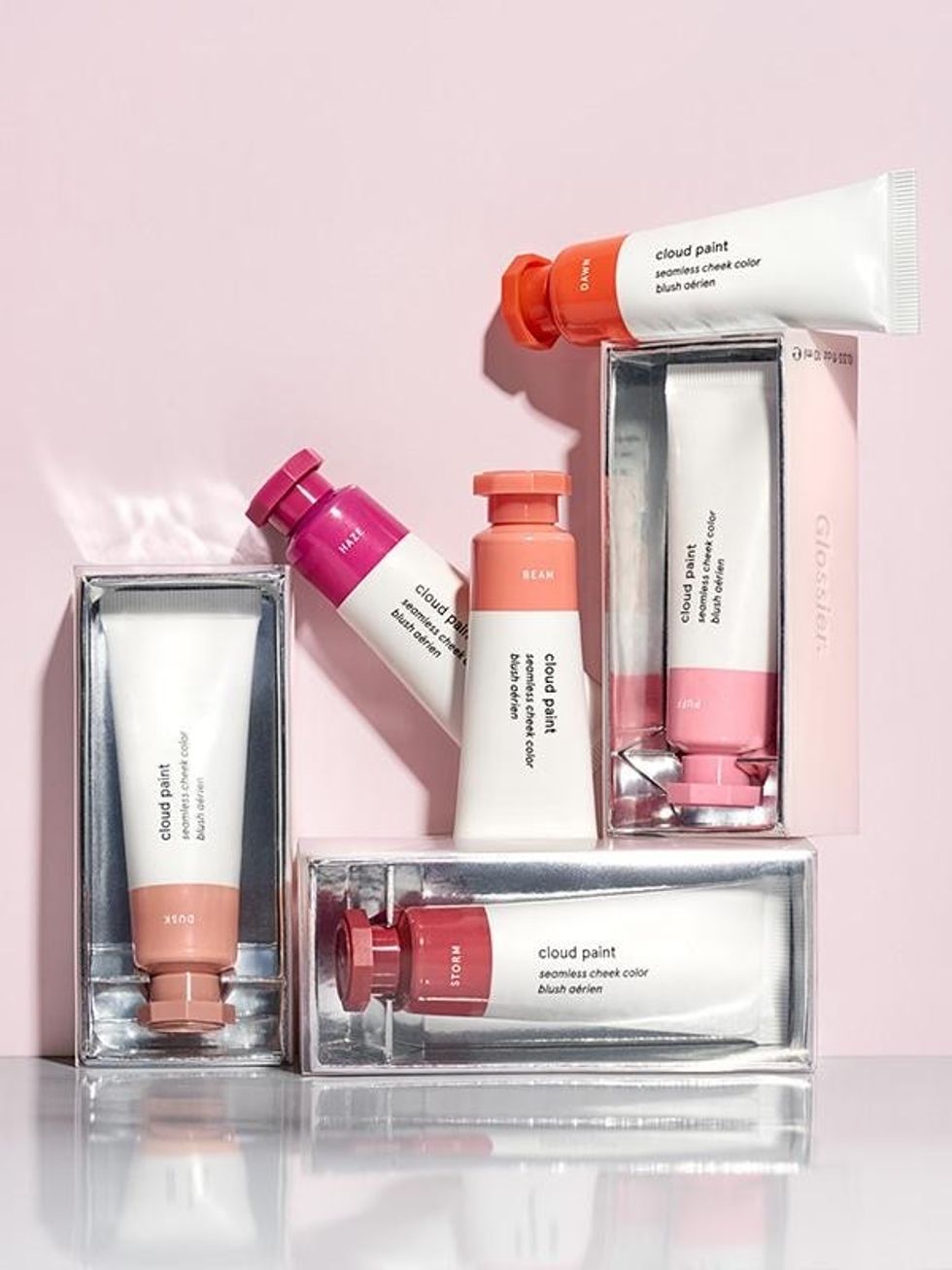 Glossier.
Glossier describes its makeup line as "Products that give you options but never cover you up, turn you into someone else, or over-complicate your routine." And I cannot find a single lie. On days where I want to look fresh and lightly done, I go with Glossier all the way.
Starting with Cloud Paint cheek color, I set the tone. It's literally a gel-cream blush you can't mess up. This buildable color blends naturally and is easy to use. No brushes required. Simply dab a bit on your cheeks and use your finger to tap it into your skin. The end results? A slightly flushed look that makes it look like you're truly blushing a bit from the inside out. It's that simple.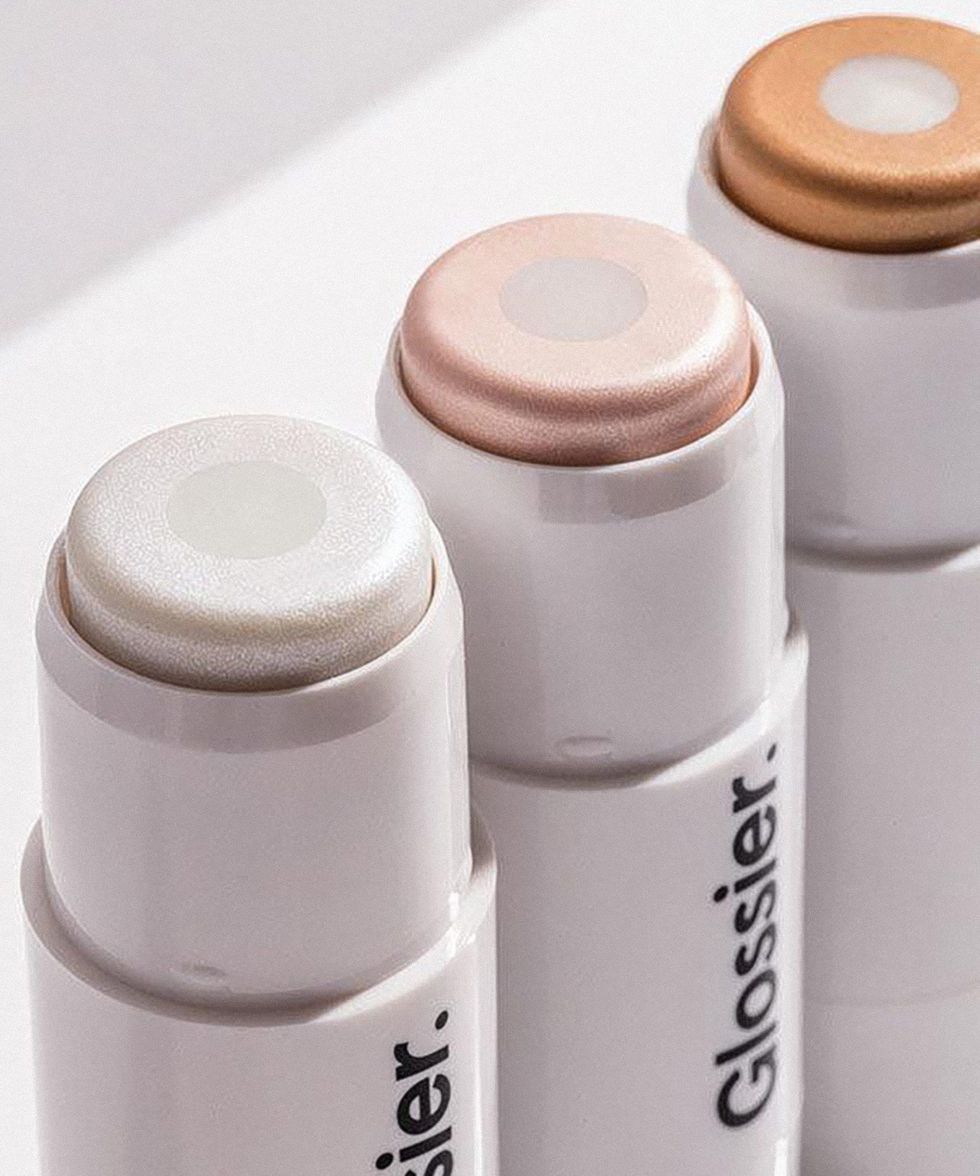 Glossier.
Next, I like to follow up with Haloscope in "Moonshine". This crystal-infused highlighter enhances the dewy effect with a barely-there look that is irresistible. It's my second fave product. The moment I FaceTimed my sister and she said, "You look so beautiful. Don't put on makeup today," I KNEW Haloscope would forever hold a special place in my heart.
I add a hint of color to my lips by using Generation G Sheer Matte Lipstick for a casual "I didn't try" look. Although a matte finish, it's packed with moisture and is the cherry on top of my "Yassssss, fresh face" look.
Glossier Pulled Up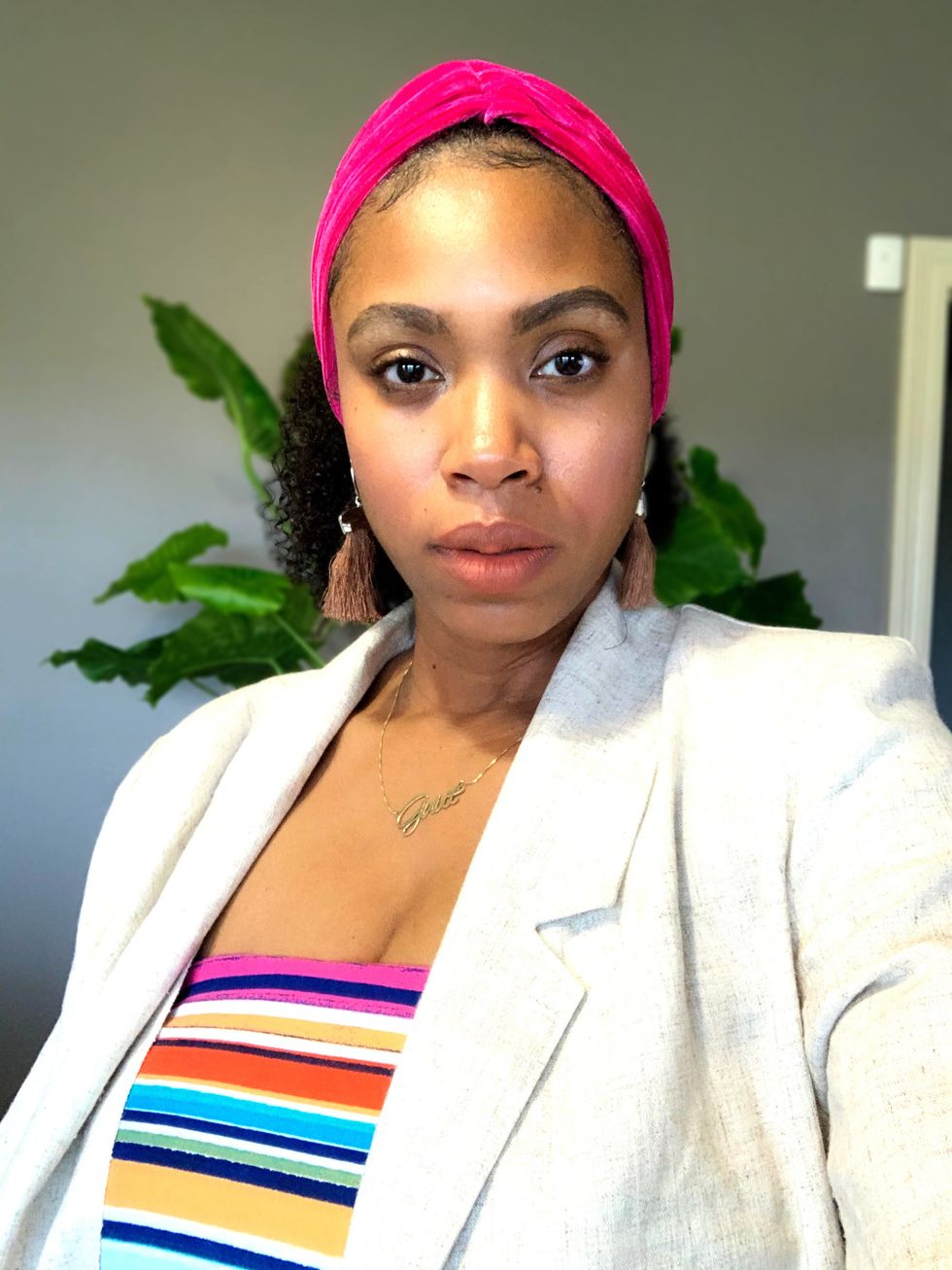 Kandice Guice/xoNecole
Before going all-in on the dopeness of Glossier, I was sure to visit @pullupforchange to see Glossier's diversity numbers. I was pleased to see the company's commitment to diversity as well as its recent release of a new grant for black-owned beauty businesses. I am happy to report that we can shop Glossier guilt-free. That's good news we can use.
Join our xoTribe, an exclusive community dedicated to YOU and your stories and all things xoNecole. Be a part of a growing community of women from all over the world who come together to uplift, inspire, and inform each other on all things related to the glow up.
Featured image by Kandice Guice/xoNecole