How We Met is a series where xoNecole talks love and relationships with real-life couples. We learn how they met, how like turned into love, and how they make their love work.
Editor's Note: As of December 2018, Shannon and Jared are married! Congrats to the happy couple!
In true millennial modern love fashion, for Shannon Boodram and her partner of two and a half years, Jared Brady, first came sex and then came love.
---
The couple were looking for something, but nothing in particular when they met each other, and then encountered each other again a year later thanks to witty exchanges via Instagram DMs.
An innocent night of Ted Talk and chill proved to be the start of a beautiful relationship for the LA-based creative multihyphenates, paving the way for an effortlessness and a seamlessness that neither of them had ever felt with any connection before them. A friends with benefits relationship quickly evolved to be so much more. The rapper/producer and the sexologist/intimacy expert are widely known for putting familiar faces to the non-traditional relationship style "open relationship," particularly on Shannon's YouTube channel through a popular Q&A series on the topic.
Shannon, 32, and Jared, 26, give the ins and outs of how they met, how they make it work, and ultimately, how old doesn't compete with new and new doesn't compete with old when it comes to any relationship – especially not in an open one.

How We Met
Jared Brady: I used to bartend at a place called Bobby London in Koreatown. A mutual friend of ours, Affion Crockett, had brought her and another friend over, and that was the first time we met.
Shannon Boodram: I remember him coming up to us and I was like, "I really want this dude to dance with me." I really like him, I wanted to dance with him. I wanted him to talk to me, but he didn't. When we left there, Affion followed me on Instagram and I looked at his profile and was like, "Here is this dude that I thought was so cute." I followed him. It took an actual year later before we saw each other again in person. It was kind of like this very slow, long, Instagram courting process.
He was the first that started the DMs, but I played it off and then like a year, probably like a few months after, I met up with him on his birthday and we agreed to meet up in person. We didn't end up having sex that night but maybe like two weeks later. Again, like he said, it was a really, really positive f*ck buddy relationship until it slowly translated into something else.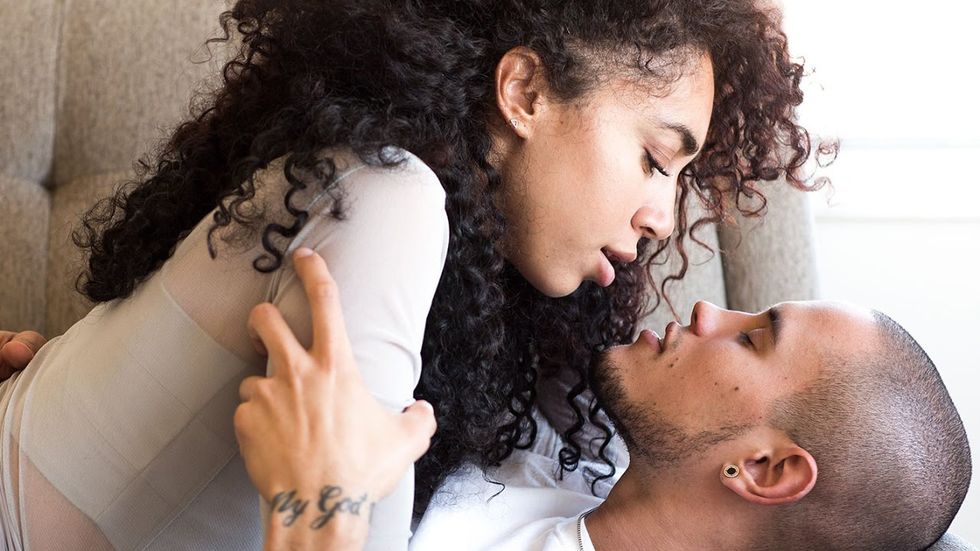 Making It Official
Shannon: Probably a month into us knowing each other in that way when I gave him the keys to my apartment to water my plants while I was gone. Healthy intimacy building is making a leap of faith with somebody in terms of intimacy and comfort and boundaries. If they successfully work at that task, then you do something else with them.
Without of us really having that goal (relationship) in mind, we were building a slow intimacy trust together to see if it could become something that is long-term and sufficient. I think we just naturally did that with each other.
It was just a really slow, comfortable process of us crossing boundaries, seeing that it was safe and then staying there for a while until it felt time to cross another boundary together.
Jared: There were no real conversations [about making it official], not for a while, I think because it just happened naturally. I mean, I think both of us are kind are good communicators.
Every time we took a step forward toward the relationship, I feel like it was very mutual and organic instead of like, "So, what are we?" It was never that type of conversation. It was just over time, Shannon would or I would need more of a boyfriend or girlfriend. Like if she was sick or she needed help on the car or she needed help with everyday life stuff, I usually was that person that she would call. Then, it just kind of started to transition into: "Okay, I'm not just a fuck buddy anymore. I'm taking the role of something else."

Open Communication
Jared: Naturally, being in an open relationship can be tough, it'll be tough if you go on a date. I have every thought that every normal person would have and vice versa, I'm sure. If I go on a date or if I'm with some other girl, I'm pretty sure all the same thoughts go through that. But I think the challenge is mitigating that and understanding that love is bigger than yourself.
I guess our communicating who the person that you're going on a date with is to you, understanding that you can't be all things for one person. I guess it's understanding your role and what I am to her - that is a help for me.
Shannon: Yes, I think it's general that just knowing who you are to that person and knowing about that. I know how valuable I am to Jared and know our relationship. I know how positive we are for each other on every level. If he goes out to experience something or share something with someone different, then that's okay. If he comes home and says, "This person would be a better fit for me," it would be the worst day of my life but also the best thing that I could see the person that I love maybe come to another plateau of finding himself.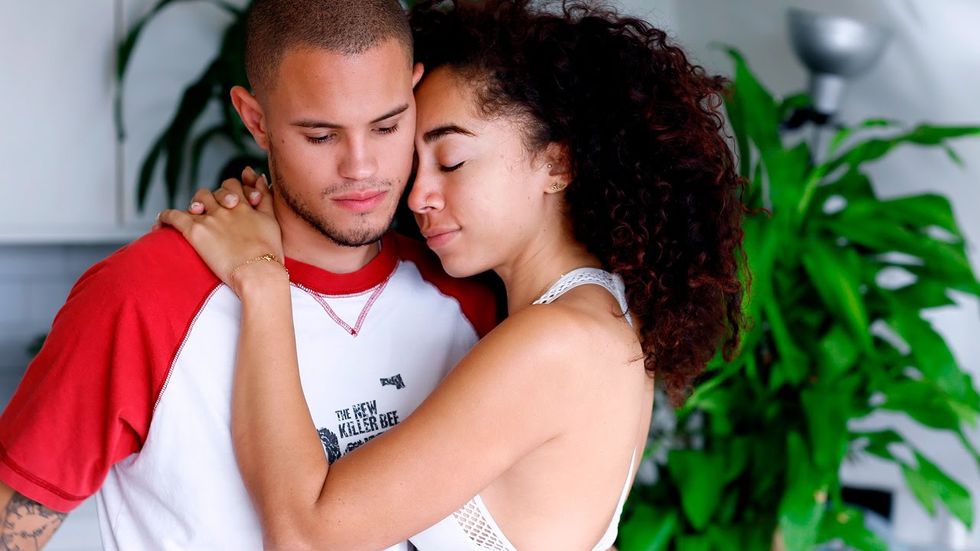 I think it's just reminding yourself that like what am I so afraid of? What is the alternative? The alternative to me feeling jealous right now, is me feeling like I'm holding someone back. I think that, that would be far worse.
Sharing Spaces
Shannon: I mean, my least favorite thing [about living with each other] is sometimes the people you bring around. My job is so extroverted and I'm an ambivert. We've lived in this building now for like two years almost, I do not know one person's name here. I don't want to make friends (laughs).
When I'm at home, I really like not having to put on a face. Jared, when you do have friends over, you usually are being productive and I'm so happy that you are productive and doing things that you love. I'm happy that you're getting time to grow and expand. I'm happy that you allow me to close the door and not come out and speak with people and that's okay.
Jared: The toughest thing. What is the toughest thing living with you? I think the toughest thing is a give and take like it's going to sound funny. The way that usually works here is that she'll cook and I'll clean. When she cooks, she doesn't have to clean. So, she doesn't cook with the knowingness of having to clean. But that's not even tough, like she was saying. It's just one of those things. I haven't had to cook in two years.
Shannon: I haven't done laundry in two years (laughs).
Jared: I think my favorite thing about living with Shannon would be the space and the allowance that she gives me to make mistakes. I grew up with a dad that was very military-like and very critical of every move that I make.

I think my favorite thing with living with her is just the space that she gave me to learn.
Shannon: I have to say the sex [is my favorite part about living with you]. I think it's the unexpected sex in different times of days and just, I don't know, it's affection really. My love language is physical touch so having access to somebody sometimes, if we're both working from home, I can ask him, "Can we go lay down for a second?" and just like cuddle or take a ten-minute break to do that. Like, you let me.
I guess I can be the best parts of myself and have somebody who would bring out the best in me and accepts the worst in me. That's a really cool experience on a daily basis.
Love Lessons
Shannon: [Through loving Jared] I learned that I'm good enough. There's a lot of things that I told myself before this relationship. I told myself I couldn't live with people because my last relationship was such a nightmare. I told myself that I'm a selfish person in a relationship and it's difficult for me to really see my partner. I told myself that I don't really understand men that well. A lot of things I think as a result of failed relationships that I just kind of came to know with who I was and then being with somebody where the fit is good, I'm like, "No, it's not me. I am good at living with people. I am a loving person. I am a nice person. I do understand that I do understand I love people."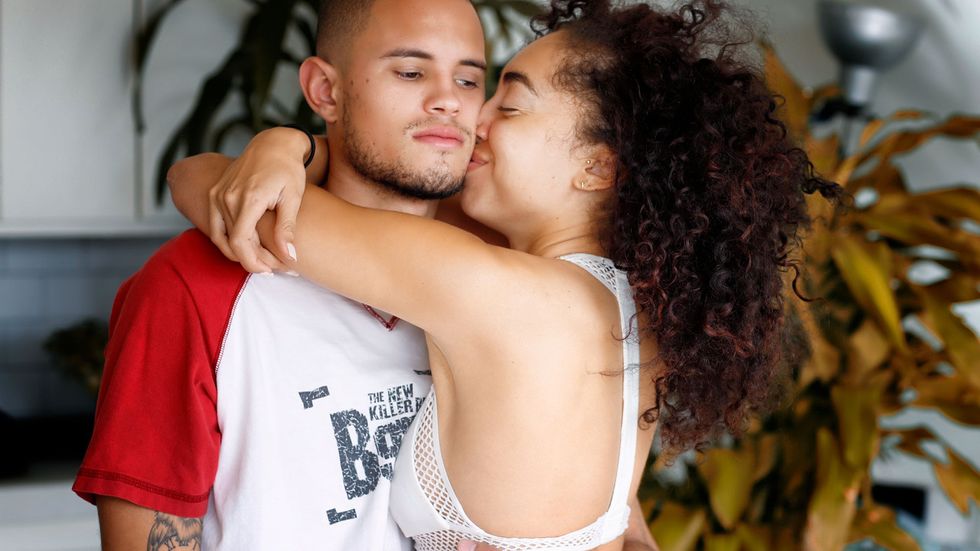 Jared: Ironically for me, it's kind of the same thing. I think, in the past relationships before meeting Shannon, I was always the person to think that there was something wrong with me or something off with me because I would always end up losing interest or losing desire. Or, even in my professional life, I would stumble or mess up or give up easily or things that I'm not good enough in certain aspects of me. But with Shannon, like she said, she was enough. I feel like, "Okay, cool. I have all these tools. I have all the gift. I have all the abilities to do whatever I want in this life." I know it sounds very simple and very light, of course. But it really taught me a lot, being with somebody accepting me fully for me.
Favorite Part
Jared: I think with Shannon, there's a lot of things that I love about her, but I think my favorite thing is her intelligence. Her intelligence is something that I inspire to be. I learned so much from her and I learned so much with her. But for me, it's just that something that I really knew off bat, when I first met her, was intelligent she was.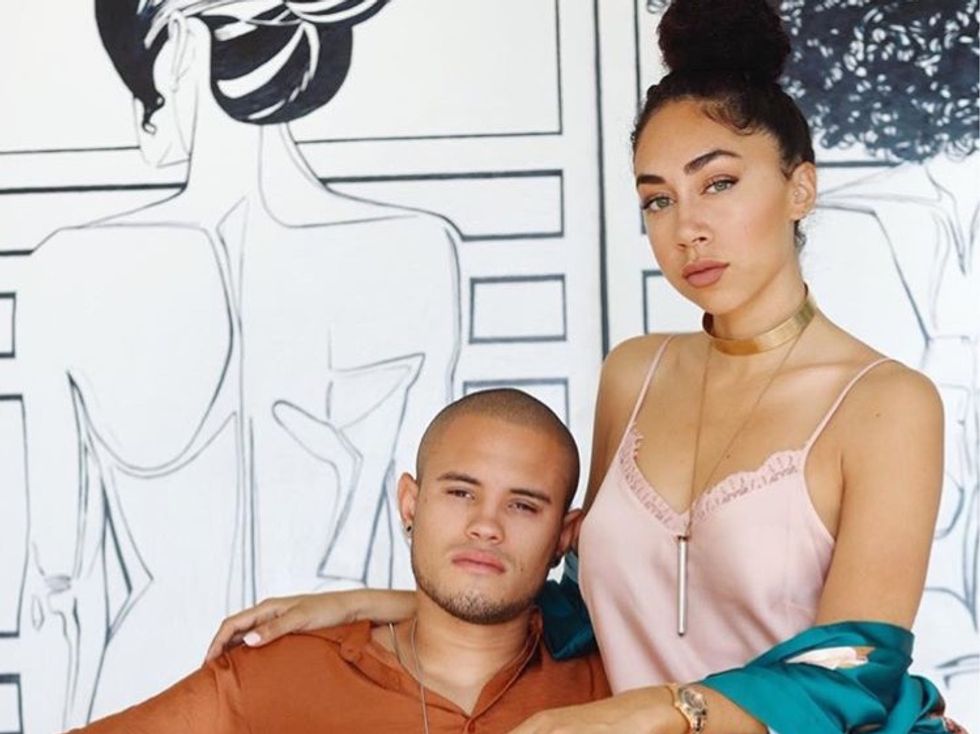 Glamour Magazine
Shannon: I would say to Jared and I am not the person who would say this. He is genuinely a very good and kind person. His heart is really pure. I think over time, I'm learning to be a nicer person. I can tend to be like, if I'm hurt or prodded to a corner, I might lash out verbally at somebody. Jared literally never called me a name in this relationship. He never called me a b*tch, he never called me stupid. I think that that type of kindness is something that I can't even understand, let alone mimic. It's always inspiring to watch.
*Originally published on December 20, 2017. Article has been edited for length and clarity.
Editor's Note:
As of December 2018, two years after this How We Met feature first went live, Shannon Boodram and her partner Jared Brady have officially tied the knot and our now married! The happy couple got engaged last year and married shortly after in an intimate ceremony surrounded by family, friends, and of course, plenty of love. Congrats to this amazing and loving couple!
For more Shannon and Jared, be sure to follow the couple on Instagram @shanboody and @enjoyjaredbrady.